Ram 1500 REV Goes From Concept to Reality in First Official Images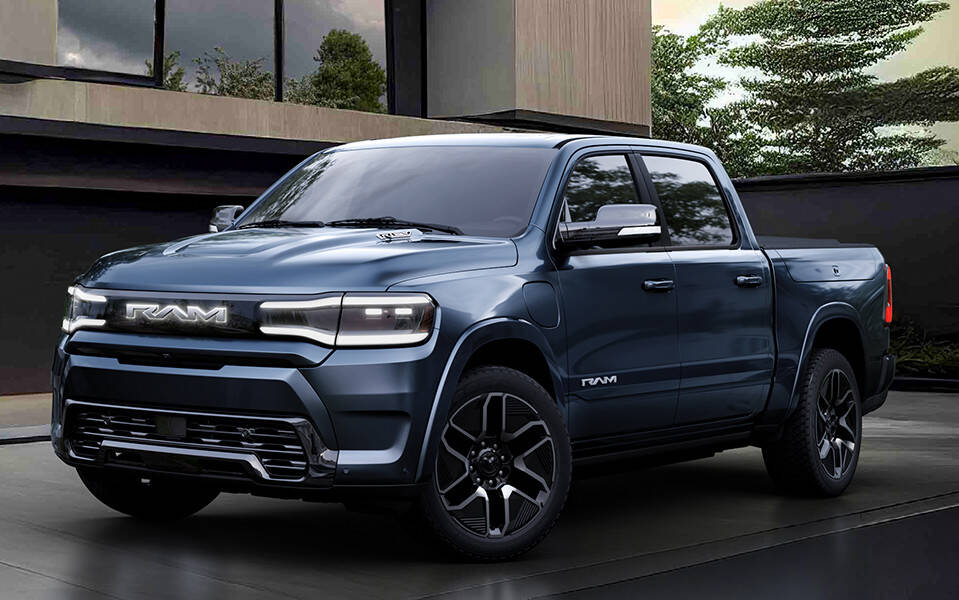 Ram has released pictures of the all-new and fully electric Ram 1500 REV—not the concept but the production truck that will roll off the line in 2024 and hit the market in the fall of that year as a 2025 model.
At the same time, the company showed the 60-second commercial that will air during the Super Bowl. It's called "Premature Electrification" and it aims to address some potential electrification anxieties that consumers may have about purchasing an all-electric vehicle. Of course, there's nothing premature about the Ram 1500 REV, which follows in the footsteps of Ford, Chevrolet, GMC and Rivian (and dare we say Tesla?).
In terms of styling, the Ram 1500 REV looks much more conventional than the concept that we saw at CES in January and last week at the Chicago Auto Show. However, the headlight signature and illuminated RAM logo on the front grille are largely the same, just like the wheels.
Under the hood, which sports an "REV" badge, is a large, weatherproof trunk with unspecified cargo capacity. RamBox compartments on each side of the bed provide additional storage. Meanwhile, the charge port is located on the front left fender.  
Pictures of the cabin once again show a more conventional layout than the concept, but we're still impressed by the size of the portrait-style centre touchscreen, flanked by a horizontal display on the passenger's side. The HMI retains a decent number of physical controls, which is a good thing.  
One important detail mentioned by Ram: when the grid is down, this electric truck will offer available home energy charging—similar to the F-150 Lightning.
Consumers can go to ramtruck.ca now to learn more about the Ram 1500 REV, see newly released images and enter the Ram REV Insider+ Contest for a chance to win 1 of 200 early reservation access codes to pre-order a copy.
A full reveal is coming up in just a few months. That's when we'll find out the specs and capabilities including power, torque, range, towing and more. Keep following The Car Guide for everything you need to know about the Ram 1500 REV.
Share on Facebook