2023 Rolls-Royce Ghost Black Badge: Ghost on Ice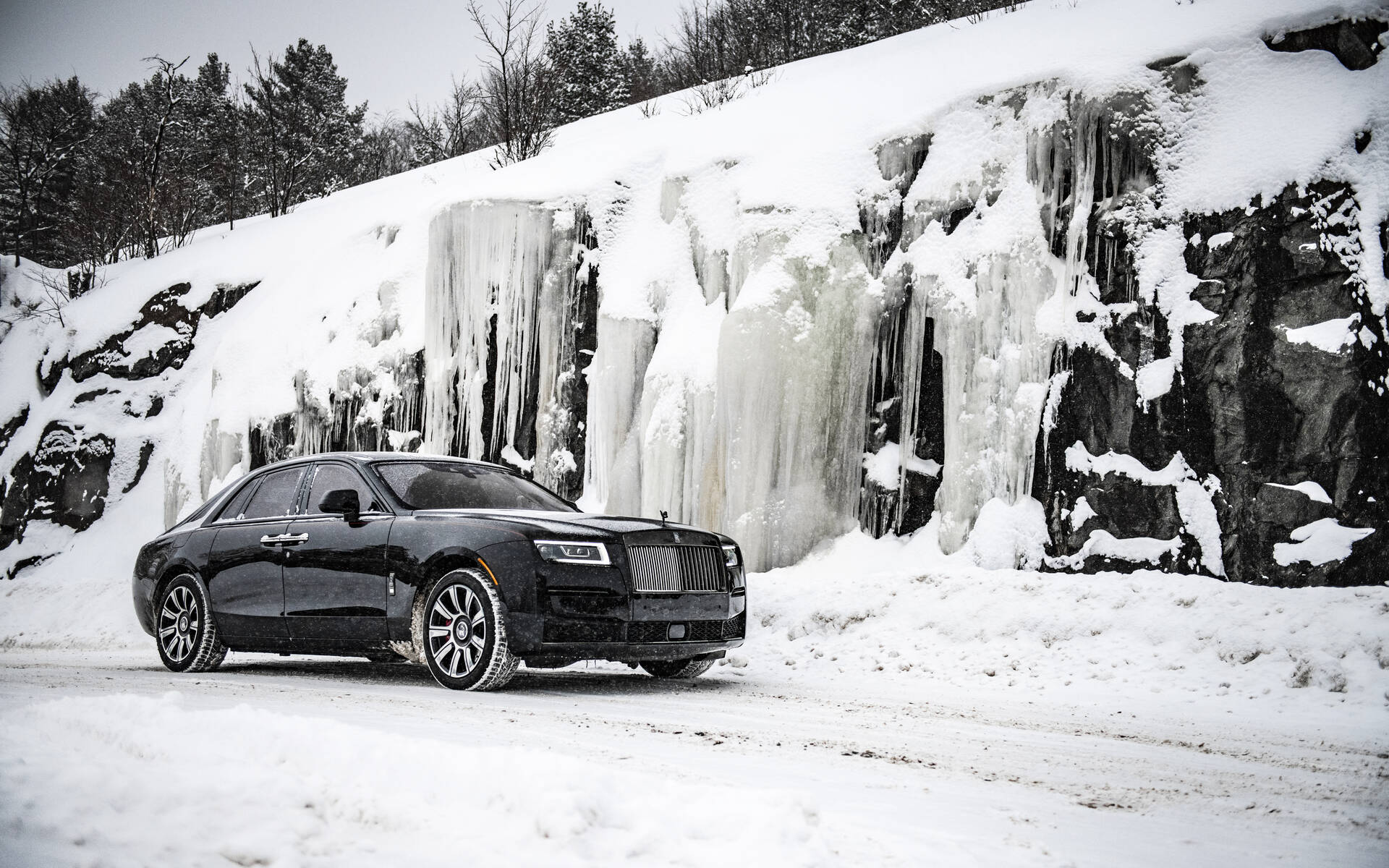 Strong points

Supreme comfort
Exceptional materials, fit and finish
Standard all-wheel drive
Twin-turbo V12 power and torque

Weak points

Heavy weight
Poor fuel economy
Dizzying price
Full report
When you're driving around in a Rolls-Royce Ghost Black Badge that comes with a price tag of $479,675, you probably don't want it to be covered in snow, slush, dirt or hit by whatever debris the road can throw at you. It's best to just tap into the twin-turbo 6.75-litre V12's 591 horsepower and 664 lb-ft. of torque and get away as fast as you can from the elements and the chaos of the daily grind.
That's what we did in mid-January, taking the British automaker's stately and powerful Ghost Black Badge on a trip to the Laurentides and Outaouais regions of Quebec. You'd think an SUV like the Cullinan would have been a better choice, and we wouldn't disagree, but the latest-generation Ghost is blessed with all-wheel drive and really knows how to handle snow and ice like a pro, even though ground clearance is limited.
In case you don't know, Rolls-Royce enjoyed unprecedented success in 2022. The 6,201 units sold globally were an all-time high for the 118-year-old brand. The Cullinan and Ghost led the way, of course, and managed to attract younger customers in the process.
When it comes to the Ghost, 30 percent are choosing the racier Black Badge model, which normally stands out with custom 21-inch composite wheels. The barrel of each wheel is made up of 22 layers of carbon fibre laid on three axes, then folded back on themselves at the outer edges of the rim, forming a total of 44 layers of carbon fibre for greater strength. The floating hubcap ensures the "RR" logo remains upright at all times. 
Since our test drive took place during the cold season, those unique alloys were replaced by conventional 20-inch wheels and fitted with Pirelli Sottozero winter tires.
Dark Look
The Black Badge treatment includes a gloss black finish on the iconic Spirit of Ecstasy hood ornament, as well a silver-on-black "RR" emblem on the front grille and trunk lid. Many other black accents are integrated all around. To create what is the auto industry's darkest black, 100 lbs of paint is atomized and applied to an electrostatically charged body in white before being oven dried. The car then receives two layers of clear coat before being hand-polished by a team of four craftsmen to produce Rolls-Royce's signature high-gloss piano finish.
Inside, the Ghost Black Badge features a complex but subtle weave that incorporates a deep diamond pattern rendered in carbon and metallic fibres. The mathematical symbol that represents a potential infinity is also found within the cabin. Another Rolls-Royce hallmark, the Starlight Headliner, is included as standard and recreates the night sky with 1,600 LEDs.
More Power
What sets the Black Badge apart from other Ghosts goes beyond what you can see and touch. The aforementioned V12 engine has more power (+28 hp) and torque (+37 lb-ft.). Furthermore, Low Mode increases gearshift speeds by 50 percent when the throttle is depressed to 90 percent, delivering the abundant power reserves with dramatic immediacy. Meanwhile, an entirely new exhaust system amplifies the experience.
Clearly, the Ghost Black Badge has more character than the rest, but somehow it stays true to the sedan's ultra-high luxury aspirations. Rolls-Royce is always about supreme comfort for the driver and passengers, and that's no different here. Noise insulation is fantastic, with over 225 lbs of material blocking outside noise, and the ride is amazingly smooth.
Magic Carpet
That smoothness comes from the automaker's Planar Suspension, a system that essentially consists of a damper unit added to the pre-existing upper wishbone of the suspension to neutralize high-frequency bumps. The Ghost also uses navigation and camera data to adjust damping in real time.
We put it to the test on snow-covered roads that were pretty rough at times and it was still like flying on a magic carpet. The only thing that we could possibly complain about is the road noise caused by the winter tires.
Ok, maybe that and the car's heavy weight, which exceeds 5,600 lbs. Thanks to all-wheel drive and four-wheel steering, handling is surprisingly agile, but you have to remain cautious when attacking slippery corners, otherwise you risk overstepping the yellow line. Just imagine you're driving a large SUV and slow down before turning to avoid a situation like that.
Our Verdict
Yes, you can totally enjoy a comfortable and infinitely luxurious ride in a Rolls-Royce Ghost, even in the thick of winter. Of course, fuel economy is much worse than in the summer, and you need to be prepared to expose that precious bodywork to road grime. First-world problems...
Listen: Gab gives his driving impressions on the 2023 Rolls-Royce Black Badge Ghost
Share on Facebook