New Autonomous Driving Capabilities Coming to Mercedes-Benz Cars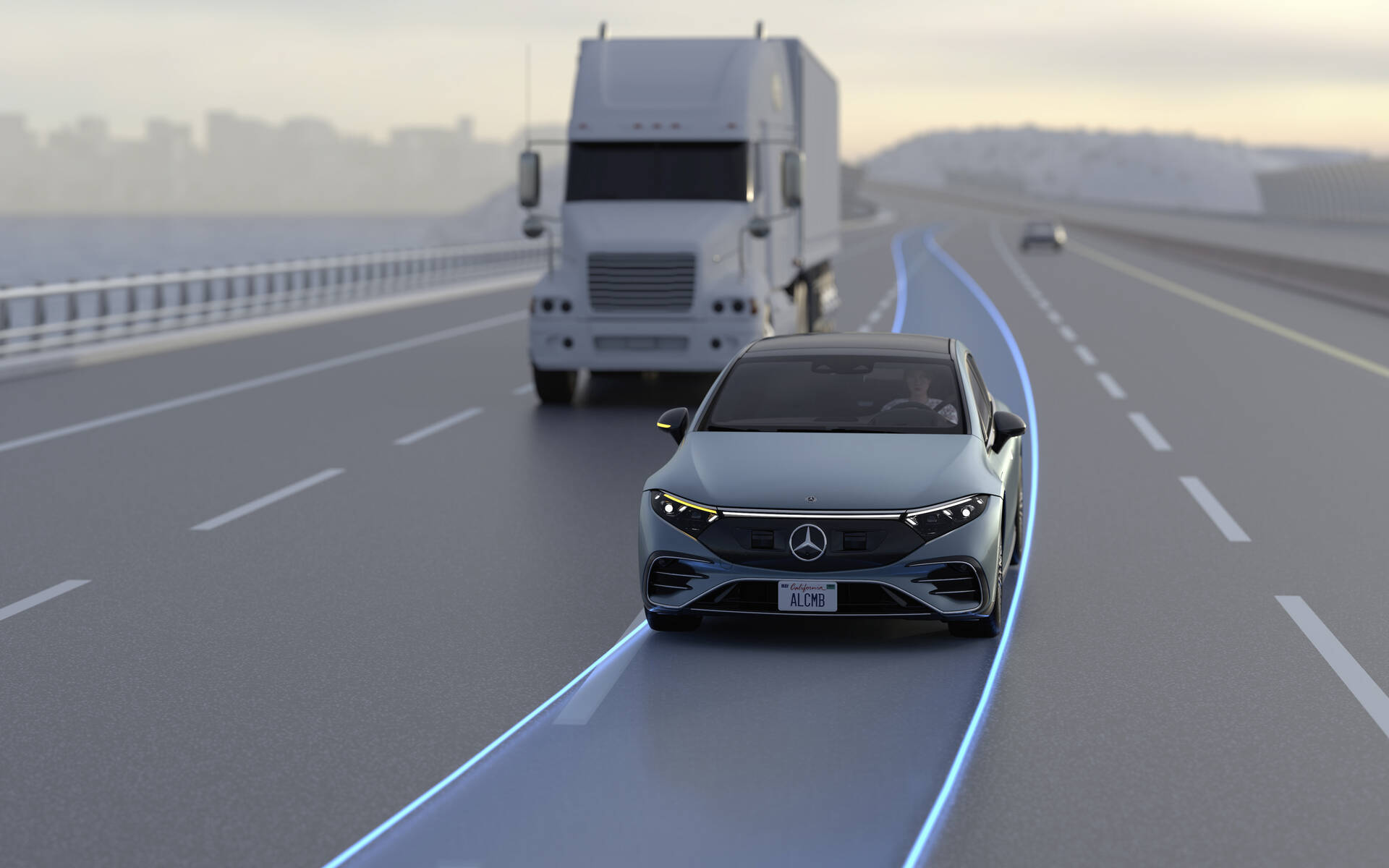 Mercedes-Benz didn't come to CES in Las Vegas this week just to announce plans for a network of fast charging stations across North America and once again showcase its extraordinary Vision EQXX electric concept, which is capable of travelling over 1,000 km with a full charge. The company has other innovations in store which, as it says, aim to make life easier and generate excitement for customers.
First, a new Automatic Lane Change (ALC) feature will come to select Mercedes-Benz vehicles in the North American market later this year, enabling a further expansion stage of its SAE Level 2 partially automated driving technology.
Once drivers set the speed and distance of the adaptive cruise control system, Active Steering Assist (activated by default) does the rest. The car continuously monitors its surroundings via an array of radar sensors and cameras to overtake slower cars while on the highway. ALC can also initiate an automatic lane change to help follow the active route guidance when approaching exit ramps or highway junctions.
All of this is similar to GM's Super Cruise or Tesla's Autopilot. However, following the lead of customers in Germany, Mercedes-Benz drivers in Nevada and California will soon be able to benefit from SAE Level 3 conditionally automated driving. The automaker has applied for certification in these two U.S. states and will roll out DRIVE PILOT when approved.
On suitable highway sections and where traffic density is high, DRIVE PILOT can offer to take over the driving, initially up to the legally permitted speed of 60 km/h. This allows customers to focus on certain secondary activities such as communicating with colleagues via In-Car Office, browsing the web or relaxing while watching a movie.
When it comes to entertainment, Mercedes-Benz announced at CES a unique collaboration with Apple Music made possible by the integration of Dolby Atmos immersive audio into the optional Burmester 4D and 3D sound systems with the latest MBUX generation. As a result, a Mercedes-Benz is now the first non-Apple device to natively offer Spatial Audio with Dolby Atmos by Apple Music. With this new audio standard, Universal Music Group are enabling their recording artists to base their song approval process on how the final mix sounds in a Mercedes-Benz and introduce the seal "Approved in a Mercedes-Benz" as a gold standard of sound.
Finally, in another North American premiere, Mercedes-Benz and digital entertainment platform ZYNC announced details of a collaboration that brings new, curated content and embedded streaming specific to the North American market. ZYNC combines all streaming services seamlessly on a single platform, allowing passengers to stream content onto their screens while travelling and to all occupants when parked.
Watch: 2024 Mercedes-AMG EQE 4MATIC+ Review
Share on Facebook