Audi e-tron Gets Fresh Looks, More Range, New Name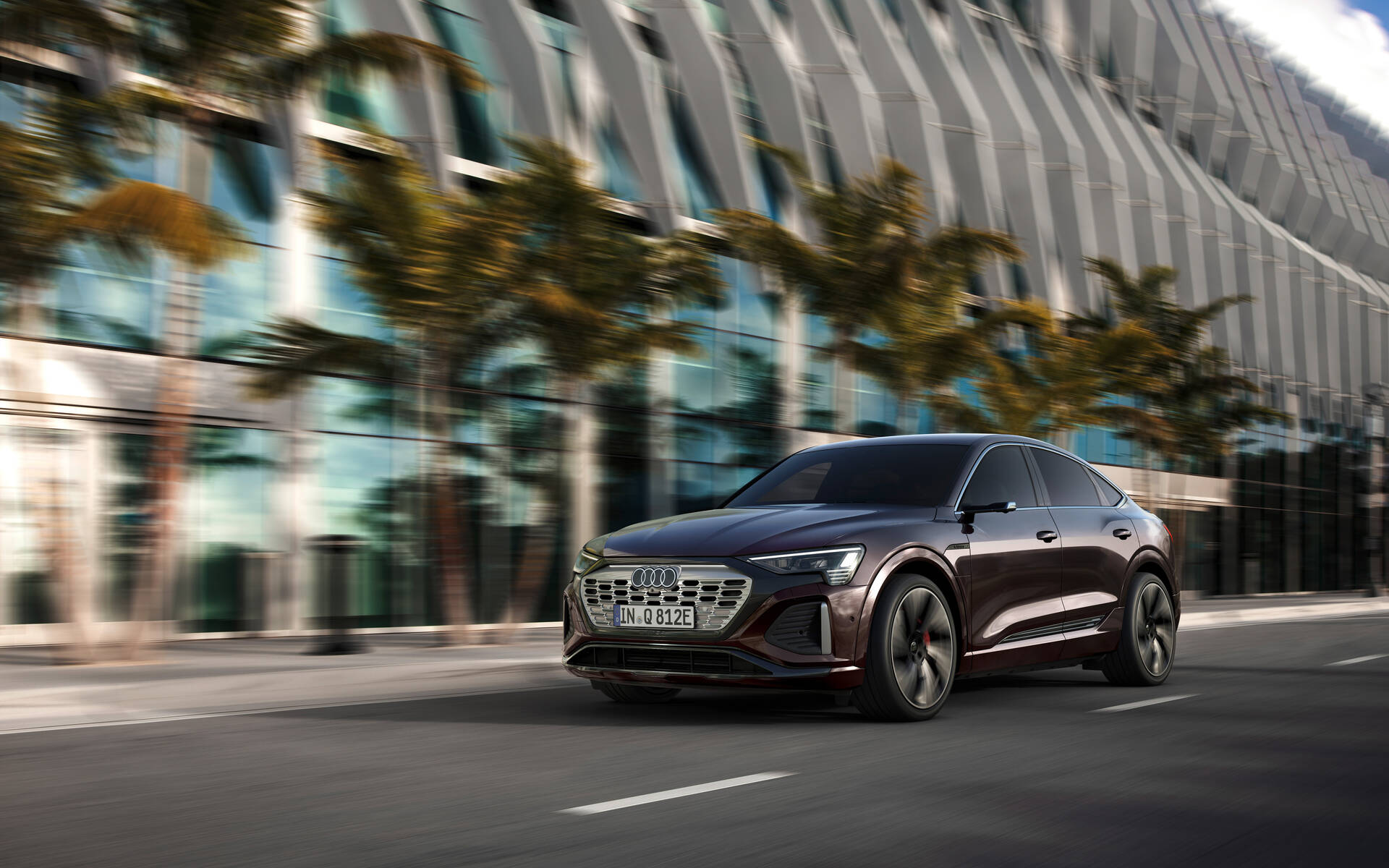 Four years after its debut, the Audi e-tron is changing its name to Q8 e-tron as part of a mid-cycle update that also includes styling revisions and increased range.
In Canada, the new Q8 55 e-tron will be available in standard and Sportback body styles with a larger 114kWh battery (106kWh net capacity) when it goes on sale in April of next year. Pricing will be announced closer to launch.
Over 500 Km of Range
Audi claims the Q8 55 e-tron and Q8 55 e-tron Sportback can travel up to 582 km and 600 km, respectively, based on the WLTP test cycle. These numbers should be down to about 518 km and 534 km when using the U.S. Environmental Protection Agency's own calculations. In any case, we're talking about a substantial improvement from the current models equipped with a 95kWh battery.
"In the new Q8 e-tron, we were able to significantly increase both battery capacity and charging performance. This allowed us to achieve an optimal balance between energy density and charging capacity, as well as to increase efficiency," said Audi Board Member for Technical Development Oliver Hoffmann. "On top of that, we improved the motors, progressive steering, and chassis control systems – and thus the dynamic driving characteristics that are typical of Audi in all versions of the Q8 e-tron."
Enhanced Rear Motor
On the Q8 e-tron, the asynchronous motor driving the rear wheels has been enhanced. It now has 14 electromagnetic coils instead of 12, resulting in a stronger magnetic field for increased torque. Energy consumption, meanwhile, is said to be unchanged. In fact, when peak torque is not required, the rear motor draws less energy than the one in the original e-tron.
DC fast charging is now possible at up to 170 kW, so getting the battery from 10-80 percent charge can be done in 31 minutes. When plugged into a Level 2 charger supplying 11 kW, a full charge takes 11.5 hours. Another one that supplies 22 kW will cut that time to six hours.  
Improved Handling
The new Q8 e-tron rides on an adaptive air suspension with 76 mm of ride height adjustment. Depending on the conditions, drivers can lower the vehicle for reduced drag or jack it up for better off-road capabilities. Suspension and ESC calibration is revised, as well, making for improved cornering prowess. On top of that, steering is quicker.
By the way, the Q8 e-tron's drag coefficient is down from 0.28 to 0.27, while the coupe-like, wind-slicing Sportback variant went from 0.26 to 0.24. A 2D logo on the front fascia and rear hatch shows the extent of Audi's efforts when it comes to aerodynamics. And for the first time, the brand and model name appear on the B-pillars.
Similar to other products from Audi, the interior of the Q8 e-tron features a fully digital instrument cluster along with 10.1- and 8.6-inch displays on the centre stack for infotainment, HVAC and other vehicle functions. A head-up display is available. Standard content includes a panoramic roof with power blinds and heated/cooled seats. Massaging seats are optional. Real-wood and aluminum inserts add a touch of elegance, while the sporty S Line models get carbon fibre.
The Car Guide will have the opportunity to test drive the new Audi Q8 55 e-tron shortly, so watch this space for a more detailed review.
Share on Facebook