2023 Ram HD
2500 Rebel

: Off-Road Hauling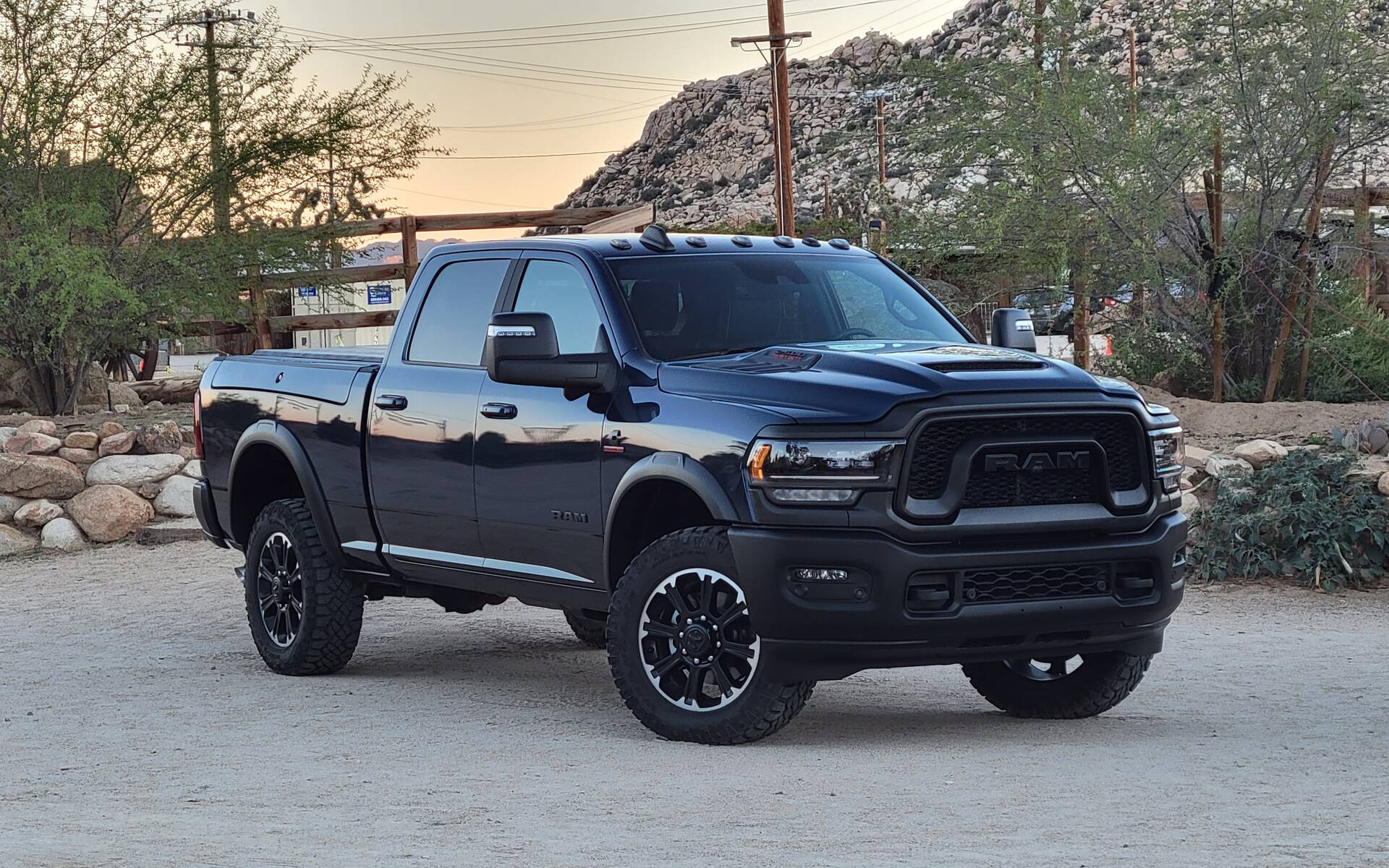 Strong points

Decent off-road capabilities
Competent hauler
Available with Cummins diesel engine

Weak points

Ride comfort is choppy
Base model is pricey
Full report
Ram promises to electrify most of its models by 2025. And in 2030, all segments will be covered. For example, the new ProMaster BEV should be ready to deliver goods as early as 2023, and the Ram 1500 EV will hit the market in 2024.
It all sounds very promising. But until that happens, let us provide you with a big, brawny and petrol-thirsty heavy-duty truck review while we still can!
It's all over the industry. AT4, AT4X, Tremor, Rebel, ZR2, Power Wagon… off-road trims of all flavours are taking over the pickup truck world by storm. Some of them only boast cosmetic upgrades, others use some of the best components from the off-road industry to tackle trails like pros.
Winning the midsize segment first, they recently conquered the full-size trucks. Now, heavy-duty truck lineups are getting the treatment, combining industrial-level capabilities with trail-ready competencies.
We had the opportunity to sample Ram's contribution to this trend with the 2023 Ram 2500 HD Rebel. This trim sits just below the almighty Power Wagon in terms of off-roading prowess, sporting similar looks to the Ram 1500 Rebel we know, but in ¾-ton fashion. It's available exclusively in crew cab, short box configuration, and it borrows some of the off-roading elements from the Power Wagon, namely aggressive off-road tires, an electronic rear locker and rear limited-slip differential, skid plates, and more. But the Rebel has a less advanced suspension, no disconnecting sway bars, no front locker and no standard winch – but that 12,000-lb Warn winch is offered optionally.
The big news is that you can order the Ram 2500 HD Rebel with the Cummins diesel engine, unlike the Power Wagon, which is only available with the Hemi gas unit.
When Heavyweights Dress up for Mud
In terms of performance, the standard gas 6.4-litre V8 engine will bless you with a healthy 410 horsepower and 429 lb-ft of torque. It uses an 8-speed gearbox. The inline-six Cummins 6.7-litre turbodiesel tops at only 370 horsepower, but the torque rating of 850 lb-ft is quite impressive. This one is paired to a six-speed tranny.
One fun fact about the 2500 HD Rebel is that it will tow more than the Power Wagon, which maxes out at 10,590 lb. You'll get 16,870 lb of capacity with the gas engine and 15,000 lb with the diesel.
How does this translate to the pavement? Well, this truck is heavy, so you'll be using every horse you can get. The gas engine provides better day-to-day drivability and is less noisy than the diesel. However, we were impressed by the response of the diesel – which is something owners often complain about. The diesel delivers quickly to driver input. Sure, it gets tired at high speed, but you'll be cruising by then and have all the bottom-end you need.
This response was also put to the test on the off-road course, where the massive amounts of torque came into play at low speed when climbing up steep, boulder-ridden trails. The gas engine never gave up in the same trail, either.
Off-roading is fun, but ¾-ton truck owners spend a lot of time on the road. Admittedly, this Rebel edition of the 2500 offers decent ride comfort on the road when equipped with the gas engine. However, things seem to get choppy when it gets the diesel. This powertrain is inevitably heavier by a few hundred pounds and it shows in the front.  
There's a fix for that. If you get the optional air suspension, you'll tame the beast and get closer to the signature Ram driving comfort. The air suspension is a $1,595 upgrade and it's worth every penny, especially if you're planning to tow (which most heavy-duty truck owners do).
Ram's Comfortable, No-Nonsense Interior
While Ram trucks are known for their good ride quality, they are also known for their formidable interiors. And the Rebel doesn't disappoint. Besides the evident Rebel badging scattered around the cabin, the driver and passengers will be treated with bolstered seating (there are three different seating options) and a variety of standard and available technologies. The optional 360-degree camera system came in quite handy when tackling the trails. And if you're towing, you can get a digital rear-view mirror that can split in three different views to keep an eye on your load.
While the interior is modern and the infotainment screen is state-of-the-art, we appreciate the analogue touches that Ram clings on to. For example, a 12-inch digital cluster comes standard, but drivers may choose between analogue or digital instrumentation. The main HVAC controls are actual buttons positioned within the driver's reach. Also, if you opt for the diesel option, you'll get a steering-mounted gear lever instead of the rotary dial. 
The 2023 Ram 2500 HD Rebel offers plenty of no-nonsense off-road capability to get you out of most sticky situations you may encounter off the beaten path. With a base price that starts at $75,450 plus $2,095 destination charge, you might want to check the Power Wagon if you seek more off-road technologies. This one starts at $78,845. However, the latter doesn't offer a diesel option.
But with a choppier ride, less towing capacity and a $9,450 premium, it's hard to see the upside until we can evaluate the fuel consumption. 
There's a lot of competition in the rugged pickup niche right now. With the very competent F-Series Super Duty Tremor (which is newly redesigned), and a Silverado HD ZR2 as well as a Sierra HD AT4X coming in 2024, choices are aplenty for those willing to spend big bucks on a ground-stomping workhorse that can climb boulders, or businesses that are looking for tax-deductible fringe benefits for employees who stand out.
The 2023 Ram 2500 HD Rebel is manufactured at the Saltillo, Mexico site. Production officially kicks off in November.
Share on Facebook