2023 Lamborghini Huracán Tecnica: Stylish Fury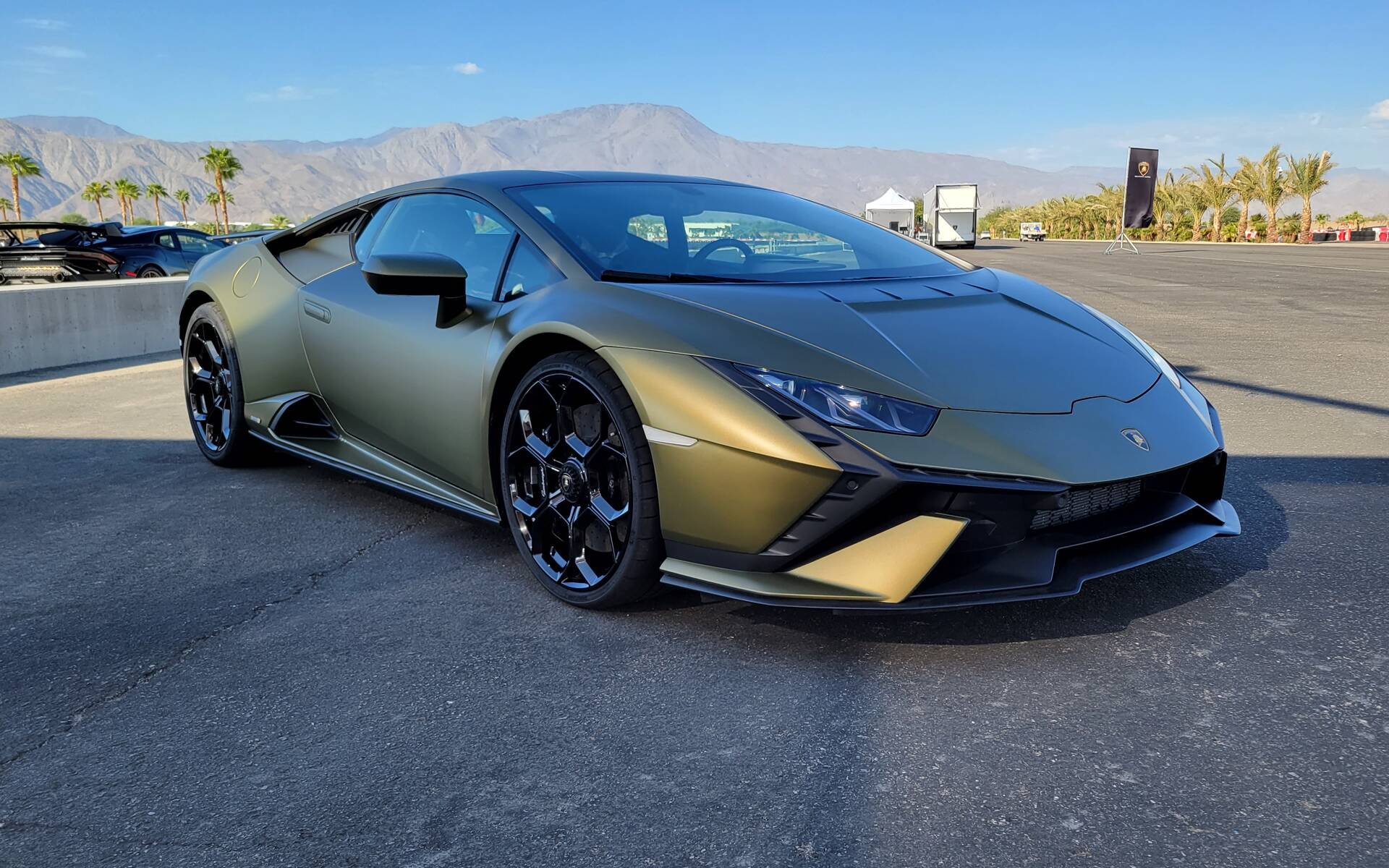 Strong points

Riveting performance
Surgical handling
Somewhat versatile

Weak points

Purchase price
Price of options
Ride comfort can be tricky in day-to-day situations
Full report
The Lamborghini brand has a very special place in the great automotive catalogue. On the one hand, it represents raw Italian performance with an aggressive, racy design and a rich experimental history. But on the other, the exclusivity of this marque has suffered from the multiplication of its models. Let's be honest, does the world really need more yellow Urus SUVs?
Regardless, Lamborghini constantly charges ahead to diversify its increasingly affluent clientele by always offering a well-stocked catalogue of sports cars. And with designs inspired by fighter jets, Lamborghini is quite successful in putting 600 horsepower, rear-wheel drive cars in the hands of as many drivers as possible.
The Huracán Tecnica was literally born in the U.S., as Lamborghini realized that it was the biggest market for this bull. It borrows many components from the STO, but without the flamboyant aerodynamic stuff. But it does get the wonderful 5.2-litre V10 engine that produces an impressive 631 horsepower and 417 lb-ft of torque. We were invited to test-drive this new V10-powered Tecnica at the Thermal race track in California, a mechanical pleasure that is becoming increasingly rare. By 2024, the entire Lamborghini lineup will be equipped with some form of hybridization.
Listen: LP and Gab discuss the 2022 Huracán Tecnica test drive
With the Tecnica, Lamborghini wanted to create a Huracán that combines both of the nameplate's personalities: the performance and dynamics of the STO with the relative user-friendliness and habitability of the EVO RWD. In fact, the Tecnica offers 35% more aerodynamic downforce than the EVO, all with a 20% lower drag coefficient. It features a carbon ceramic braking system for optimal performance on the track, but also offers directional rear wheels to make it more user-friendly in urban driving.
You won't be surprised if I tell you that the Huracán Tecnica delivers absolutely delirious amounts of power early on in the band, all thanks to the happy marriage between the naturally aspirated V10 engine and the seven-speed gearbox. Power is sent to the rear wheels with such vivacity that every start off the line is an event in itself. With a 0 to 100 km/h time of 3.2 seconds, the experience is also accompanied by its own mechanical symphony that will satisfy city cruisers and race car drivers alike.
In terms of handling, the Huracán Tecnica delivers a surgical experience. The steering promotes feedback like you rarely get in normal cars, and cornering is nothing less than exemplary. The braking system has been completely remodeled, and it doesn't disappoint. Even after a good, hard track session plagued with risky corner entries, the pedal never changed its personality.
The Lamborghini Huracán's personalities also come in a variety of driving modes, such as Strada, Sport and Corsa, and you might think that the more aggressive Corsa mode is reserved for experts. But what surprised us most was that the mode proved to be very forgiving, with the various stability control systems calibrated to help the driver maintain control, but with very calculated interventions that impeded as little as possible on the racing line. We could get ourselves into slight trouble without necessarily having the fear of crashing this nearly $300,000 exotic car into a safety barrier.
Ad Personam... ad vitam aeternam
In addition to the eight standard exterior colours, Lamborghini's Ad Personam program allows owners to choose from more than 200 paint options paired with a palette of patterns and colours for the interior stitching. This cabin is relatively comfortable for short-distance driving and is equipped with an array of technologies widely adopted in the automotive industry. The indispensable Apple CarPlay and Android Auto software suites, Amazon Alexa, but also more niche elements such as racing telemetry that records track times, among other data. All of this is accessible via the highly dynamic digital instrument cluster that provides an overview of everything that's going on mechanically, but also via the narrow touchscreen infotainment system tilted in the centre console.
Like a fighter jet cockpit, the cabin is tailored for those who spend time at the track. But considerable effort has gone into making it functional and comfortable. Comfortable is a big word here, because competition seats that don't skimp on lateral support can seem restrictive over long distances. In terms of visibility, everything positioned to keep the pilot's eyes on what's happening in front and to the sides. However, it's a totally different story towards the rear. Needless to say, you'll have to be careful when parking!
Even though the Tecnica is technically a new model, it reuses quite a few ingredients from the Huracán lineage to whip out another recipe. And that recipe, as delicious and successful as it is, will need to be reinvented in the near future. But for now, it offers a brawling temperament that will appeal as much to well-heeled city dwellers looking to turn heads as it will to thrill seekers looking for a cutting-edge track experience.
VIDEO: Miranda drives the 2022 Lamborghini Huracán EVO RWD
Share on Facebook