Shed a Tear as the Final Lamborghini Aventador Rolls Off the Line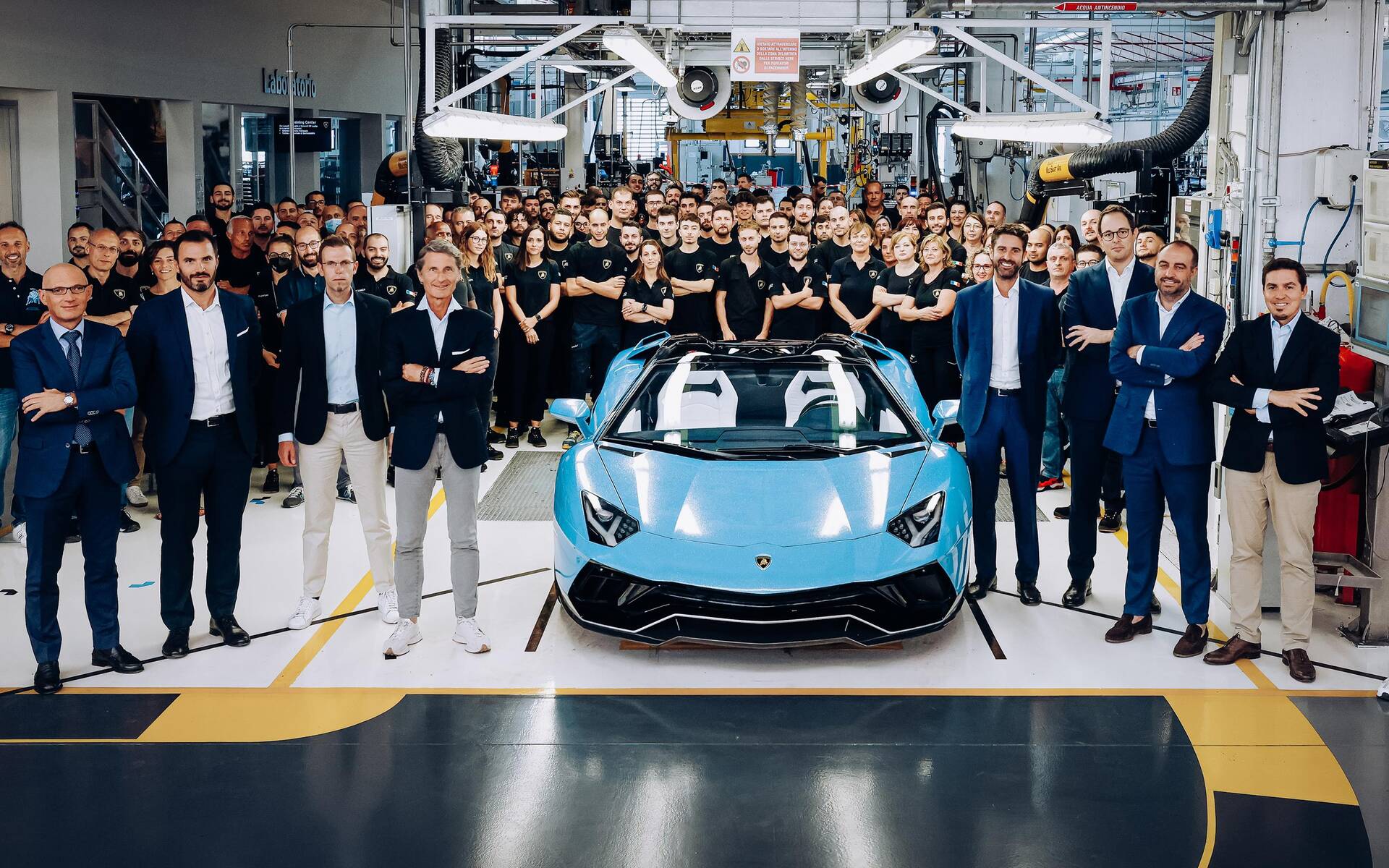 A major chapter in the history of Lamborghini came to an end this week when the very last, pure, naturally aspirated V12 Lamborghini rolled off the assembly line. The milestone model was an Aventador LP 780-4 Ultimae Roadster in a special light blue Ad Personam colour destined for the Swiss market.
Remember, Lamborghini relaunched production of the Aventador at the Sant'Agata Bolognese factory specifically to replace the 15 units that were lost at sea when the Felicity Ace cargo ship sank in March of this year.
Initially introduced at the 2011 Geneva Motor Show, the Aventador sold 11,465 units globally—more than all the other V12-powered Lamborghinis combined. It gave us at least eight model derivatives and over 10 one-off and limited editions while setting track records, winning numerous awards and starrring in various movies and video games.
"The Lamborghini Aventador was a game-changer at its launch, and the flagship Lamborghini model for 11 years of production," said Stephan Winkelmann, Chairman and CEO of Automobili Lamborghini. "The V12 engine has been part of Lamborghini's heritage since the company's earliest days; the beating heart of models from Miura to Diablo, Countach to Murciélago. […] Pure, futuristic design; benchmarking performance; and addressing technical challenges with innovation to produce the most emotive, class-leading super sports cars—these principles are the very essence of the Lamborghini Aventador, and assure its timeless appeal."
At the time of its retirement, the Aventador featured a 6.5-litre V12 engine producing up to 770 horsepower in the Ultimae model (11 more than the Aventador SVJ) along with 531 pound-feet of torque. Sprints from 0-100 km/h are clocked in 2.8 seconds and top speed is rated at 355 km/h. Carbon-ceramic brakes masterfully slow things down, needing a mere 30 metres to completely stop the car from 100 km/h.
Under Lamborghini's Direzione Cor Tauri strategic plan, the entire range will be electrified in some way by the end of 2024. The new hybrid supercar that's set to take the torch from the Aventador is supposed to debut later this year and launch sometime in 2023. In the second half of this decade, the first fully electric Lamborghini will arrive, with more to follow eventually.
Until then, you have plenty of time to take a look at the final, naturally aspirated V12-powered Aventador ever made in the photo gallery at the top of the page.
Share on Facebook