2023 BMW XM is the New SUV King With Up to 735 Hp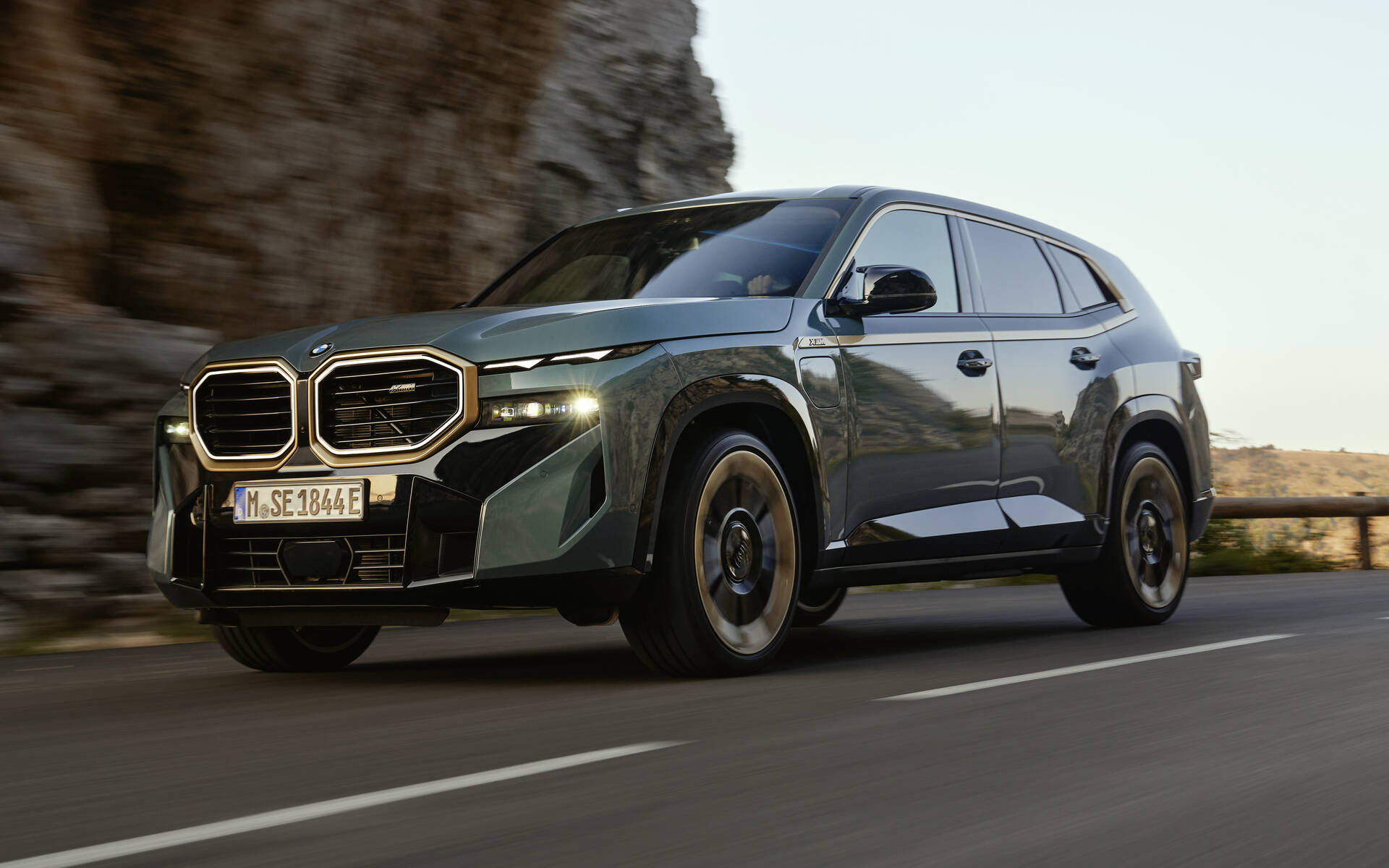 Fans of BMW M cars probably won't like it, but the German automaker has unveiled an ultra-high-performance SUV that is exclusive to its 50-year-old M division. The all-new 2023 BMW XM will enter production later this fall at the same South Carolina plant that builds the X3 to X7 models. Deliveries are scheduled to begin early next year.
Competitors were warned by a similarly named concept released in November of 2021. Now it's official: the Lamborghini Urus Performante, Porsche Cayenne Turbo S E-Hybrid, Aston Martin DBX 707 and Ferrari Purosangue have a mighty Bavarian fighter to contend with.
World-Class Power
Derived from the BMW M Hybrid V8 race car that will take part in the IMSA WeatherTech SportsCar Championship in North America next season, the M Hybrid system in the BMW XM combines a new turbocharged 4.4-litre V8 with an electric motor integrated into the eight-speed M Steptronic transmission. Together, they generate a maximum system output of 644 hp at 5,400 rpm and 590 lb-ft of torque between 1,600-5,000 rpm.
A sophisticated M xDrive all-wheel drive system controls power distribution and offers a 4WD Sport mode that sends even more torque to the rear wheels. Launch Control is part of the mix, too, resulting in 0-100 km/h sprints in 4.1 seconds—somehow slower than the four rivals listed above. Top speed is electronically limited to 250 km/h, or 270 km/h if the optional M Driver's Package is specified. That includes up to 140 km/h in pure electric mode.
The lithium-ion battery in the BMW XM has a net usable energy content of 25.7 kWh (29.5 kWh gross) and provides a zero-emission range of nearly 50 km according to preliminary BMW tests based on the EPA's test procedure standards. Not bad at all. AC charging is possible at up to 7.4 kW, meaning the battery can be fully replenished in 3.25 hours. 
But wait, there's a whole other beast to report about. As mentioned in the title of this story, the BMW XM will deliver more than 735 hp and 735 lb-ft of torque in Label Red edition. This will be the first in a series of XM Label models, and available for a limited period of time. Look for unique paint, wheel, upholstery and trim selections when production starts next summer. 
Big, Brawny SUV
The 2023 BMW XM stands 5.11 metres long, 2 metres wide and 1.76 metres tall, putting it somewhere between the X6 and X7 in terms of size, although the wheelbase is nearly identical to that of the latter at 3.1 metres. The 6,062 pounds are split almost 50-50 between the front and rear, with the floor-mounted battery contributing to a lower centre of gravity.
The double-wishbone front and multi-link rear Adaptive M Suspension Professional features steel springs and connects with standard 23-inch M light-alloy wheels (22-inch diameters are optional). For the first time in a BMW M model, Integral Active Steering is fitted as standard equipment, turning the rear wheels at a slight angle to enhance agility at moderate speeds and stability at higher speeds. Meanwhile, a 48V electric motor serves as an active connection between the two halves of the anti-roll bar at both the front and rear axle to enable flat cornering.
All of this remarkable engineering is wrapped in a unique body that looks like it was chiseled from a solid block of aluminum. The LED adaptive headlights and double-kidney grille with illuminated inner contours get a special treatment, giving the vehicle a menacing look emphasized by the large front air intakes.
A chrome strip bisects the door panels and goes around the side windows, while the lower section is dominated by the muscular fenders. In the rear, the smoothly shaped liftgate is devoid of a BMW logo (you'll find it engraved in the upper right corner of the rear window instead). There's a subtle spoiler up top, and the slim taillights in a sculpted design project out from the body. The black bumper stands out even more with tailpipes from the double-sided, dual-branch exhaust system protruding from either side of the massive, gold-accented diffuser.
Priced Above All
The two-tone interior of the BMW XM is a stunning blend of sportiness and technology, from the four generously bolstered seats to the numerous matte carbon surfaces to the BMW Curved Display. The latter, of course, is powered by next-generation iDrive 8 infotainment, though with M-specific graphics and menus. And get this: fibre-optic light guides containing 100 LEDs are integrated into the headliner's "picture frame" border to produce constant or dynamic light effects depending on the situation and selected driving mode.
Customers will also have a wide array of personalization options—that is, if they want to spend more money on top of the staggering base price of $159,000 USD (Canadian MSRP has yet to be announced), or more than $185,000 USD in the case of the XM Label Red. It's only fitting that the most powerful BMW model happens to be the most expensive.
Watch: The Car Guide Drives the 2022 BMW iX
Share on Facebook