2022 Ford Explorer Hybrid: From Montreal to NYC and Back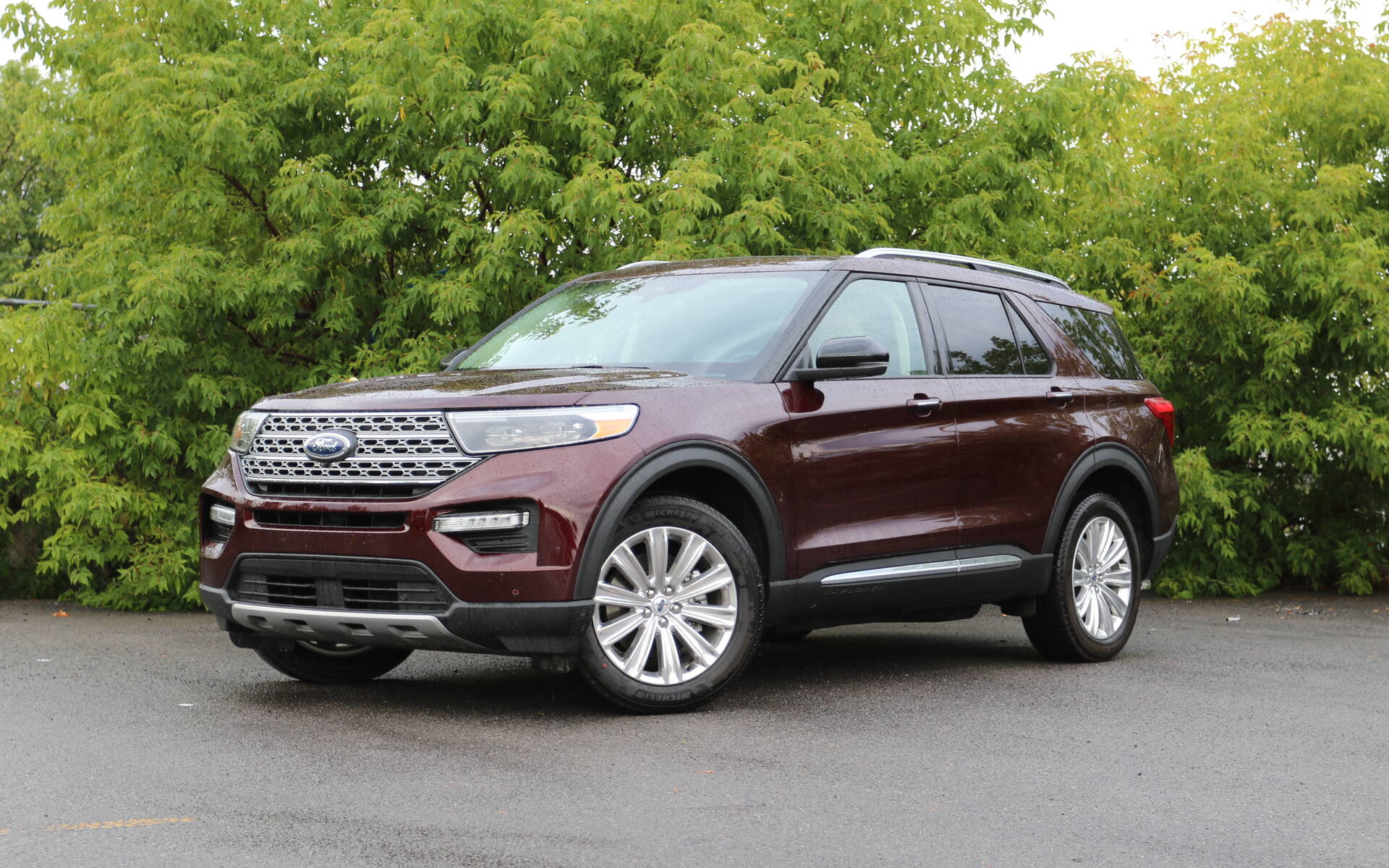 Strong points

Very comfortable ride
Fairly good fuel economy
Spacious and accommodating interior

Weak points

High price
Hybrid tech available with a single trim level
Limited third-row space
Unpleasant transmission
Full report
Rising gas prices have boosted demand for electric and hybrid vehicles. Alas, three-row midsize SUV buyers have few options to choose from if they don't want to spend all their money at pump.
In fact, there are just two: the Toyota Highlander Hybrid and Ford Explorer Hybrid. We've previously reviewed the former, so let's now take a closer look at the Explorer's gas-electric variant.
It just so happens that we were handed the keys to an Explorer Hybrid the same week we had planned a two-way trip from Montreal to New York City, representing a total of about 1,300 kilometres. We don't typically evaluate vehicles over such long distances, but this experience provided a lot of data and insights that we can share with you.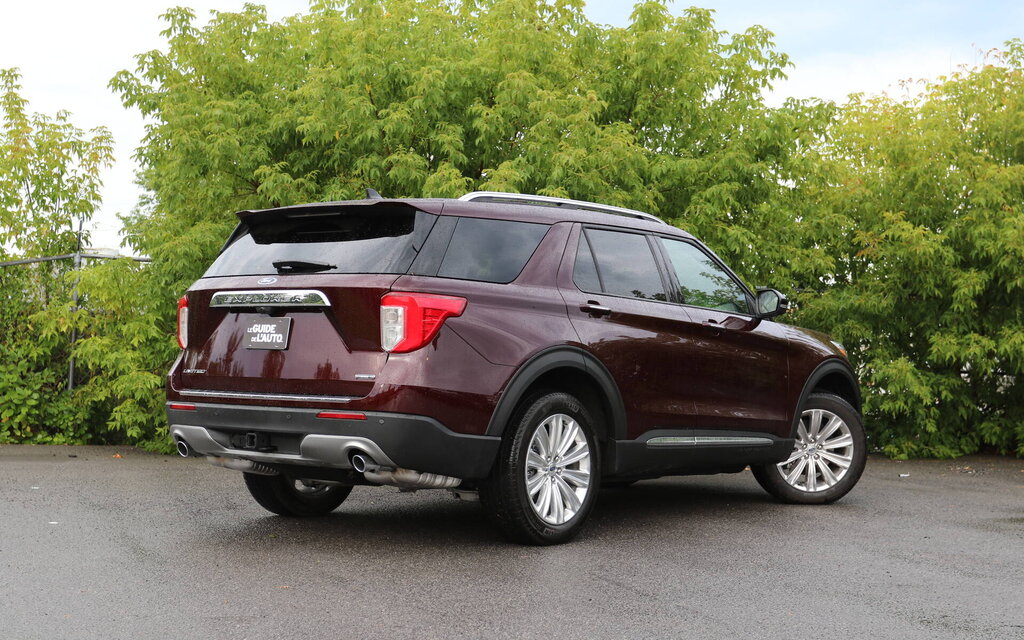 Comfort First
Even after just a few metres, it became clear that comfort is the Ford Explorer's main focus. The combination of soft seats with a compliant suspension results in a beautifully smooth ride. No matter how rough the road gets, this big SUV is not one to punish occupants.
The front buckets are supportive enough to spend several hours in them without feeling too tired. If you don't like to take breaks, we're happy to report a Montreal-NYC trip can be completed as if it was only a short drive. You'll stop for gas well before your lower back starts to hurt.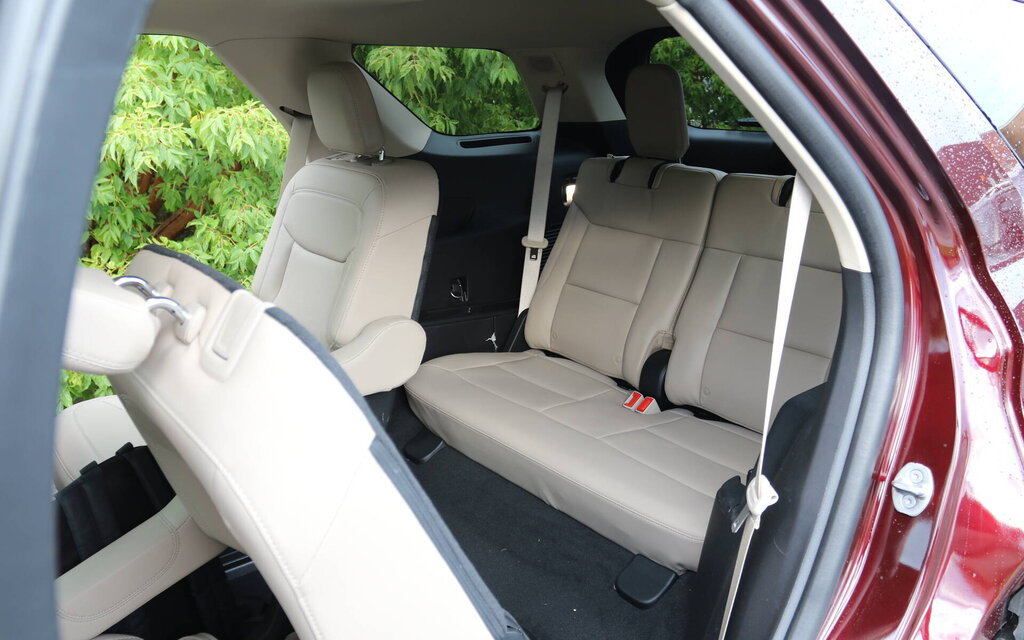 Our tester was equipped with second-row captain's chairs that also proved comfortable. You can slide them fore and aft to either enjoy massive legroom or maximize cargo. With those seats positioned as far back as possible, however, third-row passengers will feel pretty squeezed. What's more, the seat cushions are too low for adults to be comfortable sitting there. Kids won't have any problems, though.
As for cargo capacity, the trunk offers a decent 510 litres, but the Explorer Hybrid is not as capacious as some of the competition when you fold all the rear seats. At 2,486 litres, it pales in comparison to a 2022 Honda Pilot (3,092 litres), for instance.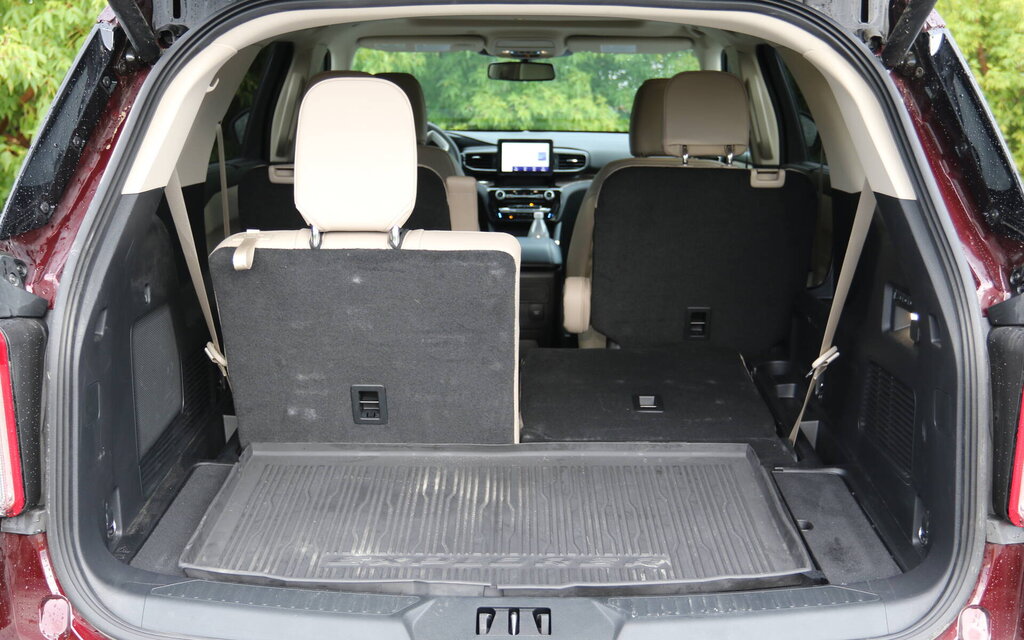 Relatively Fuel-Efficient
For this model, Ford chose a naturally aspirated 3.3-litre V6 engine combined with an electric motor. Total system output is 318 horsepower along with 322 pound-feet of torque. The electrified powertrain is lively enough for daily driving. In order to merge onto the highway or pass slower traffic, you need to apply quite a bit of pressure on the throttle, which is fine except that the gas engine becomes pretty loud when heavily pushed.
The biggest irritant is the transmission, which seemed to be at odds with the engine and motor on many occasions. Some of the moves felt jerky, and going from Drive to Reverse or the other way around often resulted in a big "klong." Also, power delivery could be more seamless, while the brake pedal lacks consistency and bite.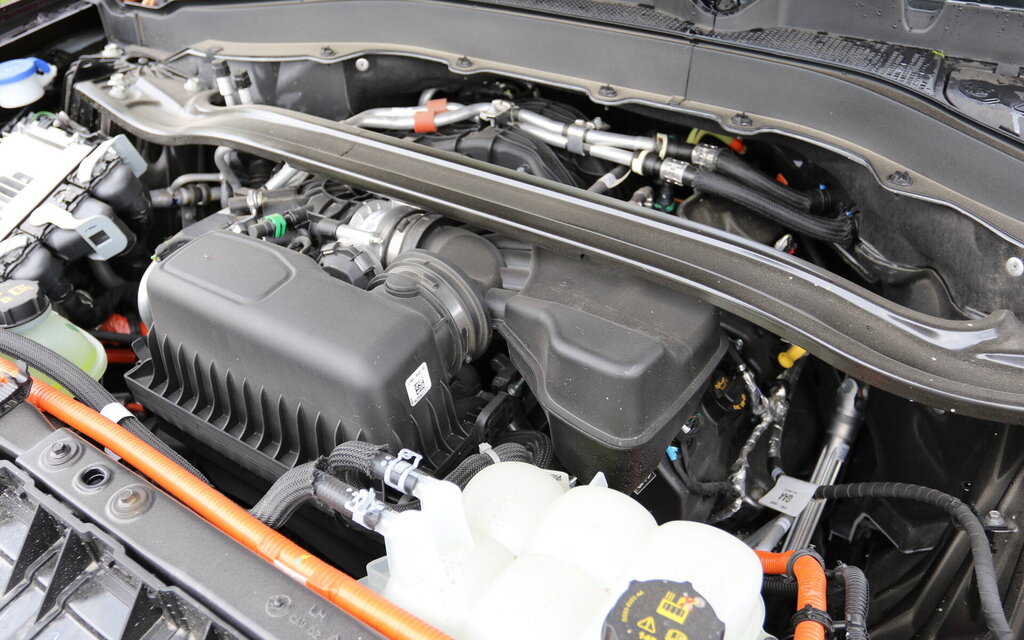 For sure, the Explorer Hybrid knows how to please drivers at the pump. The official combined rating by Natural Resources Canada is 9.6 L/100 km, or 10.1 L/100 km in the city and 9 L/100 km on the highway to be exact. At the end of our long trip, which primarily involved highway driving, our tester returned an average of 8.8 L/100 km. That's great for the midsize SUV segment, but not as good as the Highlander Hybrid, which is rated at 6.7 L/100 km and posted a similar figure in a previous test.
Think about this: a comparable gas-only model typically burns 10 L/100 km on the highway and 12-14 L/100 km around town. Choosing an Explorer Hybrid and spending most of your time on the highway won't cut your fuel bills dramatically, but if you do a lot of urban commutes it makes more sense. At least on paper.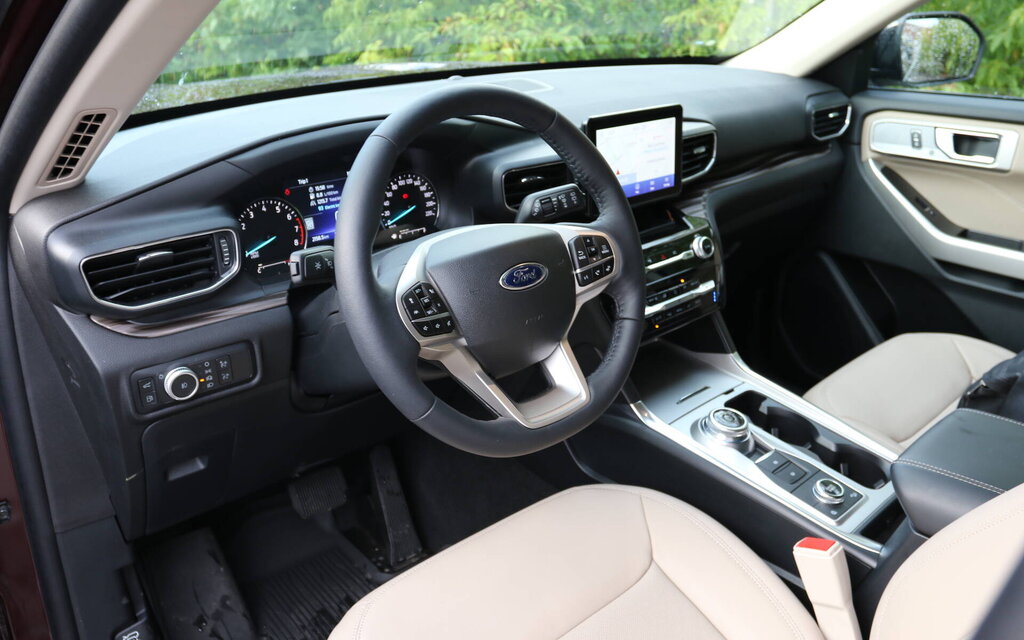 The other key part of the equation is pricing. Since the hybrid powertrain is exclusively available in Limited trim, you're looking at a base MSRP of $59,299 with lease payments of about $930 over 48 months and more than $1,230 if you opt for 60-month financing. Considering that payments on a standard Explorer XLT are just $758 or $1,008, respectively, you need to drive an awful lot to get a return on your investment.  
And One More Thing…
It's possible that a Ford Explorer Hybrid will retain better value in five years than a conventionally powered model. That's another thing potential customers need to take into account. Oh, and there's the matter of reliability, too. The Blue Oval doesn't exactly have a stellar record in that department, and Ford hybrids still have to demonstrate how durable they really are. Once again we go back to Toyota, whose Highlander has been a reliability and residual value leader for years.
Share on Facebook