2023 Honda Civic Type R Revealed With Many Specs Missing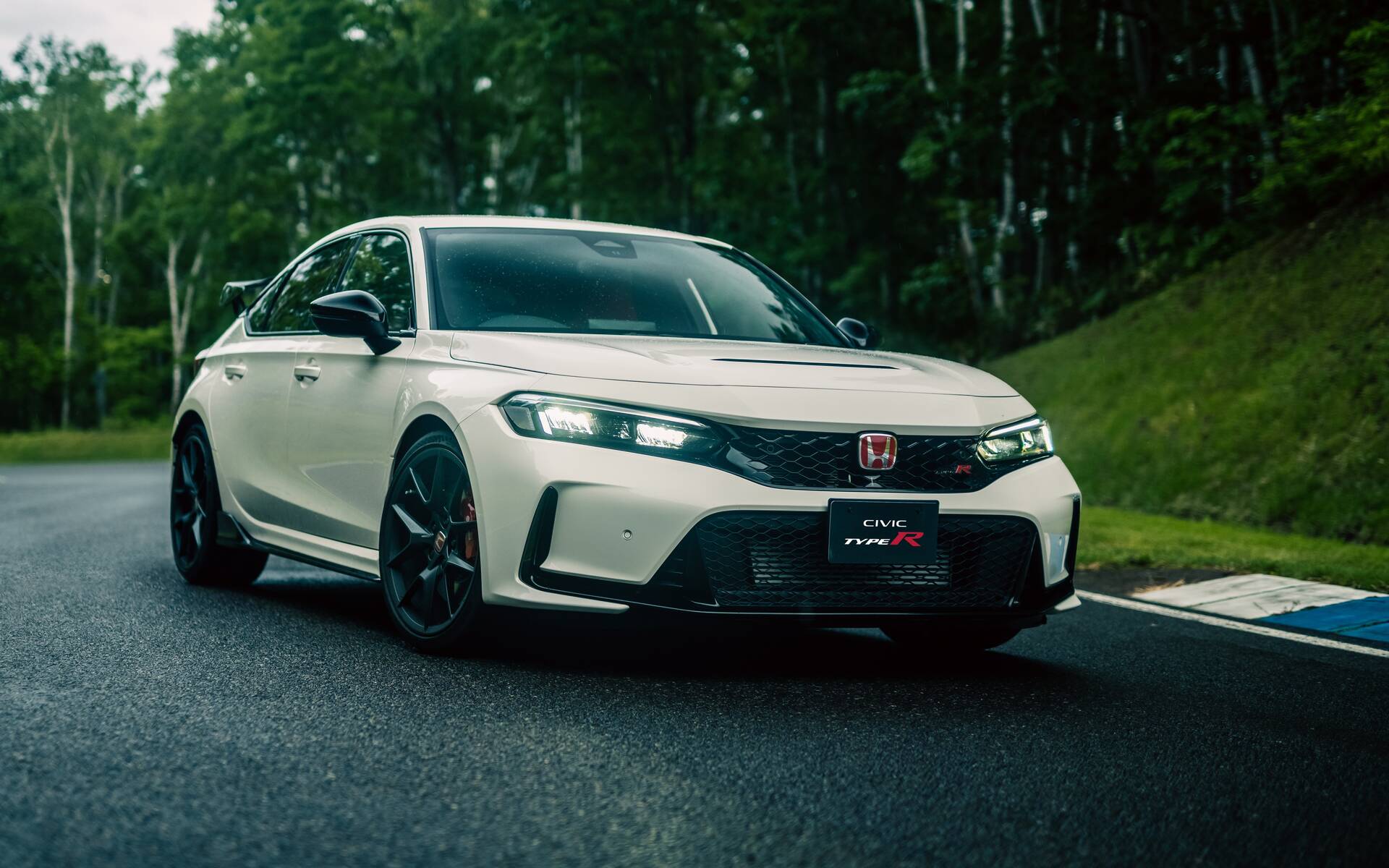 Honda's "Year of the Crossover" is all about the new HR-V, CR-V and soon Pilot, but don't forget the car that embodies the pinnacle of power and performance, namely the Civic Type R.
Completely revised and improved, with the latest Civic Hatchback as a foundation, the new 2023 Type R made its official debut on Wednesday night during a special event in Los Angeles.
The Most Powerful in 30 Years
Honda proudly says that this Civic Type R is the most powerful model in Type R's 30-year history, but we're left to guess output, torque and acceleration times for now. The outgoing model had 306 hp and 295 lb-ft. of torque, as you know. Full specs will be revealed at a later date.
What we know for sure is that the turbocharged 2.0-litre four-cylinder engine has been revised for extra responsiveness,  making the Type R quicker and faster than ever—as evidenced by the new front-wheel drive production-car track record it set at the Suzuka Circuit in Japan. The six-speed manual transmission has also been fine-tuned.
Honda insists on the new lightweight and highly rigid body that helps improve high-speed stability and cornering performance. Enhanced steering and suspension tuning are part of the package, too, but no further details are provided.
Less Aggressive, More Aerodynamic
In terms of styling, the new 2023 Civic Type R looks tamer and less aggressive than its predecessor. Of course, we saw that coming. The red accents are gone except for the "R" logos and Honda badges all around.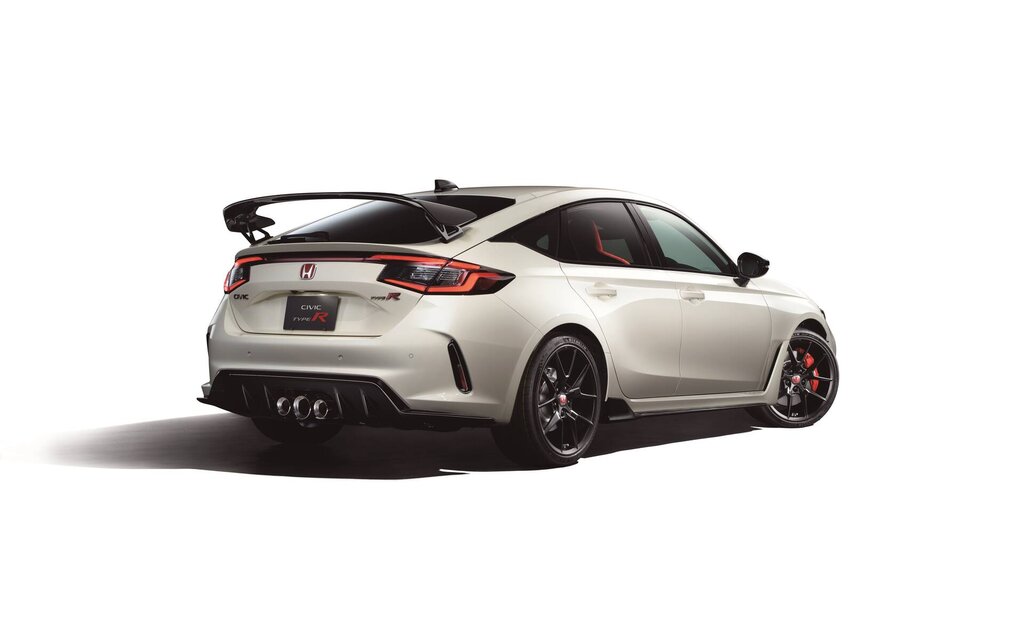 On the other hand, the car is longer, lower and wider, not to mention more aerodynamic. There's still a giant, raised wing in the rear, though its design is all-new.
Below, there's a more prominent diffuser along with the signature triple tailpipes, only this time the middle one is bigger than the other two. Larger front fender grilles and new side sill spoilers behind the front wheels enhance airflow efficiency. Speaking of which, the new 19-inch lightweight alloy wheels (in a similar design to the old 20-inch units) are wrapped in Michelin Pilot Sport 4 S tires.
Three body colours will be available including Championship White, Sonic Gray and Rallye Red.
Rated +R
The interior of the 2023 Civic Type R is mostly a duplicate of the regular Civic's, though it adds much flair with red seats, carpet and trim, an aluminum shift knob and a serialized Type R plate on the dash are new for the 2023 model year. Suede-like upholstery with a high-friction coefficient reduces body slippage in high-G driving situations.v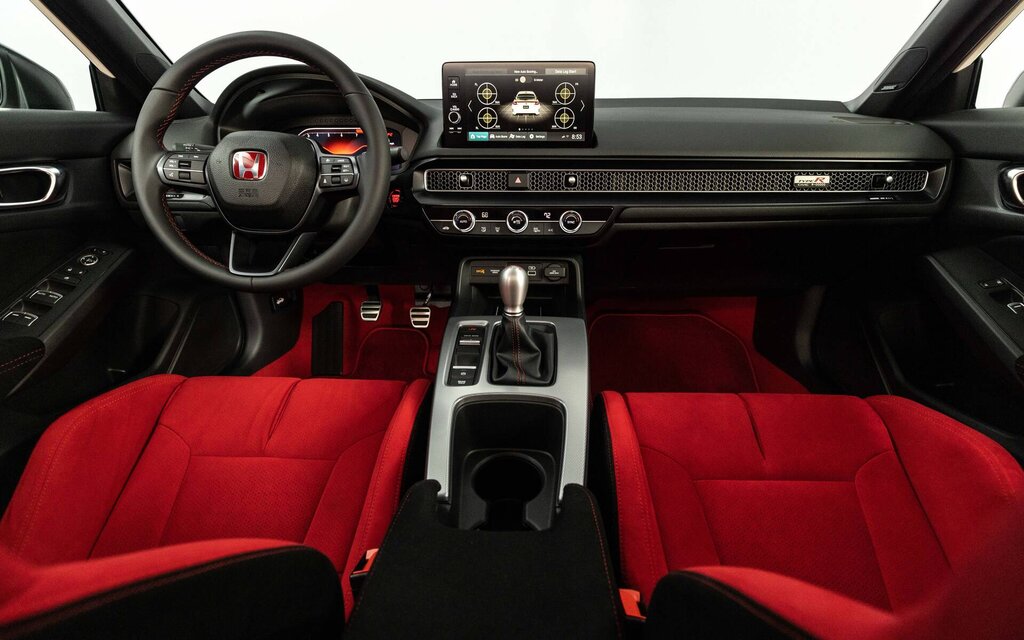 The instrument cluster features a new +R driving mode display allowing the driver to get necessary information instantly, with a graphic engine rpm display, rev indicator lights and gear position indicator placed at the top. But that's not all: a +R button appears on the centre console, likely for quick access to a customized series of vehicle settings. A nine-inch touchscreen is also included.
Honda will share full details and pricing for the 2023 Civic Type R closer to launch this fall. We can't wait to put the car to the test and pit it against the Volkswagen Golf R and Toyota GR Corolla in a three-way battle for hot hatch supremacy.
Share on Facebook