2022 Mitsubishi
Eclipse Cross

: More Relevant Yet Not Convincing Enough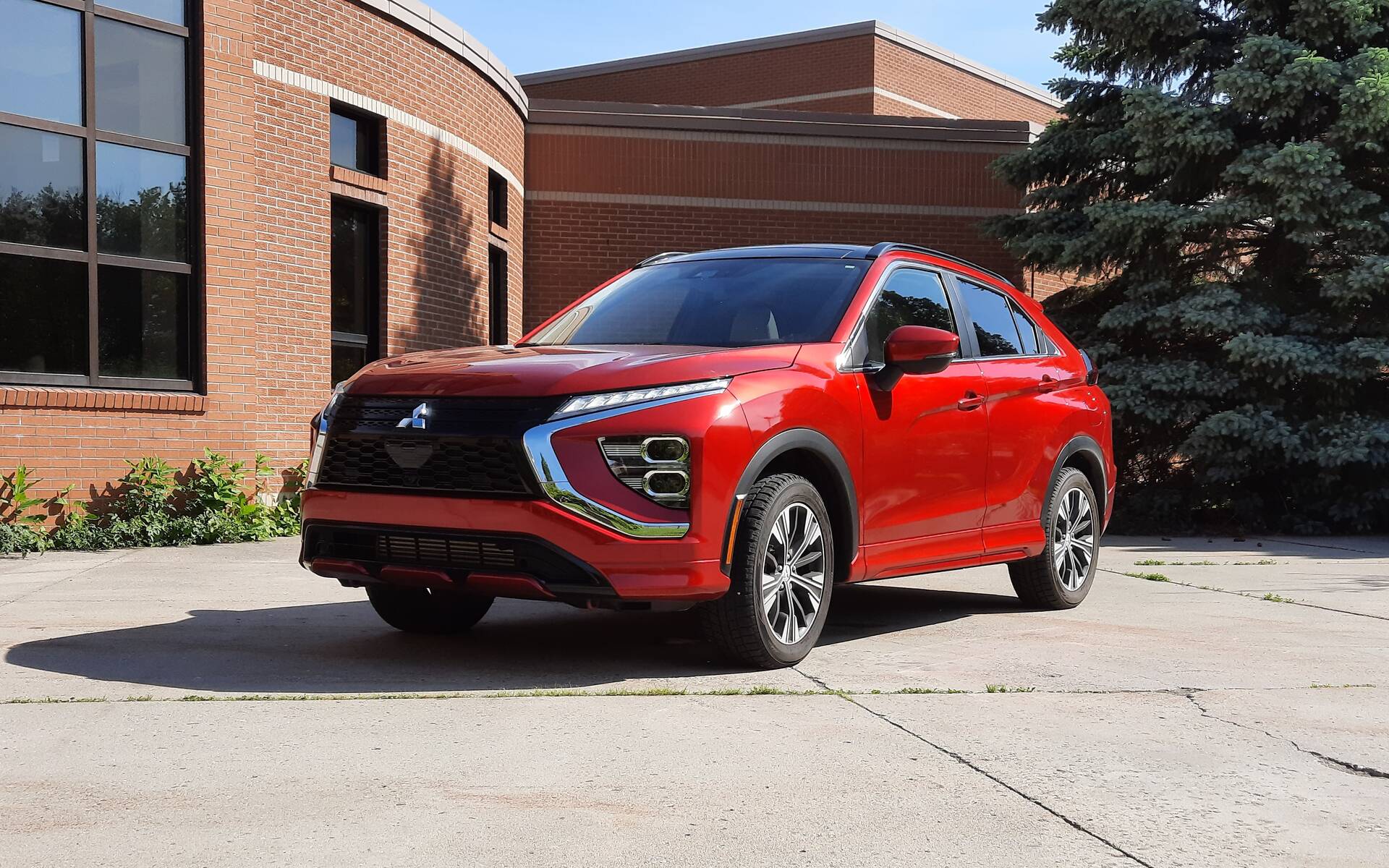 Strong points

Competent AWD system
Unbeatable powertrain warranty
Comfortable seats

Weak points

Disappointing cargo space
Infotainment system needs an overhaul
Poor fuel economy
Full report
Still think Mitsubishi made a mistake by slotting a new model between the RVR and Outlander—and calling it Eclipse Cross—about four years ago? If you look at all the small crossovers that have hit the market recently, it now makes more sense.
Of course, we would have preferred a proper three-row SUV (God bless those poor souls having to sit in the back of the Outlander). Also, a lot more people keep opting for either the RVR or Outlander. Yet, with the significant changes made for 2022, the Eclipse Cross proves more relevant and interesting.
We've just spent a full week behind the wheel of a top-line GT S-AWC model to get a better understanding of the progress that's been made and the work that still needs to be done. By the way, the 2023 model is already available to order but is just a carry-over from 2022.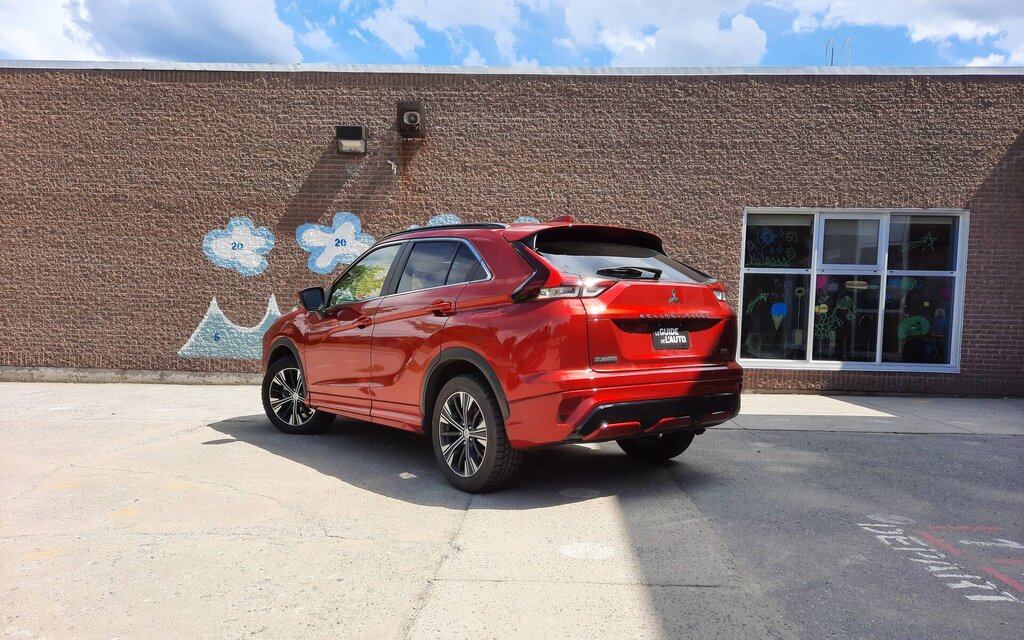 More Modern and More Spacious, But…
Kudos to Mitsubishi designers for removing that big scar on the old Eclipse Cross, more specifically the light bar stretching across the rear window. Styling and visibility are both improved as a result. The weird combination of headlights, daytime running lights and fog lights up front may not appeal to everybody, but in our opinion it's not as offensive as the Outlander's ugly mug.
For 2022, the Eclipse Cross is longer and creates more separation with the smaller RVR, although their wheelbase is identical. You can now fit 663 litres of cargo into the trunk, or up to 1,419 litres by folding the rear seats (alas, not completely flat).
The problem is that these numbers are bested by a large majority of competitors including the Volkswagen Taos, Toyota Corolla Cross, Chevrolet Trailblazer and Jeep Compass, not to mention the redesigned and beefier 2023 Honda HR-V. On top of that, the liftgate is fairly heavy, which might become irritating for smaller owners.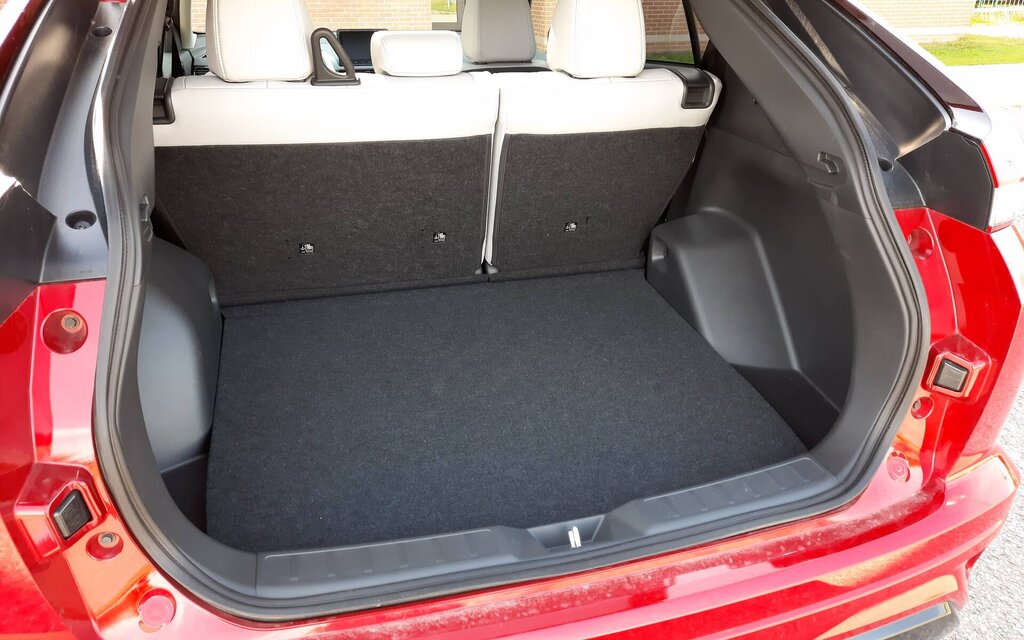 Comfortable Seats Are Not Enough
Inside the 2022 Mitsubishi Eclipse Cross, you'll find some comfortable and supportive seats that make up for the body roll caused by the soft suspension. The driver's bucket doesn't get low enough to our liking, however. The rear seats are similarly tall, limiting the amount of headroom for occupants. Granted, that's not a problem for kids (remember, this is a SUV for small families). Storage, meanwhile, is adequate.
You might want to avoid the light grey leather upholstery as seen in our tester, which was already starting to show signs of wear and discolouration. It's also easier to stain. Once again, designers have made an effort to jazz up the Eclipse Cross, but with mixed results. The interior still feels plasticky. Our favourite feature is probably the dual-pane panoramic roof.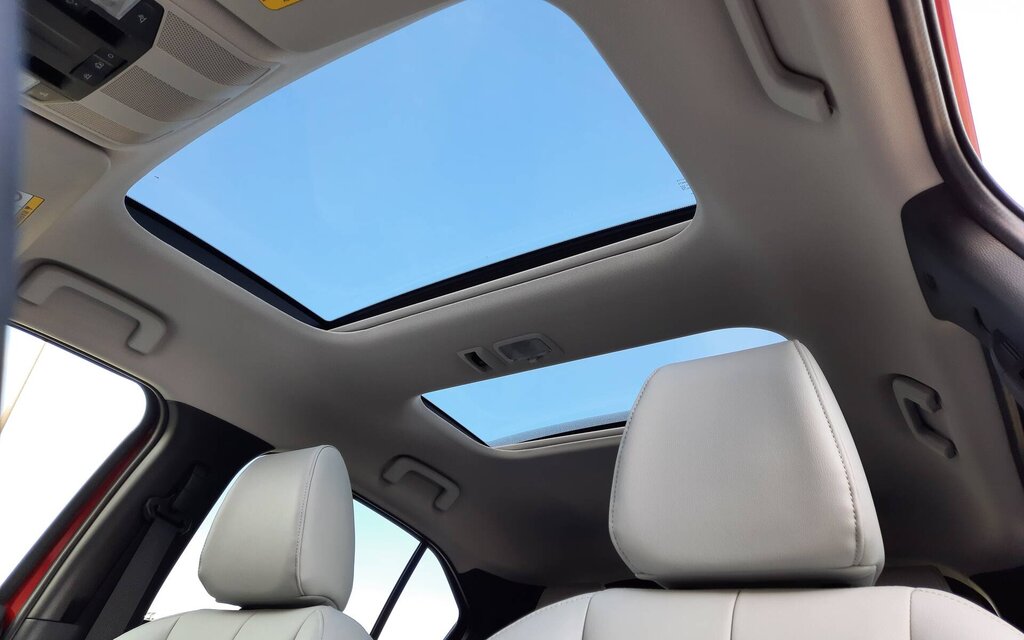 As for the HMI, the instruments are straightforward but lack information. There's an available head-up display and the new eight-inch touchscreen is a blessing as you no longer need to use a touchpad on the centre console.
On the flip side, the infotainment system could use a serious overhaul. It's certainly not as sharp or user-friendly as what the competition is offering. Android Auto or Apple CarPlay will become your ally, here. Furthermore, the rear-view camera's resolution and optional TomTom navigation fail to impress.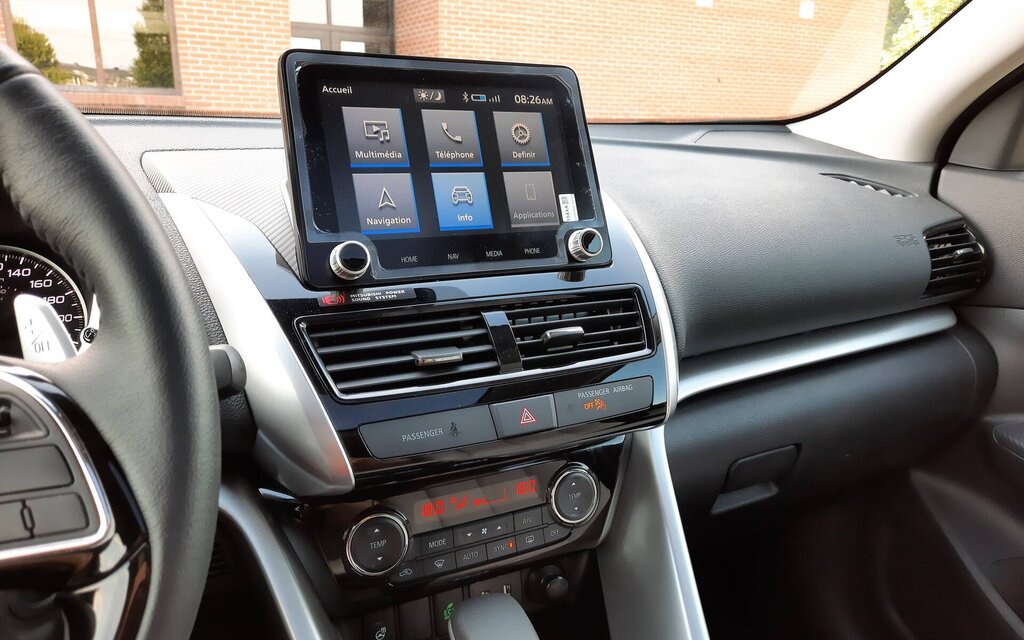 The Same Two Selling Arguments
The good news is that you can always count on Mitsubishi's unbeatable 10-year/160,000km powertrain warranty and competent Super All-Wheel Control (S-AWC). The latter comes standard on every Eclipse Cross and features Snow and Gravel modes, which is nice. Should the company add a FWD model that would lower the base price? No doubt. Volkswagen does exactly that with the aforementioned Taos, which boasts nearly identical engine specs, and sales are markedly stronger.
Speaking of which, the turbocharged 1.5-litre four-cylinder engine delivers a healthy 184 pound-feet of torque from 2,000-3,500 rpm, but then you must push it all the way to 5,500 rpm to unleash the modest and loud 152 ponies. The throttle shows some resistance at first, which means the Eclipse Cross is not as responsive and zippy as one could wish for. What about the continuously variable transmission? Well, there are worse units out there. Mitsubishi's actually does a fairly good job of simulating gear changes.
The ride is generally on the smooth side and towing capacity amounts to 2,000 pounds with two people in the vehicle (down to 1,500 pounds when all five seats are occupied).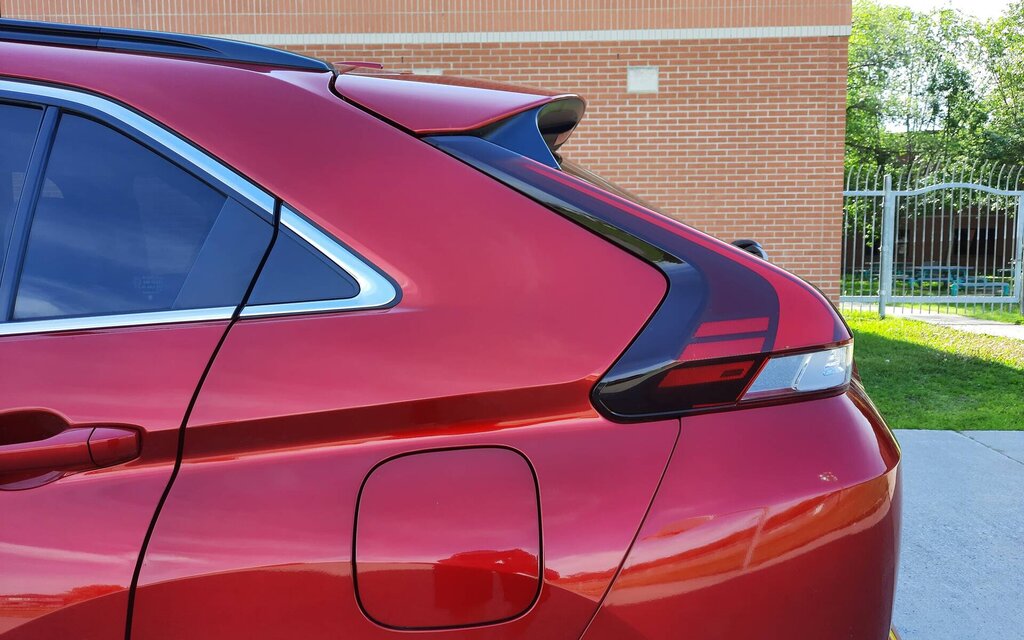 The real disappointment comes from fuel economy. The Eclipse Cross is officially rated at a combined 9.3 L/100 km—closer to 10 L/100 km in the real world—making it less efficient than the larger Outlander (8.9 L/100 km), which is inexcusable. There's no engine stop-start feature to save a bit of fuel around town, and don't even think about using Eco mode if you care even a little about performance or driving enjoyment.
Bottom Line
Starting at $31,503 (including freight, PDI and other fees), the 2022 Eclipse Cross is relatively expensive when you look at its direct competitors, and Mitsubishi even dares to charge extra for all the body colours except Sterling Silver. Unless you've somehow fallen in love with this SUV, don't go any higher than an SE S-AWC model at $34,127, otherwise you'll pay too much for what you get in return.
Share on Facebook