Canada Lacks Ambition in EV Charger Plan, CVMA Says
The Canadian Vehicle Manufacturers' Association (CVMA), which represents the Detroit Three automakers in Canada, says Canada is at risk of seriously lagging behind most countries when it comes to electric vehicle chargers.  
As of May 2022, there were a little over 16,000 public chargers in Canada. Ottawa has promised to help build 50,000 new chargers over the next eight years, which sounds like a lot but is actually not very ambitious when weighed against EV sales targets set for 2030, the CVMA claims.
It believes it is essential for Canada to remain aligned with the U.S. in the development of EV charging infrastructure. The Biden administration's plan is deemed more aggressive and more likely to drive people to go electric.
The CVMA also gives as an example the European Union, which recommends that member countries aim for one public charger per 10 EVs on the road. As you can see in the graph below, Canada's current position is not so pretty.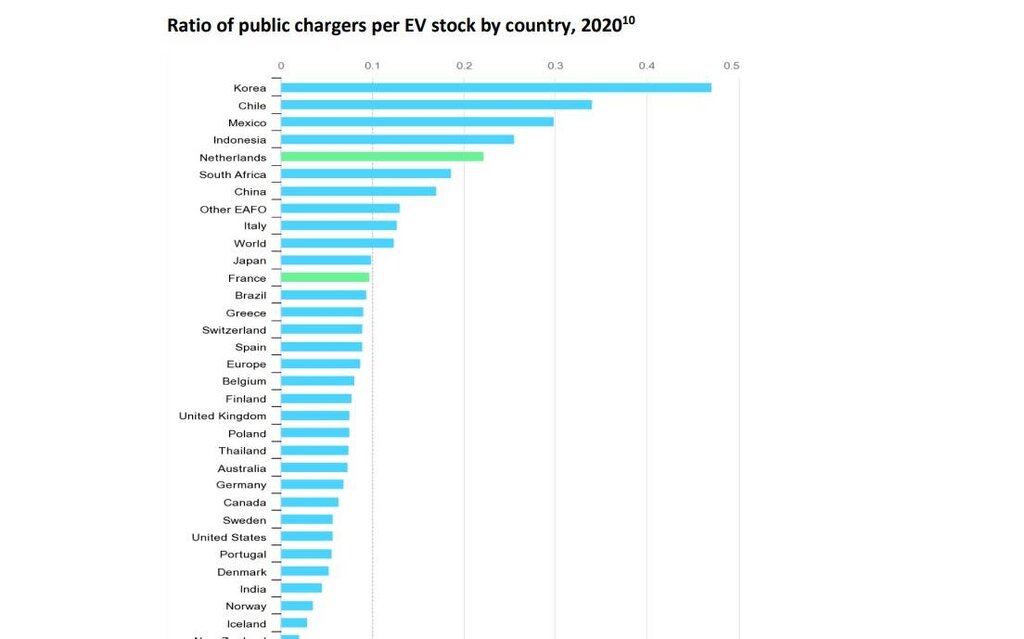 To be fair, by this metric, Canada is actually ranked above the U.S. and even Norway, where plug-in vehicles now account for a whopping 85 percent of the market.  
"As Canada works to achieve the 100% ZEV sales target by 2035, significantly more charging infrastructure will be required. Compared to other jurisdictions with similar ZEV goals, Canada has one of the least comprehensive and ambitious charging infrastructure plans," the CVMA report says.
Based on current projections, there will be nearly 70 EVs per public charger in Canada by 2030 if no more action is taken. By comparison, the ratio is expected to be 33:1 in the U.K, 30:1 in the U.S., 10:1 in Germany and China, and 7:1 in California, a U.S. state that Canada likes to model itself after.
For Canada to keep pace with California, the CVMA calculates an additional 650,000 public chargers need to be built in the next eight years. In fact, it's likely more than that as colder temperatures in Canada will require EVs to stay plugged in longer and more often.
Share on Facebook