The 2010 Lincoln MKT: Sweet on the inside!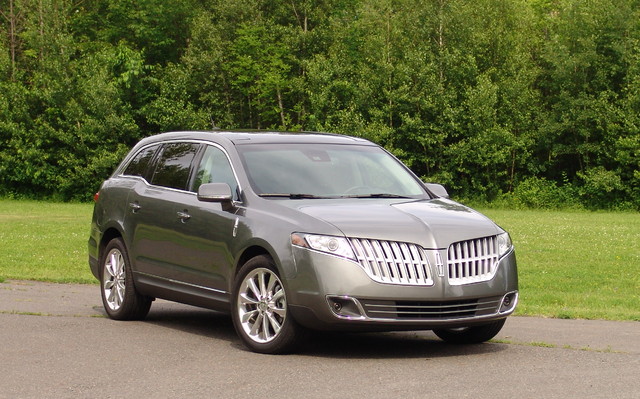 Strong points

Confort d'une limousine
Moteur Ecoboost jamais à court de souffle
Espace de chargement de type cathédrale
Comportement routier étonnant
Essence régulière

Weak points

Design inusité
Troisième rangée pour sacs d'épicerie
Consommation élevée
Visibilité arrière pénible
Pneus de remplacement demanderont une seconde hypothèque
Full report
The economic crisis saw all three American auto manufacturers embark on major restructuring, and yet, the actual number of models available has hardly diminished, at least not for the time being. In this context, which is paradoxical to say the least, manufacturers have felt that if they want to make sales and turn a profit they have to come out with vehicles that stand out from the crowd. Make the vehicles too different, though, and you can end up with the opposite result!
Last spring, Lincoln unveiled a new SUV (or crossover, I don't even know anymore!) called the MKT. And when it comes to setting itself apart from the masses, the MKT has certainly been successful! I could write pages about its aggressive grille, its inclined rear section underlined by a wide, red band that encases the tail lights, and the long, tinted side windows that make it look a little like a hearse (that last part a quote from my wife – I wouldn't have dared to say it myself...).
Spacious... but not everywhere
The MKT is more than just an unusual physique. There's also the fact that the MKT is big. Very big ! In fact, it's a Ford Flex in its Sunday best. The two vehicles share the same chassis and mechanical organs, but the MKT is nearly six inches longer (147 mm to be exact). The Flex, however, is 58 mm wider, which may explain why the Ford has more storage space than the Lincoln (2356 litres compared to 2150 when all the seats are down). Keep in mind that both feature three rows of seats. Plus, the MKT weights about100 kg more than its "little" brother.
The MKT's interior will immediately strike you. Initially for its sheer size, but a closer look reveals quality of  materials and assembly. Despite the numerous functionalities, Ford designers not only managed to limit the amount of buttons on the dash, but they also ensured that the buttons were easy to understand and use. That's certainly something to be grateful for. However, the touch screen in the centre of the dash seems to showcase fingerprints when not in use. It's not pretty. When it comes to visibility, there's no problem toward the front, but the same cannot be said in the rear as the window is too small. Fortunately, the MKT we tested came equipped with a rear view backup camera. The front seats offered comfort under all conditions. And speaking of comfort, the soundproofing was excellent, even during accelerations.
Second row passengers will also have nothing to complain about, as they get ample head and foot space. Other than the oversized doors that you have to hold back in tight parking spots, there really isn't much we can criticize the MKT for when talking about its first two rows. The third row, however, is another story with insufficient space at the head and foot levels. Kind of surprising when you consider the MKT's outrageous dimensions!
What's better than a turbocharger? Two turbochargers!
The MKT we tested came with the new 3.5-litre EcoBoost V6. With 355 horses and 350 lbs.-ft. of torque, this engine offers some punchy performances. It can take the vehicle from 0-100 km/hr in 7.0 seconds and 80-120 km/hr in just 5.3 seconds. Those are some pretty eloquent numbers when you consider that the MKT weighs 2,233 kg! With this twin-turbo engine, Ford gives you the power of a V8 with the savings of a V6. Yeah! Awesome! On paper, at least… Ford states that its fuel consumption is 20% less than that of a V8. That said, it still guzzles quite a bit. The manufacturer's website claims it averages 9.2 litres/100 km for highway driving and 13.1 litres/100 km for city driving. But during our week-long test drive, the onboard computer indicated 16 litres/100 km (granted, we didn't go easier than usual on the accelerator). Half of those kilometres were covered in the city. The good news is that this twin-turbo engine is content to run on regular gasoline.
Another engine is available, a 3.7-litre V6 producing 268 hp and 267 lbs.-ft. of torque. Having tested this engine in a Ford Flex, I can safely say that it does the job 95% of the time. Disappointingly, the towing capacity remains 4,500 pounds (2,000 kg) regardless of which engine you choose. This cancels the potential advantage of the EcoBoost. 
No complaints about the smooth six-speed automatic transmission. It offers a manual mode, but you can get tired of it pretty quick unless you're towing on mountainous terrain. At 100 km/h, it allows the engine to turn at only 1,600 rpm (2,000 at 120). Just imagine how much gas it would consume if the engine had to run faster! This box transfers the torque to all four wheels thanks to the AWD. In the US, the base model with the regular V6 can also come with FWD. This version will not be offered on our side of the customs line, but they probably wouldn't sell many of them here anyway. And since the MKT is not likely to be exceedingly popular here, it's easy to understand Ford's thinking on this one!
Affordable vehicle, expensive tires
Slightly aggressive driving or uncooperative road conditions cause the roll stability control system to kick in unexpectedly and with considerable noise. Of course, the MKT we tried out was a pre-production model; in all likelihood, today's units don't have the same problem. And speaking of problems, the MKT has superb rims surrounded with 20-inch tires. Very attractive, yes, but very expensive to replace...
The Lincoln MKT finds itself in the same league as the Acura MDX, Audi Q7, BMW X5, Mercedes-Benz Classe R, Volvo XC90 and other large luxury crossovers. It's less expensive than its counterparts and often more comfortable. But its stand-out looks will most likely not be enough to rope in high sales figures, though that's probably not what they're expecting from this vehicle anyway. After driving it for a week, I never did get used to the way it looks. But appearances aside, I'd buy an MKT any day!
Share on Facebook