2022 Toyota Tundra: Like a Japanese F-150 EcoBoost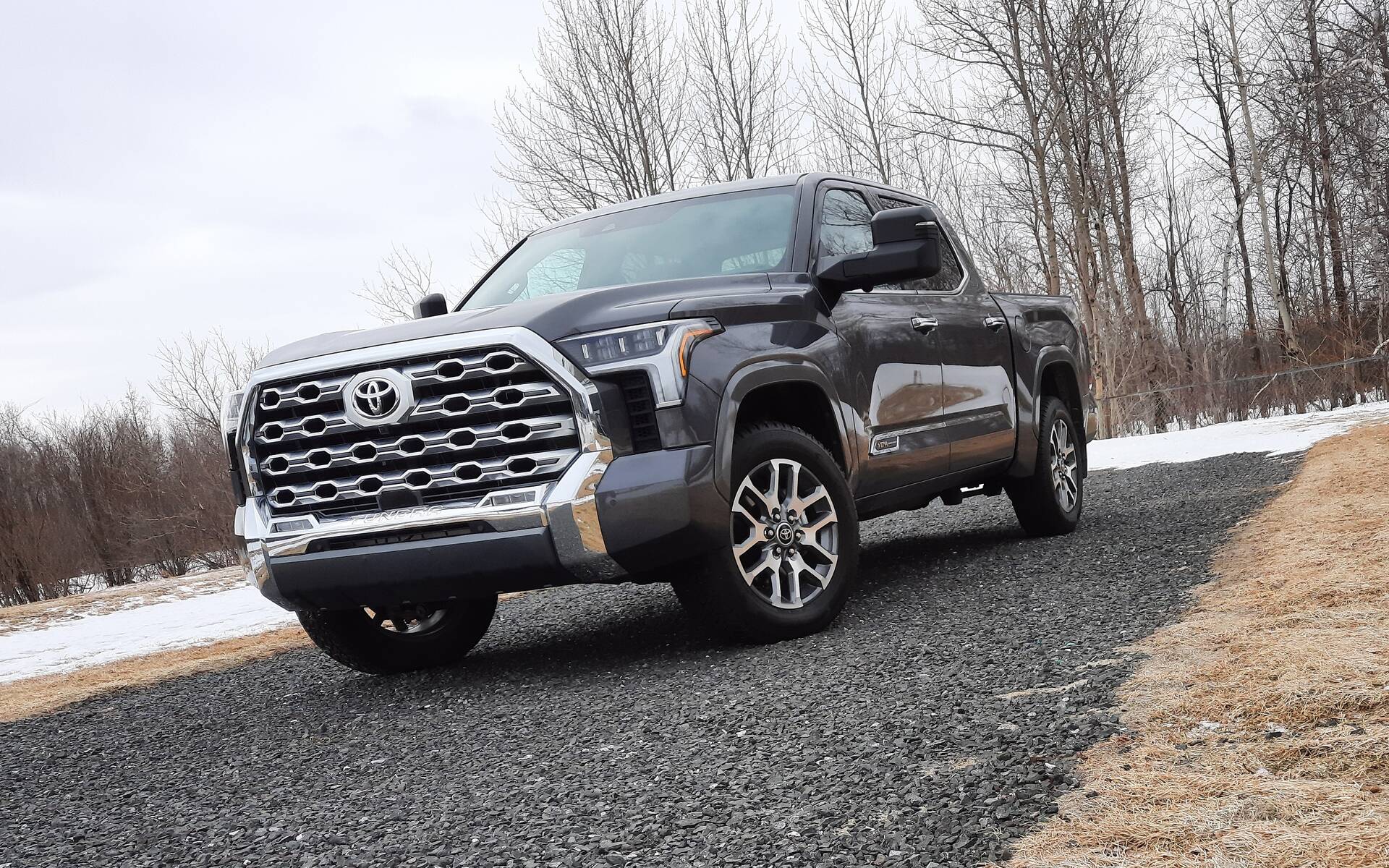 Strong points

Superb redesign inside and out
Cutting-edge infotainment
Increased comfort and capability

Weak points

Lack of practical solutions
Twin-turbo V6 is thirsty
Firm seats
Full report
Toyota took an eternity to redesign the Tundra, even though the latter is and will always be a distant threat to American full-size pickups.
Our expectations for the all-new 2022 Tundra were still pretty high. As we found out in our weeklong test drive, Toyota designers and engineers have done a remarkable job all around. However, aside from the Tundra Hybrid going on sale this spring, nothing really stands out from the competition once again, and the lack of practical solutions is a big bummer.
The model you see here is a luxurious Tundra 4x4 CrewMax 1794 Edition with a 5.5-foot bed, 20-inch wheels and western-themed cabin for a starting price of $74,190—nearly $10,000 more than its 2021 equivalent, yet slightly cheaper than a comparable Ford F-150 King Ranch or Ram 1500 Limited Longhorn.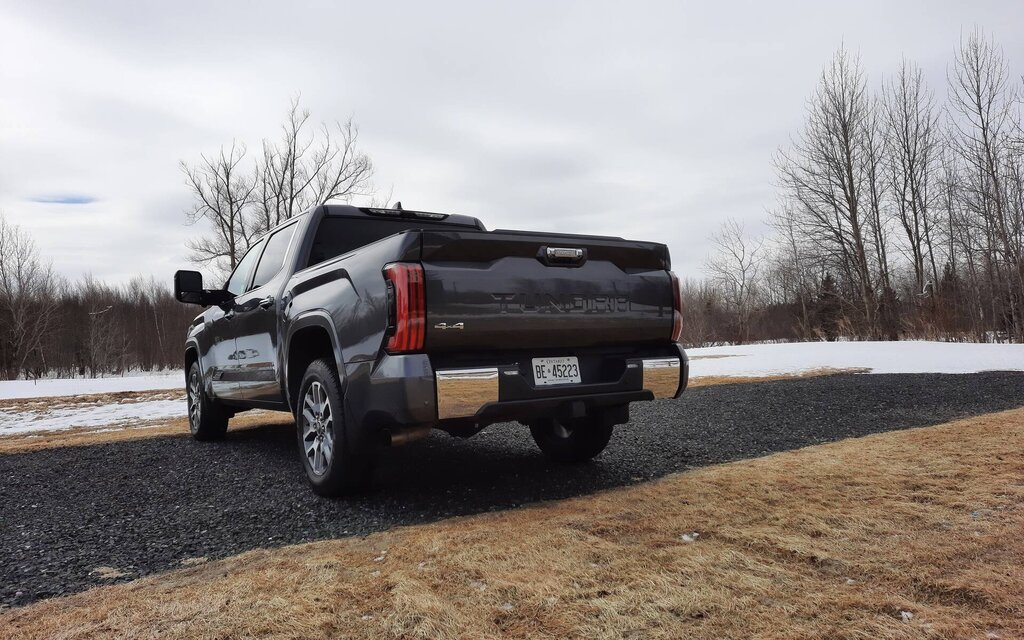 Rugged American Looks Without All the Practicality
The design of the 2022 Toyota Tundra is mighty impressive from nose to tail. The gigantic new grille (which of course changes depending on the trim level) and sharply redesigned headlights set the tone, while the boxier silhouette adds rugged character. From certain angles, it can easily be confused with a GMC Sierra.
Unfortunately, the Tundra continues to lack innovative and practical features compared to its rivals. There are no tow hooks, running boards (except in the catalogue of accessories), cargo bed steps, multi-function tailgate, accessory storage solutions or other similar tricks.
On the plus side, the new aluminum-reinforced composite bed is designed for superior resistance to dents and rust. Maximum payload is increased to 1,940 pounds, which is great. There are several cameras all around the truck to help with parking and towing maneuvers, and the available new power extending and folding tow mirrors sure are appreciated.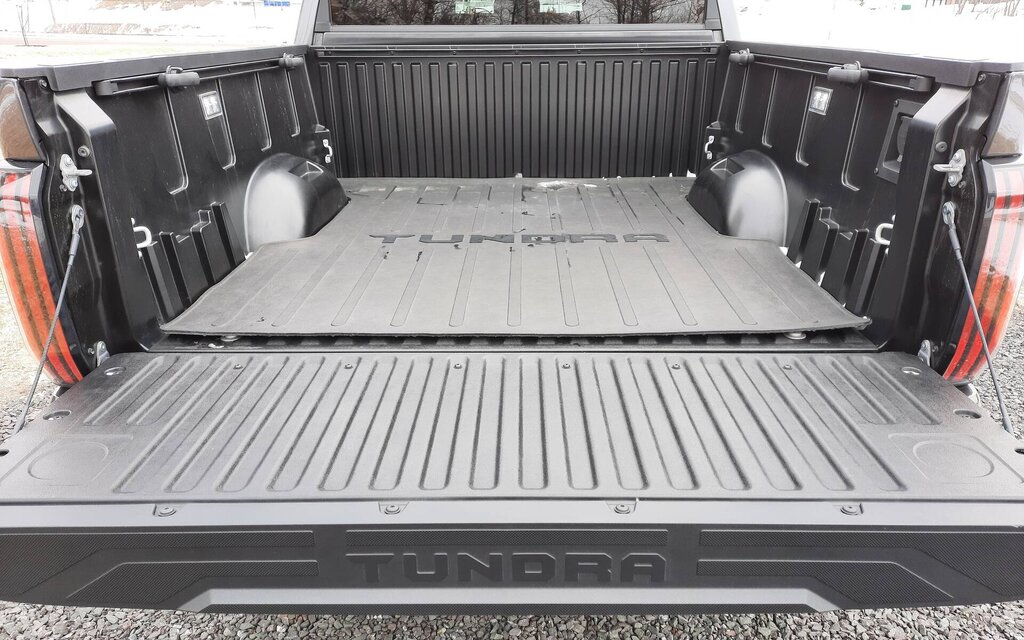 Fancy New Cabin is a Time Machine
Inside, the Tundra's evolution is even more striking. Designers came up with a beautifully modern and sophisticated cabin layout. Improved ergonomics and noise insulation combine with generous space and more premium materials, no matter which model you select. The first-ever Tundra Capstone at the top of the range promises to be fit for a king.
Despite being heated/cooled and full of power adjustments (even for the thighs), the redesigned seats prove a bit too firm. Also, we heard some undesirable noises in our almost-as-new tester, particularly from the centre armrest. It's something you need to pay attention to during your own test drive.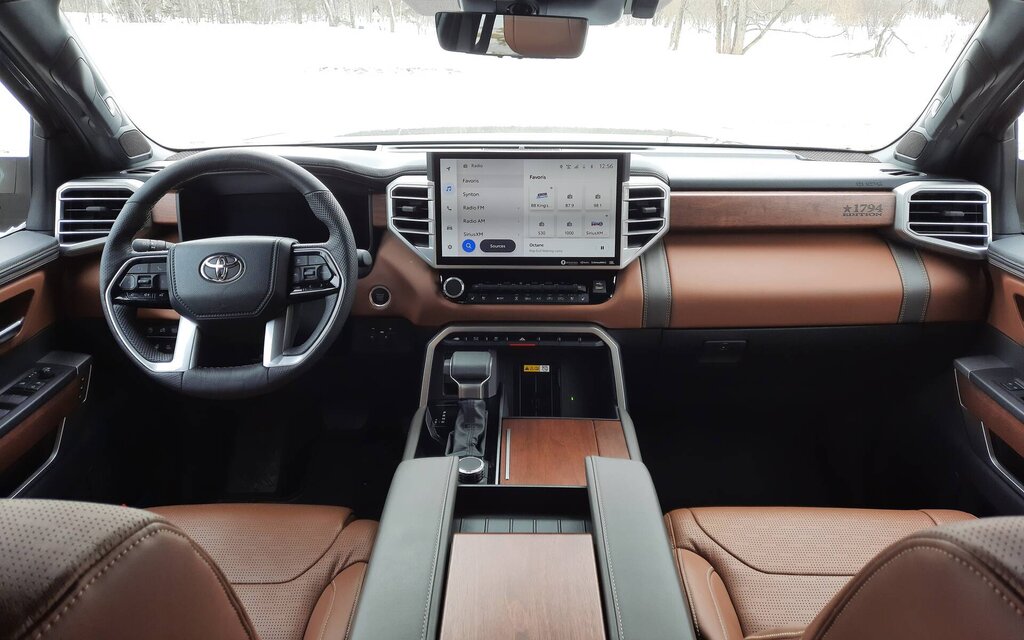 As for Toyota's new multimedia system, which the 2022 Tundra is the first recipient of, it powers a standard 8-inch or available class-leading 14-inch touchscreen that eliminates virtually all glare thanks to slick new glass. It also boasts five times the processing power of the previous system as well as menu icons on the left for quick and easy access.
Our main complaint about the 14-inch display is that some of the touch controls are out of reach and require turning your attention away from the road a bit too long. The good news is that physical controls remain for the HVAC system, which you can also adjust via the new virtual assistant that comes alive when you say "Hey Toyota." 
Twin-Turbo V6 Adds Torque… With a Catch
On the road, there was a lot of room for improvement. Built on the new TNGA-F chassis, the 2022 Toyota Tundra rides and handles better than its predecessor, helped by a new rear suspension with coil springs (or a five-link setup on hybrid models) instead of antiquated leaf springs. It's still a bit bouncy, but the ride is definitely more pleasant both on pavement and ugly dirt roads. The cabin is mounted to the frame with hydraulic mounts on Limited grades and above and an adaptive suspension is available for greater comfort. Braking, meanwhile, is predictable and controlled.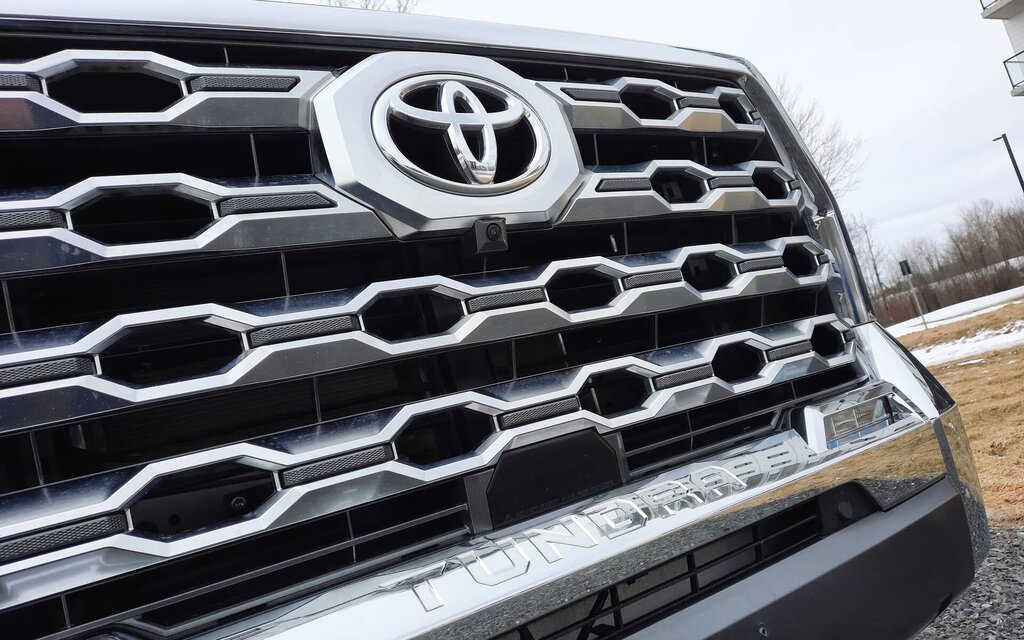 Now, about the new twin-turbocharged 3.5-litre V6 engine, which is a direct response to Ford's 3.5L EcoBoost in the F-150: performance is impressive with up to 389 horsepower and 479 pound-feet of torque, while max towing is increased to 12,000 pounds from the old 381-horsepower V8's 10,000 pounds. Combined fuel consumption is officially rated at 11.8-12.2 L/100 km depending on the model, and the new 10-speed automatic transmission is generally smooth.
Alas, two things proved disappointing throughout the week. First, throttle response is certainly not as immediate as one would expect with twin turbos, even in Sport mode. But more importantly, despite our efforts to drive somewhat efficiently, we wound up achieving just over 16 L/100 km (with about 25 percent on the highway)—exactly like we did with the V8-powered Tundra.
Is the Tundra Hybrid the solution, then? Not really. This new variant focuses on performance with 437 horsepower and 583 pound-feet of torque while barely improving fuel economy (officially 11.7 L/100 km). We'll get the opportunity to test that one pretty soon, so don't miss our review.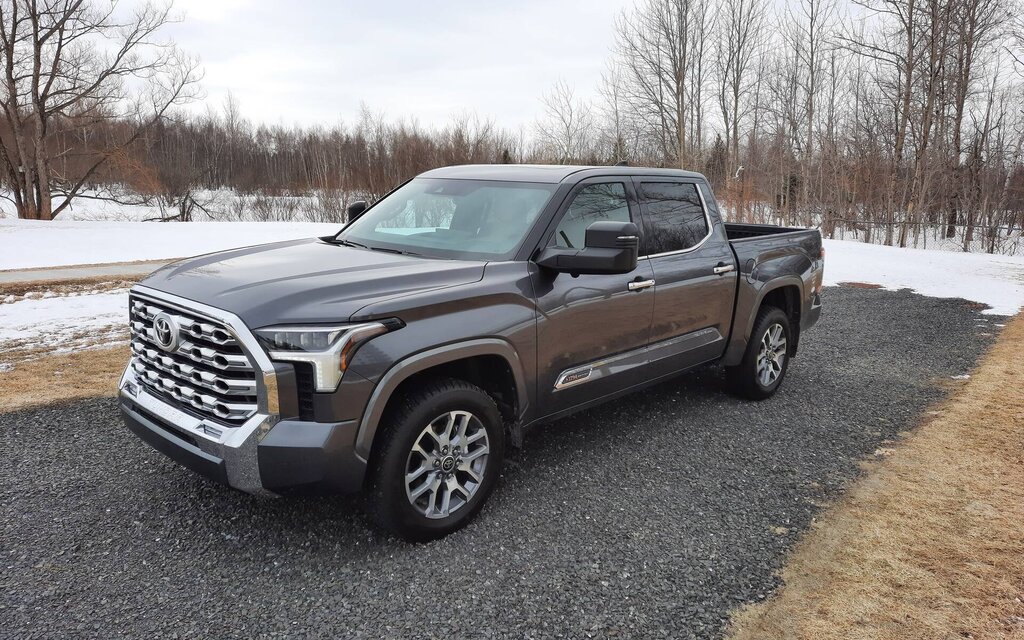 Share on Facebook