VinFast
VF 8

Looks Promising in First Test Drive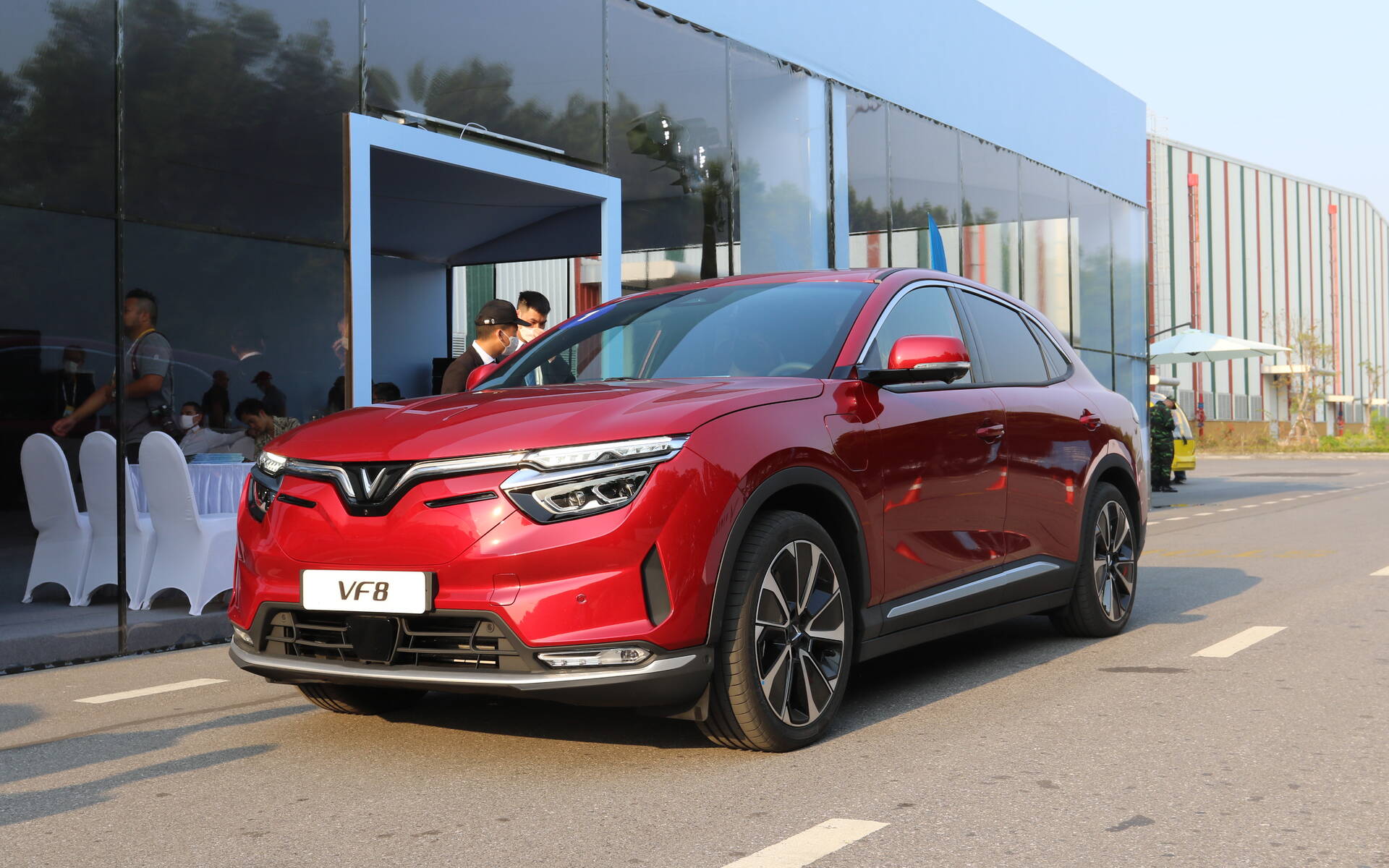 Hai Phong, Vietnam—After years of relative stability, the Canadian automotive landscape is about to change quite a bit with new companies hoping to break through the market. Imperium, Fisker, Lucid, Rivian and more all want their piece of the growing EV pie.
You can add VinFast to the list. The Vietnamese automaker has bold plans for North America, starting with the all-electric VF 8 and VF 9 midsize SUVs that made their debut at the Los Angeles Auto Show last fall.
Six months later, we were invited to take a tour of VinFast's fresh new facilities in Hai Phong, Vietnam, and drive a pre-production VF 8 for a few kilometres. What did we think of this new battery-powered vehicle? Read on.
Pragmatic Approach
VinFast is part of VinGroup, the largest private company in Vietnam with operations in the health, education and construction sectors, among others. It was founded less than five years ago.  
At first, VinFast made the pragmatic move of building vehicles under licence through partnerships with General Motors and BMW. The Fadil is essentially a rebadged Chevrolet Spark, while the Lux A2.0 sedan and Lux SA2.0 SUV are based on the BMW 5 Series and X5, respectively, with different styling to stand out from the German products. VinFast got some help from renowned Italian design studio Pininfarina, which also penned the new VF 8 and VF 9.
Whether you like them or not, these two SUVs are no copycats of European or Japanese models. Featuring a distinctive front grille and V-shaped lightning signature, the VF 8 has its own unique identity. Inside, the design is a little more classic except for the giant, Tesla-like centre display.
Even at this point, Vinfast refuses to provide full powertrain specifications for the North American-bound vehicles. We know that the VF 8 has all-wheel drive and a total of 402 horsepower. Two batteries are available offering 82 kWh and 87 kWh of usable capacity. Maximum range is said to be between 460-510 km based on the WLTP standard. Since the ratings for North America are always a bit more conservative, expect about 400-460 km of range. DC fast charging is possible, obviously, but VinFast is not saying how much power the batteries can handle.
In Canada, pricing starts at $51,250, but there's a catch: customers have to lease the battery, costing an extra $30-50 a month. There is no other option. On the plus side, the battery can be replaced when it loses some of its original capacity, though the exact plan and terms have yet to be announced.
Production will start shortly and the first deliveries in Canada are scheduled in the fall.
Not Quite Finished Yet
As mentioned earlier, our tester was a pre-production VF 8. Unsurprisingly, build quality in the cabin proved to be less than stellar. However, VinFast representatives assured us that the finished products to be sold in Canada will look and feel like the real deal.
Material selection should be roughly the same, which is somewhat disappointing because we found the various plastics to be fairly cheap, such as the moulded door uppers. Given the base price of more than $50K, we expected better.
The driver's seat provides adequate support and comfort. Of course, a longer test drive will be needed to validate our initial impression. There's generous room for four including decent headroom in both the first and second rows.
Cargo capacity is not specified yet, but the trunk appeared to be smaller than that of leading midsize SUVs. A front compartment is included, too, and it's good enough for a carry-on suitcase.
The centre display comes alive with a rather intuitive interface and simple menus. Drivers will find a speed indicator in the upper left corner—a la Tesla Model 3—in addition to the head-up display. Sadly, the cockpit lacks physical buttons for the HAVC system. If you want to adjust the temperature, you must use the controls in the lower part of the screen.
The VF 8 will also offer a plethora of active safety and driver assistance features, with a dedicated button on the screen allowing drivers to turn them on or off. Over-the-air updates, which Tesla pioneered and are now widely available across the industry, will be part of the package, as well.
Electric But Not Electrifying
Our brief test drive included a few sprints which failed to impress. The VF 8 just didn't feel like it could unleash 402 horsepower—more like 250-280 horsepower at best. Acceleration from 0-80 km/h is very linear. Did the company purposely limit output on pre-production units? It's possible. One thing's for sure: the AWD-equipped VF 8 is nowhere near as quick as the Kia EV6 or Ford Mustang Mach-E.
When it comes to braking performance, the regenerative braking system is not very aggressive, so most of the stopping power comes from the conventional brakes. We couldn't find a way to adjust the system and possibly enable one-pedal driving. Hopefully that will change when the production models roll out, complete with full settings in the infotainment system.
We drove the VF 8 for about 5 km, which is way too short, obviously. At the end of the day, there are many more questions that need to be answered. At the top of the list: will North American drivers trust Vietnamese products with zero brand power on this side of the Pacific? What will customer service be like? What about reliability? Only time will tell.
However, with massive resources combined with a pragmatic approach to building cars, VinFast has the tools to succeed.
Share on Facebook