2023 GMC
Hummer EV

: Back to the Future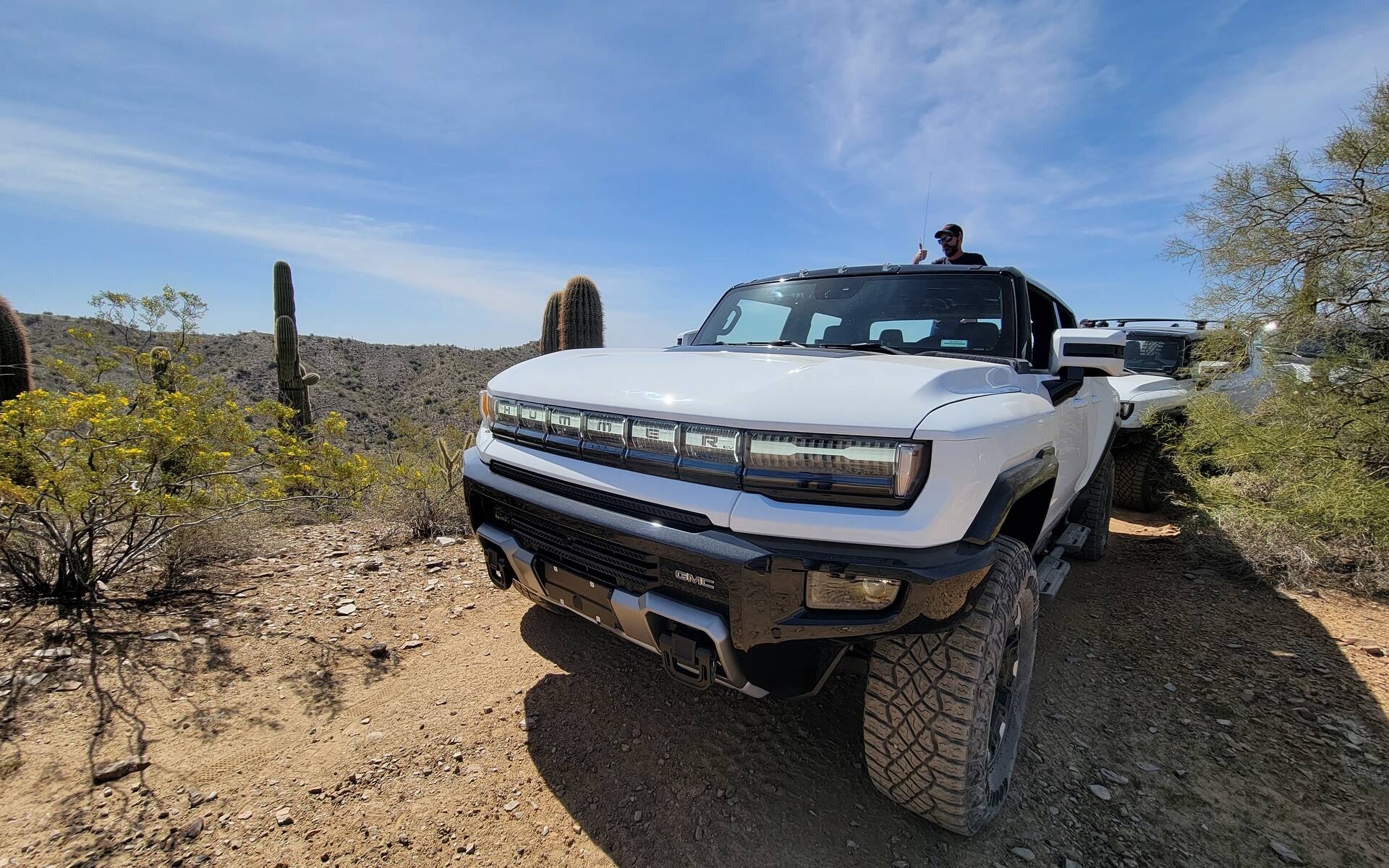 Strong points

Amazing performance for its size
Rugged, authentic looks and style
Impressive off-road capabilities

Weak points

Price of long range models
High energy consumption
Relevance in current automotive context
Full report
As you probably know, the Hummer brand is resurfacing under the GMC umbrella more than a decade after GM forced it into an artificial coma.
And it goes without saying that the brand's new baby, the Hummer EV, is, to say the least, very polarizing. On the one hand, it comes alive thanks to state-of-the-art 100% electric propulsion technologies qualified as zero emissions. But on the other hand, it barely changed its bodybuilder-style physique – all while other automakers scramble to reduce the drag coefficient of their EVs to get a few more miles in range.
The Hummer EV is therefore faithful to its military character of yesteryear with its imposing presence and its build that defies the laws of physics. 
To compensate, the Hummer EV has all the right features to power ahead thanks to a set of potent electric motors – two in the rear and one in the front – linked to a battery that makes up the entire floor of the Hummer. All Hummers are armed with GM's new Ultium battery, and the biggest iteration of this power reserve is installed in First Edition variant, boasting a usable capacity of 212.7 kWh. Both motors produce a combined output of 1000 horsepower and 1200 lb-ft of torque.
The Hummer EV will enter the Canadian market as a 2023 model. It will be offered in pickup truck and SUV configurations that will be offered in several variants. The Car Guide took to the road to Arizona last month to test the first child of the new Hummer line, the Edition 1 variant.
Worth its Weight in Gold (or Lithium?)
In addition to putting aerodynamics aside, the Hummer EV packs its weight in terms of hardware. It tilts the scale at no less than 9,000 pounds and change. That's the equivalent of two well-equipped GMC Canyon Denali pickups, or two bare GMC Sierra 1500 2WDs. In short, the GMC Hummer EV is not on a diet.
In fact, an electron-rich diet requires an oversized battery. Being the heaviest component in an electric vehicle, that of the Hummer EV weighs close to 3,000 pounds on its own, which is roughly the equivalent of a Mazda3.
This battery lets the Hummer EV Edition 1 drive for a total of 530 kilometres on one charge. GMC says it will be possible to recharge the battery on a 350 kW charger to gain 160 kilometres in 12 minutes.
Let's point out that, as is the case for all-electric vehicles, our northern reality has a say in these claims. The Hummer will lose almost half of its range and how quickly it recharges will be highly dependent on temperature, battery preconditioning and a battery of other factors that are unique to our climate.
Stunning Acceleration, Amazing Urban Agility
One of the most interesting aspects of the Hummer EV is its ability, in the Edition 1 variant we tested, to go from 0 to 100 km/h in 3.0 seconds. In fact, to achieve this, the Hummer has a specific mode called WTF (an acronym for Watts to Freedom...), which lowers the suspension and activates the launch control. While instant acceleration is impressive in electric vehicles thanks to instant torque delivery, the experience is all the more exhilarating in this 4.5-ton behemoth.
Avec son poids et sa garde au sol hors normes, on devine que le Hummer EV n'est pas le plus adroit dans les virages. Par contre, il a une arme secrète, soit des roues directrices à l'arrière qui peuvent pivoter sur un angle allant jusqu'à 10 degrés. Ceci confère au Hummer EV un rayon de virage aussi étroit que celui d'une voiture compacte. En effet, le seul obstacle à ce point-ci, c'est la visibilité.
With its weight and ground clearance, one could think that the Hummer is all thumbs when turning. However, the rear steering can pivot at an angle of up to 10 degrees. This gives the Hummer EV a radius as narrow as that of a small compact car. After that, the only obstacle at this point is visibility.
Once on the highway, the Hummer offers adequate stability, but the cabin experience is a tad noisy. No, it's not a noise coming from the engine (obviously) but rather that emanating from the removable four-panel roof which has a lot of seals. Our test model was fitted with off-road tires, which did not help the cause.
Speaking of off-roading, the Hummer EV showed us that it was up for the task on the desert trails we ventured on. Not only because the instant torque contributes drastically when it is called upon, but also because the Hummer EV is basically a toolbox filled with everything one needs for this type of activity. The four-wheel steering also takes on a special role with the "Crab Walk" function, which allows the Hummer EV to ride almost perpendicular to the trail to avoid upcoming obstacles.
What is the Purpose of the Hummer EV?
The GMC Hummer EV is back to the future, resurrecting a moniker once shunned for its ecological nonsense by giving it an all-electric heart. But under its boxy shell, you'll find everything General Motors can do in terms of innovation and electrification. Like a 350-pound football defenceman running 50 yards for a touchdown, the GMC Hummer EV promises to be a big hit.
While its off-road capabilities are amazing and its accelerations defy the laws of physics, the average Hummer EV owner will most likely never use it for such an application. Instead, the Hummer EV will roam the cities and suburbs, turning heads as it goes. And that's good, the rear steering is very useful in town.
The Edition 1 model tested retails for about $110,000 US, which roughly equates to $135,000 Canadian. It will be available in Canada starting December 2022. Obviously, it is the most expensive model and "entry-level" models will follow.
In the end, is the Hummer EV just toxic masculinity on four wheels? No. It's a technical representation of what GM has in mind for its electric future. And the technology developed, however opulent in the embodiment of this specific model, can be used in all types of vehicles, big and small.
Share on Facebook