2023 Mazda CX-50: Mazda's Answer to the Outback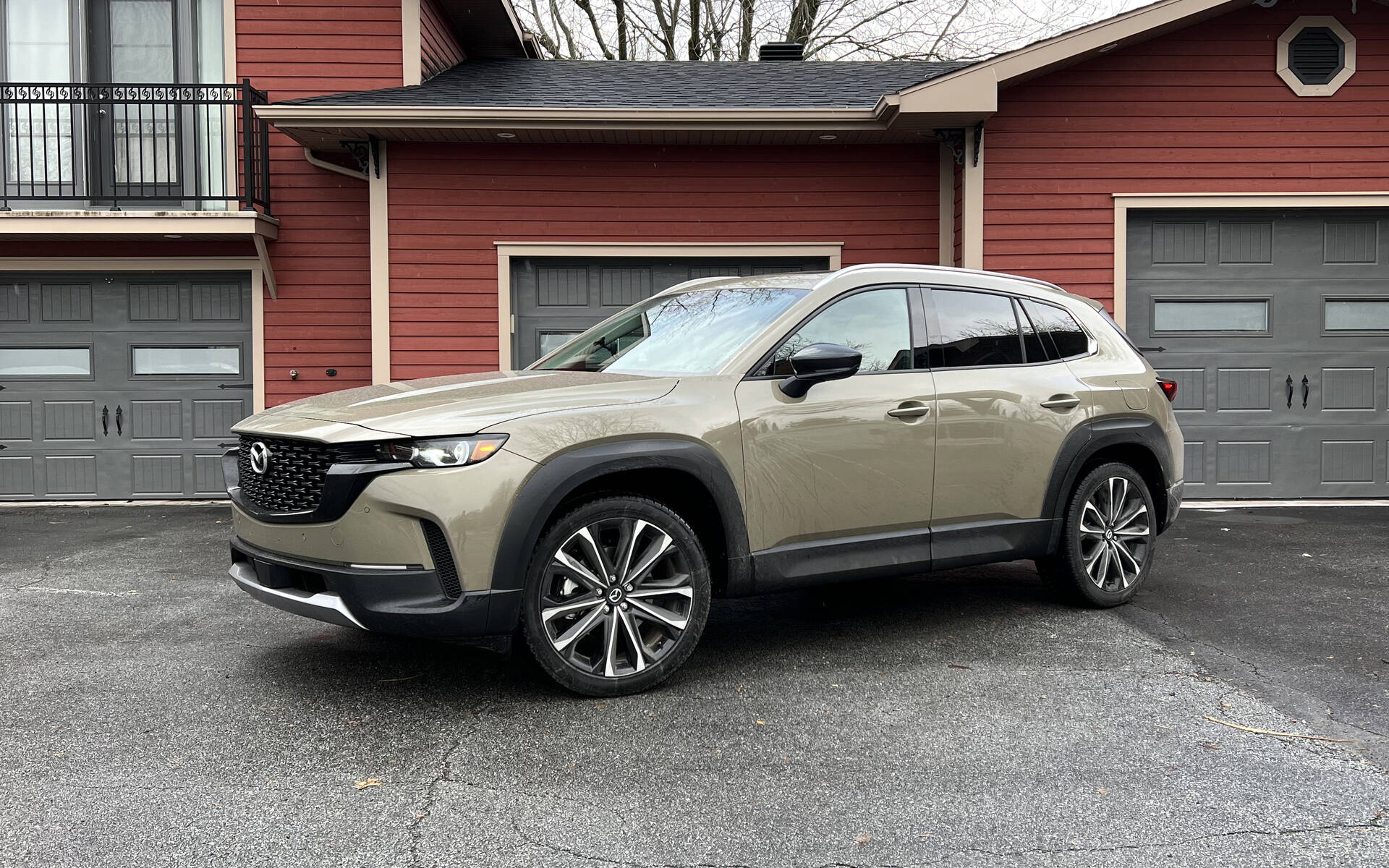 Strong points

Inspiring drive
Great versatility
Good towing capacity
Looks great inside out

Weak points

Aging six-speed automatic gearbox
Impossible to turn off traction control
Poor efficiency (turbo)
Full report
Mazda has been very successful in Canada for a long time, but the same cannot be said for the U.S. Long considered marginal, the brand's vehicles have not always pleased the average American buyer. In order to fix that, and also to improve its product offer in the compact SUV segment, Mazda has launched the CX-50, a product developed and designed in the United States.
It is assembled in Alabama in a joint factory with Toyota, which also manufactures the Corolla Cross. Wider, longer, much more spacious, but lower than the Mazda CX-5, the CX-50 is visibly better suited to the needs of North American buyers. Also, its refreshing configuration finally competes with the competition when it comes to versatility.
Strategically, Mazda is positioning its CX-50 as a more adventurous vehicle, putting the CX-5 in the "urban vehicle" category.
Mazda hasn't talked about angles of attack and off-road capabilities during a product presentation since the B Series back in 1994. However, considering the CX-50 can perform in the city and on the trail, this presentation took an "old school" turn. What's more, Mazda will introduce a Meridian trim later this year, a model specifically designed for off-road driving. It's higher off the ground and sports more aggressive 18-inch tires, giving it the necessary goods to compete with the Wilderness versions of the Subaru Forester and Outback.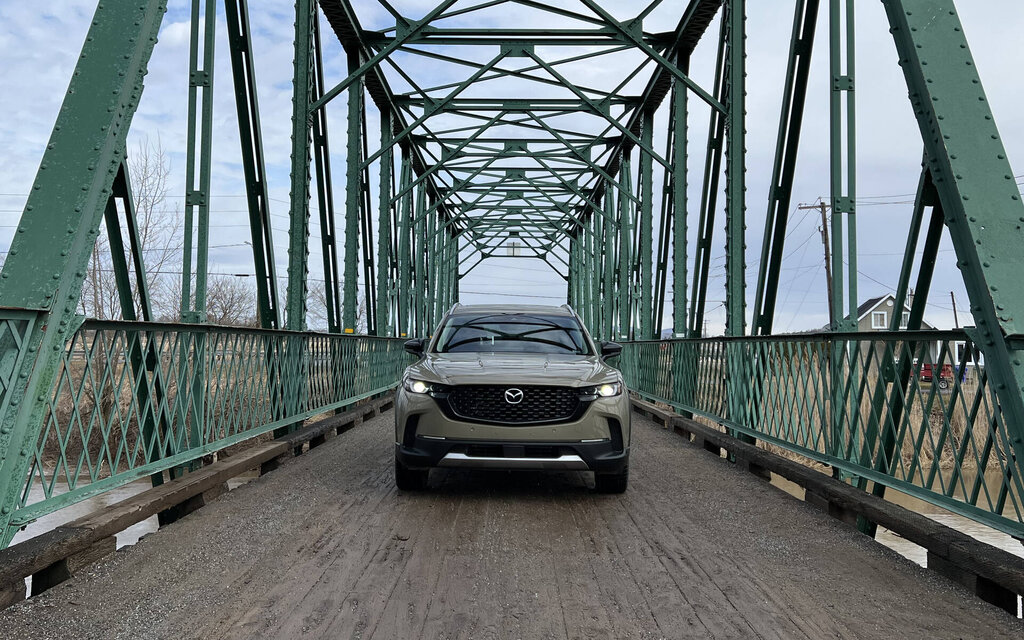 How Compact?
The CX-50 is a little shorter and slightly lower than the Subaru Outback, but still wants to rival this Subaru, or at least, snag some of its clientele. A "quality" clientele, that is loyal, financially comfortable and recognizes the value of a product that is both efficient and reassuring. We must underline that the Outback always stands out from the pack by offering a more "family" and immensely more adventurous formula than that of the Hyundai Santa Fe or the Volkswagen Tiguan, two popular products that are also in Mazda's sights.
In addition to its very muscular features, larger fender flares and overall bolder character, the CX-50 interior seems immensely more versatile than that of the CX-5. The driving position is perfect, the visibility is good and the overall ergonomics are almost flawless. Mazda has also taken the time to design a better centre armrest, along with a touchscreen multimedia system geared with wireless Apple CarPlay/Android Auto – this is a first at Mazda. The seats are also comfortable, providing ample clearance on all levels. This will not only please American drivers, but also young families who were cramped on board the CX-5.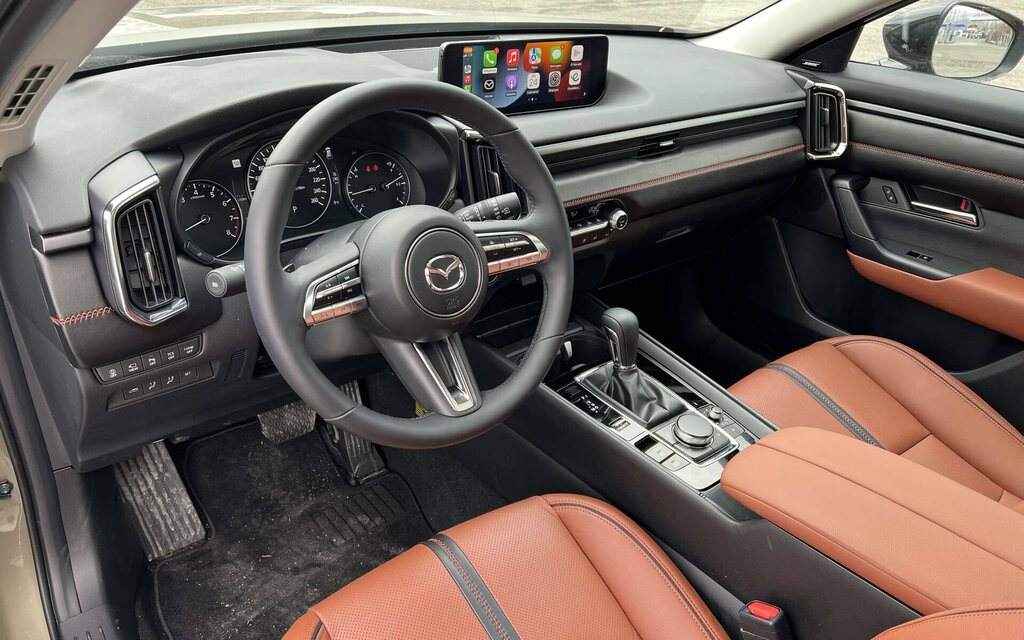 Aesthetically successful, the cabin of the CX-50 is also characterized by Terracotta-coloured leather, which brings a lot of refinement on board. Mazda even dared to compare the CX-50 to products like the Acura RDX and the Lexus NX, products that are often considered by … Subaru Outback buyers!
No Surprises Under the Hood
For now, the CX-50 is offered in two trims (GS-L and GT) and two powertrain options. A 2.5-litre 4-cylinder outputting 187 horsepower (5 more than the Outback) and a turbocharged option of that same engine, producing 256 horsepower with 93 octane gas (4 less than the Outback turbo). The aging-but-efficient six-speed automatic transmission is still in the game, along with the all-wheel drive with torque vectoring technology, working together to provide convincing handling capabilities.
Comfortable and very fun to drive, the CX-50 is also entitled to various driving modes, which the CX-5 hardly offers. A "Normal" mode and a "Sport" mode work transmission and steering parameters, while an "Offroad" mode changes transmission and all-wheel-drive systems to perform on rough terrain. Because the CX-50 can tow loads up to 1,588 kg (3,500 lb), a "Towing" mode is also part of the package. In this case, the torque distribution is modified to reduce sway.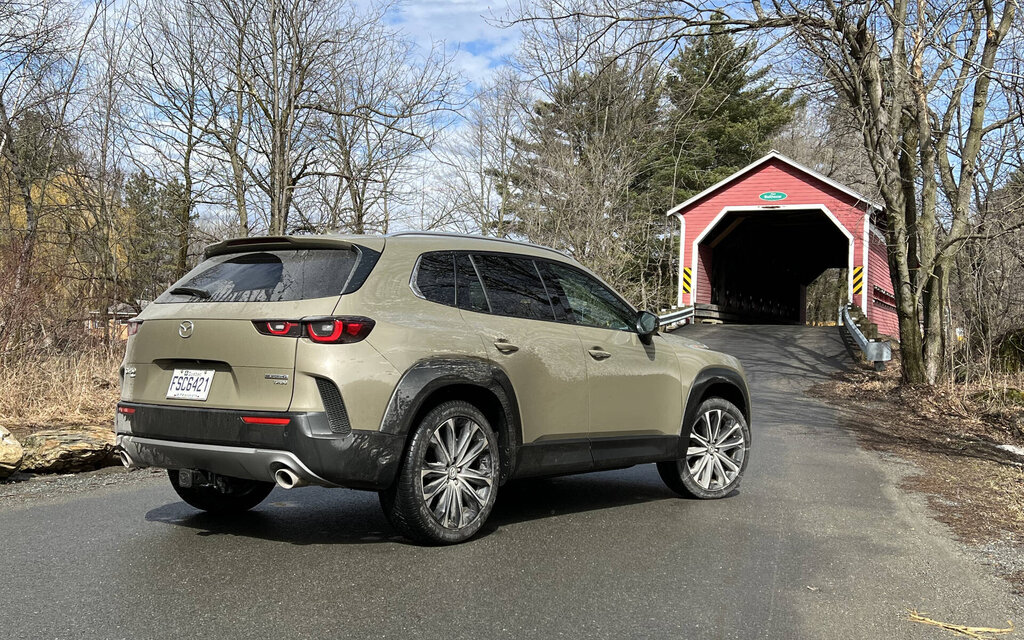 The version we tested was the turbocharged model offering a very satisfying power band as well as generous torque, even at low revs.
However, it is clear that the base engine does not impress much, even if Mazda claims to have worked on accelerator response, a common problem with several manufacturers, especially with Hyundai, Kia and Volkswagen. Unfortunately, Mazda still does not allow the driver to deactivate the traction control, a manoeuvre which can be useful to get out of a snow bank or any hazardous situation. This is also the case for the CX-30.
No Hybrid?
Mazda is not yet giving more details about the arrival of a hybrid version, although it is plausible that it could arrive as a 2024 model. Maybe Mazda will bank on its technology partnership with Toyota, which will also offer a hybrid version of its Corolla Cross next year…
Anything is possible. That said, rumours speak of a plug-in hybrid, which could attract a larger customer base, including that of Toyota and Lexus, which offer the RAV4 Prime and NX 450h+.
Let's wrap it up by underlining that this Mazda CX-50 is a breath of fresh air for this segment. A product that will allow Mazda to not only revive its image, but also its market shares across North America. So there you have it, an impressive, pretty and fun-to-drive vehicle, which for a price ranging between $38,950 and $47,300 (including freight and delivery charges), seems like an excellent value. Not to mention that the Meridian version will undoubtedly attract a whole new clientele for Mazda.
Share on Facebook