Audi Winter Driving Experience: Putting Quattro AWD to the Test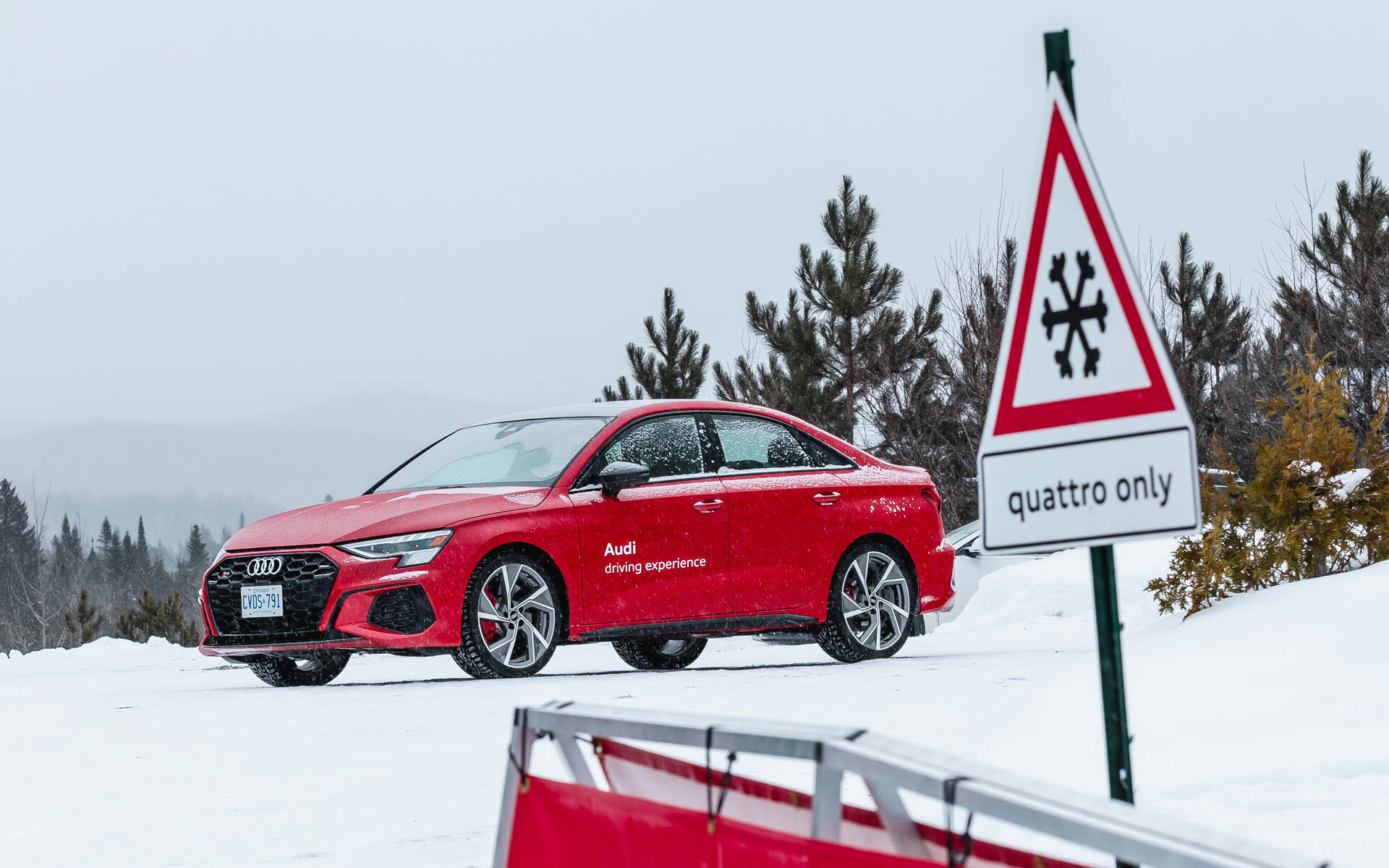 Imagine drifting a mighty Audi RS 6 Avant around an ice circle, looking not by the windshield but rather by the side window to see where you're going and catching with the corner of your eye the large cloud of snow left in your wake.
Such grin-inducing fun is what was in store for a group of Canadian auto journalists—myself included—at Audi's Winter Driving Experience on the beautiful ice- and snow-covered tracks of Mécaglisse in Notre-Dame-de-la-Merci, Quebec.
The plan was to give us the keys to three of the company's awesome cars and then test and compare their quattro AWD systems. The RS 6 Avant is a wicked wagon with a twin-turbocharged V8 engine producing 590 horsepower and permanent AWD. The S3, which is like the posh, four-door cousin of the Volkswagen Golf R, boasts a 315-horsepower turbocharged four-cylinder engine with multi-plate clutch AWD. And finally, the all-electric RS e-tron GT introduces a brand new quattro system that is 100 percent electronically controlled. 
The Setup
All of the cars on hand were fitted with studded tires, which is a good thing considering the amount of ice and hard-packed snow we'd be attacking throughout the day.
For each test, we first set the cars' electronic stability control system in Sport mode for maximum drifting with a safety net in place. Once that was over, we could turn ESC completely off and work with the quattro system all by ourselves.
Personally, I preferred keeping ESC off and selecting the Individual drive mode with all the systems set to Sport except for the suspension, which I had in Comfort mode in order to induce weight transfers more easily.
How Did the Cars Fare?
While less powerful than the RS 6 Avant and RS e-tron GT, the S3 proved a blast to drive due to its shorter wheelbase and lighter weight. With more than 300 horsepower on tap (which is ample enough for subcompact luxury car), it really was a playful performer despite its AWD system not being a permanent unit.
Audi's best iteration of quattro is the permanent, Torsen-type system found on the RS 6 Avant (and others). The big wagon can send a formidable amount of power and torque to all four wheels, although its significant weight affects handling on twisty tracks. 
Same thing for the RS e-tron GT, which feels heavy and lacks steering response. On the other hand, its electronically controlled AWD system and electric motors react instantly to throttle input.
About the Audi Winter Driving Experience
The special event we attended in Quebec served as a prelude to the customer-oriented Audi Winter Driving Experience, which is resuming after two years of pandemic-related cancellations.
The program is developed and hosted by a group of driving instructors to help Audi owners hone their winter driving skills and make the most of their cars in challenging conditions. It all takes place in a safe and controlled environment, of course. Big-time thrills are just icing on the cake.
Watch: 2023 Audi R8 RWD Review
Share on Facebook