2022 Kia EV6: Playing the Right Cards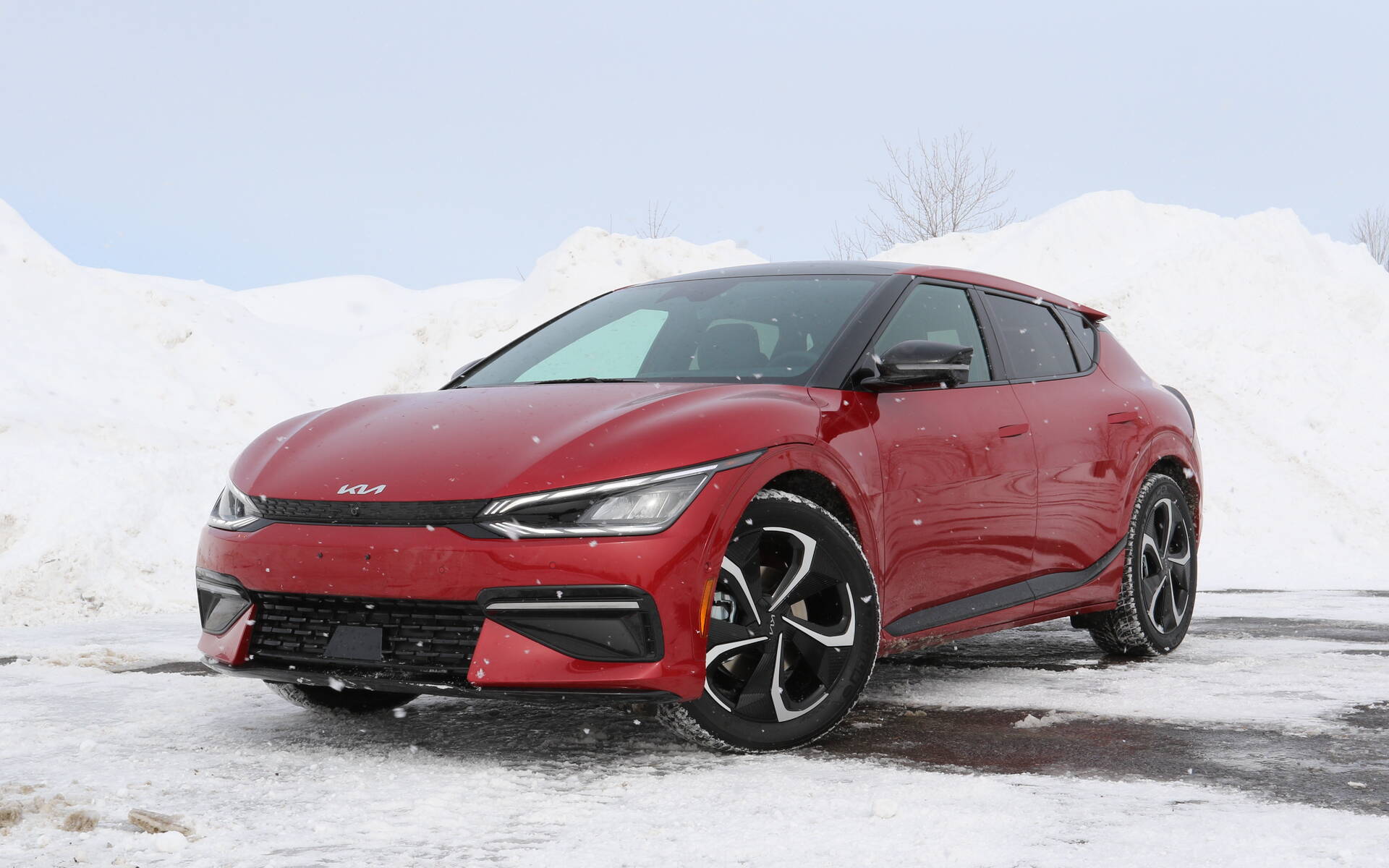 Strong points

EV rebates apply to several models
AWD configuration is solid
Smooth ride

Weak points

Tight headroom
No rear window wiper
Tiny front trunk
Overly sensitive ABS in the snow
Full report
Saying the Kia EV6 is highly anticipated is pretty much an understatement. Since making its global debut last year, the Korean brand's new dedicated electric vehicle has generated plenty of buzz.
It all starts with bold, polarizing looks imagined by Canadian designer Karim Habib. Everywhere we went during our first drive of the EV6, people kept turning their heads and staring at it. Cynics will say all modern cars look the same now, but certainly not this Kia!
From a technical standpoint, the EV6 shares its electric Global Modular Platform (e-GMP) with the Hyundai IONIQ 5 and Genesis GV60. RWD and AWD configurations are available along with a choice of two batteries. Standard Range (SR) models get the smaller 58kWh pack and their single motor drives the rear wheels with 167 horsepower and 258 pound-feet of torque. They can travel up to 373 kilometres.
Long Range (LR) models, on the other hand, boast a 77.4kWh battery. In RWD configuration, output increases to 225 horsepower, and maximum range shoots to 499 kilometres, which is impressive. With dual motors and AWD, you're looking at 320 horsepower, 446 pound-feet of torque and a range of 441 kilometres.
A 577-horsepower, high-performance variant called EV6 GT is also planned, but this one will take several more months to land in Canada.
Comfort First
The first thing we noticed while driving the Kia EV6 was the smooth ride. While the aforementioned GT promises sporty handling, all the other models emphasize comfort. And considering the pitiful state of some of our roads, no one will complain about that. Luckily, we didn't run into severely damaged pavement, so even with the optional 20-inch wheels our tester proved generally compliant.
When pushed at a good clip, the EV6 did suffer from a certain amount of body roll. The brakes were up to the task of slowing the sleek crossover down, and paddles on the steering wheel made it possible to adjust the level of regenerative braking power. Setting No. 4 is aggressive enough to allow one-pedal driving. The system is mostly effective at what it does, except when there's a lot of snow on the ground, in which case the ABS activates in an untimely and unpleasant manner, even when setting No. 1 is selected.
In terms of performance, the dual-motor EV6 felt lively both when accelerating and passing. With 320 horsepower and 446 pound-feet of torque, it had no trouble merging onto highways or finding an empty spot in traffic. The cabin remains quiet at higher speeds, which adds to the comfortable driving experience.
When it comes to efficiency, our tester achieved 20 kWh/100 km around town and up to 25 kWh/100 km at legal highway speeds. We started the day with an outside temperature of minus 4°C and an available range of 390 kilometres with a fully charged battery according to the on-board computer. At the end of the test drive, we had covered about 360 kilometres (climate control set at 20°C and both the heated seats and heated steering wheel turned on) without making any serious effort to conserve energy. Time will tell how the battery reacts in super-low temperatures, but so far so good.
As for charging, Kia claims the EV6 can go from 10-80 percent charge in just 18 minutes, but that's when using a 350kW DC fast charger. Most public chargers in Canada right now are limited to 50-100kW, so prepare to wait at least an hour to get the same result.
Technology Galore
Kia pulled out all the stops with the EV6, whose advanced aerodynamics include flush door handles and blade-like taillights acting as a tiny rear wing. Also, the spoiler at the top of the liftgate features a pair of openings for even better air flow management.
Just like the IONIQ 5, though, the EV6 lacks a rear wiper. It wasn't such a big deal during our time on the road (thanks to the vehicle's smart design), but it will inevitably prove irritating in particularly bad weather conditions.
A special vehicle-to-load function means you can use power from the EV6's battery (up to 3.6 kW) to run another device, like a 55-inch TV and medium-sized air conditioner unit for up to 24 hours. This could prove handy in the event of a power outage. The system can even be used to charge another EV.
Kia also fitted a plethora of active safety and driver assistance features, especially in top trim. The most advanced version of Forward Collision-Avoidance Assist works to detect pedestrians and oncoming traffic while helping in junction turning.
Inside, the available augmented-reality head-up display provides turn-by-turn navigation, lane safety information, plus a front vehicle indicator and safety information. The system works great, but is it really necessary to show a little white circle under the vehicle right in front of you? We guess not.
For the sake of a clean cabin, Kia designers minimized physical controls in the EV6. That's nice, but not more intuitive to use. There are too many touch-sensitive controls and functions that require fiddling with the centre display, which causes some distractions while driving.
In front of the driver is a large, curved interface that's starting to become the standard layout in modern cars. This one combines two 12-inch displays with crisp graphics and user-friendly menus. So, other than the lack of physical buttons, there's not much to complain about.
Overall, fit and finish is good despite some hard plastics in the lower door and dashboard panels. Nicer trim on the steering wheel would have been nice, too. It's not so bad, mind you, but for a vehicle that costs nearly $62,000, we expected a bit more refinement.
There's enough space for four adults, although headroom is tight even with the driver's seat in the lowest position. I'm personally of average build at 5'8" and my noggin nearly touched the headliner. If you're any taller, make sure you feel comfortable behind the wheel before ordering your EV6.
As for cargo capacity, this crossover can fit 690 litres with the rear seats up or 1,322 litres with the rear seats down. Those are proper numbers. However, the front trunk is disappointingly small. Don't count too much on it.
Pricing and Incentives
Like many other EV makers, Kia did the wise thing of arranging EV6 pricing to qualify for available federal and provincial incentives.
With a base MSRP of $44,995 (Standard Range RWD), the EV6 is eligible to the $5,000 electric vehicle rebate from Ottawa as well as provincial rebates of up to $8,000. Same thing for the Long Range RWD ($52,995) and Long Range AWD ($54,995) models, which should prove the best sellers in the lineup.
The EV6 Long Range AWD with the GT-Line Package 1 (as tested) retails from $57,995, while the one with the GT-Line Package 2 costs $61,995.
Share on Facebook