2022 Ford Maverick: Reinventing the Compact Pickup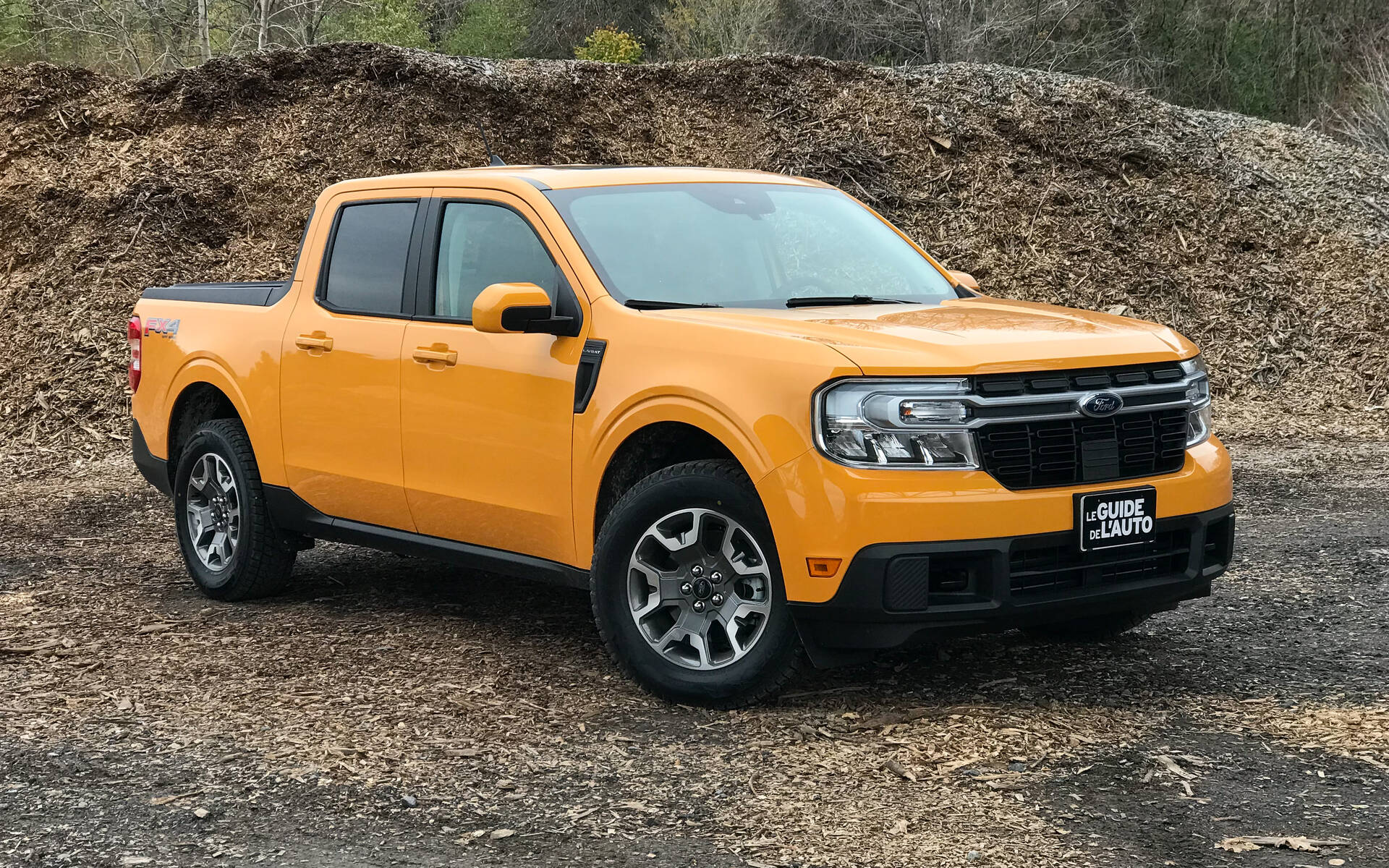 Strong points

Highly efficient hybrid powertrain
Practical and comfortable cabin
Good handling
Super-short braking distances

Weak points

Limited availability, long delivery times
No hybrid powertrain display
Lack of rear-seat space
Stiff ride
Full report
The Ford Maverick wastes no time making a good first impression. Access is easy, the seats are nicely sculpted, the displays look sharp and prove easy to use, the controls are precise and right where you want them, and plenty of smart storage solutions can be found.
This is a cool little truck that makes a big statement even at first glance. The boxy, angular exterior with unmistakable Ford truck styling is exactly what it needs to be—no matter what lies under the hood or how many wheels put power to the ground.
A Massive Hit
The Ford Maverick almost feels like a 21st century Model T. Really. This is how large of an impact it could have in North America. Demand has been so overwhelming that the company had to stop taking orders for 2022 models.
The base hybrid variant was the first one to sell out, which isn't surprising at all given its remarkably low price of $25,900 in Canada. Then, earlier this year, the one featuring the optional 2.0-litre EcoBoost engine (starting at $28,700) found itself in the same situation.
Reservation holders who have been left out need to wait for production to resume in August at the Hermosillo assembly plant in Mexico. That's not necessarily a bad thing, mind you. By the time the 2023 Maverick rolls off the line, Ford will likely have fixed a couple of bugs that first-year vehicles are often plagued with.
A Successful Transformation
We're not saying the Maverick is trouble-prone. Far from it, actually. Our first few drives have shown us that Ford's designers and engineers did a bang-up job during the development, building on the success of the original Ranger introduced in 1982 and creating a fantastic modern interpretation of the small pickup.
The current Ranger is just too beefy and heavy. With the Maverick, you have a simple, lightweight and well-built truck that captures the spirit of its iconic and immensely popular forebearer—you know, the one that looks impossibly tiny by today's standards and used to come standard with a 75-horsepower four-cylinder.
Unlike the old, body-on-frame Ranger, however, the new Ford Maverick boasts a unibody structure that is largely shared with the Bronco Sport and Escape compact SUVs. With a four-door cabin and 4.5-foot bed, it's at least 468 millimetres longer and 74 kilograms heavier, putting it in a whole other class than these two models.
Properly Motivated
As mentioned earlier, the base Maverick features a hybrid powertrain. A 2.5-litre, Atkinson-cycle four-cylinder engine combines with an electric motor, sending a total of 191 horsepower and 155 pound-feet of torque to the front wheels via a continuously variable transmission.  The battery is mounted under the rear seats, on the right side of the truck, and an independent twistbeam rear suspension is also part of the package.
Our top-line Maverick Hybrid XLT tester achieved 0-100 km/h sprints in 8.4 seconds and quarter-mile runs in 16.2 seconds at a speed of 144.3 km/h. It also accelerated from 80-120 km/h in 5.7 seconds. Those are pretty decent numbers for the segment. As for emergency stops from a speed of 100 km/h, the pickup posted braking distances of 38.9 metres, which is 5.1 metres shorter than the average SUV in our database and even 2.6 metres shorter than the average car.
Now, what about fuel consumption? The official ratings are 5.6 L/100 km in the city and 7.1 L/100 km on the highway for a combined 6.3 L/100 km—much better than a Honda Civic. Obviously, the 250-horsepower 2.0T engine, which comes with an eight-speed transmission, AWD system and multi-link rear suspension, burns a lot more gas—10.7/8.1/9.6 L/100 km, respectively.
Surprisingly Brawny
We also got the opportunity to test drive a fully loaded Maverick Lariat, which can only be had with the bigger engine. It featured the FX4 Package complete with additional underbody skid plates, all-terrain tires, unique 17-inch wheels, off-road suspension tuning, hill descent control and specific drive modes that include Mud/Ruts and Sand. Let's not forget the recovery hooks that add style and functionality to the front bumper.
This model took 7.28 seconds to reach 100 km/h, 15.35 seconds to run the quarter-mile and 5.0 seconds to accelerate from 80-120 km/h. Furthermore, it could tow twice as much (4,000 pounds versus 2,000 pounds with the Maverick Hybrid) thanks to the 4K Tow Package, which includes a 2-inch trailer hitch receiver, 7-pin trailer wiring plug, integrated trailer brake controller, transmission oil cooler, upgraded radiator, upgraded cooling fan and numerically lower axle gears. Payload, by the way, is 1,500 pounds no matter which Maverick you choose.
Despite their significant powertrain differences, the driving experience is fairly similar. The XLT Hybrid doesn't feel soft and the Lariat FX4 is by no means a hardcore off-roader. Steering is sharp and linear, so it's easy to maintain a straight line on the highway or make quick turns in parking lots. Incidentally, the turning diameter is quite short.
Both models show commendable poise and minimal body roll in corners. That being said, the hybrid variant suffers from a louder ride on rough pavement, and braking could be smoother when driving around town.
Will it Prove Reliable?
Our only real complaint about the Ford Maverick is the lack of space for rear-seat occupants, especially adults. This is a compact pickup, after all. On the plus side, you'll find convenient storage by flipping up the seat bottoms. As for the cargo bed, it comes with a nice spray-in bed liner as well as plenty of tie-downs, power sources and other practical solutions. Visibility and lighting also get good grades.
Ultimately, the Maverick is a winner. After securing the 2022 North American Truck of the Year award and The Car Guide's Best New Truck of the Year award, let's just hope that reliability will be equally impressive.
Share on Facebook