All-New Ford Ranger Raptor is Unveiled and Confirmed for Canada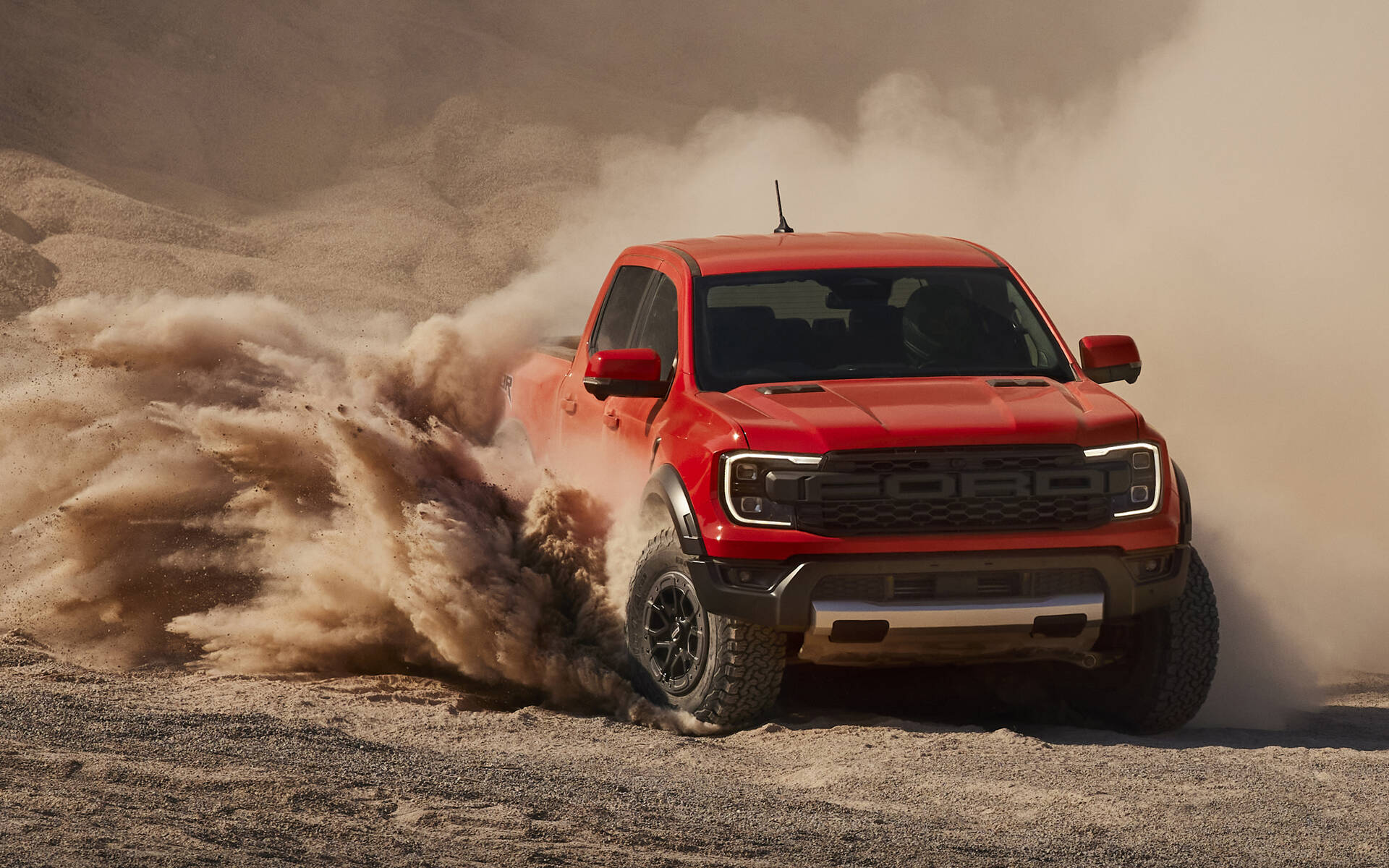 Ford today unveiled the off-road oriented, performance-focused variant of its next-generation Ranger midsize pickup, which made its global debut last November.
Great news: Ford CEO Jim Farley has confirmed that the latest Ranger Raptor will be available in North America, unlike its predecessor. Expected to go on sale in 2023 alongside the regular Ranger, it will join the F-150 Raptor and Bronco Raptor to give the Blue Oval brand a fearsome trio.
Powerful New Engine
The main highlight, of course, is the introduction of a new twin-turbocharged 3.0-litre EcoBoost V6 producing up to 392 horsepower at 5,650 rpm and 430 pound-feet torque at 3,500 rpm. By comparison, the current Ranger as we know it uses a turbocharged 2.3-litre EcoBoost four-cylinder engine rated at 270 horsepower and 310 pound-feet of torque.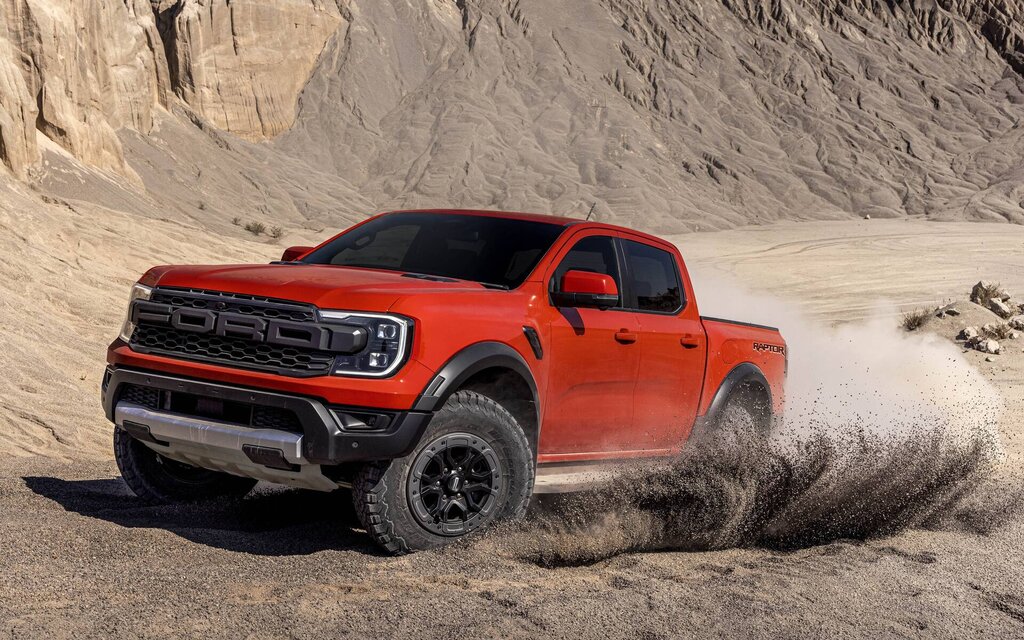 "We knew that customers would expect improved performance with the next-gen Ranger Raptor, but I'm not sure they're really expecting the enormous leap we've made," said Dave Burn, Ford Performance Chief Program Engineer for the Ranger Raptor. "It's a seriously fun car to drive and I think the raw performance is going to blow them away and leave them grinning from ear-to-ear."
The new V6 boasts a compacted graphite-iron cylinder block that's around 75 percent stronger and up to 75 percent stiffer than the iron used in traditional castings. It's mated to a revised 10-speed automatic transmission and advanced four-wheel drive system with an all-new, electronically controlled, on-demand two-speed transfer case.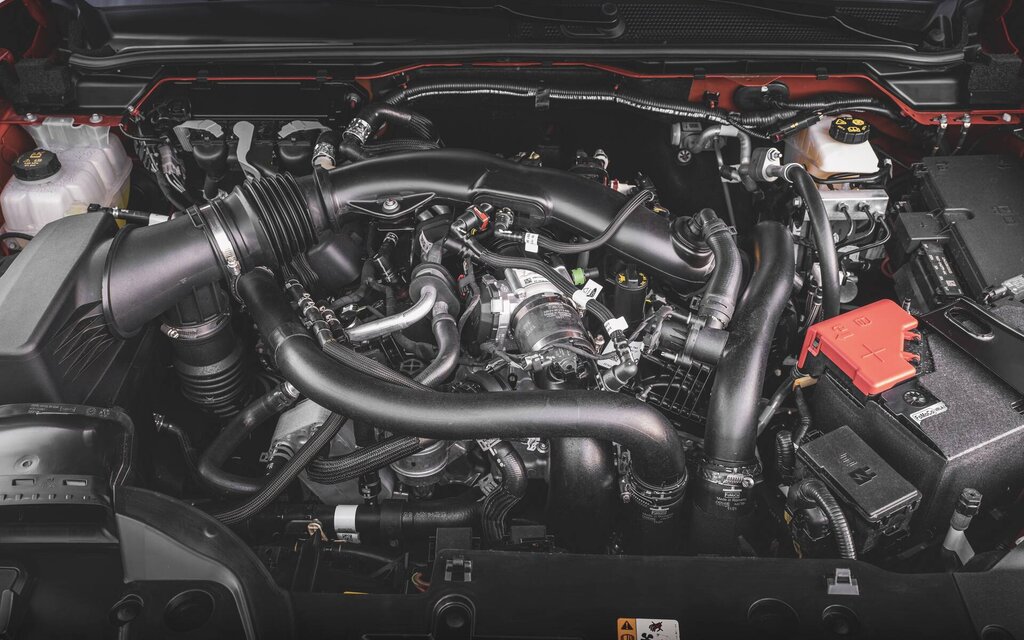 What's more, race-bred anti-lag technology, available in Baja mode, keeps the turbochargers spinning for up to three seconds after the driver backs off the throttle, allowing for faster resumption of acceleration out of corners or between gears when the driver gets back on the accelerator. By the way, the four different modes for the active exhaust system (Baja, Sport, Normal and Quiet) add to a selection of seven drive modes including Normal, Sport, Slippery, Sand, Mud/Ruts, Rock Crawl and Baja.
The truck also comes with Trail Control, which is like cruise control for off-roading at speeds less than 32 km/h. The driver can focus on steering through difficult terrain while acceleration and braking are taken care of.
Different Chassis
The next-gen Ranger Raptor has a unique chassis when compared to standard Ranger. A series of unique frames, mounts and reinforcements at key locations all combine to handle punishing off-road conditions.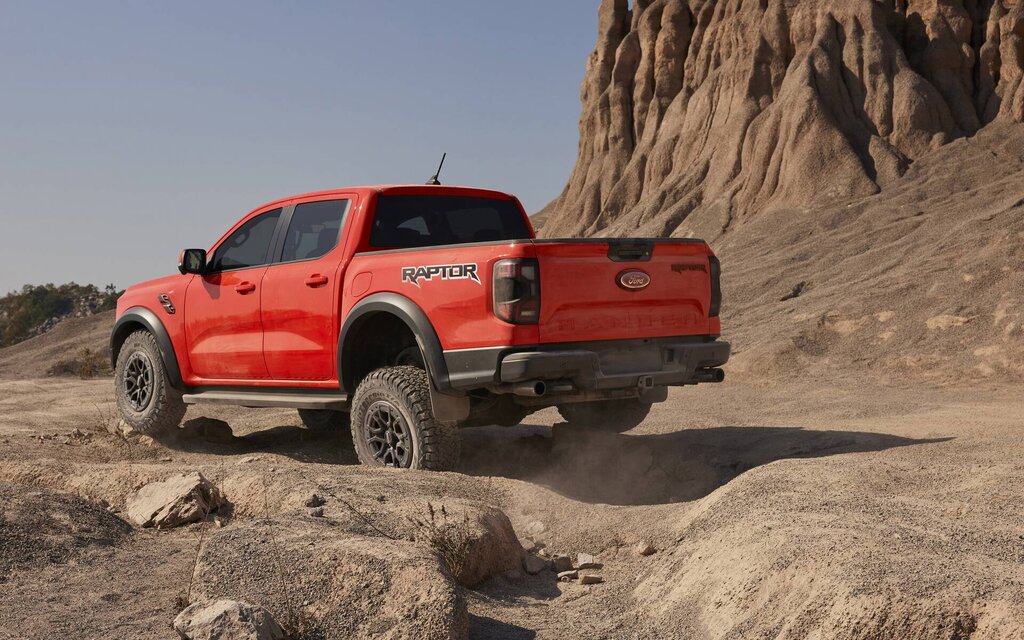 Naturally, the suspension is completely redesigned, featuring all-new, tough and lightweight aluminum upper and lower control arms. The long-travel design includes new, Ford Performance-tuned FOX 2.5-inch Live Valve Internal Bypass shock absorbers with position-sensitive damping capability that adapt to the terrain in real time.
Oh, and there's some serious underbody protection, too. The front bash plate is almost double the size of the standard Ranger bash plate and made from 2.3mm-thick high-strength steel. Combined with the engine under shield and transfer case shield, it provides protection for key components like the radiator, steering system, front cross member, engine sump and front differential.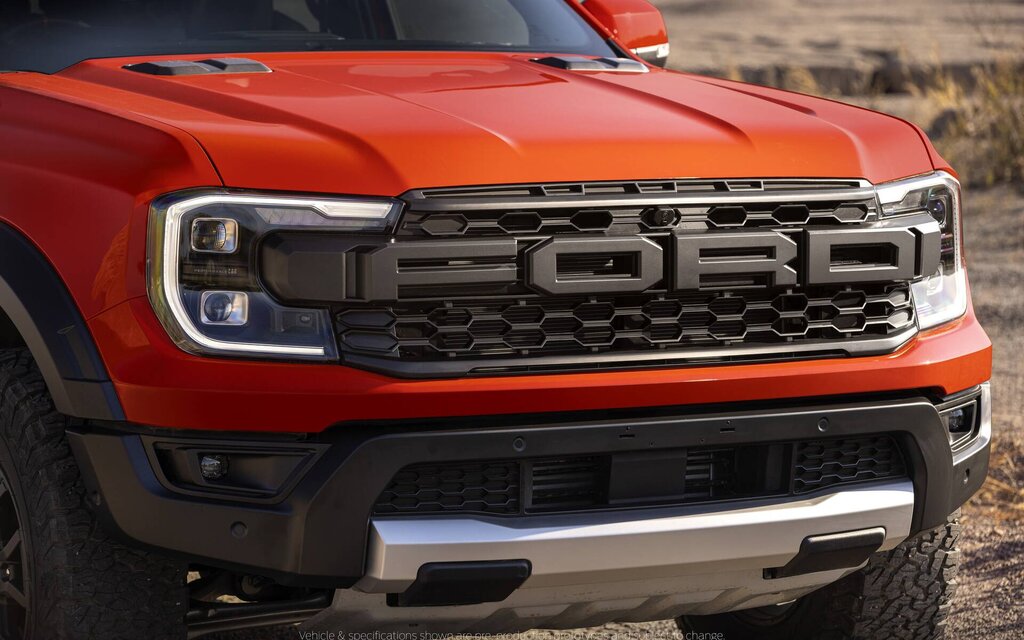 More Aggressive Looks
On the outside, the new Ranger Raptor stands out with C-clamp LED headlights, F-O-R-D lettering on the grille and a front bumper that's separated from said grille. The flared fenders accommodate a choice of two 17-inch wheel designs, one with beadlock capability, and each wrapped in BFGoodrich KO2 all-terrain tires. Functional vents, aero features and new-design cast aluminum side steps help enhance the look and functionality of the truck.
Ford says the new sport seats in the front and rear of the cabin are inspired by jet fighters to provide extra support during high-speed cornering. Orange accents on the instrument panel, trim and seats are enhanced by ambient lighting. Meanwhile, the 12.4-inch digital cluster is joined by a 12-inch centre touchscreen boasting Ford's latest SYNC 4A connectivity and entertainment system. A Bang & Olufsen stereo completes the package.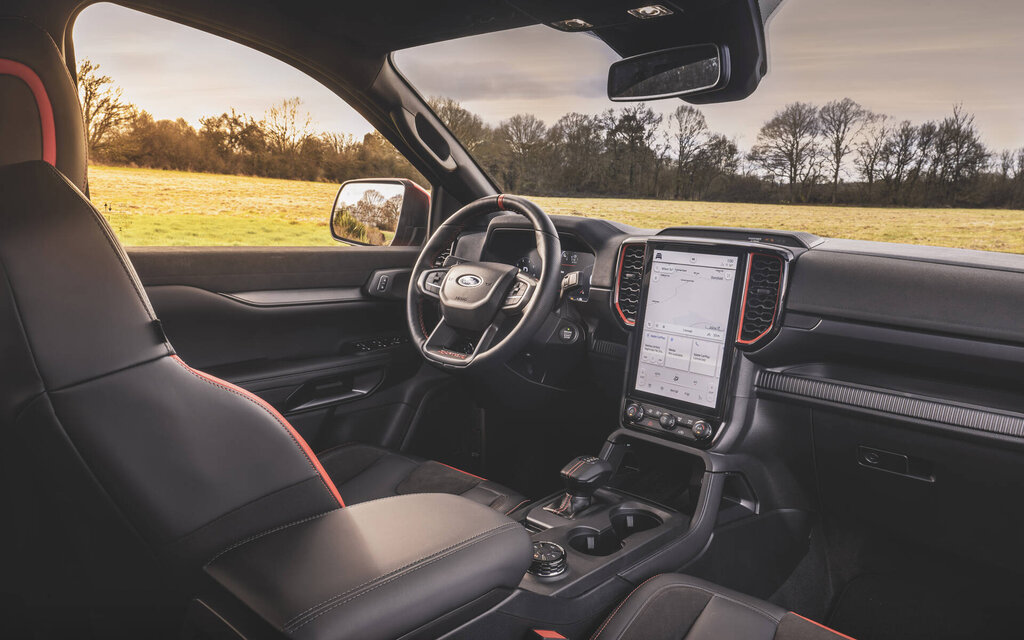 As mentioned up top, the new Ford Ranger Raptor will go on sale in Canada in 2023. Pricing for this model and the regular Ranger will be announced closer to launch.
Watch: 2021 Ford F-150 Raptor Takes Off-Road Performance Higher
Share on Facebook