2021 Nissan Kicks: Winning Formula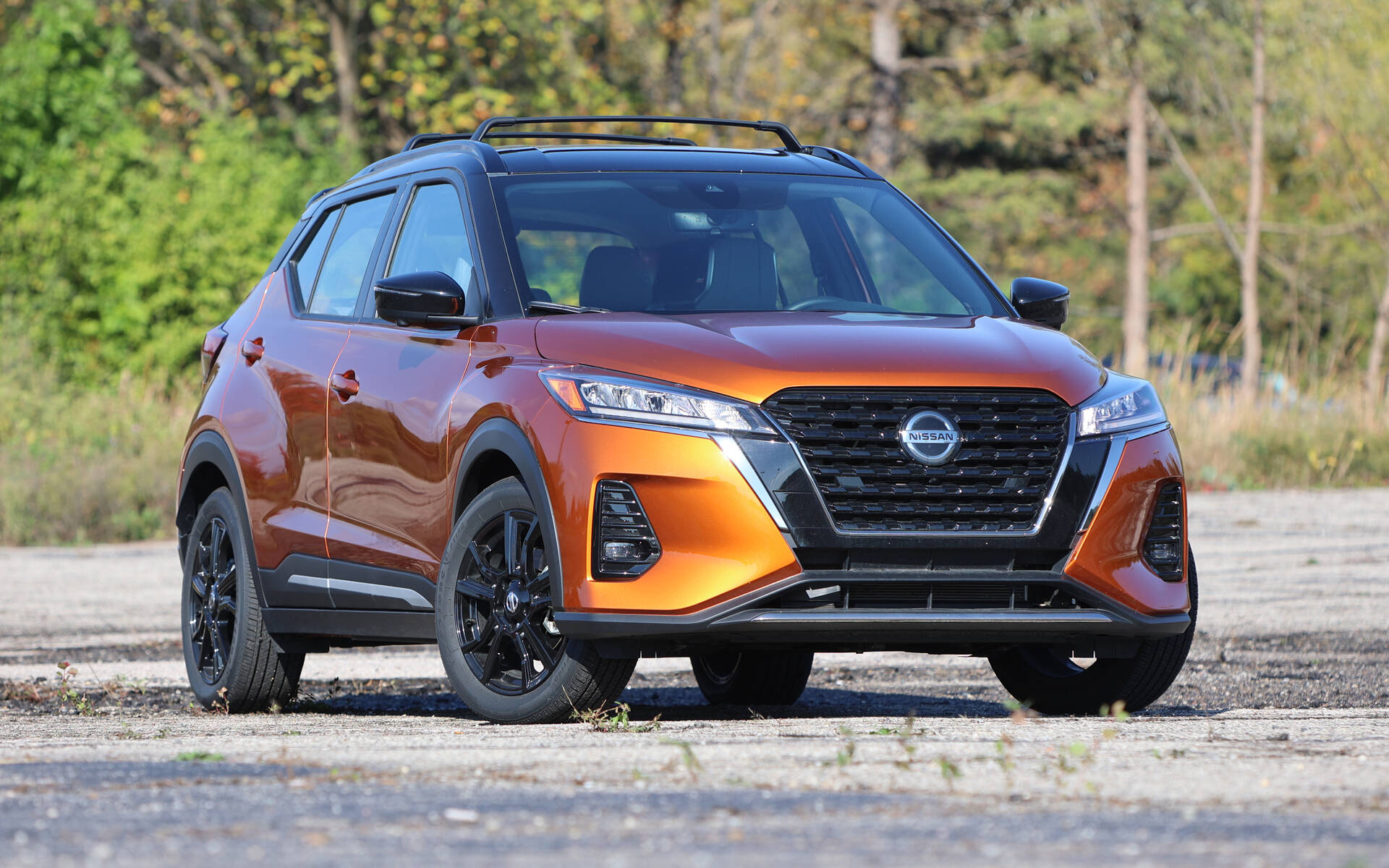 Strong points

Cute looks
Surprisingly spacious
Attractive price
Fun to drive around town

Weak points

Torque steer can be annoying at times
Slow passing manoeuvres on the highway
Full report
The Nissan Kicks is labelled and advertised as an SUV, with the company emphasizing its "truck-like" attributes, but in reality it's nothing more than a new-look Versa hatchback with a taller profile. It has what many people want in a city car—cheap price, small size, good manoeuverability and high fuel economy.
Most of the powertrain and chassis comes from the Versa sedan, which is largely overshadowed by the Kicks (the latter is outselling the former more than 6-to-1 in Canada). With 18,750 units sold in 2021, Nissan boasts a huge lead in the AWD-less corner of the small crossover segment, which also includes the Hyundai Venue, Kia Soul and Toyota CH-R.
So, why is the Nissan Kicks so popular? Well, for starters, it looks cute, carries an attractive price and packs a lot of features—even in base trim, which is not the case with the competition. Our SR Premium tester was a fully loaded model encroaching on Qashqai territory. Speaking of which, potential customers should do some math before choosing any of Nissan's entry-level models.
Priced Like an SUV
Passenger cars are out and SUVs are in. Nissan knows this and wants you to believe the Kicks really is an SUV in order to charge you about $4,000 more than a similarly equipped Versa. Apparently, a lot of people don't mind paying the big extra because they're under the impression of getting a little truck in return.
For sure, the Kicks has bold looks combined with a nice, well-appointed interior. It also trumps rivals with 716 litres of cargo room, making it more versatile. Enough to be a family vehicle? Hardly, but it's the closest thing in the segment.  
The mid-grade SV model offers the best value and consequently accounts for a majority of Kicks sales. It features a seven-inch digital instrument panel, eight-inch touchscreen (the standard display is seven inches), automatic climate control, keyless access, centre armrest, heated seats and steering wheel, intelligent cruise control and more. You'll pay $3,000 over a base S model, which lacks alloy wheels and roof rails.
Behind the wheel of the Kicks you can feel like you're driving an SUV even though the seating position is just seven centimetres higher than that of the old Versa Note hatchback. The line between cars and "trucks" is a fine one indeed. The Kicks is more pleasant to spend time in, mind you, with better ergonomics, more room in the back seat and a larger cargo area.
Agile Like a City Car
Despite its entry-level status, the Nissan Kicks proves comfortable and quiet enough, particularly when compared to the Hyundai Venue. It delivers a solid, surefooted ride even on windy days, though probably not as much when equipped with the standard 16-inch wheels instead of the available 17-inch alloys. Acceleration is progressive but not without some torque steer.
This could be fixed with revised suspension tuning, of course, but you would lose fuel economy as a result. Right now the Kicks is one of the most efficient crossovers on the market with a combined rating of 7.2 L/100 km, just half a litre more than the Versa sedan. The difference between the two can be attributed to drag and rolling resistance.
City driving is where the Kicks really shines. Visibility is good, the engine feels somewhat lively, and the tight turning radius allows the sort of manoeuvres that would be impossible with a slightly larger vehicle. By the way, at 4.3 metres long, the Kicks is 19 centimetres shorter than the Versa.
What about reliability? So far, so good. Some owners have complained about snow buildup in the intake system in addition to software issues. That's pretty much it. Troubles with Nissan's infamous CVT now seem to be in the past. Let's keep our fingers crossed just in case.
The Verdict
The 2021 Nissan Kicks is an affordable yet high-value offering at a time when new-vehicle prices are getting a bit out of control. It doesn't depreciate too much, either, and doesn't punish occupants like some other models in the segment do.
Share on Facebook