2022 Mazda MX-30 GT: A Good Starting Point
Strong points

Drives like a Mazda
Great interior and exterior style
Funky suicide doors

Weak points
Full report
The saying goes: "better late than never," right? Well, I feel like that's kind of been Mazda's go-to motto for quite some time now. In the end, its been forgivable because while the product features or changes may have been slightly later to the game than most, the implementation was so well done that we all forgot the delay.
Well, Mazda has finally released a fully electric vehicle in their lineup, the MX-30 GT, and they are the last manufacturer in Canada (luxury off-shoots aside) to do so.
So, you'd think, after all this time and upon seeing what's on the market currently, that their first product to the plate would be nothing short of top-level in every way. We wish we could say it is, but there are definitely some foibles and kinks to work out before it can be considered a viable player in the electric-vehicle landscape in Canada.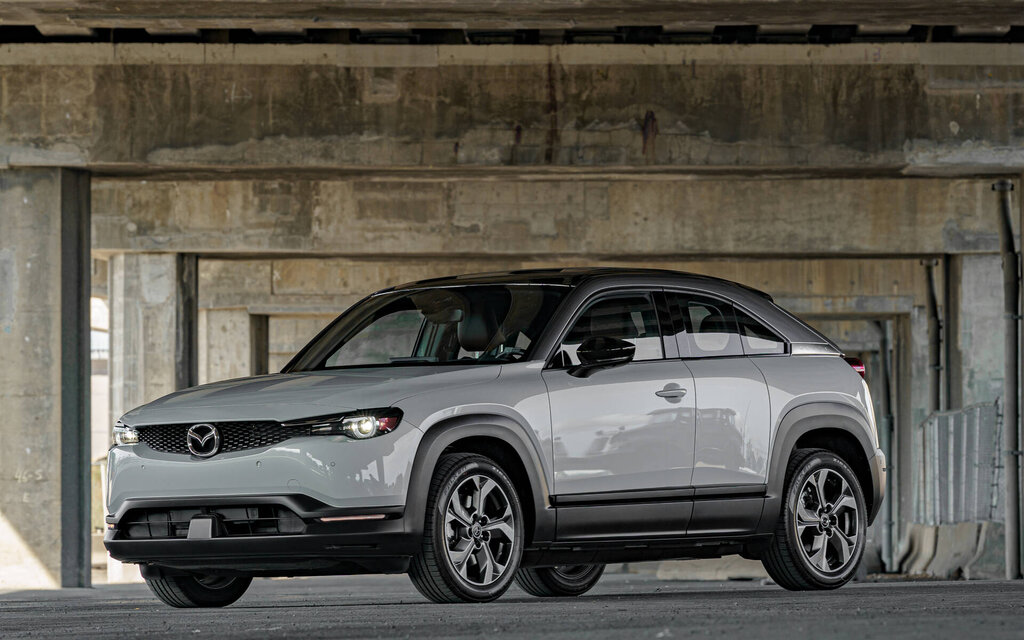 Mazda Design On Point
It's always better to start with the positives, so let's do that! If there's one thing Mazda continues to do well, it's design great-looking vehicles. The Mazda MX-30 GT is stunning to look at from all angles. It features the manufacturer's recognizable Kodo design from nose to tail.
We adore the angular shelf-life headlights and taillights, and even realized that they serve a practical purpose in the winter, ensuring snow does't gather in front of the lights so they are never block! They act like their own little awning, which is pretty neat.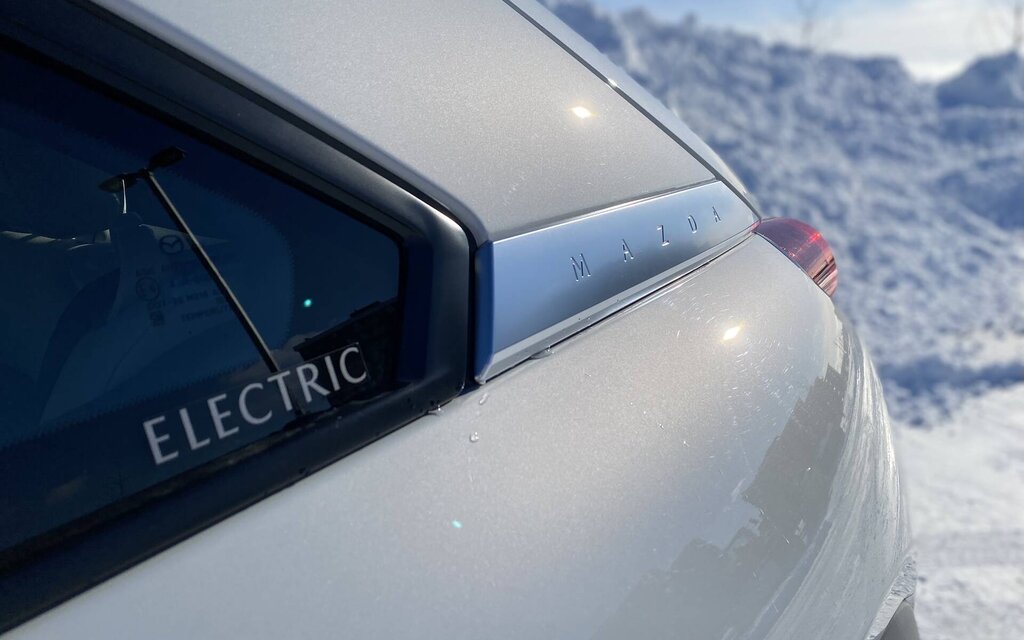 Other cool features on the MX-30 are the suicide doors to access the backseat. Unlike the MINI Cooper Clubman from years ago that only had one suicide door on the passenger side, the Mazda features on both sides. I love it because it look pretty cool sitting there open. However, it can be cumbersome in a crowded parking lot, since you do have to open the front doors slightly wider in order to get to the backseat door handle and open it properly to get in.
Inside, it's really nice to see normal Mazda aesthetics and features. Often times, getting into a fully electric vehicle can feel like stepping into a spaceship and the learning curve can feel quire steep. Such is not the case with the MX-30 - which is very similar to the Volkswagen eGolf. The only realy difference I found in the MX-30 are the fully digital touchscreen HVAC settings. And those are easy to use, and offer both touchscreen and clickable button options for adjustments (thanks Mazda).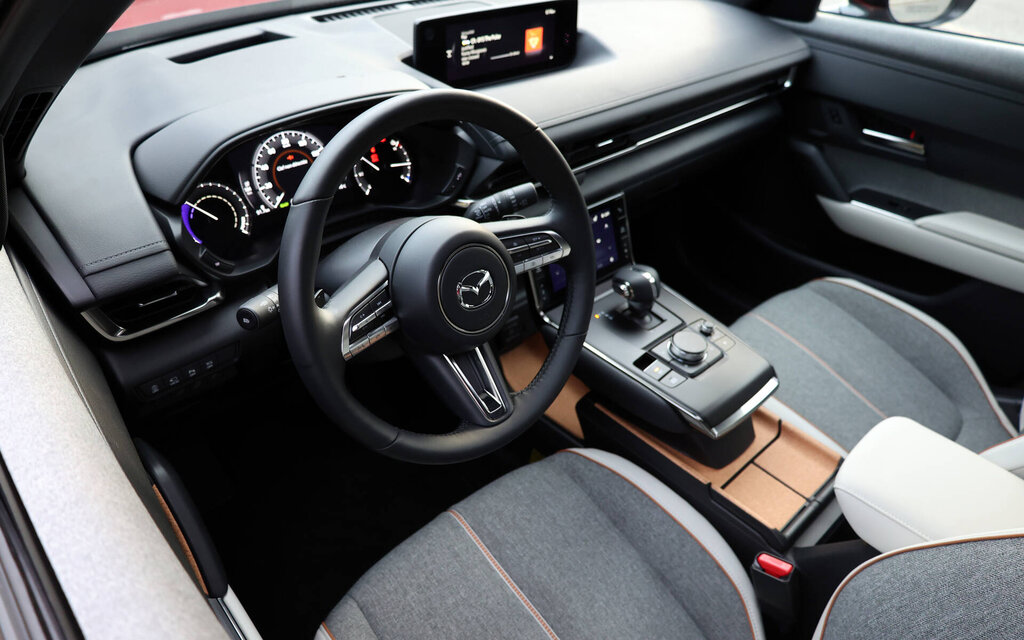 Mazda Drive Up to Par (with a few limitations)
Another great thing about the MX-30 is the way it drives. I've yet to get into a Mazda product I didn't enjoy piloting, and I am happy to say that the MX-30 did not disappoint. Steering is connected, and throttle response is great. Of course, the electric motor that has zero delay in power build-up helps, but it's clear Mazda engineers were careful to ensure the experience in the MX-30 would be on par with that in a Mazda CX-30 or even CX-5.
We really wish there was an AWD version of the MX-30, but at the moment both the GS and GT only offer front-wheel drive. This isn't terrible, but it really does make a difference in the winter. Having instant electric power means getting used to wheel spin and understanding that there is quite a bit of oomph up front at all times. Again, not terrible, but spreading out that power to all four wheels would make the MX-30 that much more practical.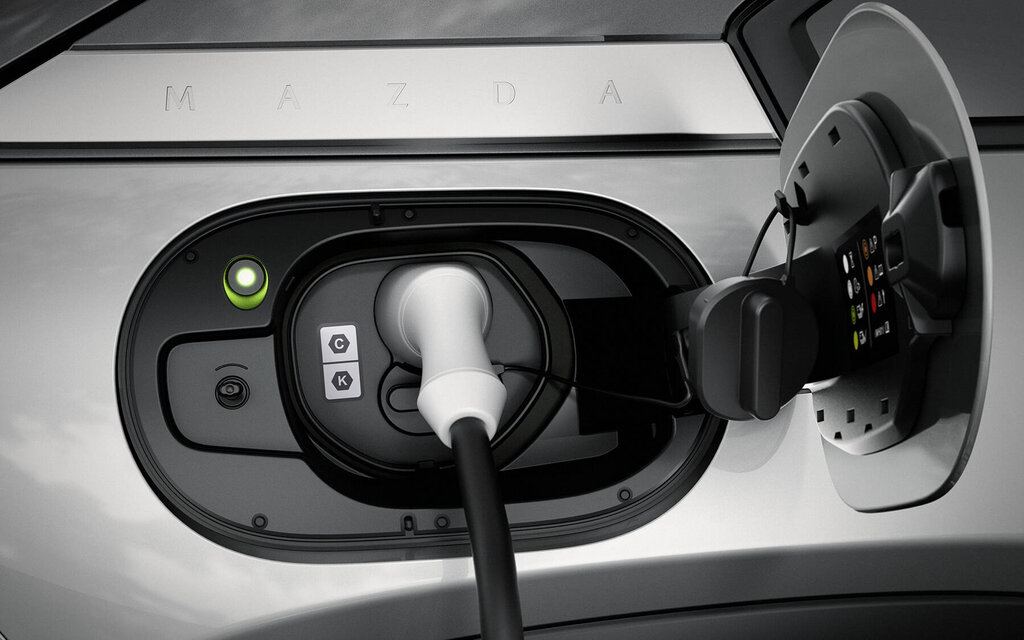 Speaking of Practical…
There's just one more major thing that Mazda has to work on now: RANGE.
Yup. It's been ages since I felt any sort of range anxiety in an electric vehicle, but boy did I ever feel it in the MX-30! I was actually happy to have a back-up vehicle for the week for my longer trips (which weren't even that long … round-trip total of about 140km).
The most I was able to squeak out of the MX-30 on a full charge was 170km. And those kilometers dwindled quickly. Even with heavy regen mode activated while driving, I just couldn't recoup the mileage and it seemed to drane oh-so quickly. Faster than most.
And while I was driving the vehicle in colder conditions, I was careful to keep my heating at a minimum, and understood my lack of ability to precondition hurt the milage as well. However, it was still rather shocking.
City Living Only
As an urban-only vehicle that travels 20km or less at a time and can be plugged in to a level 2 or more charger each time, this vehicle makes sense. Or as a secondary for weekend errands close to home. But as an everyday vehicle, it's a hard sell.
And the odd thing is, driving the MINI SE was not at all stressful and it has essentially the same range as the Mazda. However, the re-gen was much stronger and we were able to ensure we gained milage while driving instead of simply having to rely on a plug when we were stopped. That was the most concerning element behind the wheel of the MX-30.
Which is disappointing. There was so much potential in this little crossover-esque from Mazda, and it's somehow fallen flat when we really wished it hadn't. The only hope is that they work quickly to catch up to the likes of the Ford Mach-E and upcoming Volkswagen ID.4 in terms of range and capability or else they are going to relegated to the realms of the iMiEV and, unfortunately, LEAF.
Time to pick up the pace Mazda - you've got some serious catching up to do.
Share on Facebook