Mercedes-Benz EQXX is the 1,000-Km EV Dreams Are Made of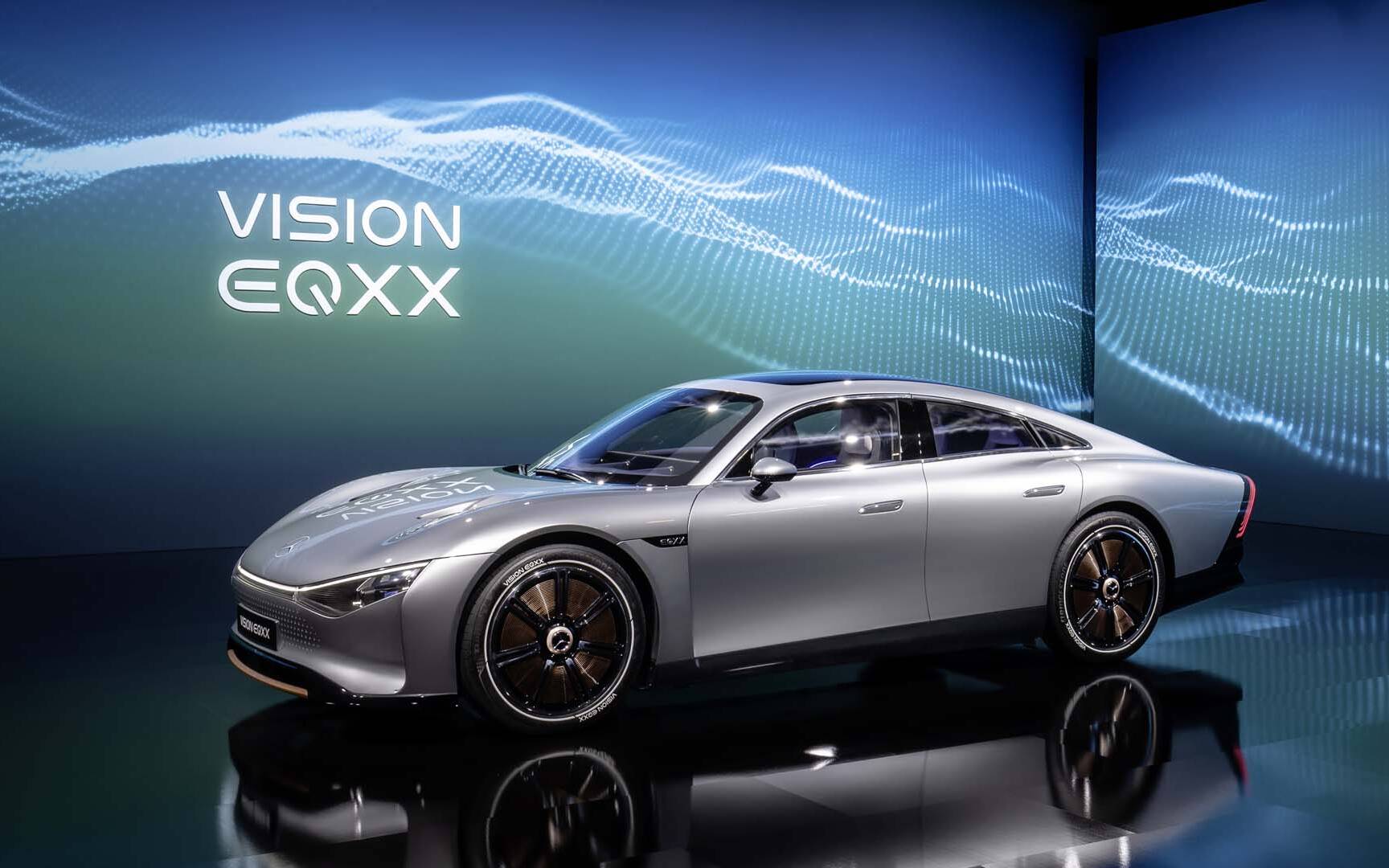 Despite physically retiring from CES 2022 in Las Vegas due to rising COVID-19 infections, Mercedes-Benz today unveiled the much anticipated and promising EQXX concept as was originally planned.
This vehicle is all kinds of awesome, starting with the fact that it's not yet another SUV, but rather a passenger car. And the numbers that go with it sure are impressive.
Minimum Weight, Maximum Aerodynamics
Weighing about 1,750 kilograms (3,858 pounds), the Mercedes-Benz Vision EQXX is significantly lighter than most premium EVs on the market right now. For one thing, engineers relied heavily on the BIONEQXX structural casting, which allows weight savings of 15-20 percent.
Meanwhile, designers created a body with a drag coefficient of just 0.17—better than the industry-leading Mercedes-Benz EQS (0.20). That makes a ton of difference as a typical EV uses around two-thirds of its energy on highway trips just pushing its way through the air, the company explains.
The EQXX can also thank its functional air curtain in the front bumper, air pathways in the hood, wheel covers combined with specially developed Bridgestone Turanza Eco tires, and a retractable rear diffuser that deploys only at higher speeds when the air becomes a considerably tougher opponent. 
Over 1,000 Km of Range
That being said, the most eye-popping stat is arguably the range. The Mercedes-Benz Vision EQXX is said to be able to travel more than 1,000 kilometres based on simulations using the WLTP standard.
The battery pack isn't huge with "just under 100 kWh" of usable energy, but it has incredible energy density (50 percent more compact and 30 percent lighter than that of the EQS). As a result, it needs less than 10 kWh/100 km. Think about that.
The 900V architecture is also unprecedented, but for some reason Mercedes-Benz made no mention of charging times. By the way, solar panels on the roof can provide an additional 25 kilometres in ideal conditions, although in most cases the solar energy is simply stored in a lithium-iron battery that supplies power to various vehicle systems.
As for performance, the single electric motor driving the EQXX generates 150 kW, or 201 horsepower. Evidently, the focus here is efficiency, not power. Still, it's worth mentioning that up to 95 percent of the energy from the battery ends up at the wheels compared to just 30 percent from even the most efficient internal combustion engine. 
Spectacular Interior
You cannot talk about the Mercedes-Benz Vision EQXX without spending some time describing the spectacular interior. The full-width 47.5-inch digital interface boasts 8K resolution and its mini-LED backlight consists of more than 3,000 local dimming zones, meaning it consumes power only as and when needed in specific parts of the screen. It's simply marvellous to look at.
As you would expect, plenty of sustainable materials can be found throughout including door pulls in a certified-vegan, silk-like fabric, floor carpets made from 100 percent bamboo fibre, and Mercedes' own Dinamica made from 38 percent recycled PET bottles. But like any self-respecting vehicle sporting the Silver Star, the EQXX maintains high levels of comfort and opulence.
"This car is one outcome of an ongoing program that is delivering a blueprint for the future of automotive engineering," the automaker says. Many of its innovations will make their way to production in future Mercedes-Benz EVs, likely starting in the second half of the decade. Stay tuned.
Watch: 2022 Mercedes-Benz EQS Overview
Share on Facebook