2022 Jeep
Grand Cherokee

: Twelve Years in the Making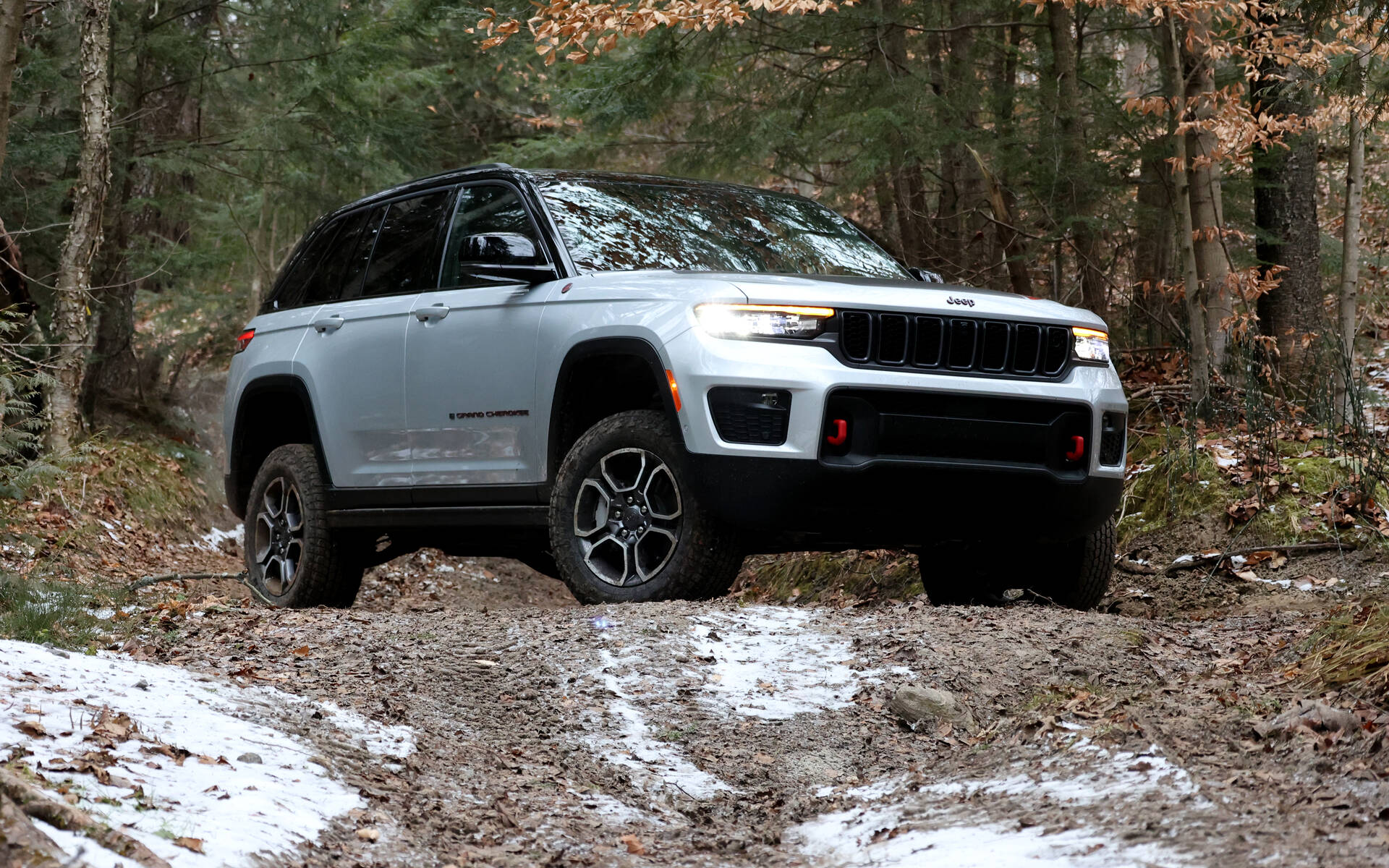 Strong points

Sharp looks
More refined driving experience
Roomier interior
Impressive Trailhawk model

Weak points

Conservative engine selection
Poor fuel economy (V8)
Much higher prices
Full report
Can you believe the outgoing Jeep Grand Cherokee (WK) stuck around for a dozen years? Actually, it's not quite ready to bow out yet. As the next generation arrives for 2022, the company will continue to sell the old Grand Cherokee for a while—in Laredo, Altitude and Limited trim—a bit like the new Ram 1500 and Ram 1500 Classic keep living together.
Why? Because the brand new model, as attractive as it may be, is a lot more expensive than its predecessor. Not every customer will want to spend an extra $6,000 or so for a base model.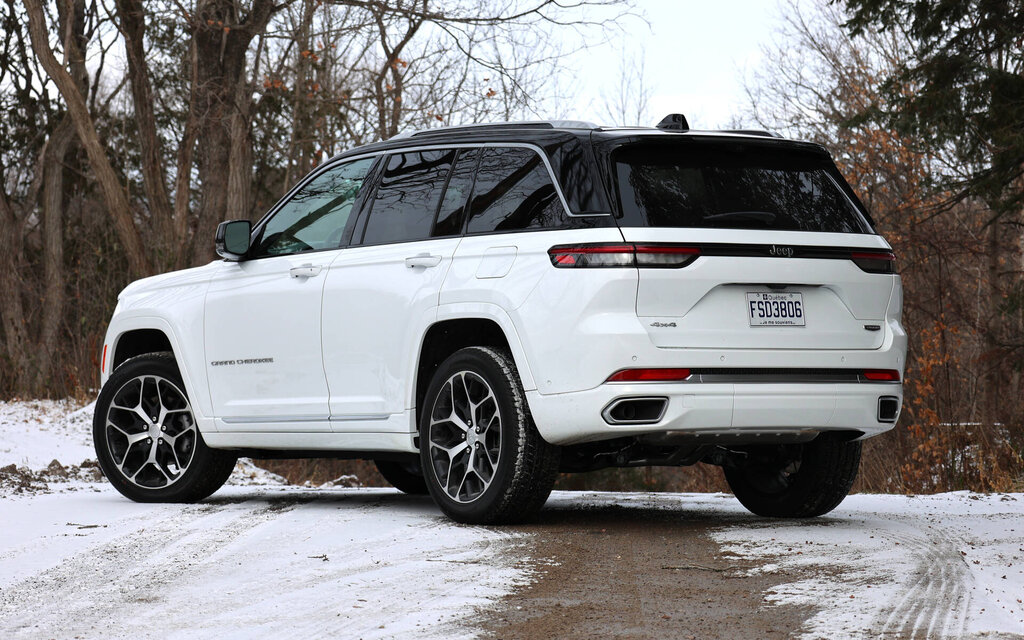 5 or 7 Passengers
With most competitors now accommodating up to seven or eight passengers, Jeep had no choice but to do the same. Introduced as a 2021 model, the equally new Grand Cherokee L is 12 cm longer and features three rows of seats. Everything aft of the B-pillars is different from the regular Grand Cherokee, resulting in a fatter, wagon-style body. If you ask me, the two-row Grand Cherokee looks more muscular and more athletic while also taking a page from the past—check out the rear quarter glass inspired by the original Jeep Wagoneer.
Longer, wider and taller, with 5 cm of additional wheelbase, the fully redesigned 2022 Jeep Grand Cherokee is roomier—and more comfortable—than ever. There's now more than 4,000 litres of space inside, addressing one of the most common complaints from existing customers.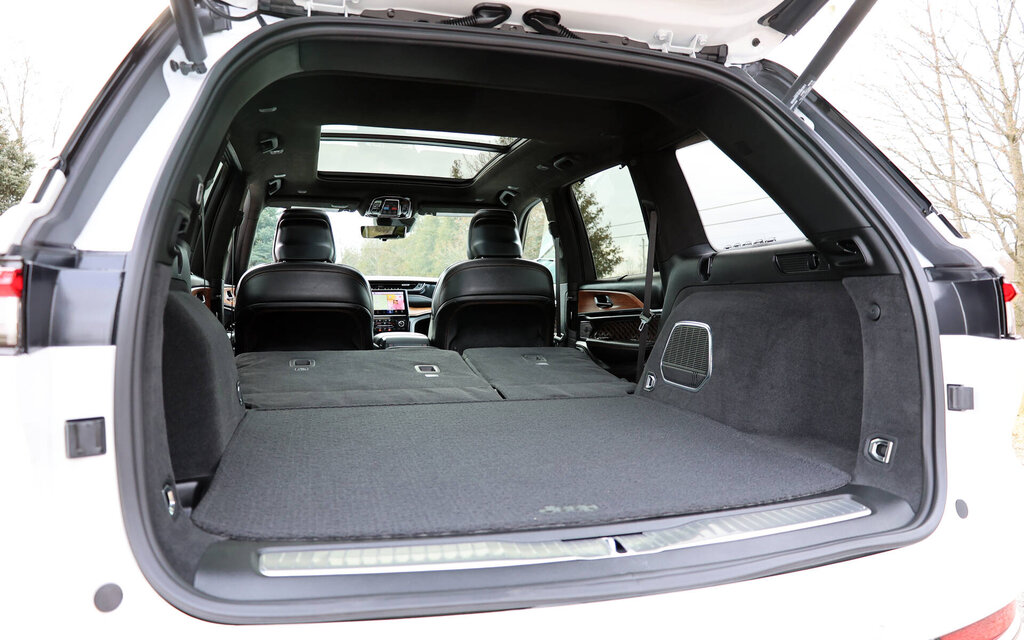 Spectacular Summit Reserve
The model you see here is the top-of-the-line Grand Cherokee Summit Reserve, which is expected to account for only 5 percent of sales. By the way, the lineup includes seven different trim levels, and that's not even counting the ones coming up in the near future.
As the pinnacle of comfort and luxury, the Summit Reserve boasts perforated leather, heated/ventilated seats with massage, air suspension and more. An available package adds noise-cancelling technology, 19-speaker McIntosh premium audio system, suede-like surfaces and passenger-side interactive display. You can also tack on a head-up display, night vision, wireless smartphone charging and more powerful engine, bringing the price to over $86,000.
Talk about a sticker shock. Of course, you can find much more reasonable alternatives, for example a V6-powered Altitude model at around $60,000. It's definitely not as impressive in terms of interior fit and finish, but the more attainable price (still pretty high) makes for fairer comparison with the Grand Cherokee's main rivals.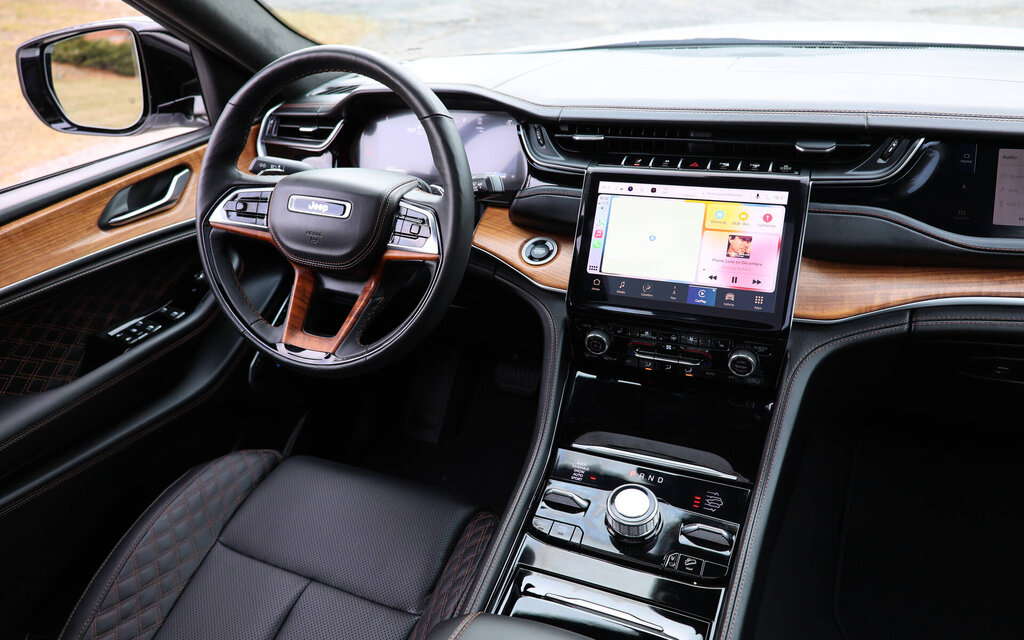 Boasting remarkable ergonomics, the new Jeep Grand Cherokee also features a configurable digital instrument panel and a standard 8.4-inch centre touchscreen. The available 10.1-inch display in higher trims is obviously more attractive, but both are powered by the excellent Uconnect 5 infotainment system. If you love technology, you will be pleased, for sure.
Jeep designers and engineers have considerably improved all-around visibility, too. The A-pillars are slimmer, and so are those in the rear, while the rear-view mirror and head restraints have a lower profile now, making it easier for the driver to see the road from any angle.
Two Engines at First
Unsurprisingly, the 2022 Jeep Grand Cherokee retains the 293-horsepower Pentastar V6 as the standard engine. A capable and reliable performer, this unit achieves a combined 11 L/100 km and can tow up to 6,200 pounds. With four of the seven models in the lineup, customers have another option, namely the 357-horsepower HEMI V8. Smooth and equally reliable, this one pushes fuel consumption well past 15 L/100 km—more specifically 16.7 L/100 km in the case of my tester, which I drove with temperatures nearing the freezing point.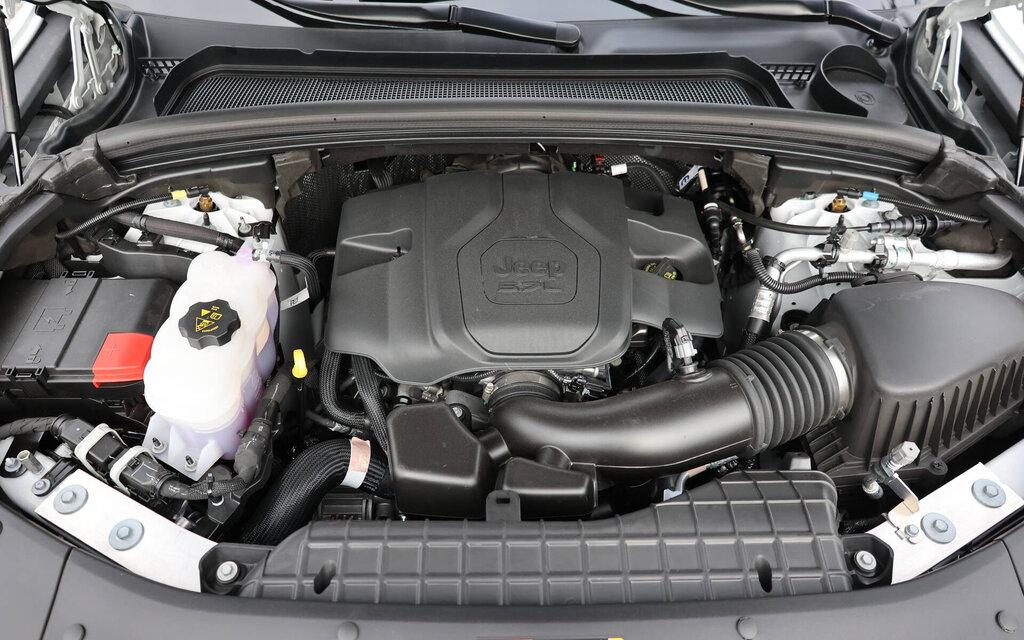 The V8 delivers quicker acceleration and will allow you to tow up to 7,200 pounds, but it requires a premium of $4,000 and comes with a gas-guzzler tax in some provinces. Add the higher fuel bills, and it makes little financial sense. It's no wonder every competitor (except the Dodge Durango) has moved on from eight-cylinder engines. Trust me, the V6 is a smarter purchase, and the generous amount of low-end torque further backs that claim.
In the spring of 2022, Jeep will add a Grand Cherokee 4xe plug-in hybrid variant using the same technology found in the Wrangler 4xe. It should provide approximately 40 kilometres of zero-emission range while achieving around 7 L/100 km in hybrid mode. Quebec customers will likely get a $4,000 EV rebate, which would make this greener Grand Cherokee almost as affordable as a V6-powered model.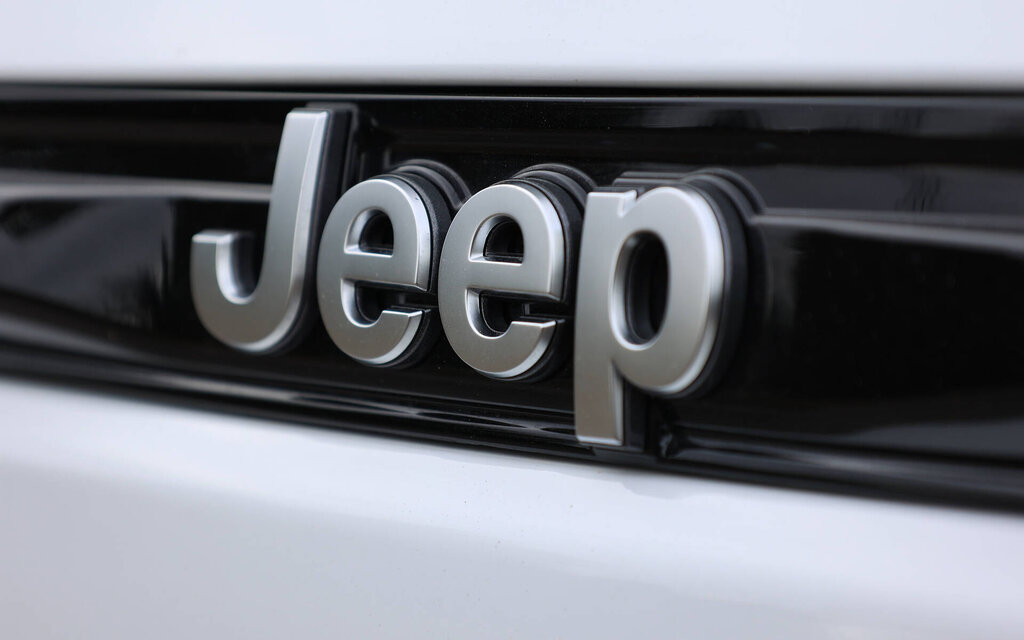 On the road, the longer wheelbase, wider track, revised suspension and improved noise insulation contribute to a more comfortable driving experience. The massive 21-inch wheels on the more luxurious models may look gorgeous, but they significantly affect ride quality, not to mention the turning radius.
Also, Jeep says the chassis is all-new, yet we don't have any details. Is it a modified version of the old architecture or a brand new one developed from a clean slate? Nobody outside of the company seems to know for sure. What's certain is that the optional air suspension greatly enhances both the ride and handling.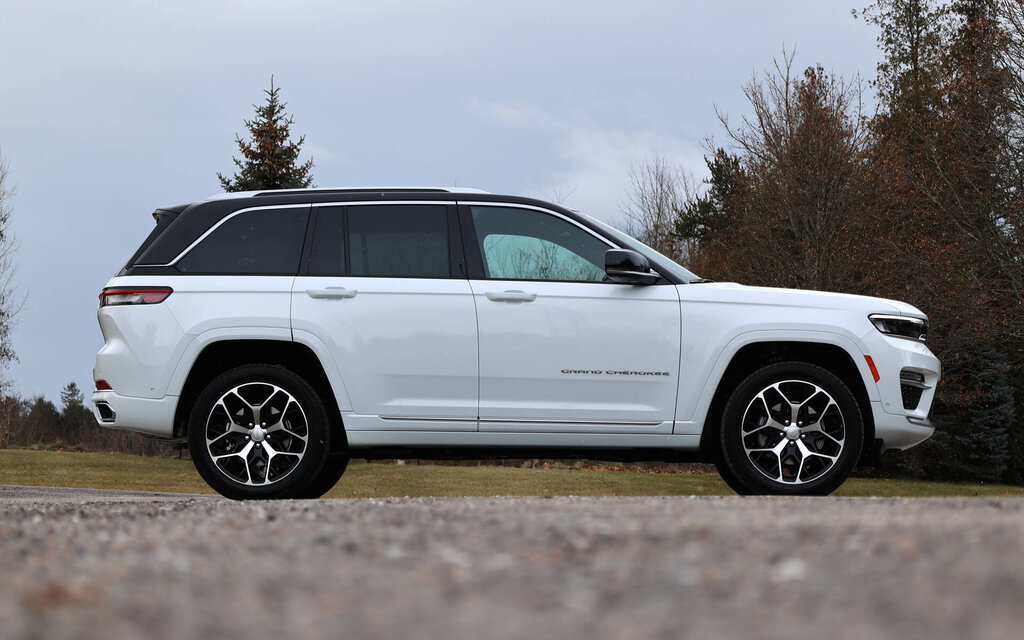 Trailhawk
While the highly anticipated 4xe variant was not yet available for testing, I had the opportunity to spend time in a Grand Cherokee Trailhawk—the only model to feature the Quadra-Drive II 4x4 system with a two-speed transfer case and electronic locking differential. It also comes with the aforementioned air suspension, plus front sway bar disconnect, off-road driving modes, all-terrain tires and red-painted tow hooks. Let me tell you that the Trailhawk fully deserves to wear Jeep's "Trail Rated" badge—it can perform amazing feats on all kinds of terrain, setting itself apart from the vast majority of midsize SUVs.
Now, imagine combining the Trailhawk's 11.3 inches of ground clearance with the instant torque of the 4xe plug-in hybrid powertrain, which customers will be able to do next year. That will be fantastic. Otherwise, my advice is to stick with the V6 instead of opting for the V8. By the way, no Trailhawk model is available with the three-row Grand Cherokee L.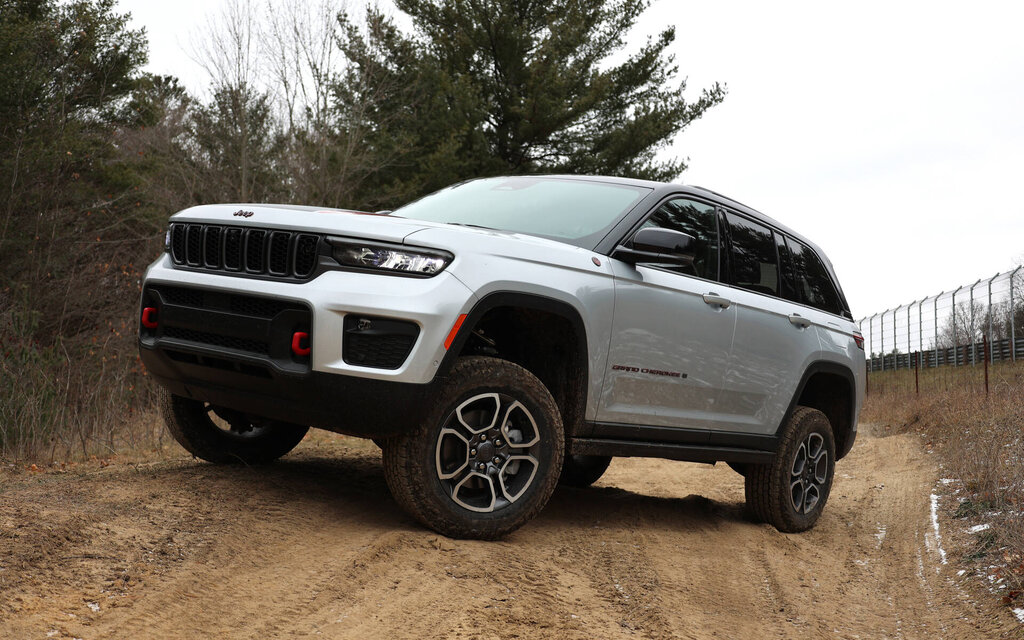 Sure to Be a Hit?
While the Grand Cherokee L takes on the likes of the Ford Explorer and Kia Telluride, the standard Grand Cherokee is in a unique position. You can hardly compare it to a Chevrolet Blazer, let alone a BMW X5, even though that's what the Jeep people want you to believe. This model beautifully stands out from the pack, and looks way more attractive than its larger sibling.
Having said that, the hefty price combined with the previous generation sticking around for a while will certainly affect sales. The upcoming addition of the 4xe variant ($74,995-$88,995) is a game-changer, though.
Watch: First Look at the 2022 Jeep Grand Cherokee 
Share on Facebook