2022 Mazda MX-30: The Electric Crossover for the City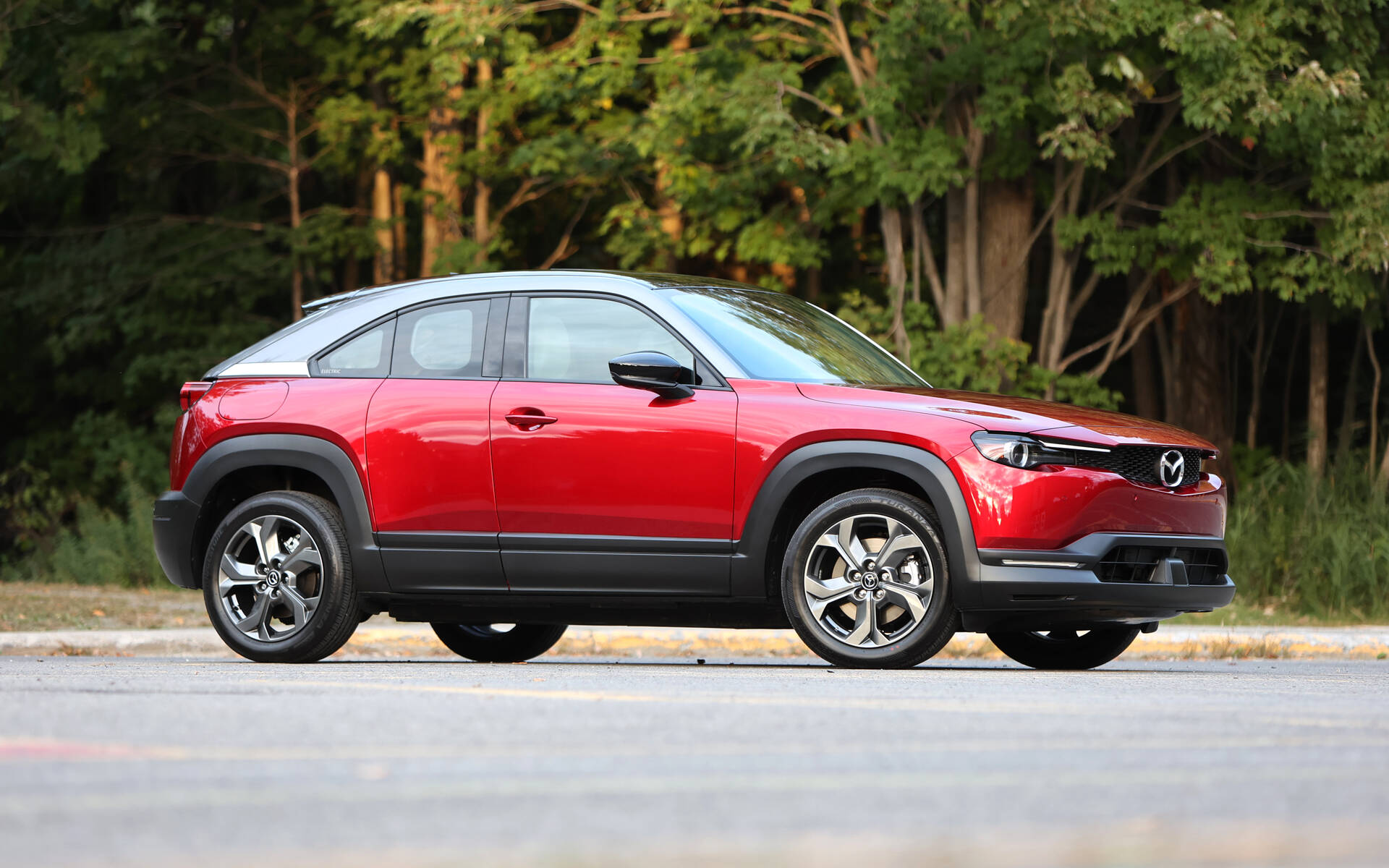 Strong points

Excellent handling
Smooth and quiet ride
Lots of features
Attractive interior

Weak points

Small battery providing very short range
Limited power and torque
Tight rear seats
Full report
Mazda is launching its first-ever all-electric vehicle this fall. The new 2022 Mazda MX-30 will initially go on sale in Quebec and British Columbia, with only 700 units available.
Next year, the Japanese automaker will add a plug-in hybrid variant featuring a range extender, allowing the MX-30 to expand into more markets across North America.
Mazda has opted to do things differently from other EV manufacturers, which rely on large-capacity batteries to offer maximum range. The MX-30 makes do with a small 35.5-kWh battery that powers a single electric motor driving the front wheel.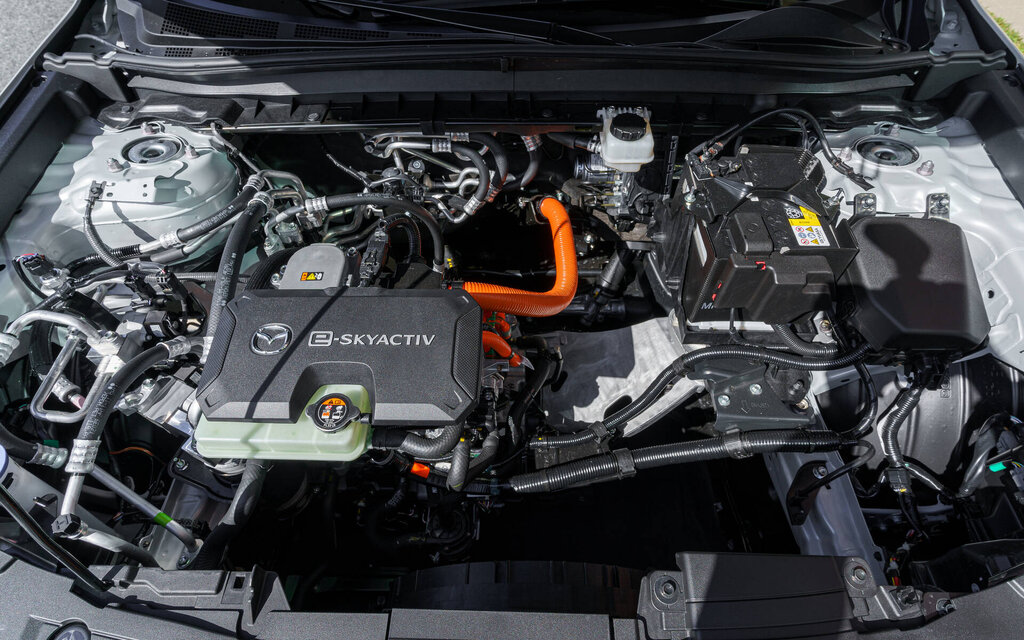 Said battery comes from Panasonic, while the motor and power inverter are supplied by Hitachi Automotive Systems. Mazda says a smaller pack requires fewer materials to build and believes range is long enough to meet typical daily driving needs with frequent charging.
160-170 Kilometres
So, how much range are we talking about here? The Mazda MX-30 can travel up to 160-170 kilometres on a full charge, which we validated on a mix of highways and byroads in La Belle Province. We actually began the day with the on-board computer telling us we had 214 kilometres of range at our disposal. However, following a short trip of 116 kilometres, we were left with just 55 kilometres, hence the projected real-world total of around 170 kilometres. Officially, Mazda claims a range of 160 kilometres.
By the way, the MX-30 we tested needed 18.8 kWh/100 km on average. That's good. A fellow journalist who took part in the same media drive did even better with 16.9 kWh/100 km.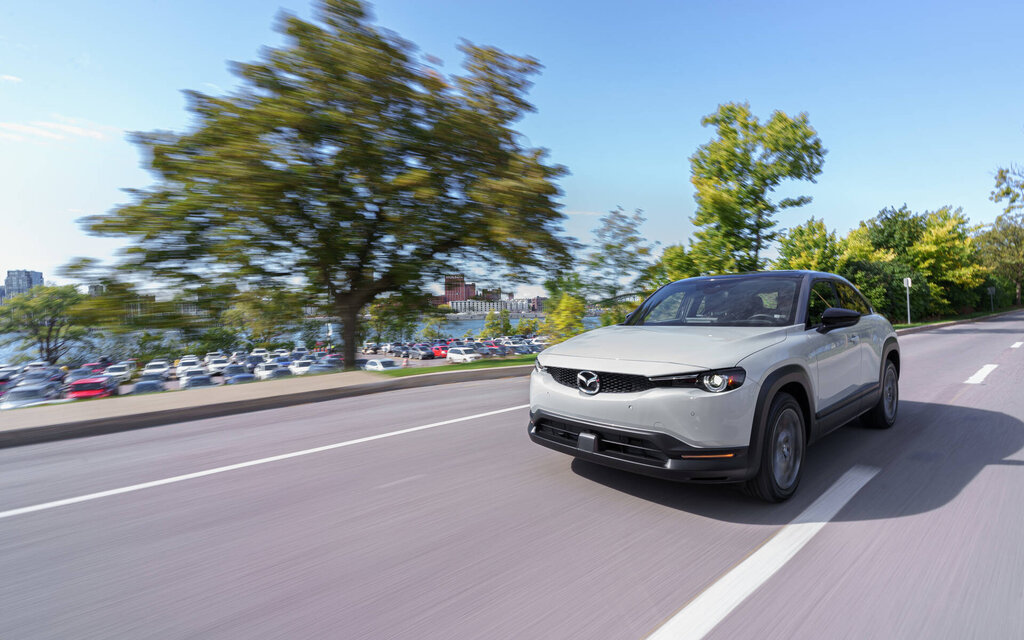 Clearly, Mazda's new EV is primarily designed for urban driving, or else as a family's second vehicle for daily commutes. If you must cover long distances regularly, then go find another option. The battery can be charged from 20-80 percent in two hours and 50 minutes using a level 2 (240V) power source, or in 36 minutes when plugged into a 50-kilowatt DC fast charger. Those are some pretty decent times. What is not is the 13 hours and 40 minutes it takes to fully charge the MX-30 via a standard 110V power outlet.
Handles Like a CX-30
The electric motor driving the 2022 Mazda MX-30 generates 143 horsepower and 200 pound-feet of torque. Since the vehicle is nearly 150 kilograms heavier than the CX-30 at 1,658 kilograms, 0-100 km/h sprints are achieved in 9.7 seconds, with a top speed of 140 km/h. In normal driving, performance is adequate. However, passing manoeuvres on the open road can be problematic due to the lack of power and torque.
The CX-30 really is an interesting comparison. Both vehicles handle remarkably well and steering is super-sharp. The MX-30's brake-by-wire technology means there is no mechanical link between the brakes and the pedal. In other words, the pressure you apply to the pedal is transformed into an electronic signal for the braking system.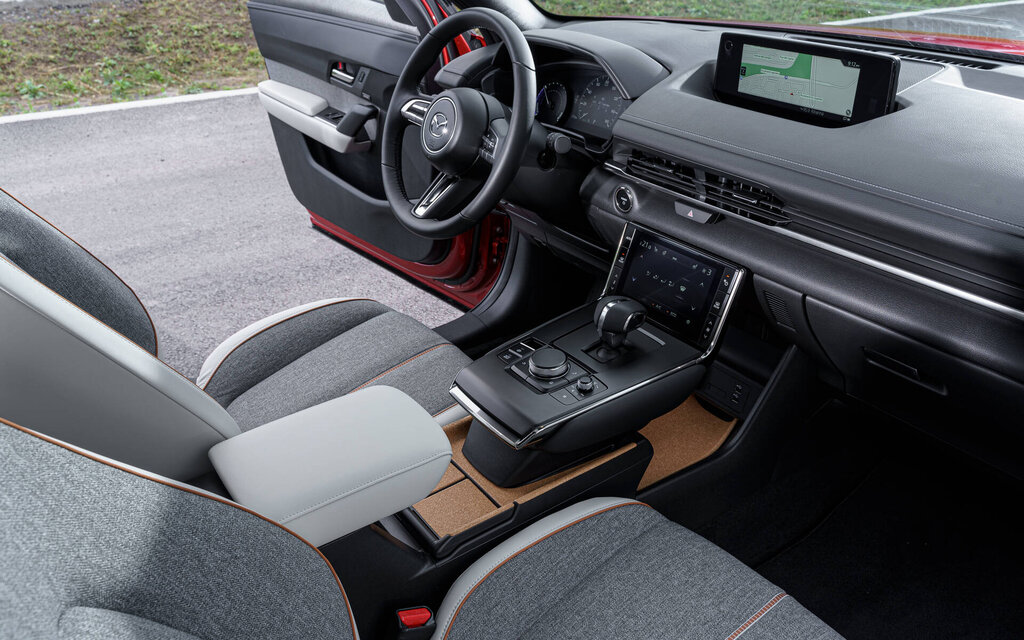 Speaking of braking, the regenerative function at work in this EV is amazingly effective and linear—it's almost impossible to tell when the conventional brakes take over. That's because engineers were obsessed with making the MX-30 operate in much the same way as other Mazda products.
On a related note, they developed an artificial sound that somewhat emulates a combustion engine and contributes to a more familiar driving experience during acceleration and deceleration.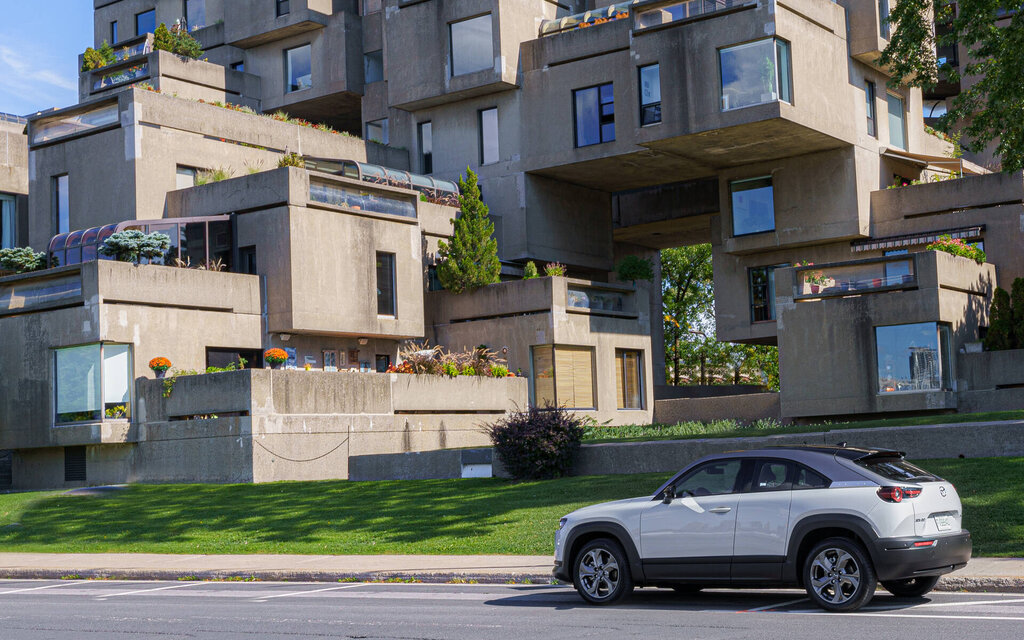 Rotary Engine as Range Extender
As mentioned up top, Mazda plans to add a range entender to the MX-30 next year. It will be a rotary engine with a single rotor spinning at a steady speed that generates power to charge the battery on the go, similar to the late Chevrolet Volt.
Mazda has yet to detail engine specs, tank capacity or battery size for this particular model, but with a full charge and full tank of gas, range is expected to double. We'll probably learn more in the coming months, so stay tuned.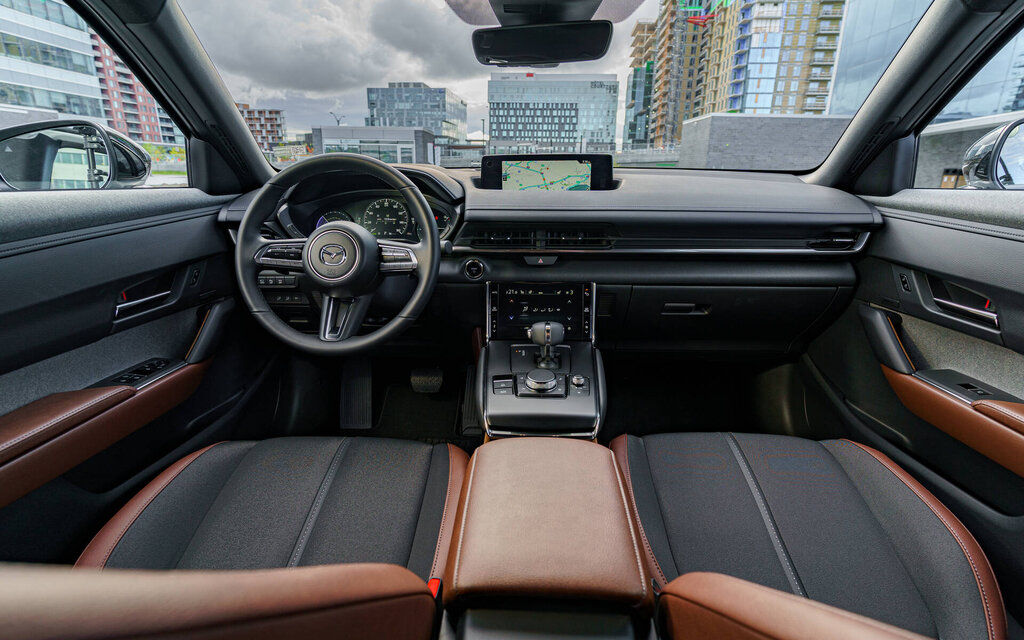 Innovative Looks
In terms of styling, the 2022 Mazda MX-30 features clean surfaces and a more horizontally stretched version of the brand's five-pointed grille. There are no B-pillars and the rear doors open in the opposite direction to provide more direct access to the rear seats (the front doors must be opened first, mind you, similar to the BMW i3).
The interior is just as clean and minimalist, highlighted by a floating centre console with a rotary dial controlling the infotainment screen at the top of the dashboard. Said console along with the door grips use cork, which is one of the most highly renewable and eco-friendly resources—and also pays homage to Mazda's origin as a cork manufacturing company more than 100 years ago. The front seats are very comfortable, but the rear seats don't offer a lot of space. Good luck sitting there if you don't slide the front buckets forward.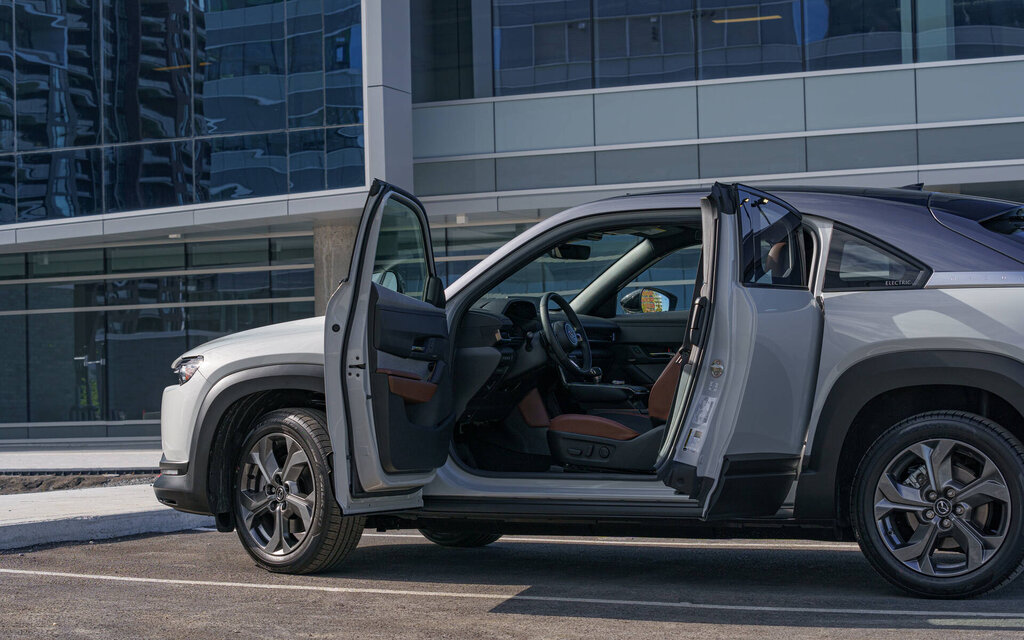 How Much?
The 2022 Mazda MX-30 is available in two trim levels—GS and GT. Pricing starts at $42,150 and $47,150, respectively. That's low enough to qualify for both the federal and provincial EV incentives, which represent a combined saving of up to $13,000 in Quebec and $8,000 in B.C.
Furthermore, Mazda has partnered with ChargePoint to give MX-30 customers a $500 charging credit that can be used for public charging or toward the purchase of an in-home ChargePoint Level 2 charger.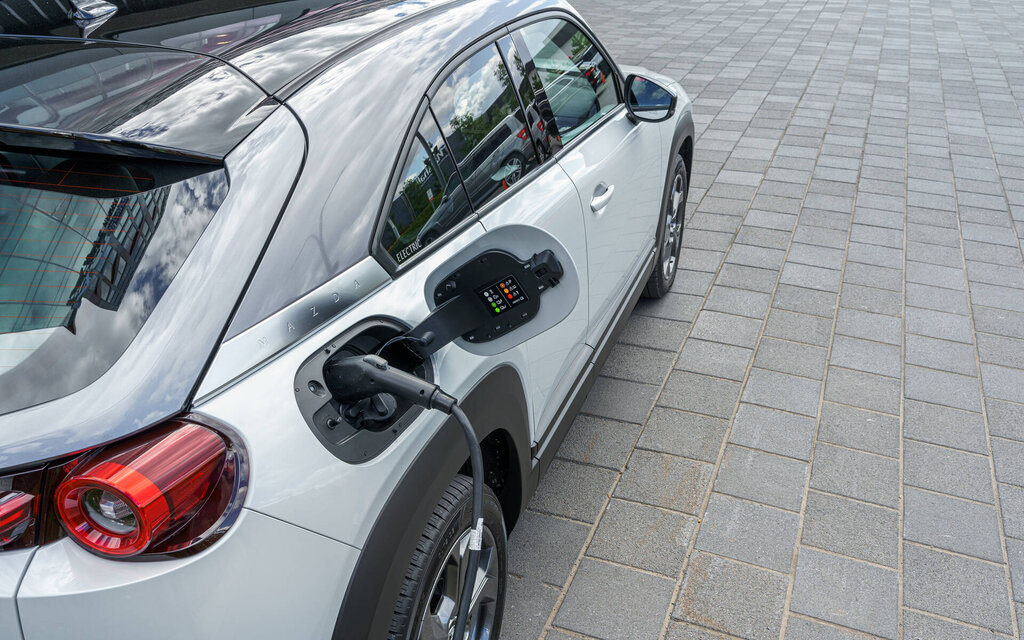 Mazda, just like most Japanese automakers, is late to the EV party, and the MX-30 is a timid but intriguing first step in that direction. We're curious to see how much success it can garner, especially with the future addition of a range-extending variant.
Share on Facebook