These Repair Shops Have the Highest Satisfaction Rate in 2021
The shift in driving and vehicle ownership habits resulting from the COVID-19 pandemic has had a significant effect on the automotive service industry in Canada. Reduced workforce also continues to be a problem.
Consequently, the total size of the 4-to-12-year-old automotive service market plunged to $6.6 billion in 2021 from $9.2 billion in 2020 according to the latest data published by J.D. Power Canada.
Aftermarket locations captured 54 percent of service occasions across the country, compared with 46 percent for new-vehicle dealers. At the same time, they increased their share of overall industry revenue to 44 percent in 2021 from 40 percent in 2020. This reverses a multi-year trend of car dealerships steadily taking a greater share of revenue, the research firm pointed out.
The average cost per visit in dealerships is down from $375 to $332 this year. When it comes to other repair shops, it fell from $241 to $226.
"Besides the decline in service visits and revenue, there is a bright spot for the service business. Many vehicle owners opted to make more expensive repairs to their current vehicle rather than to trade it in for a new vehicle or absorb the added cost of a pre-owned vehicle, where we've seen prices soar recently," said J.D. Ney, automotive practice lead at J.D. Power Canada.
J.D. Power's 2021 Canada Customer Service Index—Long-Term (CSI-LT) Study, which measures satisfaction and intended loyalty among owners of vehicles that are 4-12 years old, also reveals that overall satisfaction with dealerships and non-dealers is 791 (on a 1,000-point scale), which is unchanged from 2020. Satisfaction with non-dealers averages 796 and satisfaction with dealerships averages 786.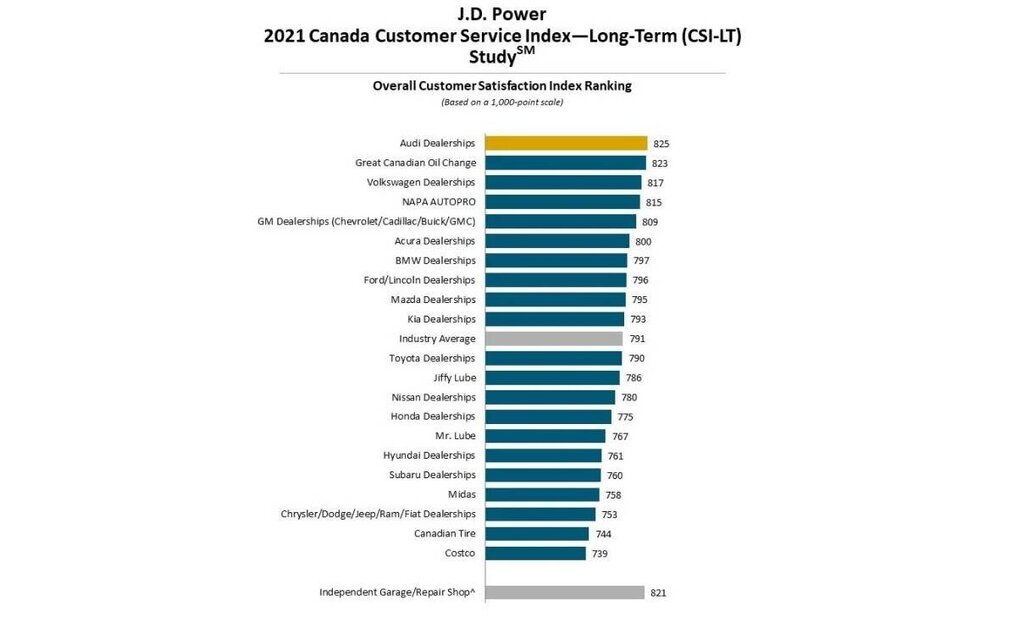 Just like last year, Audi dealerships lead the way with a satisfaction rating of 825. They are followed by Great Canadian Oil Change shops (823) and Volkswagen dealerships (817). NAPA AUTOPRO stores (815) and GM dealerships (809) round out the top 5.
On the flip side, satisfaction among Costco service users took a big hit (now 739 points instead of 801). Canadian Tire stores (744) as well as Jeep/Dodge/Chrysler/Ram/Fiat dealerships (753) are not very good, either.
Share on Facebook