2022 Jeep
Grand Wagoneer

: Grand Return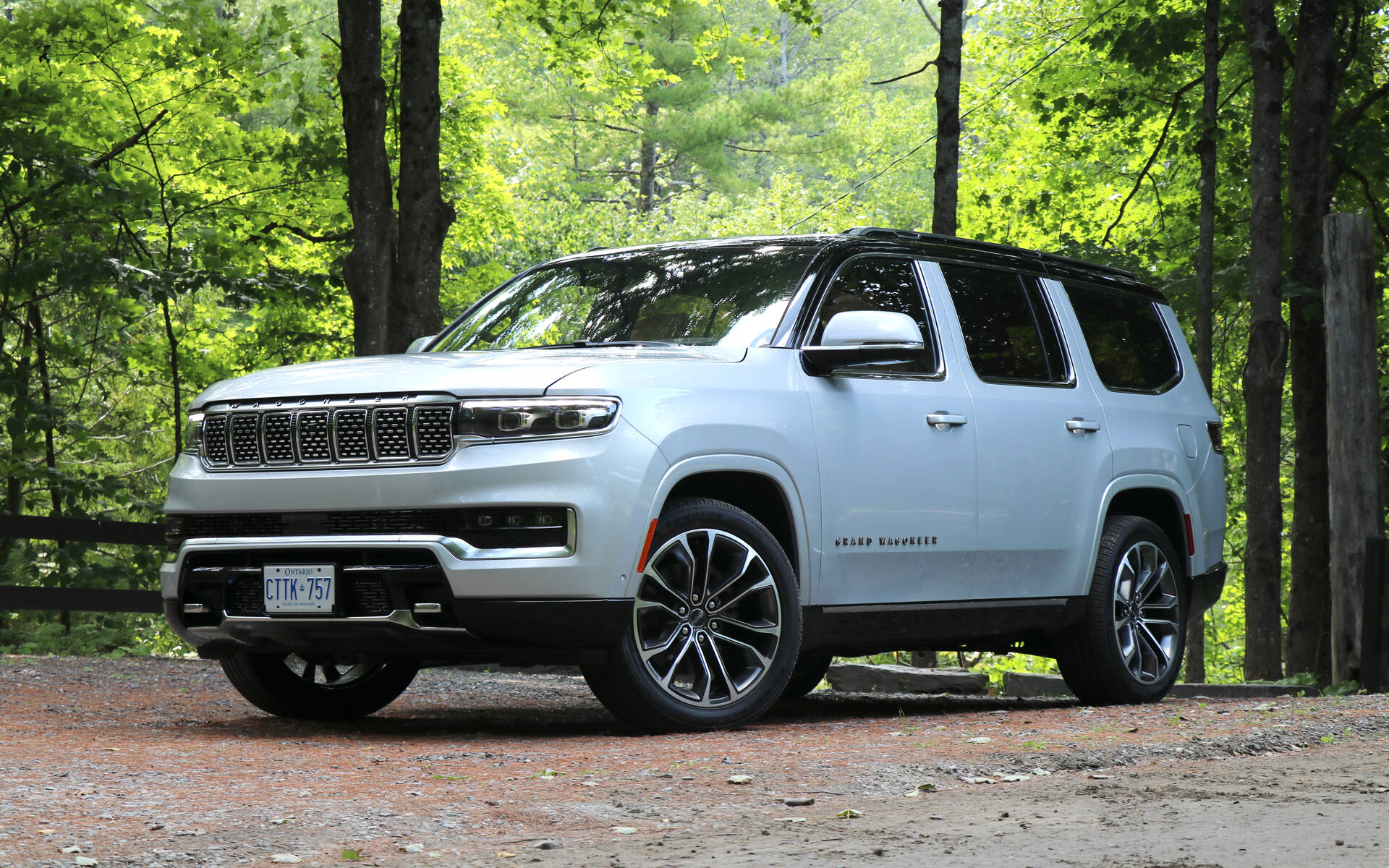 Strong points

Outstanding design, fit and finish
Two powerful engines
Remarkable comfort
Best-in-class towing capacity

Weak points

Excessively steep price
Outrageous fuel consumption
Will it prove reliable?
Where are the wood panels?
Full report
As strange as it may seem in this day and age, full-size SUVs are increasingly popular. In 2019, before the pandemic, they were one of the fastest-growing segments in the industry, led by GM's revamped trio. Also, demand for capable SUVs that can tow heavy loads, haul lots of stuff and deliver outstanding comfort to the entire family keeps getting stronger.
On one hand, you have mainstream models like the Chevrolet Tahoe, Ford Expedition and Nissan Armada. On the other hand, you'll find luxurious alternatives such as the Cadillac Escalade, Lincoln Navigator and Land Rover Range Rover. For 2022, Jeep arrives with a pair of brand new SUVs that can take on all of them. The Wagoneer targets the same crowds as Chevy, Ford and others, while the Grand Wagoneer goes after Cadillac, Land Rover, Lexus, Lincoln, Mercedes-Benz and more.
Paying Tribute to the Past
The folks at Jeep like to brag about pioneering the luxury SUV segment in the early 1960s with the Wagoneer, and they keep drawing comparisons to the original with the new generation. For the record, the Wagoneer was sold from 1963-1983 and then was renamed Grand Wagoneer in 1984, just as Jeep introduced a smaller, Cherokee-based Wagoneer. The Grand Wagoneer carried the flag of American Motors for a long time before retiring in 1991, a few years after Chrysler took over Jeep.
Designers of the 2022 Jeep Grand Wagoneer claim styling is inspired by the classic Grand Wagoneer, but it's hard to see any resemblance if you ask us. Sure, they're both large premium SUVs (the 1991 model retailed for more than $36,000), but they belong to two completely different eras. In between them was the 2006-2010 Commander, which simply happened to come at the wrong time.  
Jeep Wagoneer/Grand Wagoneer or Grand Cherokee L?
The Commander was Jeep's last attempt at offering a three-row SUV. Now the company has three. The freshly launched Grand Cherokee L is a direct response to models ranging from the Ford Explorer to the Audi Q7. It's not as big or capable as the Wagoneer and Grand Wagoneer, which feature body-on-frame construction derived from the Ram 1500 pickup and can tow up to 10,000 pounds—better than any SUV on the market including the Expedition at 9,300 pounds.
The Grand Wagoneer also offers best-in-class cargo room, headroom and passenger room. When it comes to power, it's only trumped by the 575-horsepower supercharged versions of the Range Rover. Clearly Jeep didn't want to make any compromises—it is, after all, one of the most famous and revered SUV brands in the world. To drive that point home further, our first drive was in a fully loaded Grand Wagoneer Series III model.
Loud and Proud
Jeep reps took care of delivering test vehicles to a handful of auto journalists straight to their driveways. After taking some pictures, I headed to Sainte-Catherine-de-Hatley, Quebec for a technical presentation that I didn't want to miss. Why? Because the Grand Wagoneer is littered with gadgets and technologies making it impossible to see everything in just a few hours. It's like engineers were given carte blanche with this vehicle.
For example, you can have as much as 75 inches of digital displays including the available head-up display, passenger-side display, retractable touchpad and two rear-seat monitors, which incorporate apps such as Netflix and Amazon Fire TV allowing occupants to watch movies and TV shows using the built-in hot spot or a mobile device. There are heated/ventilated seats with a massage function, while the second-row bench can be replaced by captain's chairs in any trim level. A powerful, 23-speaker McIntosh sound system and sophisticated ambient lighting transform the interior into a rock star's lounge.
That being said, the most impressive thing in the 2022 Jeep Grand Wagoneer is arguably the combination of space and refinement. There are multiple colour options available in unique arrangements plus remarkable material selection. Is fit and finish on par with the Range Rover? Maybe not yet, but Jeep is getting pretty close.
Going from highways to byroads in various states of deterioration, the Grand Wagoneer felt extremely solid. The air suspension ensures supreme ride quality and provides up to 10 inches of ground clearance, though the 22-inch wheels on our tester added a layer of stiffness on rougher stretches of pavement versus the standard 20-inch wheels. Furthermore, it's a massive, hefty SUV (2,912 kilograms or 6,420 pounds) that clearly puts comfort over handling. With a bit less junk in the trunk, this Jeep would prove more pleasant to drive.
Motivation comes from a 6.4-litre HEMI V8 producing 471 horsepower, whereas the Wagoneer gets a 5.7-litre HEMI with eTorque mild hybrid technology rated at 392 horsepower. No plug-in hybrid variant is available. While delightfully powerful, the two V8 engines are excessively thirsty for fuel. Sure, there's cylinder deactivation, but the system isn't very transparent and becomes annoying.
The 6.4-litre HEMI and eight-speed automatic transmission together do an excellent job of putting generous power at the driver's disposal. At the end of our 430-kilometre trip, which was fairly relaxed and didn't involve a lot of city driving, we wound up with an average of 16.9 L/100 km. Jeep claims a combined rating of 16 L/100 km, which exceeds the Cadillac Escalade and Lincoln Navigator by 10 and 14 percent, respectively. Full-size SUVs typically have poor fuel economy, but this is somewhat embarrassing.
Can You Afford One?
The 2022 Jeep Grand Wagoneer can pull 10,000 pounds, overcome large obstacles, accommodate up to eight people and deliver regal comfort. It's also one of the most advanced in terms of connectivity, making it ideal for modern families. At least those that can afford it, because the price is shockingly steep. There are no Jeep badges anywhere on this vehicle, which ranks way above the rest of the lineup.
The base Wagoneer starts at $69,995 plus $2,495 destination charges. If you think that's not so bad, wait till you see the price tag on the Grand Wagoneer. The cheapest one costs $100,995, while a Series III model retails for $120,995. If you add a number of options, you can easily top $130,000. And then there's a whole catalogue of Jeep accessories.
Of course, it would be interesting to test a lesser variant of the Wagoneer. Our guess is that it would still manage to impress despite a difference of $40,000. Jeep's polarizing new mastodon may not get unanimous approval from consumers, but it will likely enjoy success as a much different product than GM and Ford's SUVs.
Watch: 2022 Jeep Wagoneer and Grand Wagoneer Overview
Share on Facebook