2021 Volkswagen ID.4: As Good as Advertised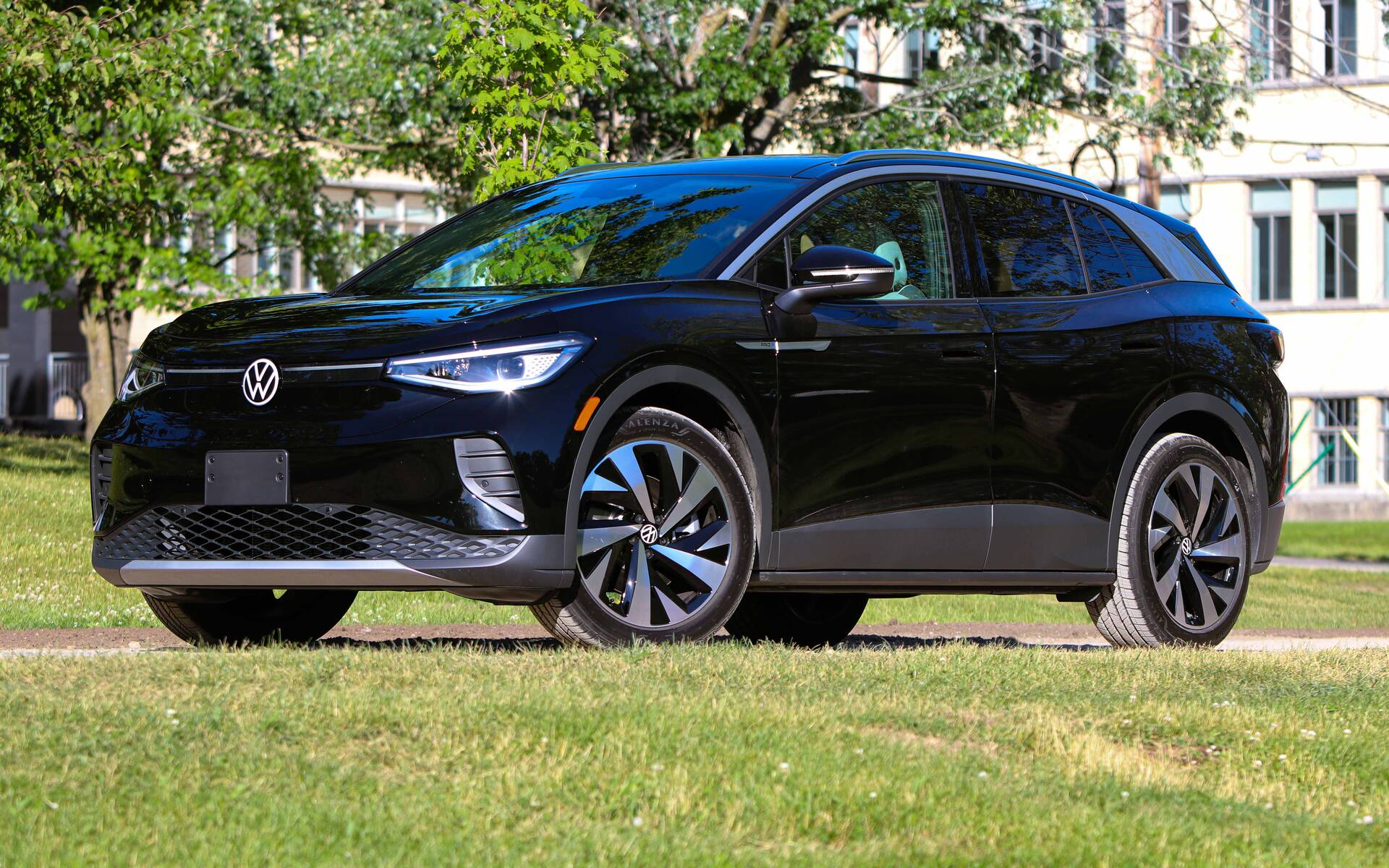 Strong points

Competitive price
Precise steering
Generous cargo space

Weak points

Infuriating infotainment system
No storage under the hood
Limited availability
Full report
Volkswagen has come a long way since Dieselgate hit the company five years ago. Now, the page is completely turned and the next chapter involves a brand new generation of fully electric vehicles.
The first model to land in Canada is the Volkswagen ID.4, a crossover whose shape and size are fairly similar to those of the Tesla Model Y and Ford Mustang Mach-E. The Car Guide had the opportunity to take it for a spin this week, so here are our initial impressions.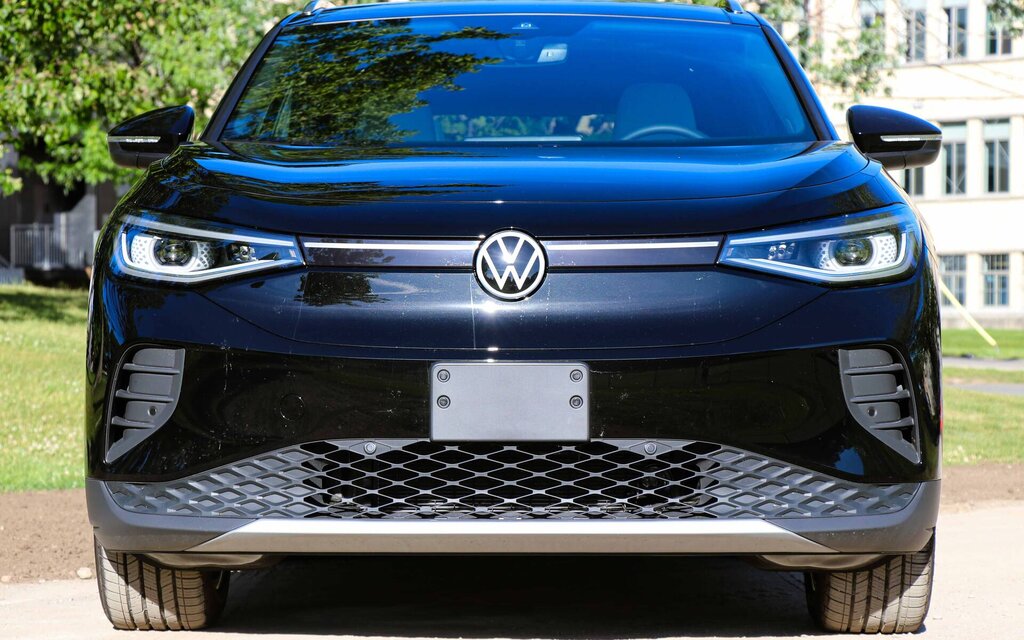 All-new Design
The launch of the ID.4 marks the beginning of a new era for the German automaker on this side of the Atlantic. Styling is a complete departure from every other VW product sold in Canada.
Up front, the LED headlights are connected by a horizontal light bar, which is something we will see again on future models from the brand. In the rear, the relatively tall roofline results in pretty decent cargo capacity (858 litres), as well as adequate headroom for passengers. Legroom is a bit tight, but you should still feel at ease if you're six feet or shorter.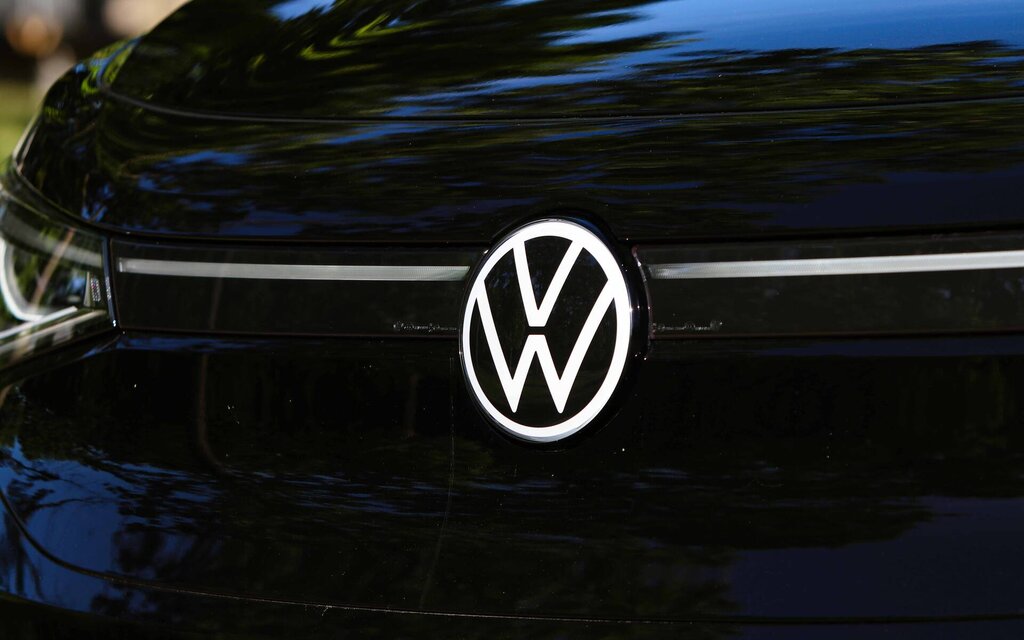 It's too bad designers couldn't find a way to incorporate a storage space under the hood like we normally see on EVs, however.
Disappointing Infotainment
The interior is another area where Volkswagen tried to clearly set the ID.4 apart from the rest of the current lineup. It's super-clean and quite pleasant to look at, though we're left with almost no physical buttons to play with.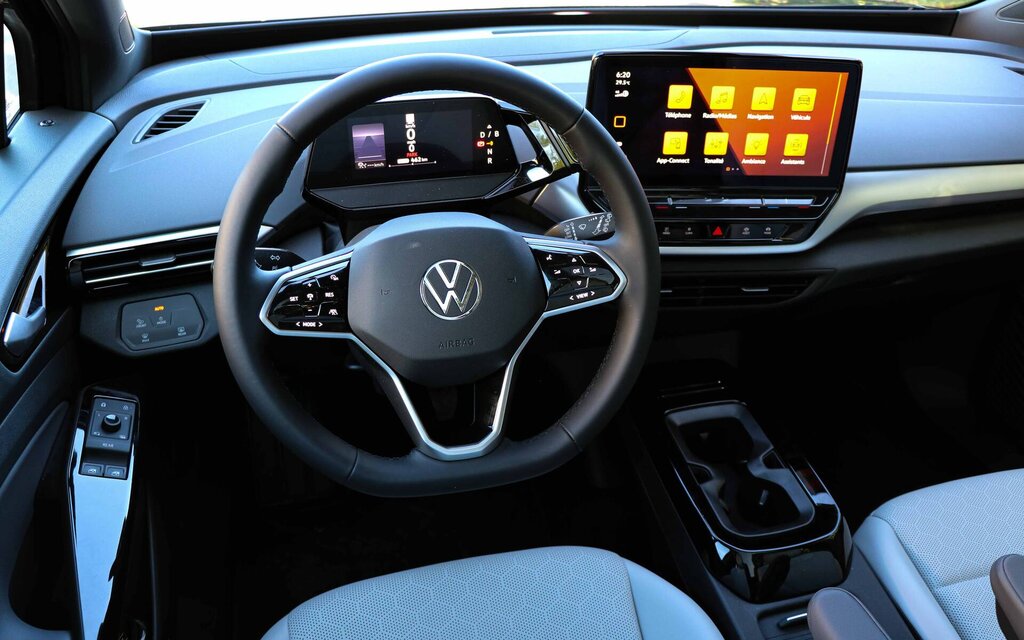 The instrument panel in front of the driver looks like it hung out too long in the dryer. While small, all the important information is there, plus it makes for improved forward visibility. And in a move to save space on the centre console, the gear selector is a nifty rotary dial mounted next to the IP.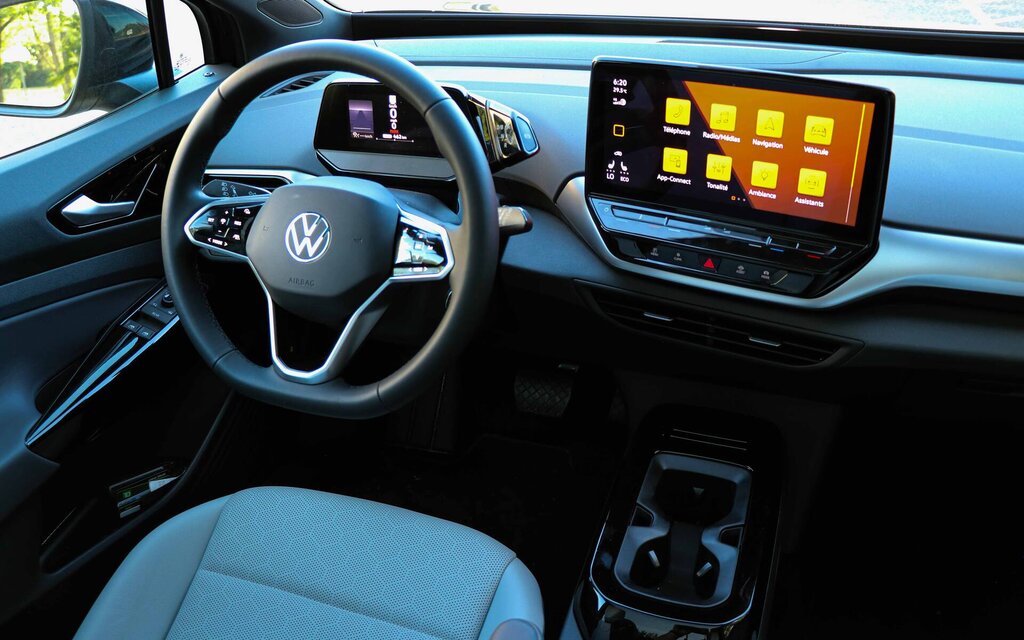 Now, things get worse when you start fiddling with the centre touchscreen. Simple tasks like changing radio stations are more complicated due to the lack of physical buttons. Browsing through the various menus requires some getting used to and also a lot of patience because the infotainment system is slow to respond and seemingly a decade behind what you find in the Model Y or Mustang Mach-E.
For an all-new vehicle billed as a technological showcase, that's really disappointing.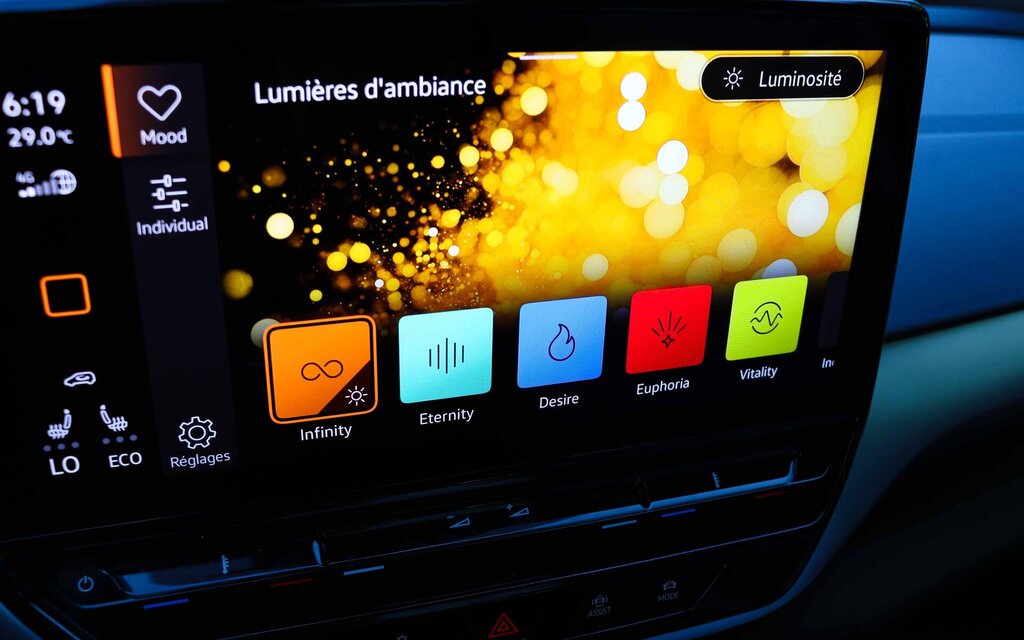 Agile to a Certain Extent
Volkswagen loves to brag about the ID.4's dynamic handling characteristics and even compares the electric SUV to a Golf GTI. The 201 horsepower and 0-100 km/h sprints in 7.8 seconds sure give credibility to that claim.
On the other hand, when it comes to agility and pure driving fun, don't expect any miracles. The ID.4 is larger than the hatchback and its big 82-kWh battery also makes it dramatically heavier. There's still that je ne sais quoi that makes Volkswagen cars pleasant to drive, but the fact of the matter is that a world of difference separates this model from the sporty Golf GTI.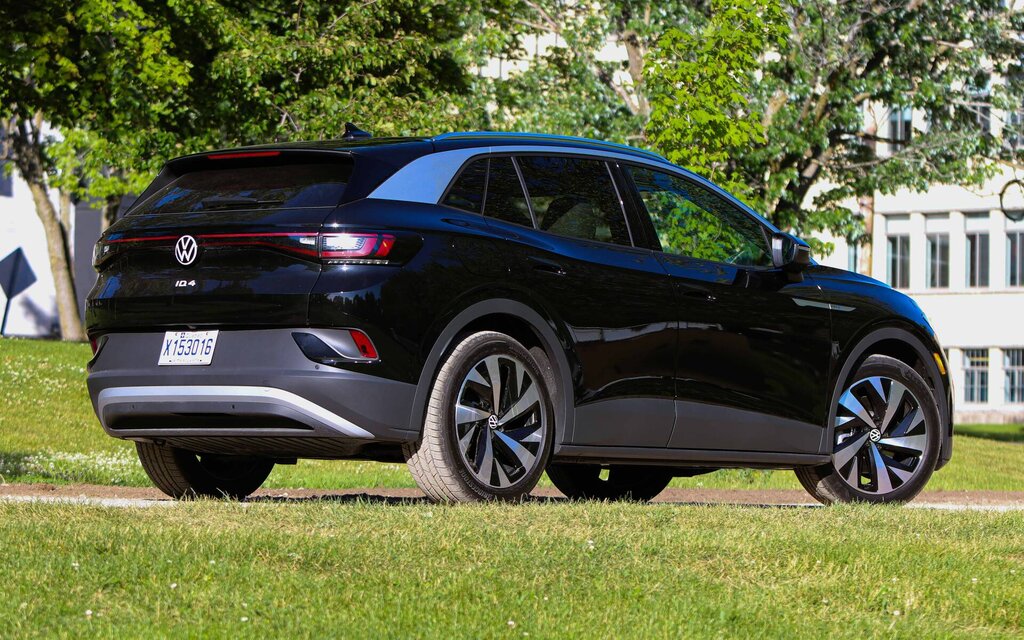 Of course, performance will be significantly improved when the dual-motor AWD variant of the ID.4 comes around. We fully expect it to be way more spirited than our single-motor RWD tester.
Range and Charging
The aforementioned 82-kWh battery provides the 2021 Volkswagen ID.4 with a range of 400 kilometres in 2WD configuration, which is similar to the numbers posted by most direct rivals. Tesla's AWD-only Model Y is far ahead with up to 525 kilometres. That's the theory. In a real-world comparison we did, the ID.4 actually offered more range than its American rival.
Think about it: 400 kilometres is enough distance to go from Oshawa to Ottawa, Vancouver to Kelowna, or Montreal to La Malbaie. And if you need to charge, 38 minutes will get the battery from 5-80 percent using a 125-kW DC fast charger, Volkswagen says. We plugged the vehicle into a standard 50-kW charging station from the Electric Circuit and were able to replenish the battery from 34-79 percent in 45 minutes. As for level 2 (240V) charging, the process requires about 7.5 hours.
By the way, the ID.4 has access to the Electrify Canada network, which is sort of Volkswagen's answer to Tesla's Superchargers. At the moment, however, the number of active Electrify Canada charging stations is still very limited.
Pricing and Incentives
The 2021 Volkswagen ID.4 is an attractive product that seriously deserves consideration if you're in the market for an efficient SUV—even more so when you factor in the price and available EV incentives.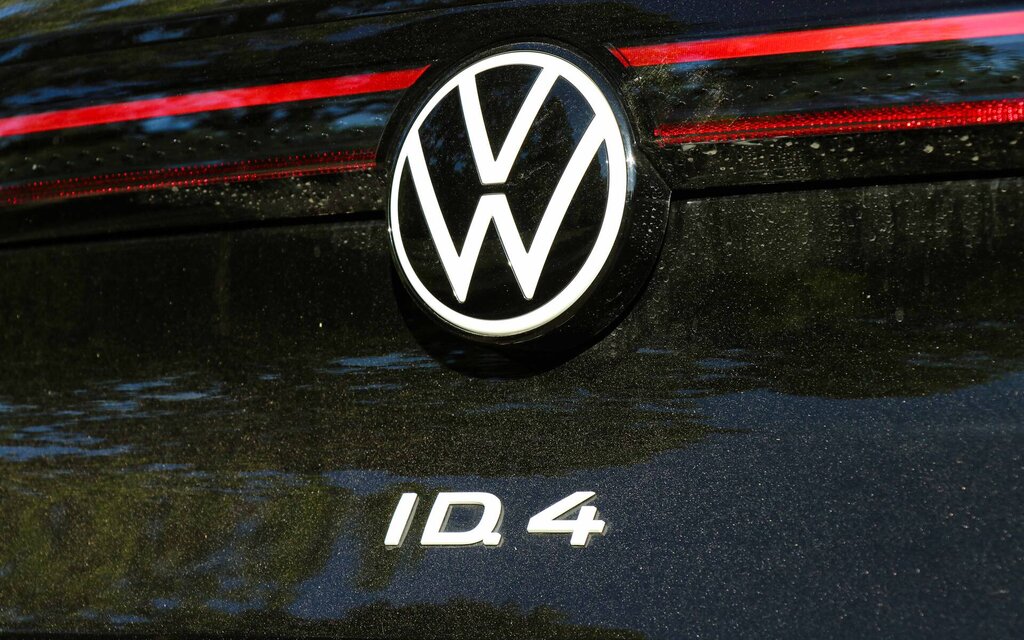 Starting at $44,995, it's considerably cheaper than a Model Y or Mustang Mach-E. Customers also get $5,000 off thanks to the Canadian government, plus provincial rebates ranging from $3,000-$8,000. In Quebec, for instance, your base ID.4 could cost you just under $32,000. That said, Volkswagen Canada expects most people to order an AWD model, which carries a fairly reasonable premium of $5,000.
Standard features include 19-inch wheels, heated seats and steering wheel plus a wireless charging tray for your smartphone. There's also a heated windshield and a heat pump, the latter improving thermal management of the battery thus preserving range even in cold temperatures.
For a whopping $8,000 extra, the Statement Package adds 20-inch wheels, a panoramic roof, power liftgate, 12-inch touchscreen and a few other gadgets.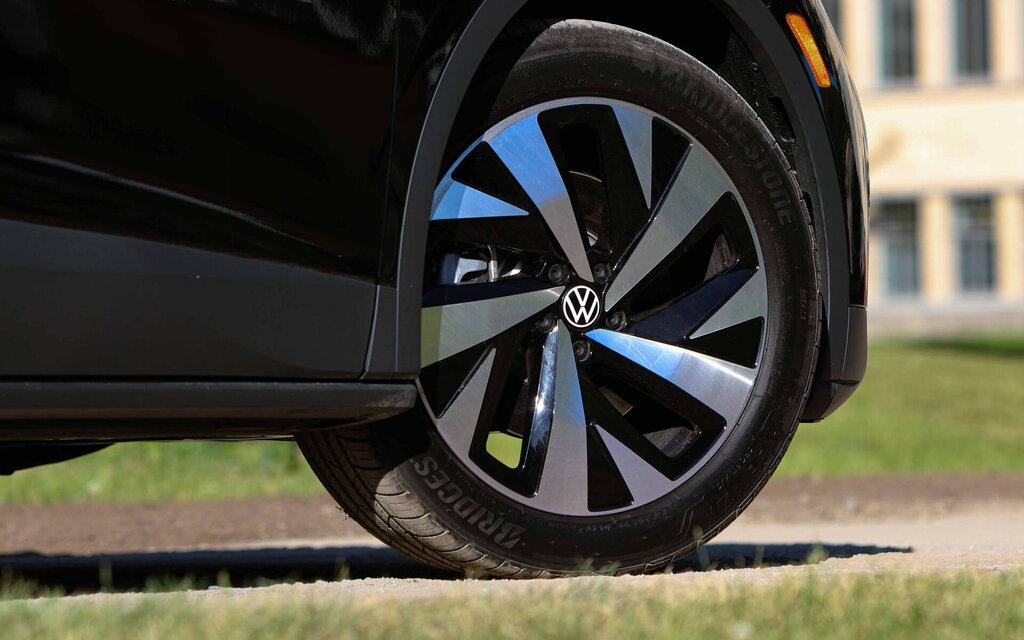 Our Verdict
While priced to please, the 2021 Volkswagen ID.4 comes with a high finance rate of 4.49 percent over 60 months. After all, demand is extremely strong and production for Canada is quite limited. That's because first-year units will arrive from Zwickau, Germany. Starting in 2022, all ID.4 models to be sold in North America will be manufactured in Tennessee, which should help with distribution.
In the end, the Volkswagen ID.4 may not be a revolution, but it's certainly a step toward popularizing EVs across the continent. Most of its flaws are quickly overshadowed by the attractive base price and generous range. It's been a long while since the company last introduced such a refreshing product.
Share on Facebook