This Unreal Honda Ridgeline Concept May Have Superpowers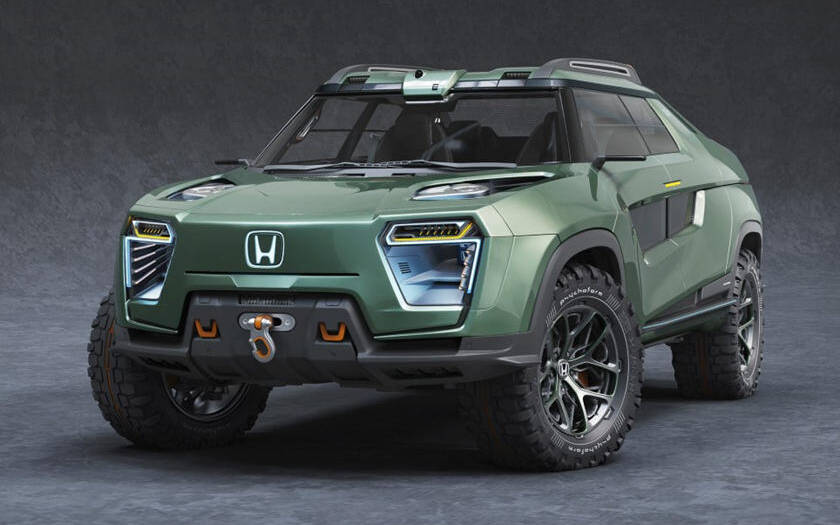 Honda refreshed and upgraded the Ridgeline for 2021, but what will the midsize pickup look like in 10-20 years? The company's designers are obviously not planning that far ahead, but some people online are letting their imagination run completely wild.
Take Rene Garcia, a graphic artist and designer who works for Industrial Light & Magic. He's been involved in a number of hugely popular movies and TV series including Transformers, The Avengers, Thor: Ragnarok and The Mandalorian.
Unsurprisingly, Garcia imagined a surreal Ridgeline concept that's seemingly endowed with superpowers—the sort of machine you would call on to help save mankind. The silhouette is vaguely reminiscent of Honda's truck (the first generation in particular), but everything else is completely unique.
Riding on massive off-road tires, the vehicle features body openings in the front fascia, hood and doors, a front winch and tow hooks, beefy roof rails, suicide doors for easy ingress and egress, plus several tools and emergency kits.
The modular cargo bed is equally impressive, making it possible to fit an ATV when you remove the rear cabin partition. The rear seats can be turned 180 degrees, and there's a super-large compartment under the floor—larger than the current Ridgeline's in-bed trunk.
All of this is possible thanks to an EV platform combining front and rear electric motors with a battery in between. Since there's no combustion engine, a big trunk can be found under the hood. The charging port is concealed by the illuminated Honda logo.
And what about the cabin? Mixing wood and leather for most of the interior including the seats, doors and wraparound dashboard, the highly futuristic environment wows with a pillar-to-pillar digital interface not unlike the one in the Sony Vision-S concept. A yoke-style steering wheel is included, while the front seats can fully recline allowing passengers to take a nap on the go—presumably because this heroic Ridgeline offers autonomous driving technology on top of everything.
There's no chance on Earth Honda ever comes up with such a battle-ready pickup, but hopefully the automaker will find a way to use it as inspiration.
Watch: 2021 Honda Ridgeline Gets Beefier, American-style Looks
Share on Facebook