2022 BMW i4 Arrives With First Electric M Car Ever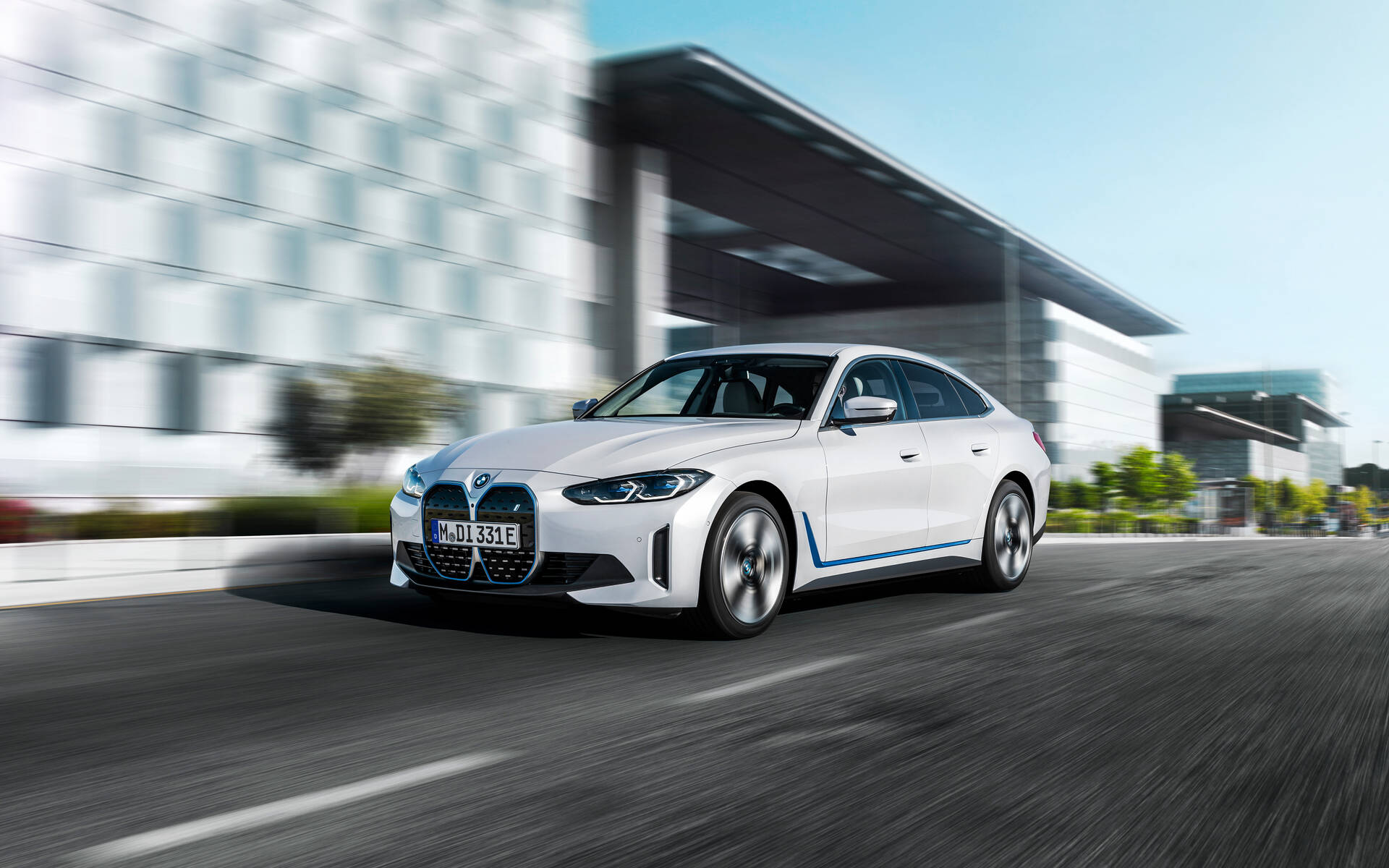 BMW today unveiled two variants of the all-new i4 electric sedan including the i4 eDrive40 and i4 M50, the latter marking the first electric M car from BMW. Both will go on sale across Europe in a few months, while the Canadian launch is scheduled for the first quarter of 2022.
The base BMW i4 eDrive40 features a single electric motor sending 335 hp to the rear wheels only. Range is estimated at 475 km, the company says. Meanwhile, the sportier i4 M50 gets a dual-motor setup with all-wheel drive for a combined 536 hp (in Sport mode). It enables zero-emission driving for 385 km.
Fifth-generation eDrive
In each case, BMW's fifth-generation eDrive electric propulsion technology goes to work. It puts the motor(s), electronic control systems and transmission into a single unit, while the 81.5-kWh battery (useable capacity) is mounted into the floor, resulting in a centre of gravity that's up to 53 mm lower than that of a conventional BMW 3 Series.
Said battery uses less than 10 percent cobalt and can be replenished via DC fast charging (up to 200 kW) or Level 2 charging (up to 11 kW). BMW claims the i4 eDrive40 can sprint from 0-100 km/h in 5.7 seconds. Make that 3.9 seconds with the i4 M50.
When it comes to the chassis, the base variant relies on variable dampers up front combined with an air suspension in the rear, electro-mechanical steering, integrated braking system and electronic stability control. It rides on 18- or 19-inch wheels.
For extra performance, the i4 M50 adds electronic all-wheel drive, M adaptive suspension with roll bars, front strut tower brace, variable-ratio steering, M brakes and 19- or 20-inch wheels. In normal driving conditions, power is sent to the rear wheels to maximize efficiency and range. However, when lateral acceleration increases or when extra grip is required, the front motor kicks in for safer, sharper handling.
It's worth mentioning at this point that all BMW i4 models were developed and tested at the German automaker's proving grounds in Miramas, France and Arjeplog, Sweden.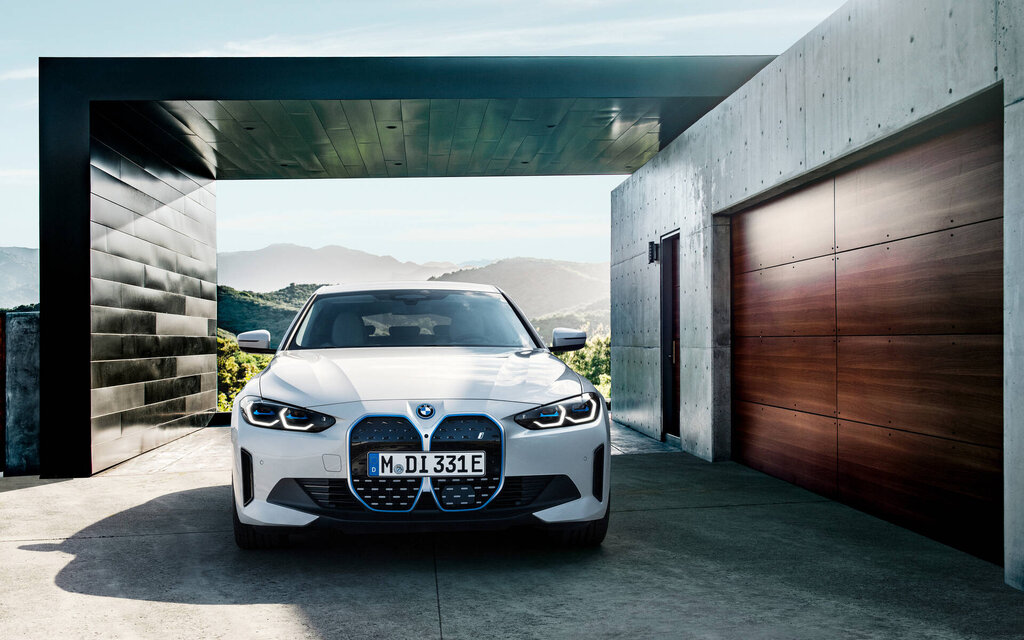 The short overhangs, narrow pillars and sloping roofline are all classic BMW design cues. The oversized front grille seen on some of the brand's latest models is part of the mix, as well. Other visual highlights include frameless windows and thin, LED headlights. Oh, and since aerodynamics are important with an electric car, the i4 eDrive40 and i4 M50 achieve a drag coefficient of just 0.24 and 0.25, respectively.
Digital Interior With Curved Display
Inside, the new BMW i4 goes all-digital with a large, curved interface combining a 12.3-inch instrument display in front of the driver and a 14.9-inch infotainment touchscreen over the middle section of the dashboard. You could swear it's just one panel, really. The start-stop button is located on the centre console right next to the gear selector and iDrive 8 controller, all of which feature blue accents as a nod to the electric powertrain.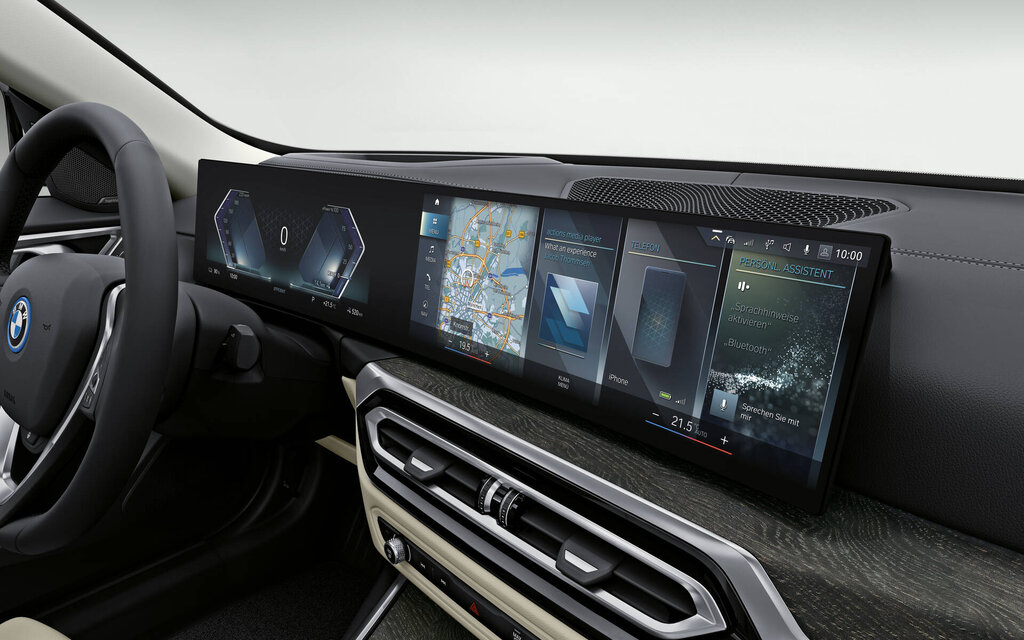 So there you have it, BMW's response to the best-selling Tesla Model 3 in a key segment of the EV market. Hopefully pricing will be competitive enough.
Share on Facebook