2022 Hyundai Kona N Debuts as 276-Horsepower Hot SUV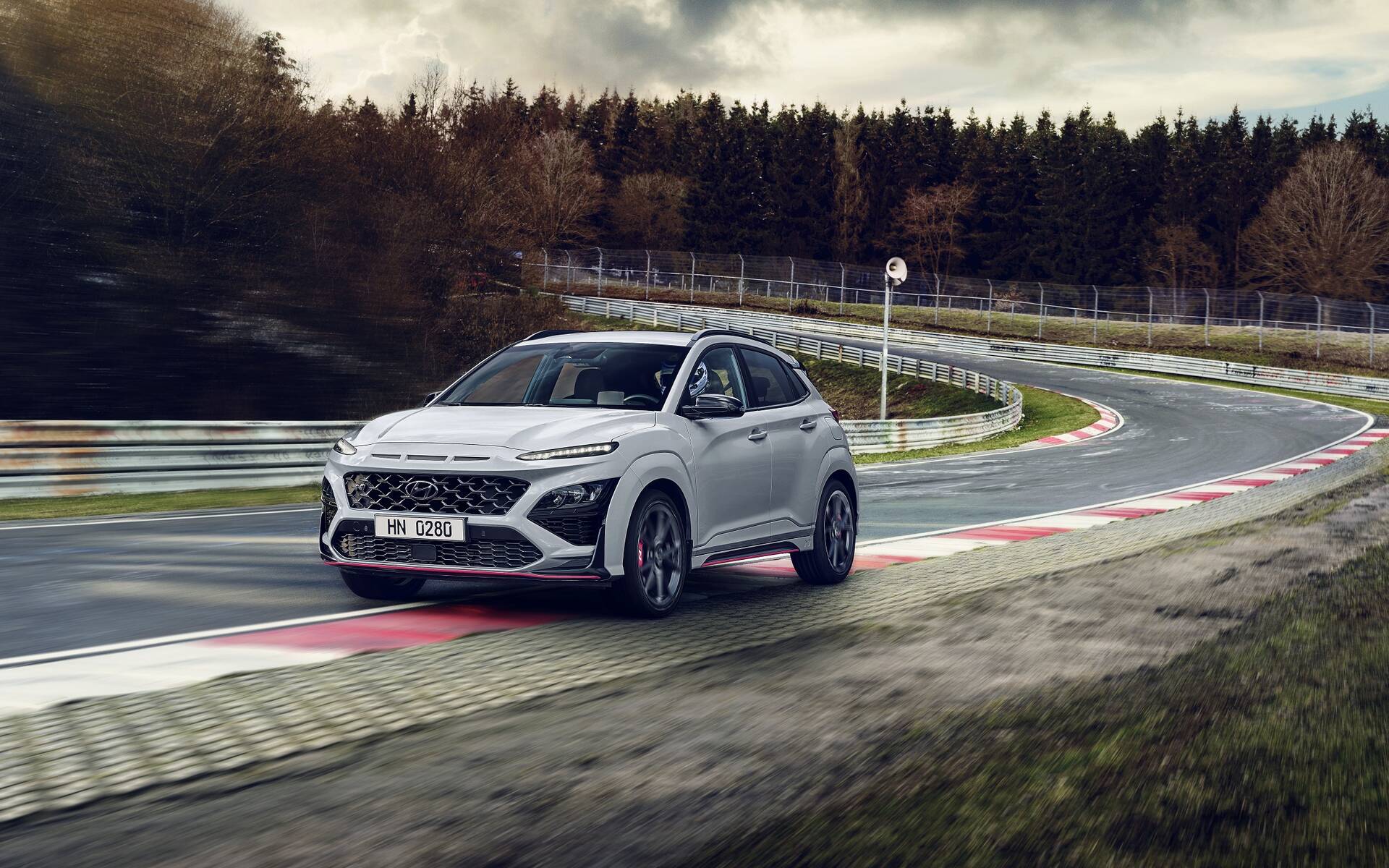 No more wait, no more speculation. Hyundai has now officially unveiled the new 2022 Kona N, the high-performance version of its popular small crossover.
As part of the first-ever "Hyundai N Day" event, the company also announced it will expand its global N and N Line portfolio to 18 models by the end of next year, including possibly electric and fuel cell vehicles.
Set to join the Veloster N coupe and the upcoming Elantra N sedan, the Hyundai Kona N will be sold in a number of markets. Details specific to Canada will be shared in a few months, but we still have a pretty good picture now.
276 Horsepower… and More
Designed for the road and the track, the Kona N boasts a turbocharged 2.0-litre four-cylinder engine that cranks out 276 horsepower—or up to 286 horsepower in N Grin Shift mode (see below). It has a maximum speed of 240 km/h and can accelerate from 0-100 km/h in just 5.5 seconds when Launch Control is activated.
The engine is paired with an electronic limited-slip differential, variable exhaust system and N Grin Control system, which offers five distinct drive modes—Eco, Normal, Sport, N, Custom—that change the character of the vehicle. There's also a specially calibrated eight-speed wet-type dual-clutch transmission complete with three unique functions:
N Power Shift (NPS) engages when accelerating with more than 90 percent throttle, mitigating any reduction in torque during upshifts.
N Grin Shift (NGS) boosts power for 20 seconds. It's as easy as pushing a button on the steering wheel, and a countdown begins on the instrument cluster showing the remaining seconds for this function. 
N Track Sense Shift (NTS) optimizes adaptive shift for racetrack driving so you can focus more on steering. Sensors detect when the conditions are optimal and activate the function automatically.
Moreover, engineers added extra weld points to othe body and various reinforcements to the chassis to minimize body roll in corners. High-performance brakes and Pirelli P Zero (235/40R19) tires are part of the package, too.
Like a Video Game
The Kona N is equipped with a new 10-inch infotainment and digital cluster system featuring an exclusive racing head-up display which Hyundai says adds a game-like dimension to every driving experience under N or Sport drive modes. The new infotainment system's 'N mode design' communicates updates such as lap time and N track maps that help place the driver's location within the circuit along with other information.
Just like racing video games, the Kona N has customizable N buttons that can be set to toggle custom modes. The custom modes can be pre-set according to the driver's preferences. The buttons can also turn on and off the lap timer.
Other than that, you'll find perforated leather sports seats, metal pedals and various Blue Performance accents.
Slightly More Agressive Looks
On the outside, the Hyundai Kona N obviously builds on the styling revisions made for 2022, but it's not radically different from the new Kona N Line. Similar to the latter, the wheel arches are finished in the same colour as the body.
There's a unique grille and 19-inch wheel design, a thin red accent stripe on the lower body (front and sides), a double-wing roof spoiler, and larger tailpipes piercing through the rear diffuser. Hyundai also mentions an N-exclusive Sonic Blue paint option.
Keep following The Car Guide to learn more about the 2022 Hyundai Kona N, which should land in Canada later this year or early in 2022, elevating itself way above the Mazda CX-30 Turbo.
Share on Facebook