Drag Race: 2021 Mustang GT500 vs. 2021 Dodge Durango SRT Hellcat HPE1000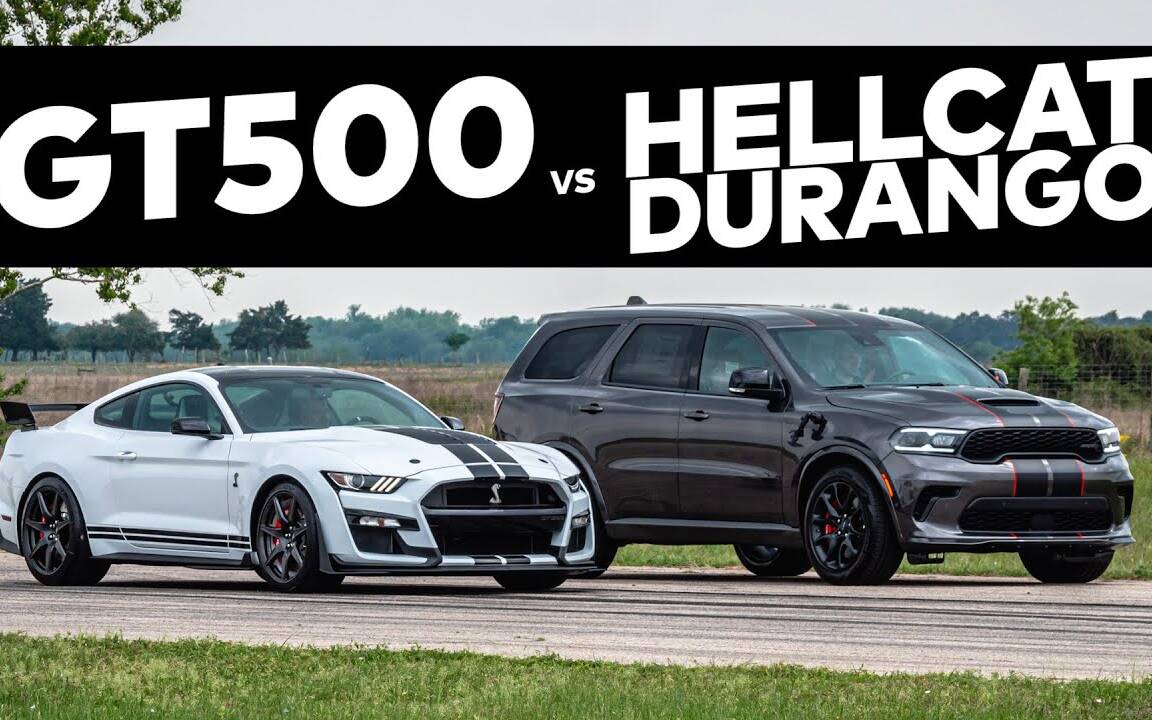 Earlier this week, we told you about how Dodge was releasing additional units of the Durango Hellcat because it was so dang popular - there was no logical reason to shut down the production line at this point.
Meanwhile, Hennessey Performance cast its spell on the three-row mall crawler and gave it a four-digit horsepower figure for the driver to use at the race track, or at soccer practice, or wherever he or she sees fit. Thanks to the company's HPE1000 upgrade, the Dodge Durango SRT Hellcat churns out a whopping 1000 horsepower and 969 lb-ft of torque, all while keeping the Hemi engine's internals stock – making it reliable to some degree. Hennessey backs it up with a 2-year/24,000-mile warranty.
In the following video, Hennessey Performance pitted a stock 2021 Mustang GT500 against a HPE1000-equipped 2021 Dodge Durango SRT Hellcat. The results are impressive, especially for a big, high-off-the-ground, three-row family hauler. The Texan tuner brags a 1/4 mile time of 10.8 sec at 126 mph and a 0-60mph time of only 2.8 seconds.
The HPE1000 kit includes:
Upgraded Supercharger System
Pulley Upgrade
Stainless-Steel Long Tube Headers
High-Flow Catalytic Converters
Upgraded High-Flow Fuel Injectors
HPE Calibration Upgrade
High-Flow Air Induction System
Crank Case Ventilation System
Professional Installation
All Necessary Gaskets & Fluids
Chassis Dyno Testing
Road Testing (up to 200 miles)
Hennessey Exterior Badges
HPE1000 Badges
Serial Numbered Plaques
Share on Facebook