2022 Mercedes-Benz EQS Debuts as Latest Threat to Tesla Model S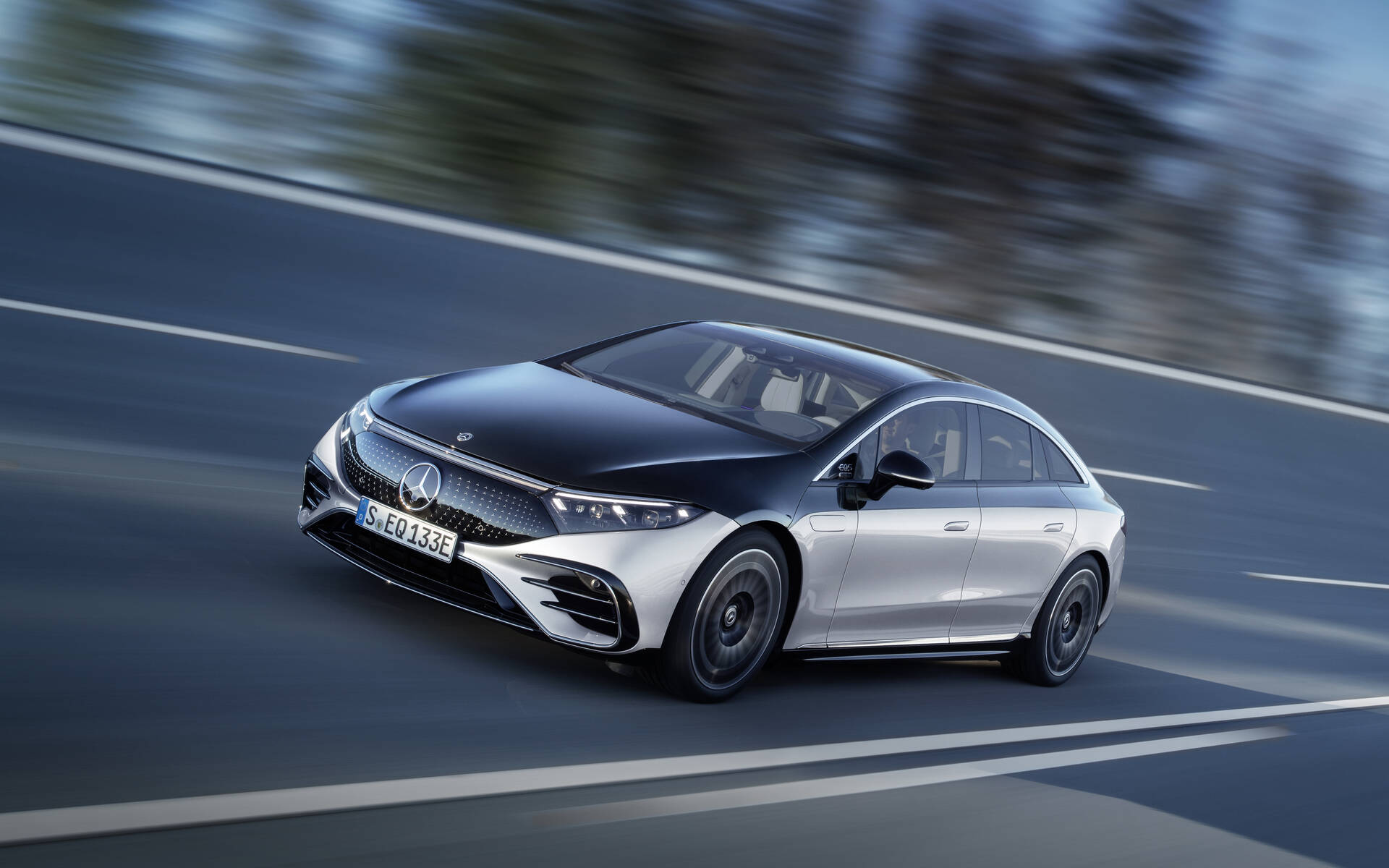 The all-new, fully electric 2022 Mercedes-Benz EQS 580 4MATIC officially made its debut today and will go on sale in Canada this fall.
Built on the German automaker's new EQ architecture, which is exclusively designed for electric vehicles, this large sedan combines a front motor with a rear motor to deliver 385 kilowatts (509 horsepower) and 631 pound-feet of torque. Despite weighing in at 2,585 kilograms, it sprints from 0 to 100 km/h in 4.3 seconds.
Around 600 Km of Range
The EQS 580 4MATIC is announced with a range of about 700 kilometres based on Europe's WLTP standard. In Canada, that number should be down to around 600 kilometres, maybe lower. The battery pack has 12 modules and 107.8 kWh of usable capacity.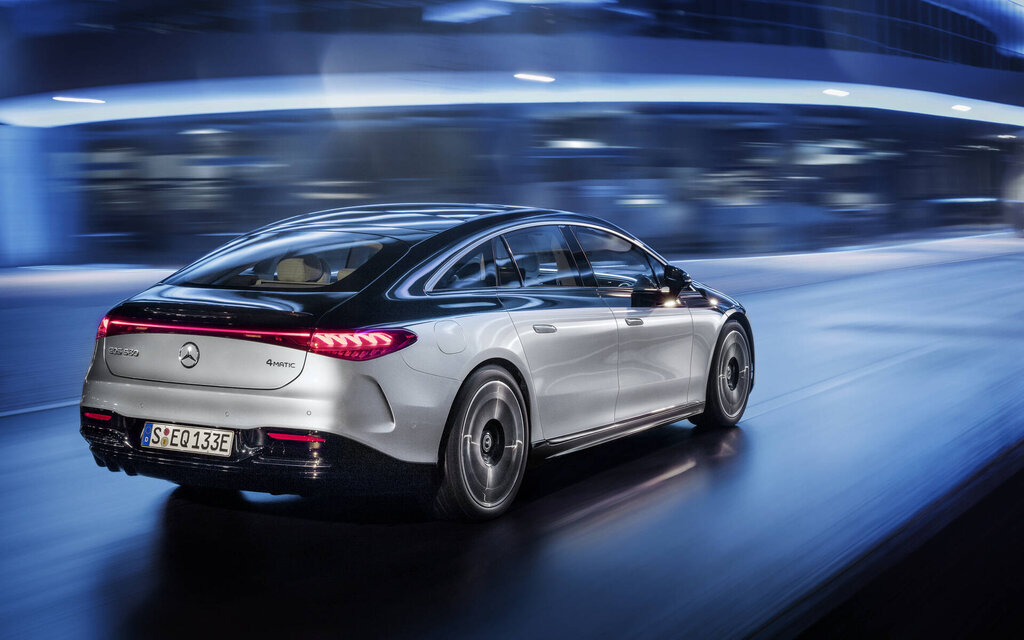 Mercedes-Benz claims the car will regain 300 kilometres of range in 15 minutes when plugged in a 200kW charging station. Also, with a 9.6kWh onboard charger, the battery can be fully charged in 10 hours using a level 2 (240V) power source.
Said battery is a nickel-cobalt-manganese construction with a ratio of 8:1:1, meaning cobalt accounts for less than 10 percent. Mercedes-Benz is saying it will have 70 percent capacity left after eight years or 160,000 kilometres.
Electronic AWD
The dual-motor system in the EQS 580 4MATIC makes it an AWD vehicle. Torque distribution to the front wheels is handled electronically rather than mechanically (driveshaft). A computer monitors distribution up to 10,000 times per minute, so the system is much quicker to react.
When it comes to regenerative braking, drivers will have several modes to choose from, the most aggressive one enabling one-pedal driving and allowing a recuperation of up to 290 kilowatts, Mercedes-Benz claims.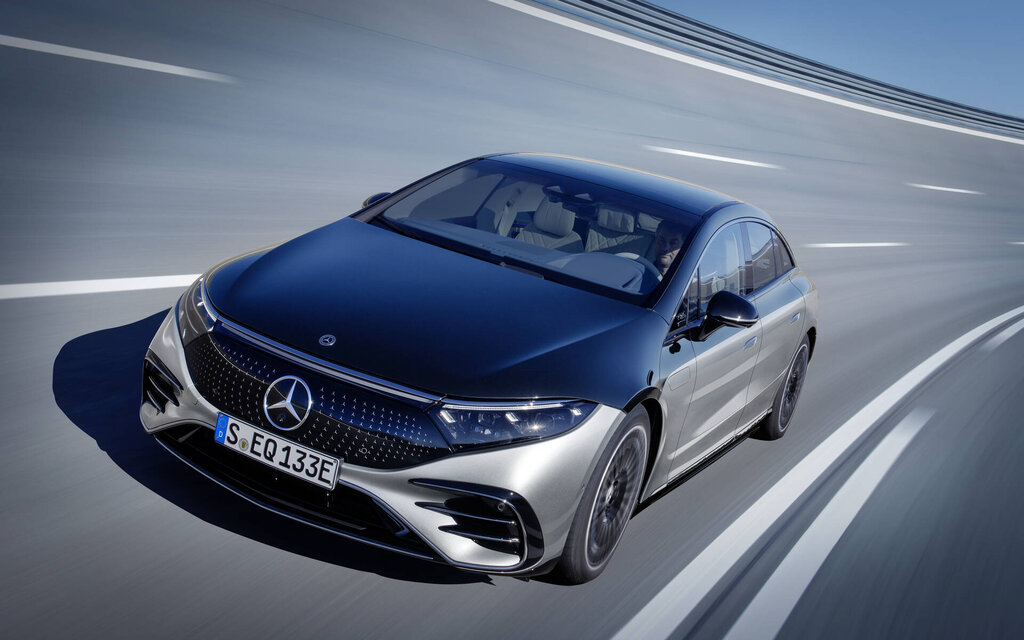 World-class Aerodynamics
The Mercedes-Benz EQS 580 4MATIC happens to be the most aerodynamic production car in the world with a drag coefficient of just 0.20. The long, swooping roofline blends into a super-short front hood that chops the upper section of the wheel arches.
The car is over 5.2 metres long and 1.9 metres wide, yet highly manoeuvrable thanks to standard four-wheel steering technology. The rear wheels can turn up to 4.5 degrees in the opposition direction of the front wheels—or 10 degrees with the available Premium Pack, reducing the turning radius to just 10.9 metres.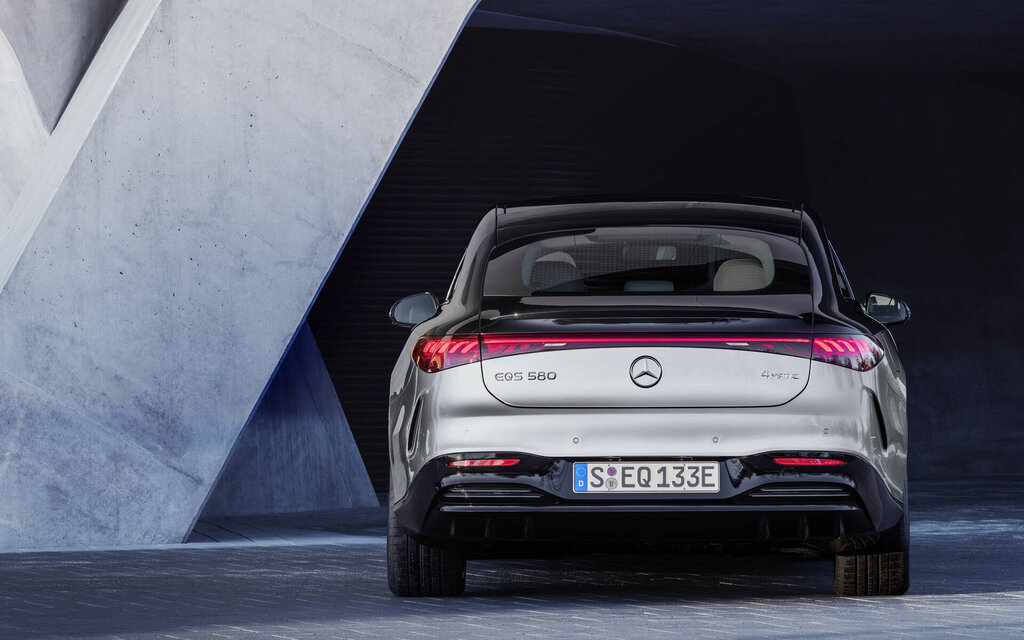 Opulent Interior
Following in the footsteps of the redesigned S-Class, the new EQS is a true luxury car with high-quality leather seats, NEOTEX dashboard and real wood trim. The 12.9-inch centre touchscreen combines with a 12.3-inch instrument cluster as standard equipment. Optionally, customers can select the awesome MBUX Hyperscreen, which is a 56-inch wide interface comprising three separate displays.
Naturally, the EQS 580 4MATIC also features all the latest and most advanced safety systems from Mercedes-Benz. In models equipped with the aforementioned Hyperscreen, Attention Assist even uses a new camera that monitors the driver's eye movements to alert them when they're about to fall asleep behind the wheel. 
The 2022 Mercedes-Benz EQS is set to become the first fully electric car from the German brand to be sold in North America—and a direct response to the Tesla Model S and Porsche Taycan.
The company expects electrified vehicles to account for more than half of its total sales by 2030.
Share on Facebook