Lexus AWD Event Pits Hybrid Tech Against Gasoline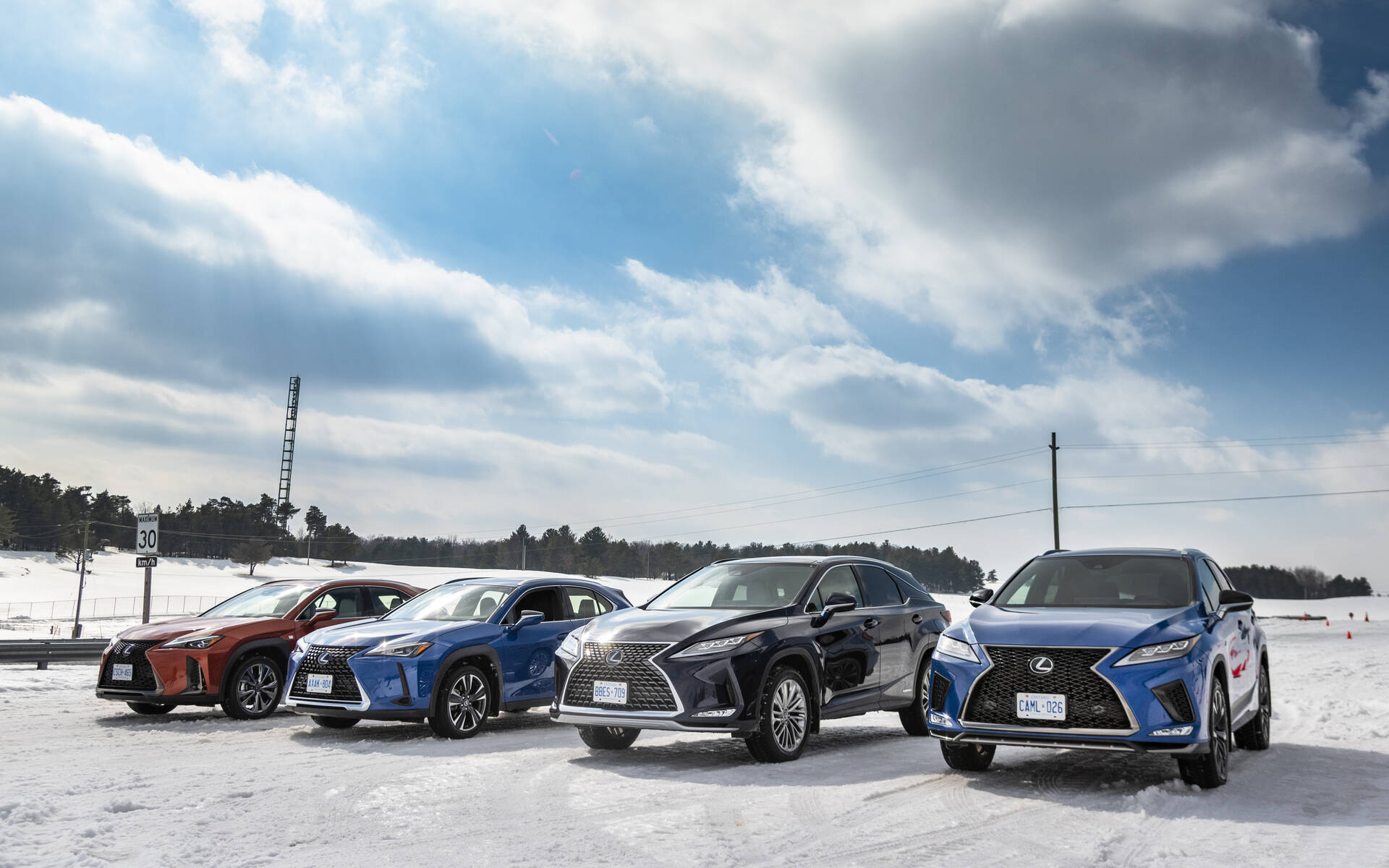 The inline six-cylinder engine hits the rev limiter and the studded rear tires cut through the ice as the 2001 Lexus IS I'm driving drifts around the track in beautiful fashion.
This car along with 14 other IS models on site all belong to my friend and colleague Russ Bond, who chose the compact sedan to launch the Lexus Sport Cup in Minden, Ontario. He says the original Lexus IS (2001-2005) is ideally suited for this type of racing as it's incredibly reliable and solid as a tank. Some of the units in his fleet have logged more than 300,000 kilometres and one of them will soon top 400,000 kilometres.
This opportunity to test drive a number of first-gen IS sedans on an icy track is the result of Lexus inviting journalists to a special winter driving event at Mosport in Bowmanville, Ontario.
In addition to the original IS, I was offered quality time behind the wheel of the new 2021 Lexus IS and a bunch of other Lexus vehicles—both hybrid and conventionally powered—all equipped with all-wheel drive. Despite not riding on studded tires, the latest IS proved quite effective at handling the slippery conditions, even when stability control was turned off.
AWD Almost Standard Now
The current Lexus range features nine AWD models including four with a hybrid powertrain. Back in 2005, there were only five AWD models, one of which was a hybrid.
AWD currently accounts for 93 percent of the brand's Canadian sales, with RWD-only cars like the LC and RC F representing just 7 percent. But the thing you have to understand is that there are various AWD systems available within the Lexus lineup, and those found on hybrid vehicles are considerably different.
Through acceleration, braking, slalom and road-like handling challenges on snow and ice, we were able to assess and compare the performance of these systems with both stability control turned on and off.
Right away, we observed that the many driver assistance features on Lexus vehicles are highly effective, whatever the powertrain, allowing you to maintain control even in tough conditions. However, when we turned them off, gas-powered models with mechanical AWD proved faster and more agile than the others.
The Difference With Hybrid Tech
When it comes to hybrid variants of the NX and RX crossovers, the front wheels are driven by the combustion engine, while the rear wheels rely on the electric motor. There is no mechanical link between the two axles.
This is why Lexus hybrids are slower and less agile on snow and ice when the electronic nannies are deactivated. They always feel a bit more hesitant since the only connection between the front and rear wheels is driven by wire.
Now, you're probably asking: what's the point of evaluating vehicles with the driver assistance systems turned off? You see, these guardian angels can come in really handy in normal conditions on public roads, preserving control or at the very least mitigating the impact of a mistake by the driver, but sometimes during winter it can be useful to deactivate them, let's say when you're stuck in snow or parked in a hill. In such instances, a mechanical AWD system will always be better than a hybrid vehicle with no mechanical link between the two axles.
So, before you buy a new Lexus, no matter the season, make sure to put them to the test in a variety of road conditions to see how AWD and stability control respond.
Share on Facebook