2022 Chevrolet
Bolt EUV

Debuts as Bolt's Little Big Brother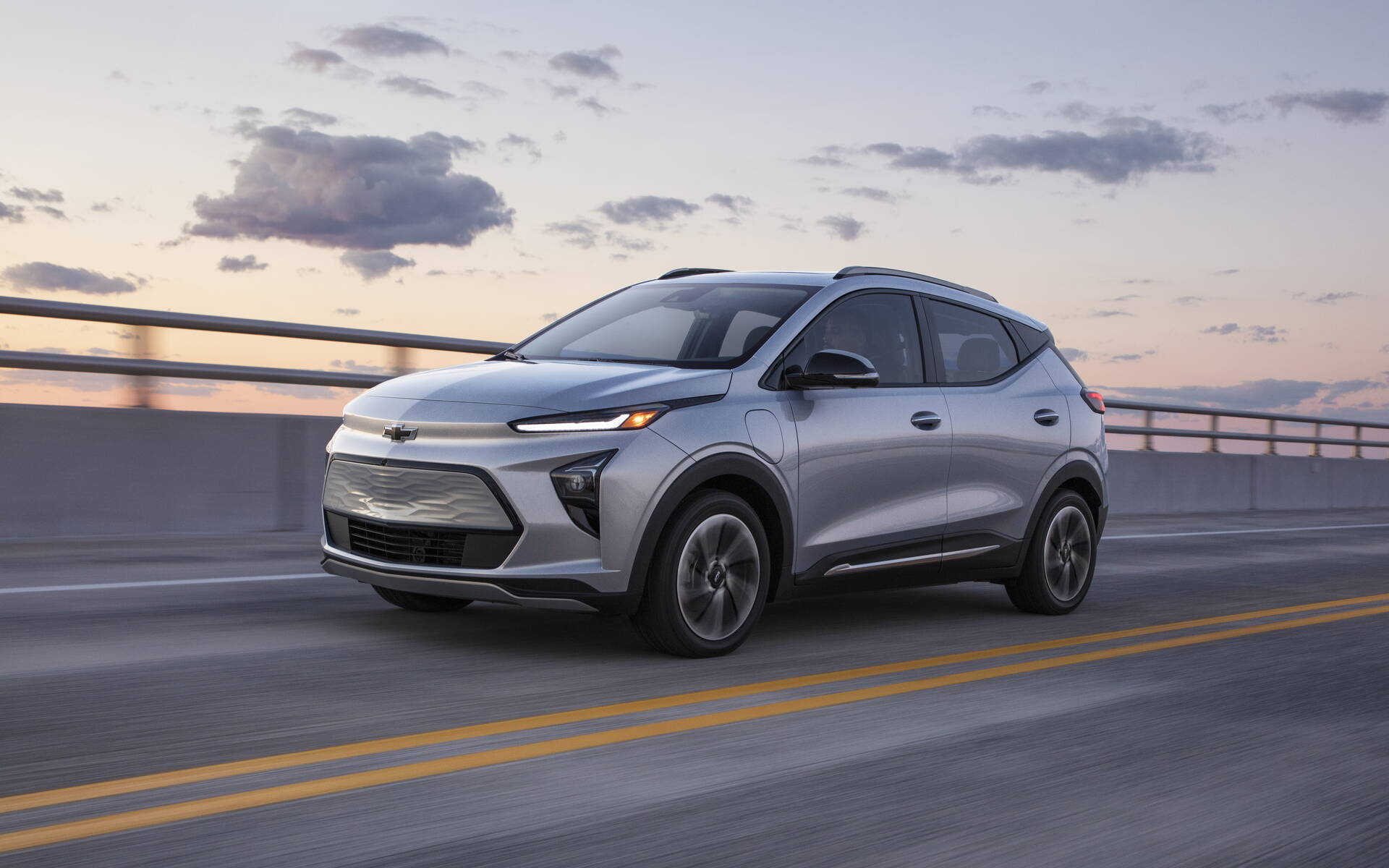 General Motors chose Valentine's Day to finally unveil the much anticipated crossover variant of the Bolt EV. Will the all-new 2022 Chevrolet Bolt EUV win the heart of Canadian drivers?
It sure looks nice and boasts many good attributes, but it also comes with a number of disappointments—at least on paper.
Unique Design
At first glance, we're calling the Bolt EUV a success. While it looks a lot like the refreshed 2022 Bolt EV and rides on the same platform, the new crossover has its own unique design. No exterior sheet metal parts are shared between the two vehicles and the EUV is 16 centimetres longer.
LED headlights come standard, while Chevrolet's high-eye daytime running lights double as sequential turn-signal indicators. Below the creased hood is a black Chevy bowtie emblem and a front grille that's partially sealed off by a body-coloured panel. The wheels have a unique design, too, and roof rails have been added up top. A panoramic sunroof is optional.
Inside, the seats, controls and instruments are completely new. A 10.2-inch centre touchscreen combines with an eight-inch digital cluster behind the steering wheel (which is heated as are the front seats). Wireless Apple CarPlay and Android Auto plus a wireless charging pad also come standard.
On the centre console, a new electronic gear shift design uses pull toggles and push buttons to free up more interior space. For increased regenerative braking, there's even a new One-Pedal Driving button that keeps the system active between drive cycles.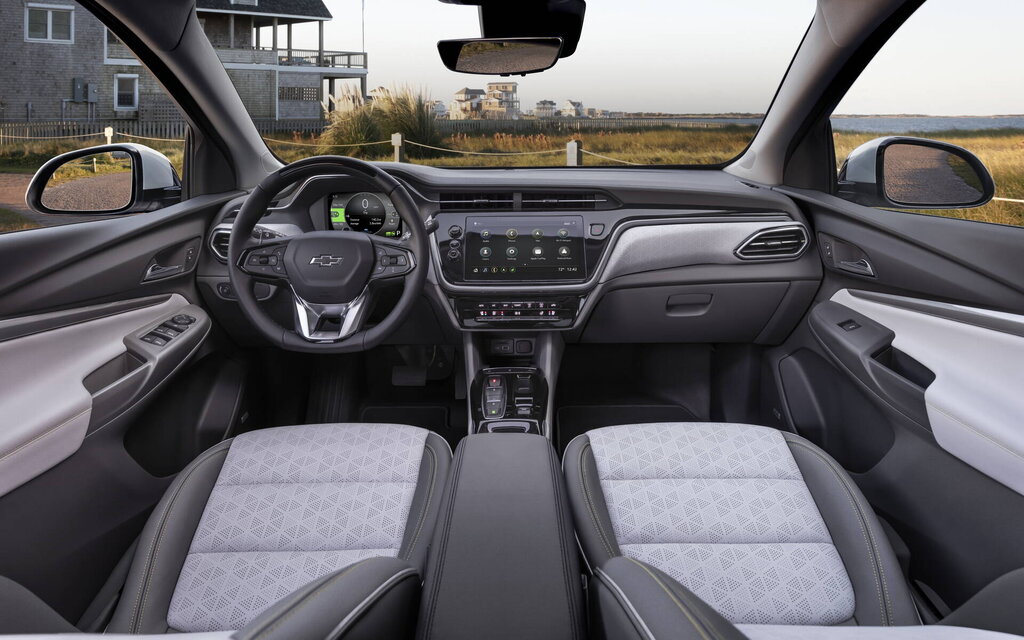 It's No SUV
Being longer than the compact hatchback, you would think the Bolt EUV crossover is more spacious and practical. That's true when it comes to rear-seat legroom (+7.2 centimetres), but shoulder room and hip room back there is not any more generous (the exterior is just five millimetres wider and taller than the Bolt EV).
Wait, there's worse: the Bolt EUV actually offers less cargo room than the Bolt EV. Yes, you read that right. The former can pack 462 litres with the rear seats up or 1,611 litres when they're down, while the latter has a capacity of 470 or 1,614 litres, respectively.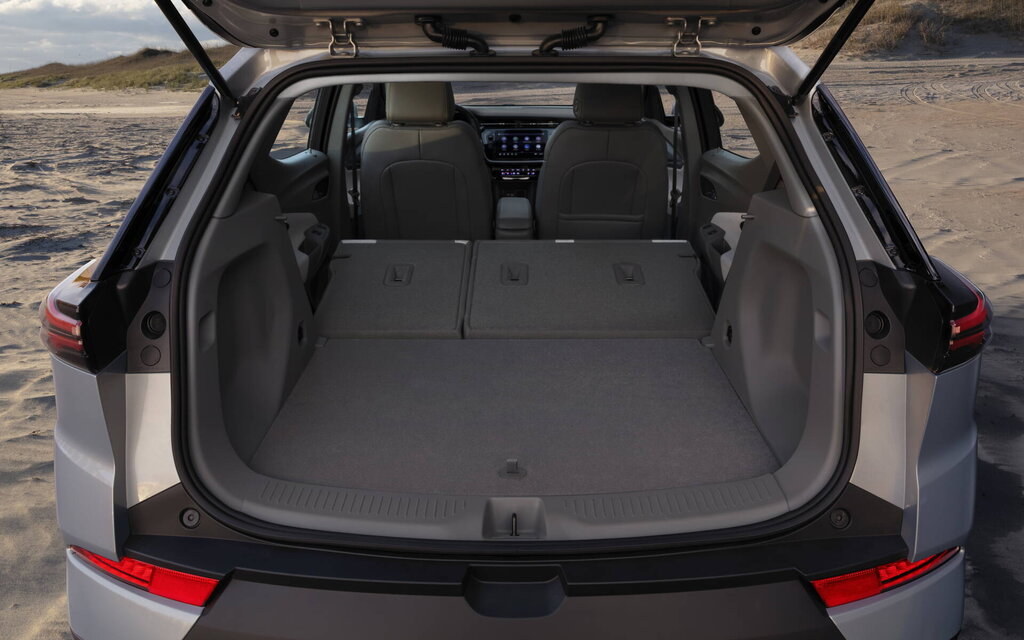 And if you were hoping for the addition of AWD or an increase in towing capacity, forget it.
Same Powertrain
The 2022 Chevrolet Bolt EUV uses the same electric motor (150 kilowatts or 200 horsepower) as its smaller sibling. Because it's a tad heavier, the 65-kWh lithium-ion battery has an official range of 402 kilometres—down from the Bolt EV's 417 kilometres.
A dual-level charge cord comes standard with the Bolt EUV. It has a changeable plug that allows customers to plug into a standard 120V outlet for Level 1 charging or a 240V outlet for Level 2 charging (approx. seven hours for a full charge). The on-board charger now has a capacity of up to 11 kW. Additionally, standard DC fast charging capability enables the Bolt EUV to regain up to 154 kilometres of range in 30 minutes.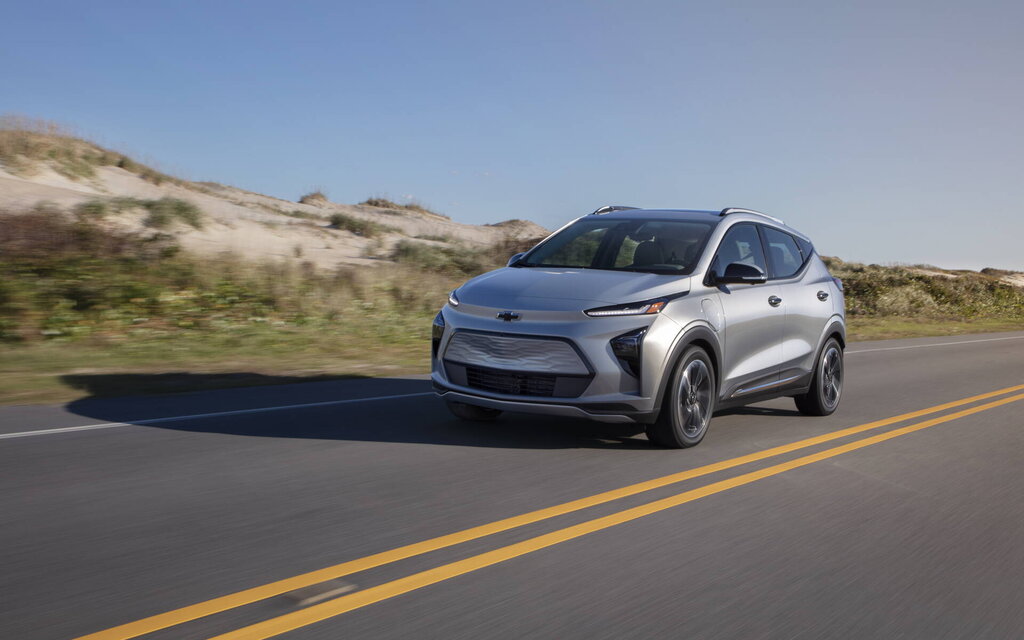 U.S. customers have a pretty sweet incentive: the automaker will pay for the installation of a 240V home charger. However, GM Canada told us not to expect a similar program here.
On both sides of the border, the Bolt EUV will offer Super Cruise hands-free semi-autonomous driving technology—a first for Chevrolet. The system is compatible with more than 320,000 kilometres of highways across North America. Unlike Cadillac vehicles equipped with Enhanced Super Cruise, though, the Bolt EUV won't enable automated lane changes.  
How Much?
The 2022 Chevrolet Bolt EUV carries a base MSRP of $40,198. This does not include destination and handling charges of $1,800 (plus $100 Air Tax), but don't forget the federal rebate of $5,000 and provincial incentives of up to $8,000 in Quebec and $3,000 in British Columbia.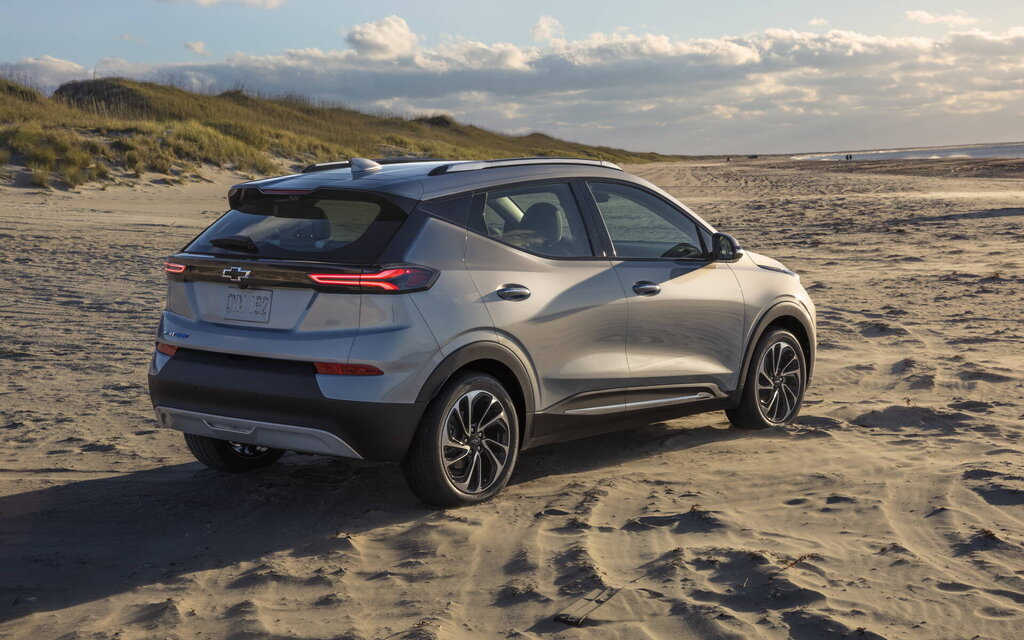 "We are committed to making EVs accessible for everyone and the new Bolt EUV and redesigned Bolt EV are giving customers more choices and reasons to switch to electric," said Scott Bell, president and managing director, GM Canada.
Just like the 2022 Bolt EV, the 2022 Chevrolet Bolt EUV will enter production in late spring and go on sale sometime in the summer. By the way, chief engineer Jesse Ortega has confirmed that the Bolt EUV will not migrate to the new, longer-range Ultium battery and architecture at any point in time.
Share on Facebook