2020 Chevrolet Colorado ZR2 vs. GMC Canyon AT4: Battle Tested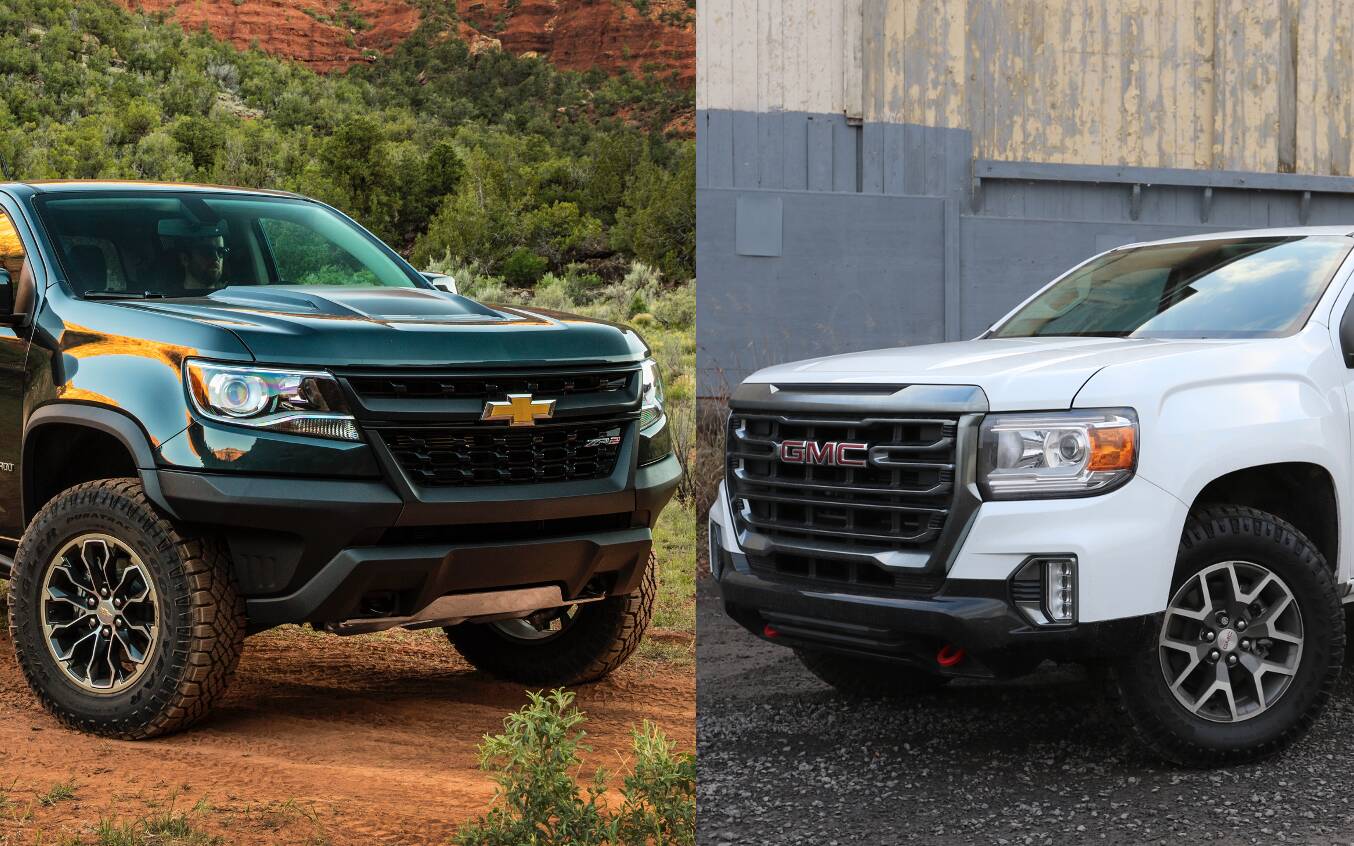 Strong points

Good mix of on-road/off-road capability
Aggressive looks (ZR2)
Strong engine

Weak points

Low fuel economy
Harder to live with on a daily basis
Pricing can quickly escalate
Full report
GM's midsize pickups are technically and mechanically very similar. While not as popular as their full-size siblings, the Chevrolet Colorado and GMC Canyon still have their fair share of loyal customers.
Both are also available with a dedicated off-road variant—the Colorado ZR2 and Canyon AT4, respectively. We at The Car Guide had the opportunity to put them to the test in back-to-back weeks, so here's a detailed comparison that will prove useful if you hesitate between the two.
Design: Colorado ZR2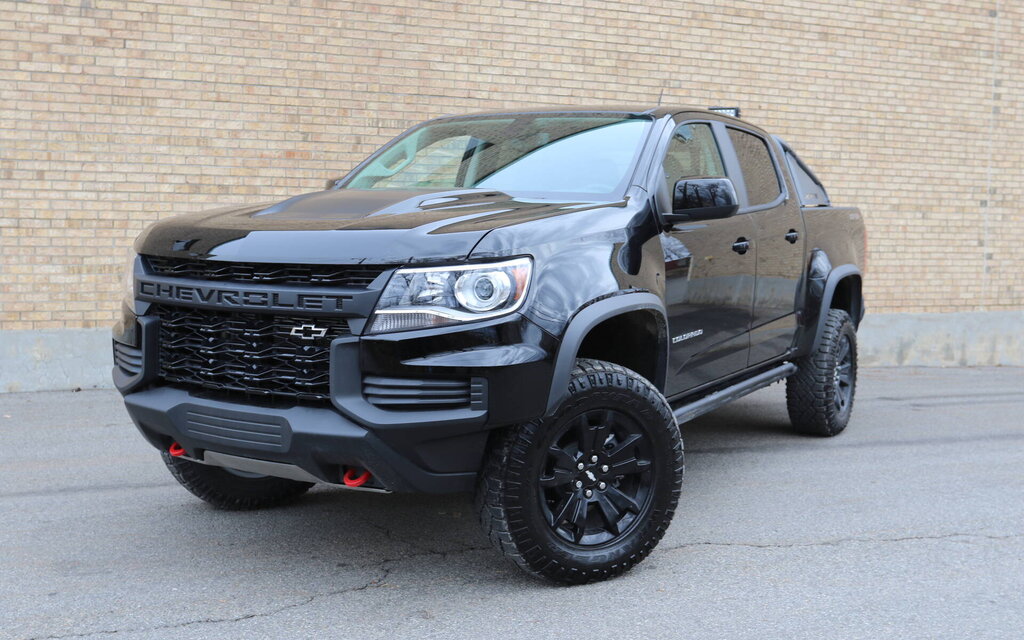 We lost count of all the thumbs up and positive comments we received while driving the Colorado ZR2. In fact, the last time we had as many people approach us to talk about a vehicle was during a test drive of the Alfa Romeo Giulia Quadrifoglio.
The rugged Chevy made heads turn with a raised suspension, intimidating front fascia and all-black exterior. Adding to our tester's visual and aural presence were a Midnight Package ($4,015) and cat-back performance exhaust system ($1,775), the former complete with unique gloss-black wheels and off-road lights up top.
The vanilla-coloured Canyon AT4 looked rather plain by comparison. Granted, it featured beefier tires, a distinctive grille and red tow hooks, but that's pretty much it. Oh yeah, a GMC-branded bedliner ($550) was included, too. If you don't want to attract attention while heading to the woods, this would be the pick.
Powertrain: Tie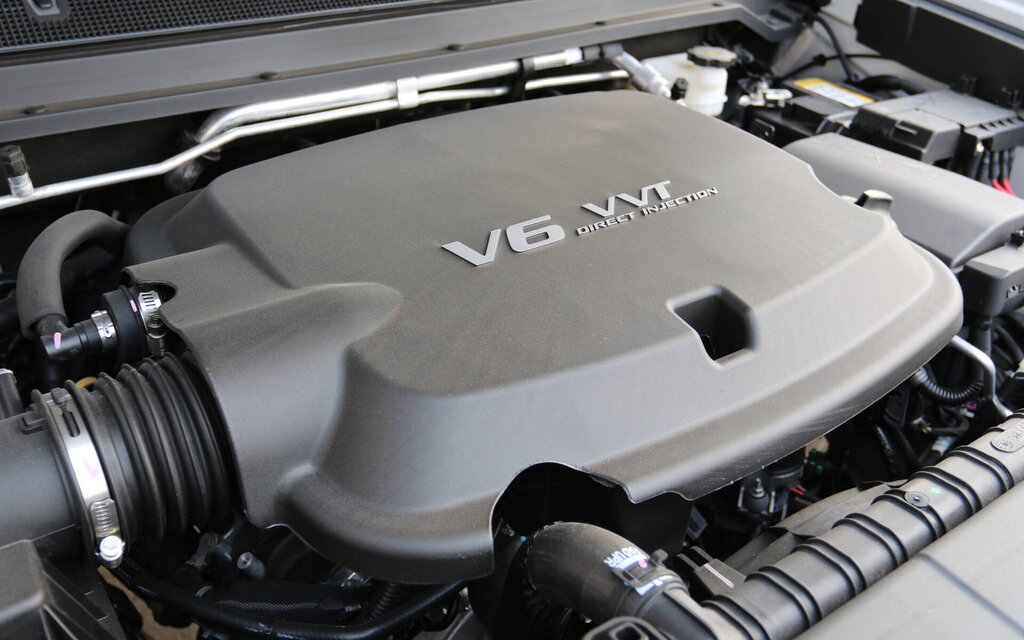 Both the Chevy Colorado ZR2 and GMC Canyon AT4 use the same powertrain, so we can't declare a winner here. GM's 3.6-litre V6 produces 308 horsepower and 275 pound-feet of torque, which is more than enough to accelerate and pass slower vehicles in convincing fashion.
The eight-speed automatic transmission handles upshifts and downshifts with ease. However, this unit has had some long-term reliability issues, so consider yourself warned.
With big tires and a taller profile that creates more drag, fuel economy is affected as you can expect. While a standard, V6-powered Colorado achieves 12.1 L/100 km in combined city-highway driving, the ZR2 variant is officially rated at 14.1 L/100 km.
On our watch, both the Colorado ZR2 and Canyon AT4 averaged 17.2 L/100 km over an entire week of testing with temperatures hovering around the freezing point. If you opt for one of these trucks, prepare to spend more money at the pump.
Drive: Canyon AT4 for the Road, Colorado ZR2 for the Trail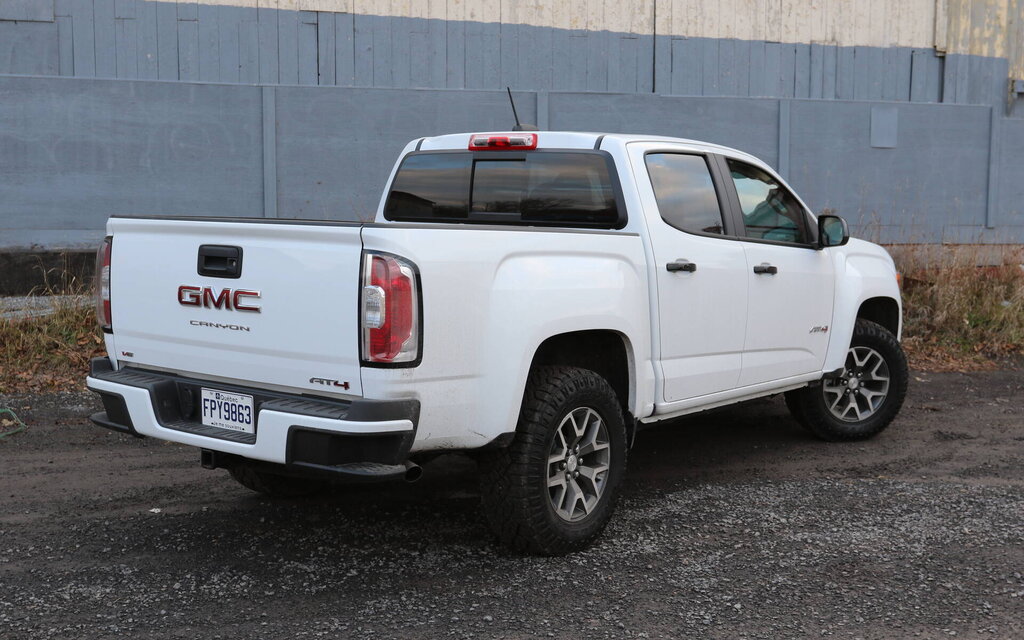 When it comes to the drive, the two models have a similar approach, yet they don't handle quite the same. One thing's for sure: the raised suspension puts the driver's seat higher and makes you feel like you rule the road.
Access to the cabin is more challenging, of course, but once you're settled in visibility is great. And while we feared plenty of road noise at high speeds and significant nose dive when braking, it turns out the Colorado ZR2 and Canyon AT4 fare surprisingly well on pavement.
The ride is less serene than that of a normal pickup, yet totally acceptable for daily use. Despite a vague steering and increased body roll, the mix of on-road/off-road capability is impressive. The Chevy proves a bit less stable than the GMC during sudden stops and in sharp corners, but it's still much more pleasant to drive than a Silverado Trail Boss, whose suspension induces a lot of weight transfers.
The Colorado ZR2 would be the better pick for off-road enthusiasts, although to be fair, the dirt trails we tackled were not challenging enough to seriously put these machines to the test and really validate their performance off the beaten path. If you want a truck to go hunting or fishing in some remote area, you should be fine with either one.
Interior: Tie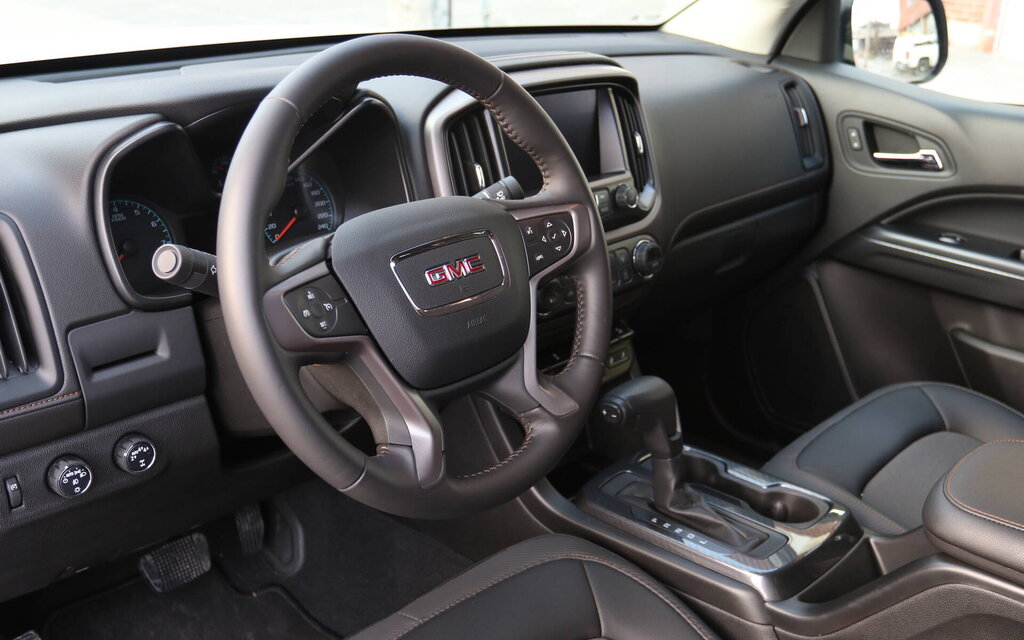 The differences inside are very subtle. A conventional dashboard, intuitive controls, user-friendly infotainment system and straightforward instrument panel make for a highly functional, albeit not super-high-tech cabin. In terms of material selection, we expected better: some of the plastics have a disappointing look and feel.
What's more, the seats—particularly the seat cushions—lack padding for long-distance trips. When driving for more than two hours, comfort becomes a problem.
Verdict
Off-road-ready vehicles like the Chevrolet Colorado ZR2 and GMC Canyon AT4 are becoming more and more popular. The former takes the genre to greater lengths and will please those who want a bold, in-your-face kind of truck. It's more expensive, mind you, with pricing that can go as high as $60,000 when you add various options and packages.  
The cheaper and less showy GMC should appeal to pragmatic drivers who don't care as much about looks. If you spend over 90 percent of your time on the road, it will also prove a bit easier to live with.
Share on Facebook