Hennessey Venom F5 Unveiled With 1,817 Horsepower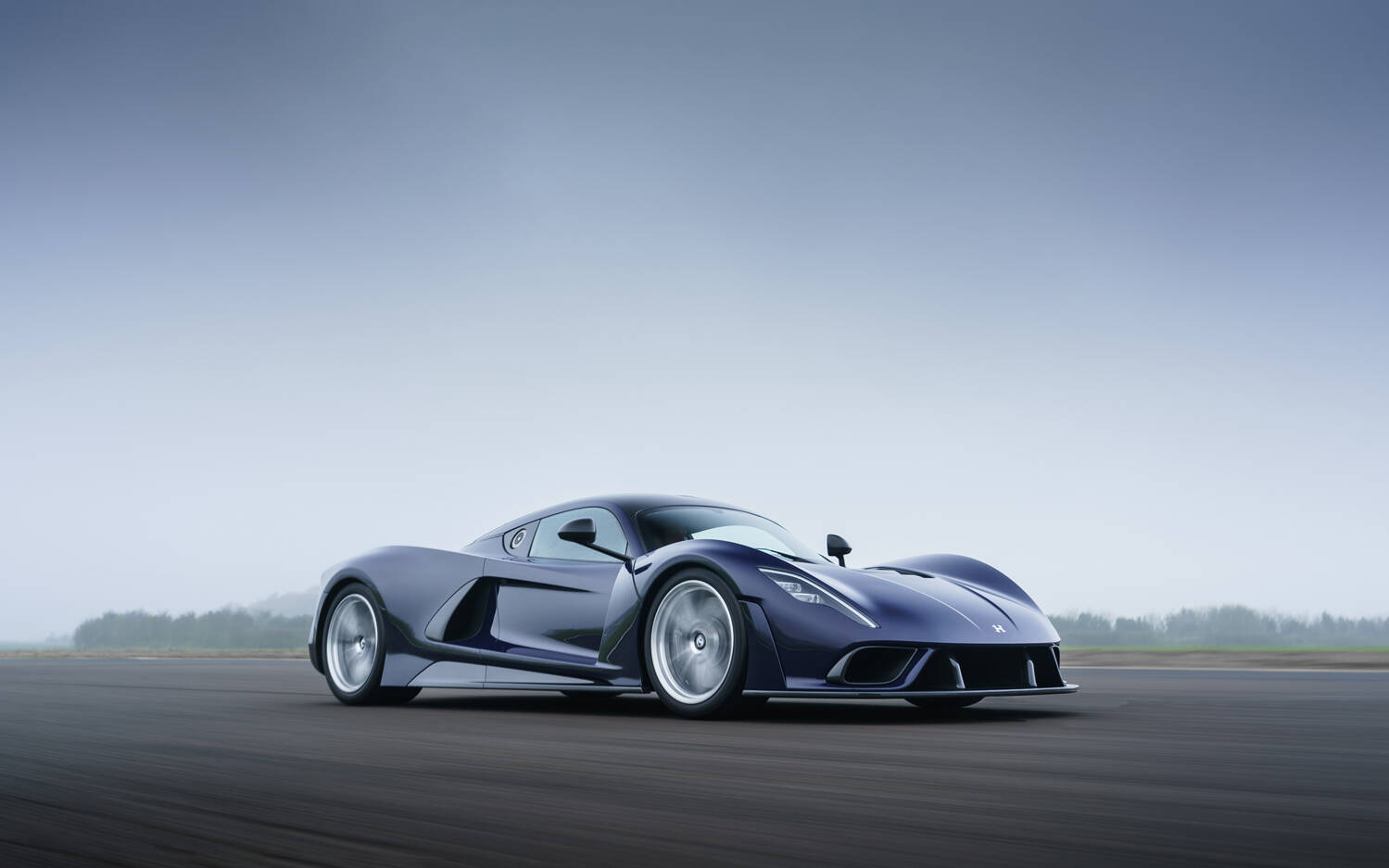 A bit more than three years after its original appearance as a concept at the SEMA Show in Las Vegas, the sensational Hennessey Venom F5 finally made its production debut today, marking a new chapter for the renowned Texas-based tuner.
Clearly, it has the looks and firepower to rank among the most exclusive and spectacular supercars on the planet—not to mention the name, which refers to the highest category of wind speeds on the Fujita tornado intensity rating scale.
Let's start with the engine, a Hennessey-built, twin-turbocharged 6.6-litre V8 nicknamed 'Fury,' which delivers an Earth-shaking 1,817 horsepower at 8,000 rpm and 1,193 pound-feet of torque at 5,000 rpm. Take a moment to digest these numbers.
Since the Venom F5 weighs a mere 1,360 kilos, it can sprint from 0-100 km/h in less than three seconds and 0-200 km/h in less than five seconds. Top speed is targeted to exceed 500 km/h, which will be validated in the first half of 2021 during an official run at the NASA Kennedy Space Center's Shuttle Landing Facility runway in Florida.
The current record of 508 km/h was set just weeks ago by the SSC Tuatara.
"We're fired-up to push the boundaries of what's possible to attempt the world's fastest production car record, but the Venom F5 is about more than just speed and power," says Hennessey founder and CEO John Hennessey, calling it a 'true decathlete.'  "This car will handle superbly, quality is exceptional, there are more than 3,000 bespoke parts, materials are exquisite, everything is a fitting tribute to 30 years of the Hennessey brand."
Every aspect of the Venom F5's specification, design and development has been shaped by John Hennessey himself, but let's not minimize the work of Chief Engineer John Heinricy, a legendary racing driver and former Director of GM High Performance Vehicles. Incidentally, a few more adjustments still need to be made to the car before the first units meet their owners.
The lightweight monocoque—all 86 kilograms of it—is made of carbon fibre just like the entire body, from the front splitter to the subtle rear spoiler.
The 19-inch front and 20-inch rear wheels are wrapped in Michelin Pilot Sport Cup 2 tires with a width of 265 and 345 millimetres, respectively. They are attached to a double-wishbone independent suspension with Penske coil-over dampers and slowed down by 390-millimetre carbon ceramic disc brakes featuring six-piston front and four-piston rear Brembo callipers.
As for the cockpit, which is inspired by F1 cars and jet fighters (look at the steering wheel!), it puts drivers in an extremely sporty and luxurious environment. By the way, there are five drive modes to choose from—Sport, Wet, Drag, Track and F5. Eco mode? Be serious…
Only 24 units of the Hennessey Venom F5 will be built and delivered starting in 2021, each one costing at least $2.1 million USD (approximately $2.7 million CAD). If they're not sold out already, you should hurry.
Share on Facebook