2021 Ford
Mustang Mach-E

: Good Pony, Bad Name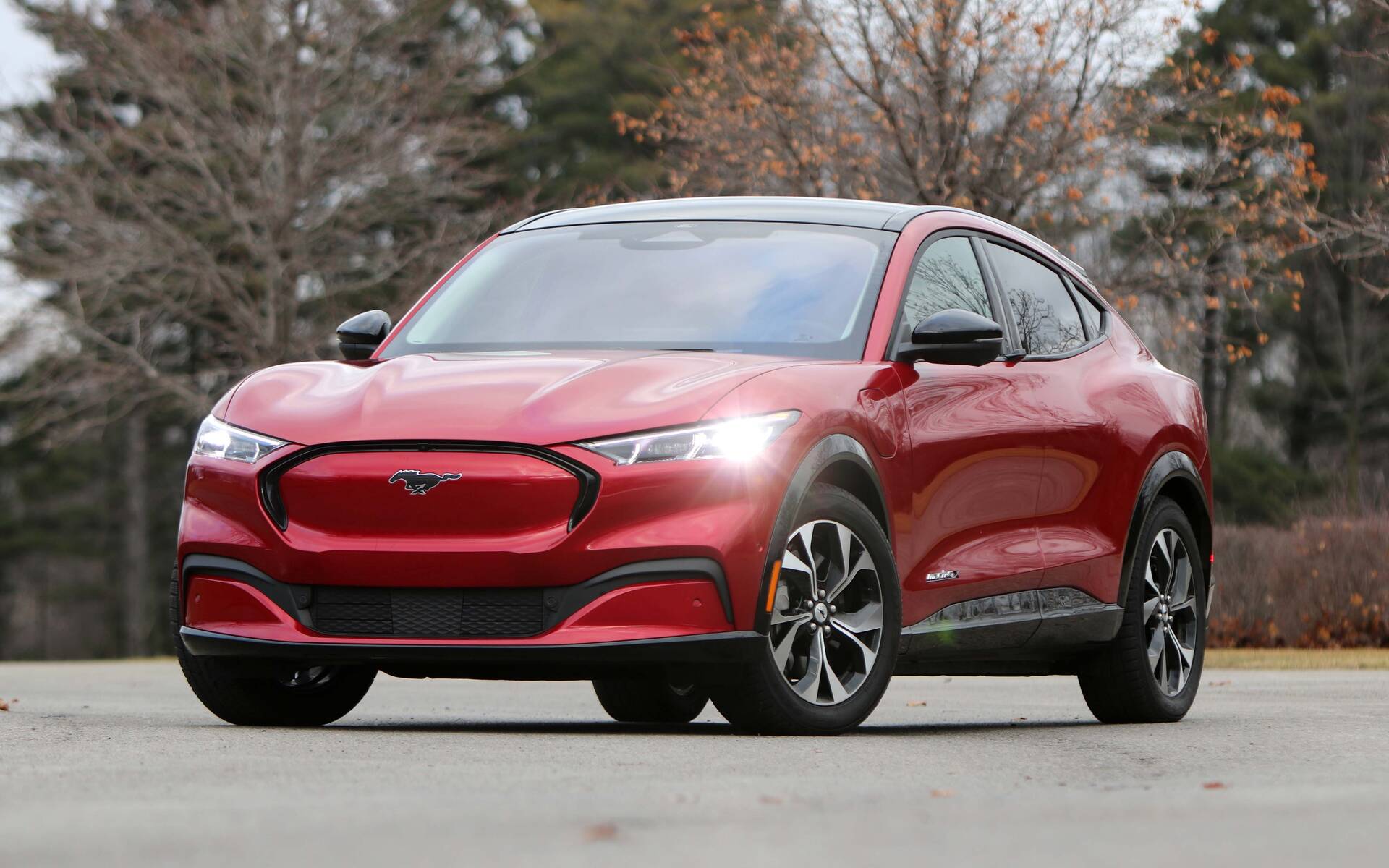 Strong points

Attractive silhouette
Impressive build quality
Superb balance of ride and handling
Versatile interior

Weak points

A Mustang only by the looks of it
Interior design lacks soul
Disappointing graphics (energy use)
Avoid leasing, and prepare to wait to get yours
Full report
Have you ever met someone whose name didn't really fit with what their image or profession? Like a literature professor named Coco or a little baby boy named Elvis?
The same thing happened with the all-new Ford Mustang Mach-E. The people at the Blue Oval love their pony car so much they dared to turn it into an electric crossover and still call it a Mustang. Heck, they even replaced the brand's logo with the world-famous stallion.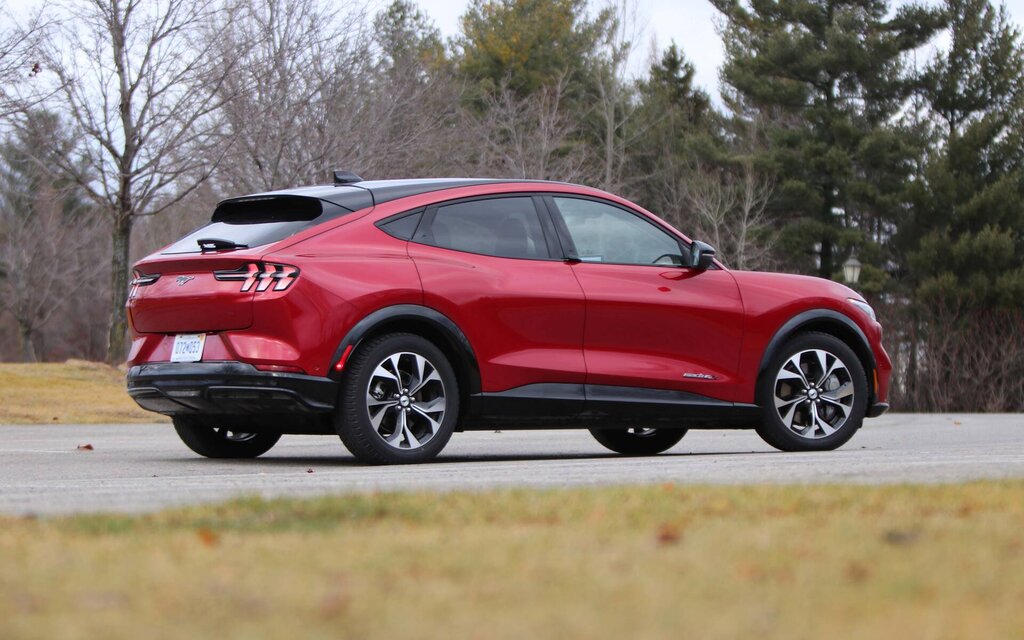 No matter how you look at it, though, this vehicle is already a success for Ford based on the fact that seemingly everyone is talking about it. And you can bet customers will line up to buy one, too. While many fans of the Mustang are outraged, there's a whole bunch of other people who appreciate the Mach-E for what it is—a bold and sporty EV.
Hybrids be damned, here we have a fully battery-powered vehicle offering a zero-emission range of 340-483 kilometres depending on the configuration. There are five trim levels on the menu (Select, Premium, First Edition, California Route 1, GT) and a choice of RWD or AWD, with pricing that starts at $50,495 and can go as high as $82,995.
None of them are eligible to the $5,000 EV rebate from the federal government since they all cost over $45,000. The First Edition is already sold out, the California Route 1 is available with RWD only so not ideal for Canada, and the high-performance GT is technically slated to arrive next fall (as a 2022 model).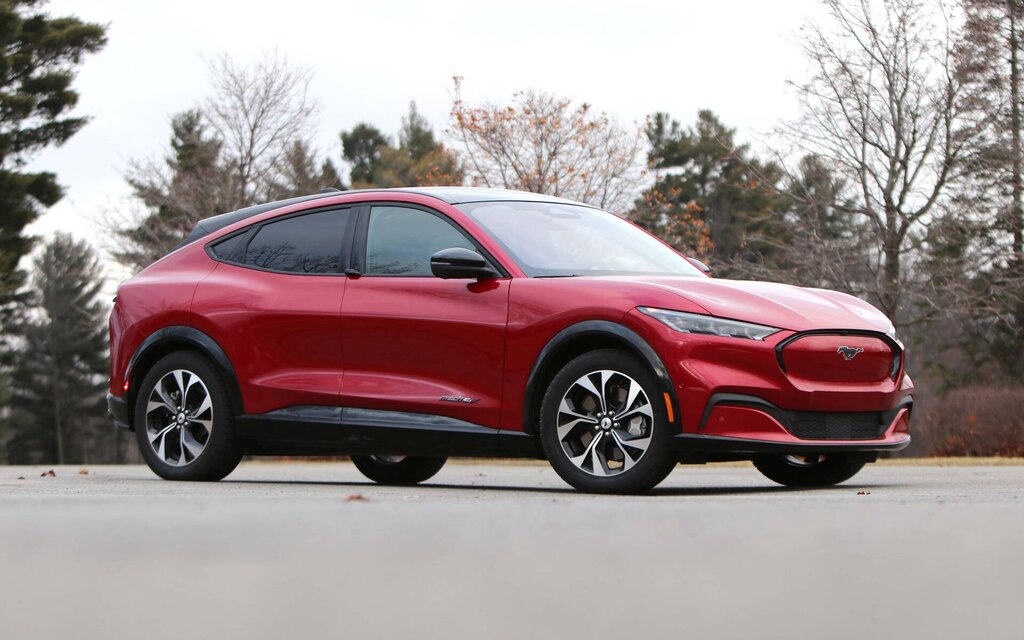 Let's Talk Numbers
The Ford Mustang Mach-E offers two different battery sizes—68 kWh or 88 kWh. The smaller one comes standard on Select and Premium models, while the bigger battery is available on Premium and standard on First Edition, California Route 1 and GT.
The standard-range Mach-E with RWD is able to cover 370 kilometres, while the AWD variant has a capacity of 340 kilometres. When it comes to the extended-range Mach-E, the RWD variant can travel up to 483 kilometres. In AWD configuration, the number drops to 435 kilometres—or 375 if you choose the high-performance GT.
Our tester was a Mustang Mach-E Premium AWD with 435 kilometres of range. However, due to the cold temperatures hovering around the freezing point, the best number we got with a fully charged battery was 340 kilometres. Just imagine in the thick of winter at minus 25 degrees Celsius...
At least the reading was accurate. After a trip of 309 kilometres, the computer said we still had 24 kilometres of range left, for a total of 333. By the way, energy consumption is rated at about 25 kWh/100 km. In winter driving, with an average of 30 kWh/100 km, the 68-kWh battery would be limited to about 200 kilometres—decent but not great.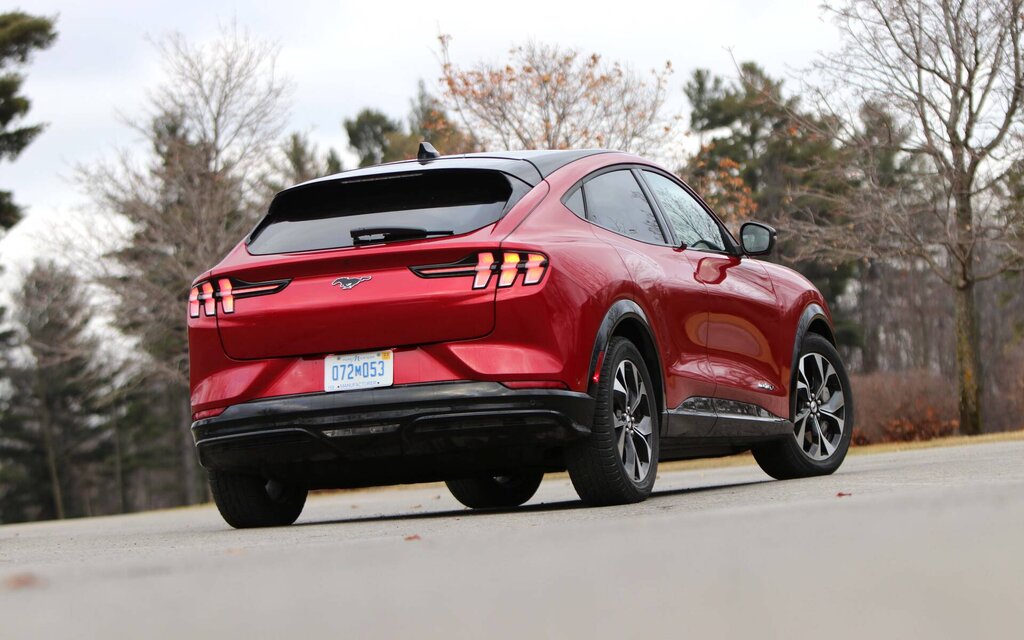 It Sounds Like a Mustang, But…
Ford engineers injected some Mustang character into the Mach-E with a device that simulates the sound of a V8 engine. It's good enough to fool a passenger who doesn't know they're sitting in an electric car. However, acceleration is nothing like a Mustang GT. The Car Guide's Marc Lachapelle recorded a time of 5.94 seconds from 0-100 km/h while Ford is claiming five seconds flat. The Mach-E is no slouch by any means, but ironically most other EVs are quicker including the Tesla Model Y and Volvo XC40 Recharge. Bummer.
Equipped with a pair of motors (one for each axle), Ford's electric crossover surges forward in much more linear fashion than the competition. Once it gets going, power is plentiful and passing manœuvres are always a short affair, but then it starts to lose steam rapidly past legal highway speeds.
Could weight be the reason? After all, the Mustang Mach-E tips the scales at around 2,200 kilograms—slightly heavier than a Ford Explorer. On the plus side, the heavy battery pack under the floor keeps the centre of gravity quite low, resulting in sharp handling even with our tester riding on a set of winter tires with softer sidewalls.
In addition to being quiet and comfortable, the Mach-E allows one-pedal driving, which reduces both brake wear and driver fatigue, especially in traffic. The system is so effective that the Porsche Taycan we tested immediately after felt disappointing in that department. Don't worry, the conventional brakes deliver quick and convincing stops when called upon, even with all that mass they must deal with.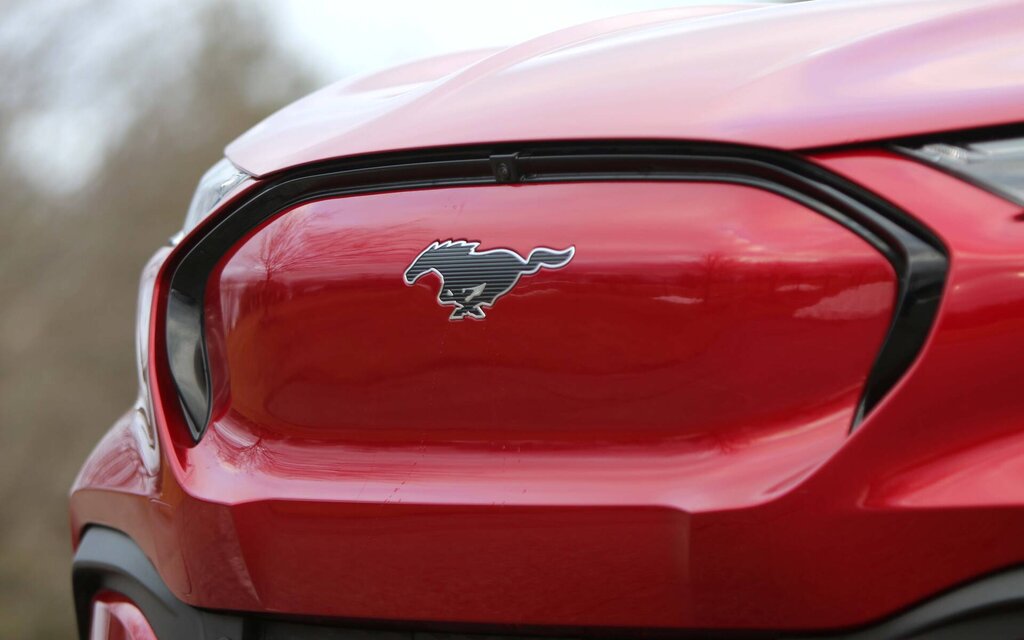 About That Design…
The visual connections to the Mustang mostly come from the long, aggressive nose, the broad shoulders and of course the tri-bar taillights with sequential turn signals. You could even compare the sloping roofline to a thoroughbred's mane.
Alas, the pony car DNA vanishes the second you open the doors (except for the Mustang logo on the steering wheel). It's a completely different car, with an all-black interior, comfortable seats and a pair of screens disgracefully tacked on to the dashboard.
For sure, the Mach-E cabin is spacious and practical, with seating for five normal-sized adults thanks to a perfectly flat rear floor. There are lots of handy features, while the excessively large centre display is powered by an infotainment system that's comprehensive yet extremely easy to use. We enjoyed the driving position, the various storage spaces and the sweet-sounding stereo, as well.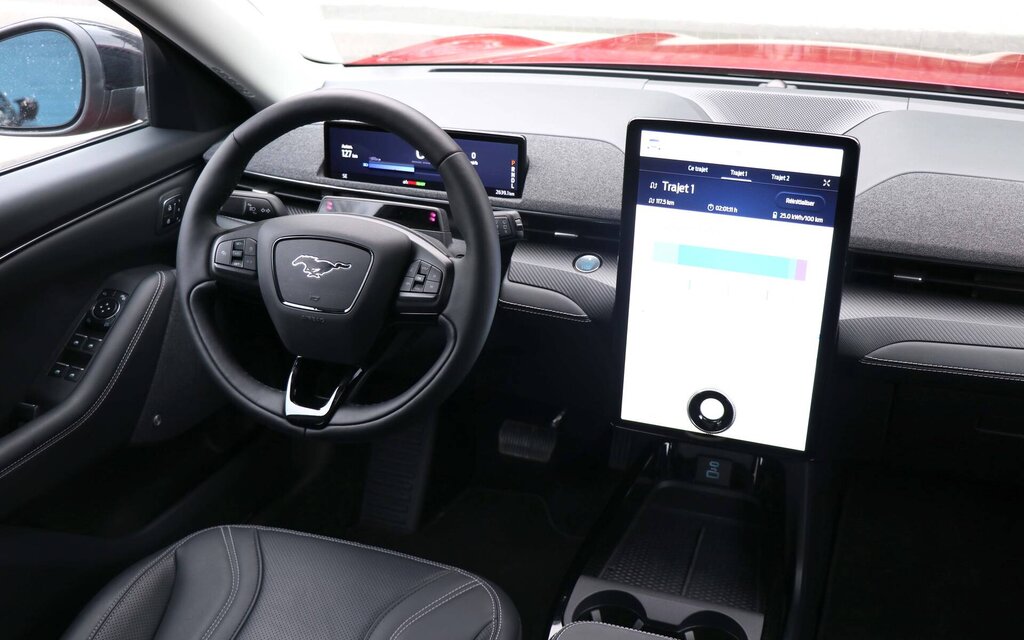 By the way, don't be surprised if you don't find any door handles on the outside. They've been replaced with push buttons on the upper portion of the B- and C-pillars, although front-seat occupants have small pull handles for assistance.
We'll end our first-drive review of the Mustang Mach-E by saying the graphics illustrating energy use are disappointingly simplistic, while the digital instrument cluster merely displays speed, range and some futile data. It's almost as if Ford cut a few corners or didn't want to finish the job here.
Share on Facebook