2021 Nissan Armada Brings Something New to the Table at Last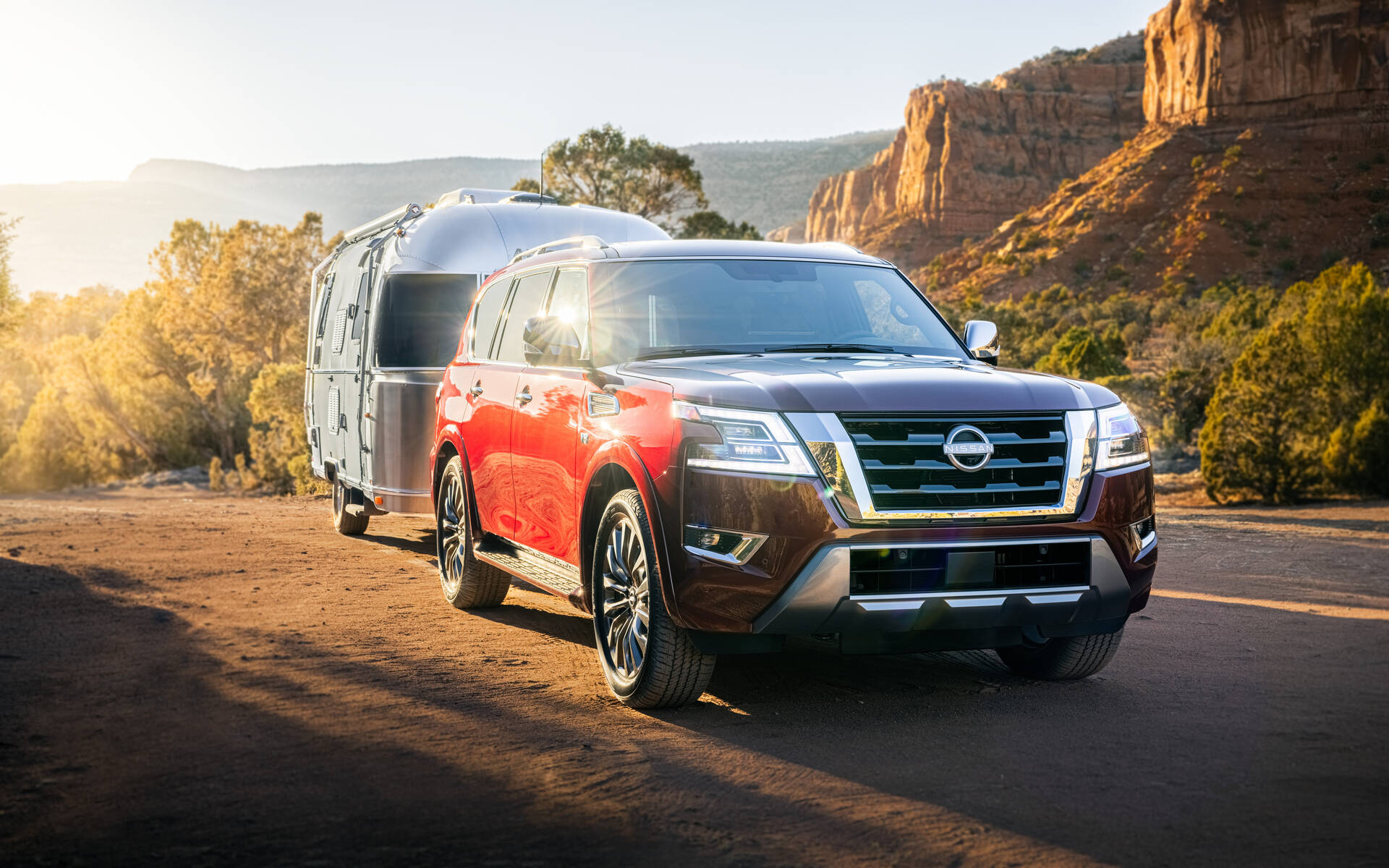 Nissan has updated both its smallest and biggest SUVs for 2021. We've already covered the Kicks, now let's focus on the full-size Armada. 
Honestly, the changes are fairly minor considering how this Japanese SUV lags behind its segment-leading American rivals.
More Power
Under the hood of the 2021 Nissan Armada, the 5.6-litre V8 engine returns with 400 horsepower (+10) and 413 pound-feet of torque (+19), effectively matching the numbers posted by its luxurious cousin, the Infiniti QX80. Unlike the majority of Nissan vehicles, there's no CVT here, but rather a conventional seven-speed automatic transmission. Despite the increased output, towing capacity is still rated at 8,500 pounds.
While a two-wheel-drive model continues to be available in the U.S., Nissan Canada is wisely sticking with all-wheel drive as standard equipment.
New Look
The 2021 Armada boasts a more squared and chiseled bodywork appearance from the A-pillars forward, emulating Nissan's latest products. The new front fenders, grille and bumper are framed by a new LED headlight design. In the rear, you'll see full LED taillights along with a slightly revised bumper.
Oh, and the new Armada is also the first vehicle to carry the new Nissan logo, found on the front grille, back, wheels and steering wheel.
When it comes to the cabin, the front centre console, dashboard and air vents have a more modern look. There's a wireless charging pad down low, plus a 12V power outlet. That being said, the most noticeable change is arguably the all-new standard 12.3-inch display screen that is 4.3 inches larger than the previous generation screen. Also new for 2021 is a seven-inch digital instrument cluster replacing the previous four-inch display. The analog tachometer and speedometer remain, though.
The standard seating configuration includes 10-way power-adjustable front seats, a 60/40-split, flat-folding bench seat in the second row and another 60/40-split, flat-folding bench seat in the third row. The Platinum model is available with optional second-row captain's chairs and a removable second-row console.
The 2021 Nissan Armada will go on sale next month, though pricing has yet to be announced for Canada.
Share on Facebook