2022 Genesis GV70 Coming With Two Turbo Engines, Cutting-edge Safety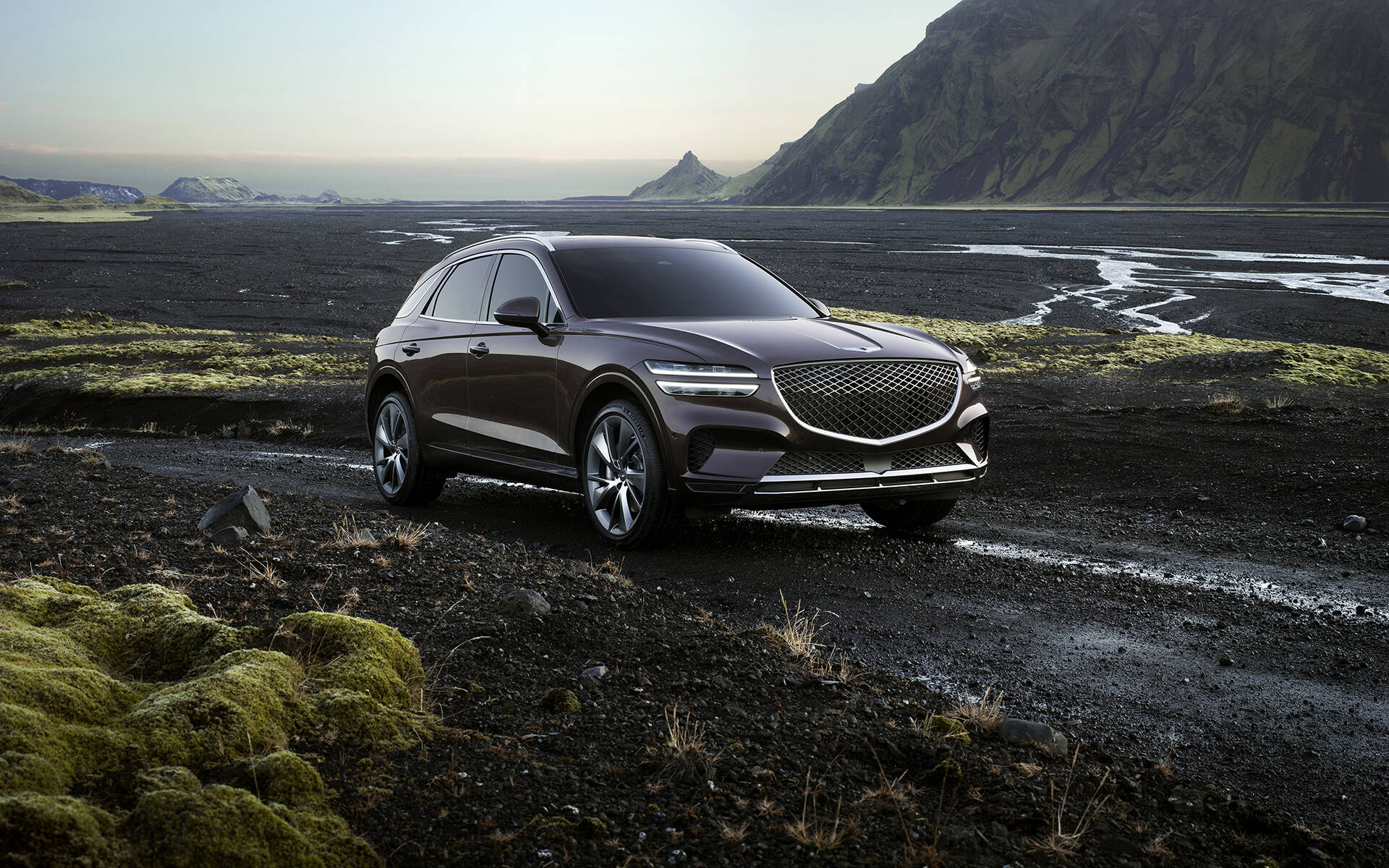 After releasing the first official pictures a few weeks ago, Genesis today announced several details about its brand new compact luxury SUV, the GV70. This vehicle is expected to go on sale in Canada in the second half of next year as a 2022 model, looking to attract younger and sportier drivers than its big brother, the GV80.
Unsurprisingly, Genesis is confirming that the GV70 will come standard with all-wheel drive in Canada. Two engines will be offered, namely a turbocharged 2.5-litre four-cylinder and a twin-turbocharged 3.5-litre V6. Similar to the GV80, output is rated at 300 hp and 375 hp, respectively.
Drivers will have a choice of four drive modes including Eco, Comfort, Sport and a custom mode. A fifth one, Sport Plus, will be exclusive to the GV70 Sport. On the road, expect agile handling thanks to a highly rigid chassis and various weight-saving efforts by engineers, including the use of aluminum for the hood and rear hatch.
Genesis is also talking about a myriad of advanced safety features such as the system that monitors driver attention and fatigue and triggers an alert when necessary. Semi-autonomous driving is possible with Highway Driving Assist II, a technology that controls the steering wheel to assist with lane changes once drivers have activated the turn signal.
An interesting addition is Intelligent Speed Limit Assist, which regulates driving speed to be within the speed limit based on traffic sign information that is identified by the front camera or GPS. This will make it harder to get caught doing 90 km/h in a 70 km/h zone. 
Furthermore, the GV70 is the first Genesis model to feature radar-based Advanced Rear Occupant Alert technology, which is more sophisticated than traditional ultrasonic-based sensors. The system not only senses when passengers in the rear move their limbs, but it also detects small respiratory movements near the passenger's chest, allowing the GV70 to alert drivers in cases when a child or sleeping infant has been left in their seat.
When it comes to styling, the GV70 expresses the brand's "Athletic Elegance" design language. It mostly catches the attention with a huge, diamond-shaped grille and two-lined headlights inspired by Genesis' signature wing emblem. The GV70 further stands out with black and dark chrome trim elements, unique bumpers, large round tailpipes and spectacular-looking wheels.
Three new body colours will be available including Mauna Red as well as Barossa Burgundy in a metallic or matte finish.
Inside, the cabin design is an interpretation of "Beauty of White Space", while many details such as the elliptical elements are inspired by the aerodynamic sections of aircraft wings. A new type of ambient lighting makes everything come alive. The steering wheel and upper dashboard, including the ultra-wide 14.5-inch infotainment screen, are almost identical to the GV80, but the controls down low and the centre console layout are totally unique to the GV70. There are several eye-catching colours and two-tone combinations to choose from, as well.
Full details about the 2022 Genesis GV70, including pricing and fuel consumption ratings, will be announced closer to launch. The Audi Q5, BMW X3, Mercedes-Benz GLC, Acura RDX, Infiniti QX50 and others need to watch out.
Share on Facebook