2021 Ford
Bronco Sport

: Macadam Cowboy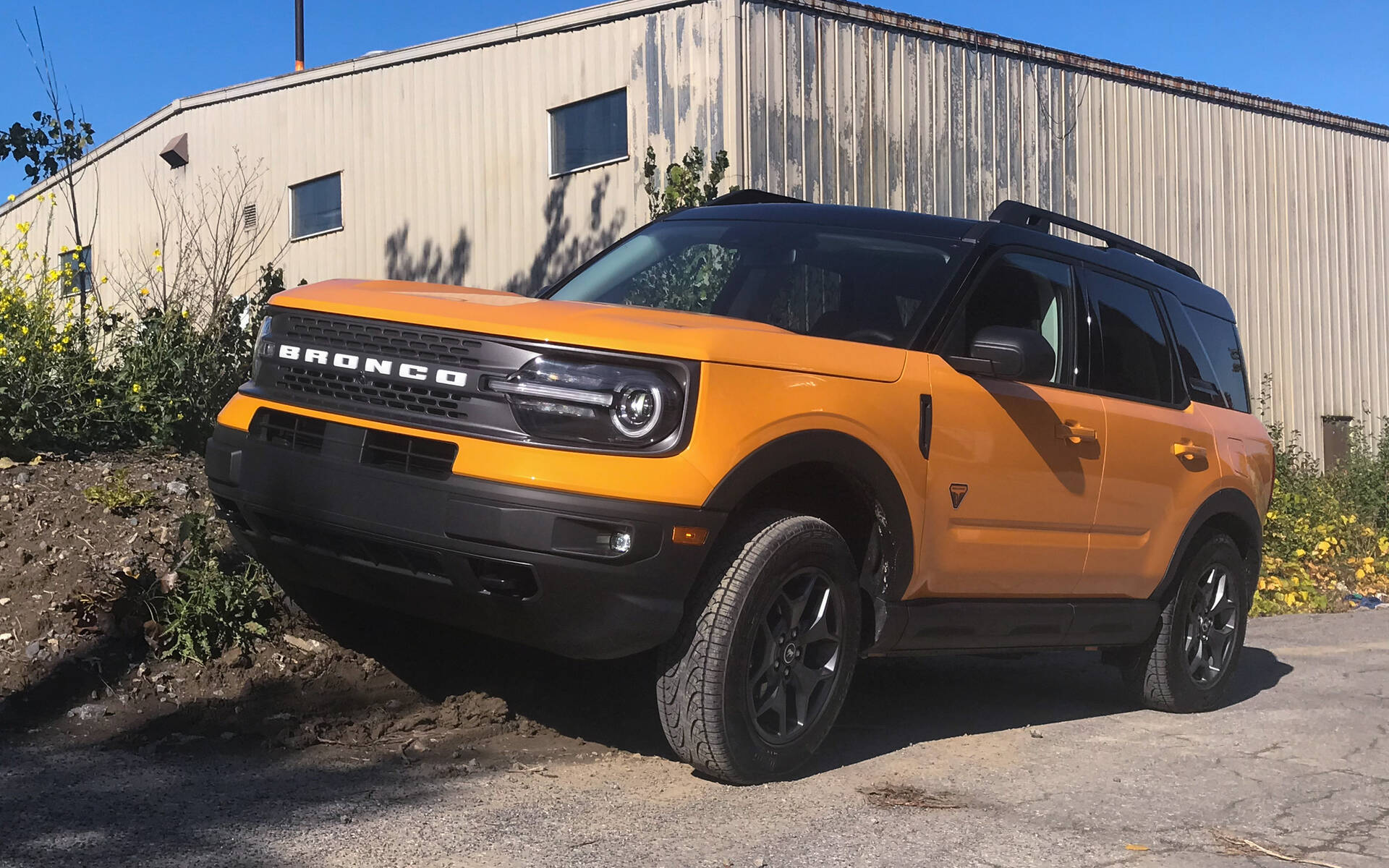 Strong points

Interior is well-designed and practical
2.0-litre engine delivers solid performance
Proper off-road transformation (Badlands)
Clever details and accessories

Weak points

Handling fails to impress on paved roads
Styling lacks a bit of drama
Autobox can be rough at times
Needs to prove how durable and reliable it can be
Full report
While reviving the legendary Bronco following a quarter-century of inaction, Ford decided to make the most of it by developing a whole brand around the rugged four-wheeler.
One solution was to create a smaller, more urban-oriented variant called Bronco Sport. But let's be perfectly clear right away: the "baby Bronco" has almost nothing in common with its big brother—beyond the boxy silhouette and the name that appears in white block letters on the black grille.
Whereas the Bronco is a true off-roader built on a modified version of the Ranger pickup's RWD body-on-frame architecture, the Bronco Sport rides on a unibody structure shared with the FWD-biased Escape compact SUV.
Aimed primarily at weekend adventurers, the Bronco Sport has "everything you need to turn any off-road novice into a 4WD expert," according to chief product platform and operations officer Hau Thai-Tang. It's definitely not a hardcore enthusiast's dream machine.
Not All the Same
That being said, there are various Bronco Sport models to choose from depending on your budget and aspirations. Other than the base model, you have the Big Bend, Outer Banks, Badlands and First Edition. The last one is limited to just 2,000 units and, unsurprisingly, all of them are already spoken for.
The standard engine is a turbocharged 1.5-litre three-cylinder engine that produces 181 horsepower at 6,000 rpm and 190 pound-feet of torque at 3,000 rpm. The Badlands is the only one that features a turbocharged 2.0-litre four-cylinder, which puts out 245 horsepower at 5,500 rpm and 275 pound-feet of torque at 3,000 rpm. This flexible and lively engine can also be found under the hood of higher-end Escape models and the Lincoln Corsair, among others. The only transmission available is an eight-speed automatic.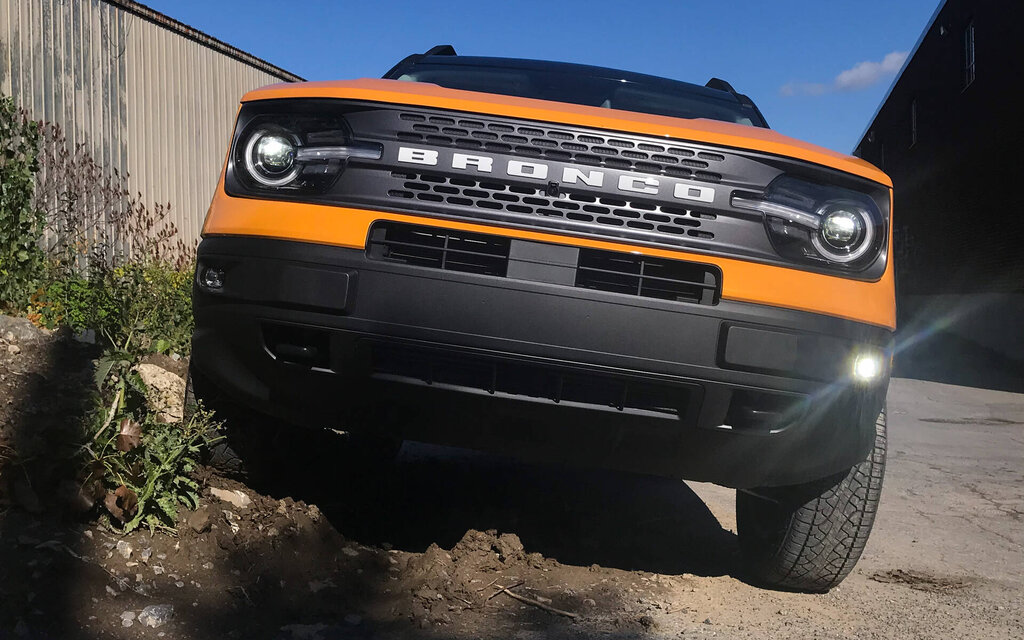 We have some serious doubts about the ability of the three-cylinder to properly motivate the Bronco Sport, but we don't know for sure since we only got to spend time with a Badlands edition.
The Baddest of the Bunch
In addition to a stronger engine, the top-line Bronco Sport stands out from its lesser siblings with a plethora of upgrades and accessories designed to make it more practical, more versatile and more capable off the beaten path. It also offers that exclusive Cyber Orange body colour you see here.
The Badlands' unique suspension increases ground clearance to a very respectable 223 millimeters (up from 198 mm) with the optional 29-inch all-terrain tires, which feature deeper grooves than the 28.5-inch tires included as standard on this particular trim. Naturally, approach and departure angles are increased, as well. Need to cross a river? Water fording capability is rated at 600 millimeters or about two feet.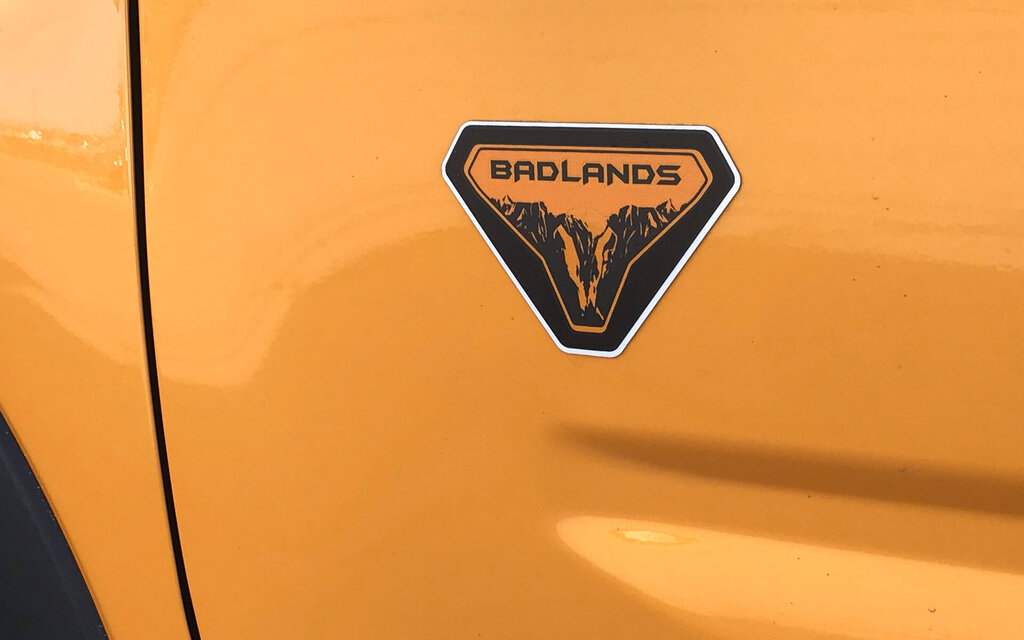 There are model-specific front suspension struts with hydraulic rebound stops to quell some of the off-road noise and harshness, and more robust, 46-millimeter monotube rear shocks. The springs and stabilizer bars are a bit softer to allow more wheel articulation on uneven terrain, however. Four steel skid plates help protect vital underbody components, while the front bumper incorporates tow hooks.
What's more, in addition to the five standard drive modes (Normal, Eco, Sport, Slippery, Sand), the Bronco Sport Badlands offers Mud/Ruts and Rock Crawl modes. That's mostly because it's the only one with a twin-clutch rear-drive unit that can send "virtually" all rear-wheel torque to either rear wheel.
Drivers can also engage 4WD or lock the rear differential using two of the controls that surround the drive mode selector, just a few centimetres ahead of the transmission selector.
And then there's Trail Control, kind of like a cruise control system for off-road conditions. It operates at forward speeds of up to 30 km/h and in reverse at up to 10 km/h. By the way, in Rock Crawl mode, the power steering system has the ability to absorb shocks. Oh, we almost forgot to tell you about the front 180-degree camera that helps you monitor the action in front of the vehicle (it even has its own washer to ensure a clear view at all times).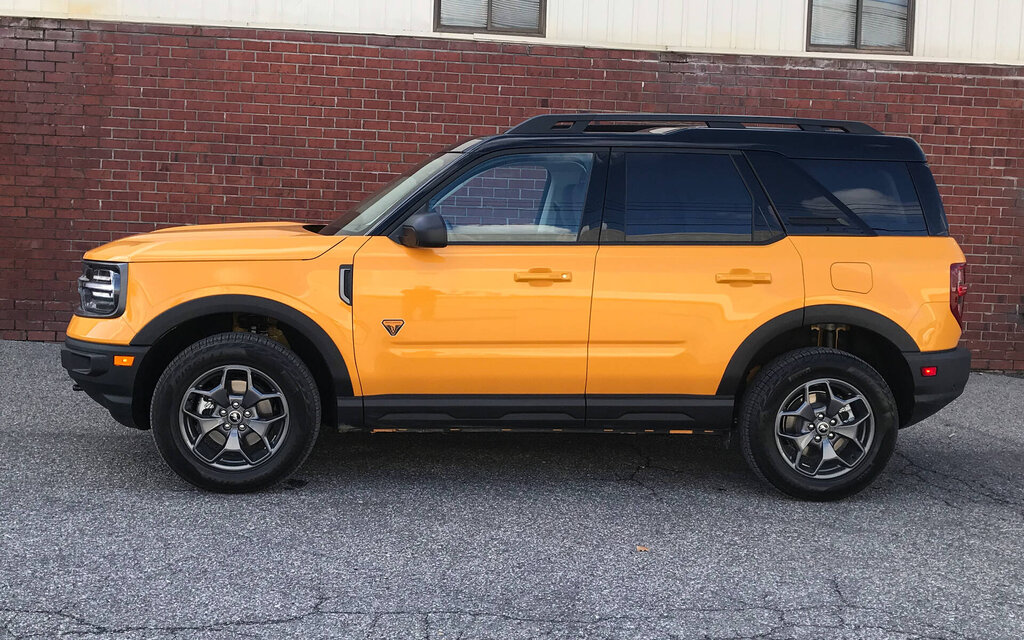 A Different Character
Despite some nice skills and a commendable effort by engineers to elevate performance and capability, the Ford Bronco Sport Badlands always sort of feels like a good boy wanting to pass for a bully, or an accountant dressed up as a cowboy. More simply put, it's an Escape that wishes it was a Bronco. It's definitely not without merit, just not convincing enough.
The interior is fairly inviting and adequately configured, not to mention practical. The pillowy front seats are covered in a combination of slick brown leather, perforated black leather and a large piece of suede with a rushing bronco engraved in the middle—almost the equivalent of an F-150 King Ranch, minus the kitsch. The rear outboard seats are fairly comfortable and provide good support, their large headrests even folding out of sight to improve rearward visibility. There's additional storage under the right seat cushion, and sizable pockets with zippers on the back of the front seats. Not much room for a passenger's feet, though.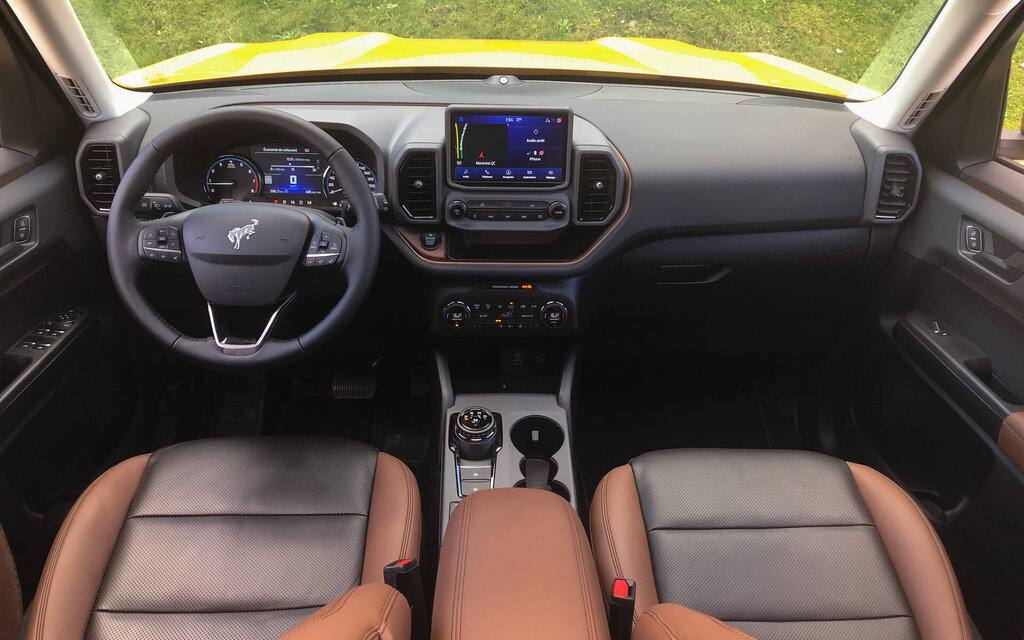 The driving position in the Bronco Sport is pretty decent, while the dashboard design is simple and straightforward. Same thing for the arrangement of controls and buttons along with the eight-inch centre touchscreen, which is powered by SYNC 3. A 6.5-inch display lies in front of the driver, flanked by a pair of traditional gauges. Another rushing bronco logo, this one in a satin aluminum finish, can be found on the steering wheel.
The trunk is not very deep, so cargo capacity is average at best. However, there's a full-size spare tire under the floor, which is a good thing to have when you're venturing away from the pavement. We had fun using the sliding shelf that doubles as a small camping table, not to mention the LED lights built into the liftgate (which has an articulated rear window, by the way).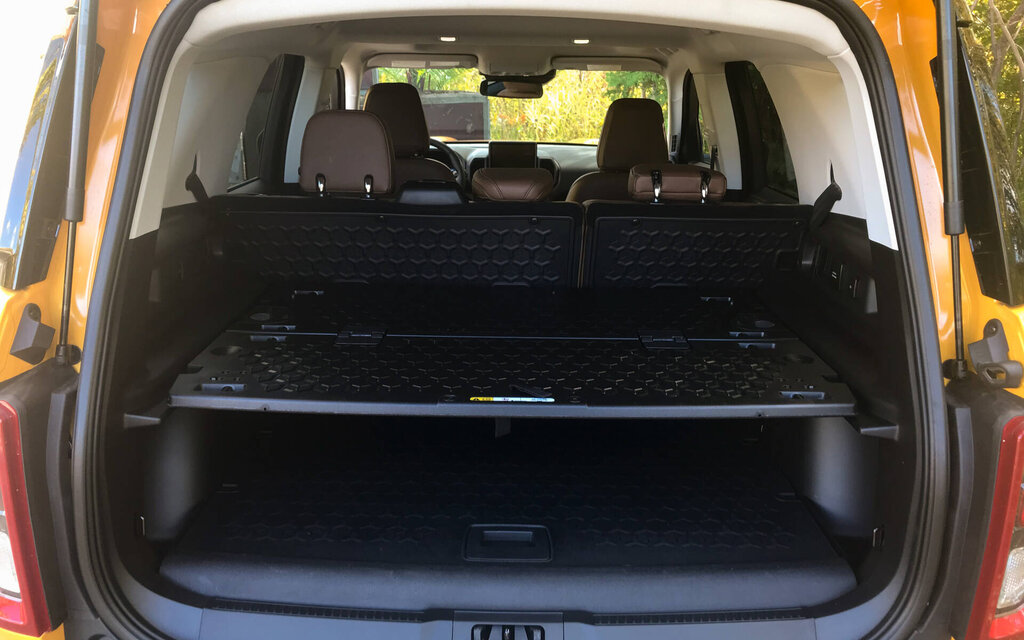 Always Ready to Play
In Badlands trim, the entire floor is rubberized for easy cleaning. So is the back of the rear seats. This Bronco Sport is always ready for any adventure. Sitting behind the wheel, you can perfectly see the corners of the hood, which features two long bulges as if a big V8 engine lied underneath..
The 2.0-litre turbo proves responsive when accelerating from a standstill, but it feels a bit underpowered and less torquey than the similar engine in the Escape and Corsair. Performance is still adequate, although shifting is kind of rough at times and torque steer rears its ugly head at full throttle.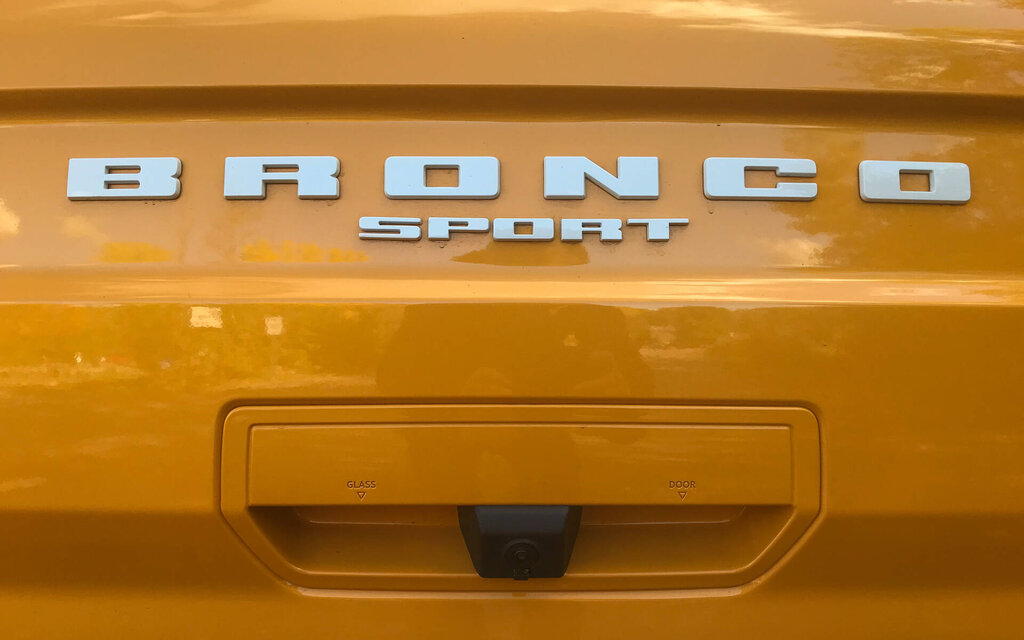 Handling is not particularly great, with a soft suspension that results in a fair amount of body roll in corners. That's the price you have to pay for a smooth ride and superior off-road capability, since there are no adjustable springs and shocks. The turning radius is quite short, and the Badlands starts to complain when you lock the differentials and select Rock Crawl mode on paved roads, which bodes well for serious off-road driving. We'll do another test drive on more challenging terrain to validate that.
Overall, the 2021 Ford Bronco Sport is pretty much in line with the spirit of the original Bronco, just with a more modern interpretation and execution.
Share on Facebook