2021 Ford F-150: The Sales Leader Can't be Dethroned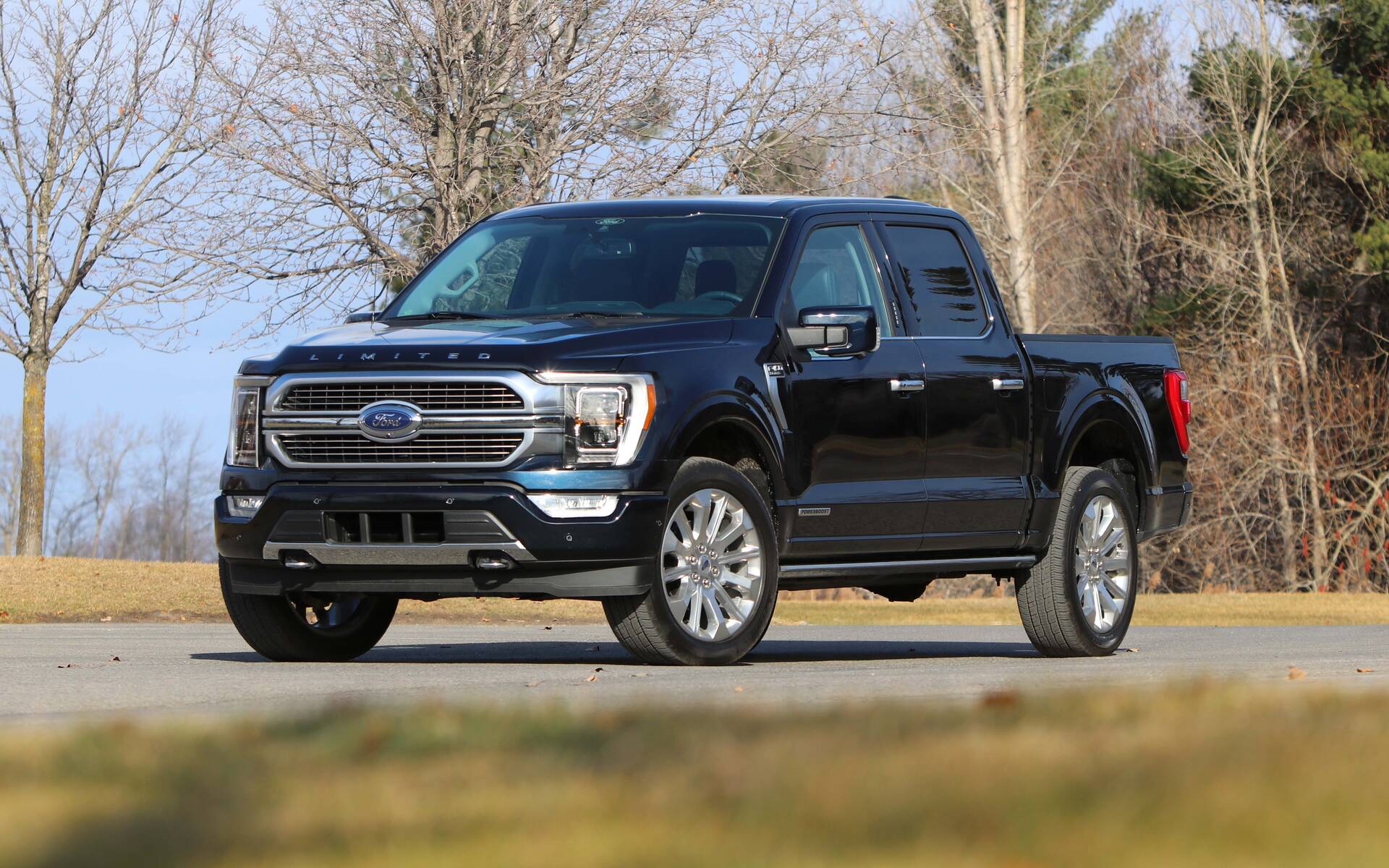 Strong points

Large selection of engines and trim levels
Cutting-edge technology
Hybrid system available from XL to Limited
Vastly improved cabin
Impressive payload and towing

Weak points

Prices are up
Countless options, most of them expensive
Will the hybrid variant prove reliable?
Full report
Six years after the launch of the outgoing generation, the Ford F-150 gets a serious update for 2021. While we're officially talking about the fourteenth generation, it's not like Ford designers went back to the drawing board and started from scratch.
Sure, all the body panels have been revised to add muscle and elegance to the truck, but the differences are more subtle than in-your-face. The most obvious changes are those made to the front fascia, which sports a more angular look and once again offers a variety of grille designs. There are three headlight variants, too. In fact, combined with the raised hood and new LED signature, this F-150 looks more like its Super Duty siblings.
The attractive exterior becomes an afterthought the minute you open the doors, however. The seats, instrument panel, steering wheel, centre console and 12.1-inch touchscreen are all new and a definite improvement over the old F-150. They also create further separation from GM's pickups, which continue to be handicapped by a not-so-refined cabin.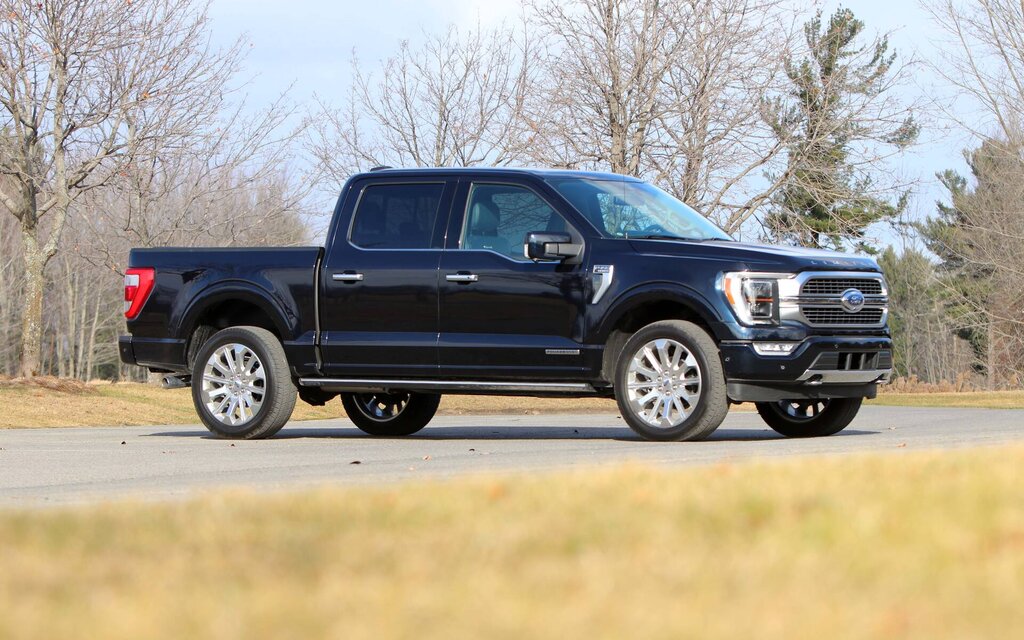 Our tester for this one-day drive was a top-line F-150 Limited full of gadgets and amenities. Starting at $89,795, this model is so luxurious and beautifully finished that it's almost as if you're sitting in a Lincoln. Speaking of which, Ford's luxury brand has no intention to bring back the Mark LT, in case you were wondering.
Six Trim Levels
Excluding the future Raptor that will try to match the all-new Ram 1500 TRX, the 2021 Ford F-150 lineup includes six trim levels—XL, XLT, Lariat, King Ranch, Platinum and Limited. The last one is available exclusively with the SuperCrew cab and boasts a seemingly endless list of features and technologies. The main thing you have to remember is that ergonomics are remarkable and the 12.1-inch touchscreen with SYNC 4 infotainment is clearly more user-friendly than Ram's 12-inch display with Uconnect.
It's hard to ignore the handsome presentation of the cabin and exceptional fit and finish. The seats, which rival those of the Lincoln Aviator, impress with their design, multiple adjustments and massage function. They can now be reclined completely flat for those who need to take a nap inside the truck. Isn't that great?
Interestingly, after surveying thousands of customers, Ford chose to retain a conventional shifter instead of incorporating a rotary selector or push buttons. Designers made it more compact, though, and you can even fold it down to allow the versatile centre armrest to turn into a large work station—another cool innovation.
Six Powertrains
For 2021, Ford is adding a sixth powertrain option to the lineup. And this one will most certainly hurt the competition, which still relies heavily on big, fuel-thirsty V8 engines.
So, in addition to a 5.0-litre V8, three gasoline V6s and a PowerStroke turbo-diesel V6, customers can now opt for a hybrid PowerBoost unit that combines the 3.5-litre EcoBoost V6 with an electric motor rated at 35 kilowatts (47 horsepower). Total system output amounts to 430 horsepower and a fantastic 570 pound-feet of torque—tops among F-150 models (at least until the new Raptor arrives). The average fuel consumption rating is 9.8 L/100 km, matching the diesel engine.
The Ford F-150 PowerBoost has a maximum towing capacity of 12,700 pounds. Incidentally, the company has improved tow ratings across the line—up to 14,000 pounds in the case of the 400-horsepower EcoBoost V6, along with a payload of 3,250 pounds.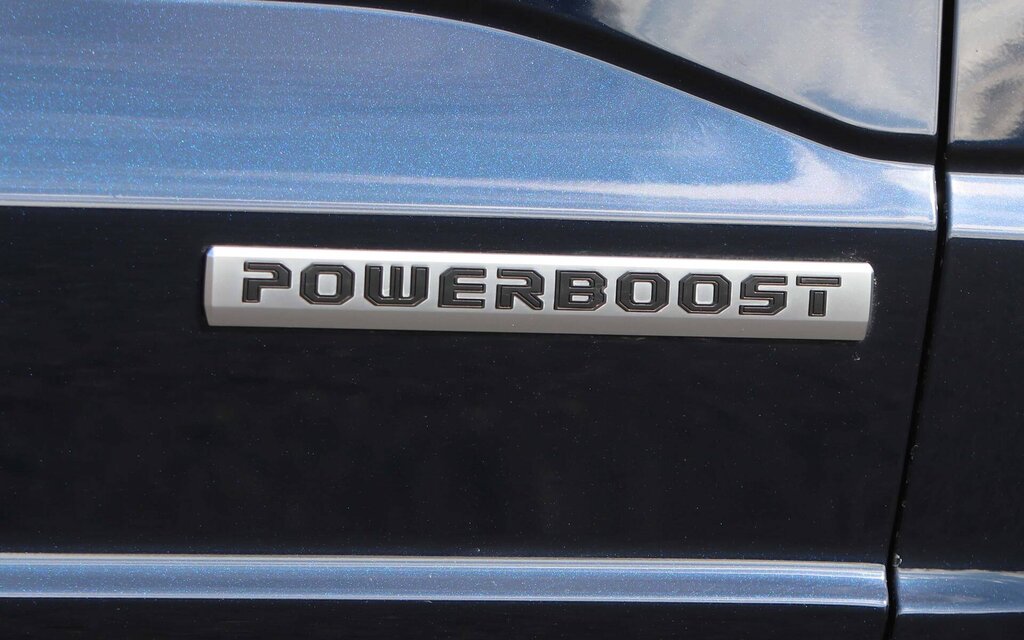 Our brief test drive with the hybrid model resulted in a performance of 12.7 L/100 km. And while the instant torque delivered by the electric motor is a serious benefit, we can't say we noticed a real difference with the 3.5L V6 in terms of power.
Reviewing the two back-to-back would definitely provide better insight. In fact, we'll get the opportunity to do just that early next year. Still, the PowerBoost is admittedly very impressive. Transitions between the two power sources are nearly seamless and there's a useful graphic on the instrument cluster that encourages drivers to adopt more fuel-efficient habits.
Make no mistake: with a trailer attached in the rear, fuel consumption increases significantly, as is the case with non-hybrid EcoBoost powertrains. But the fact is that no full-size pickup this powerful and this capable has ever been this frugal at the pump.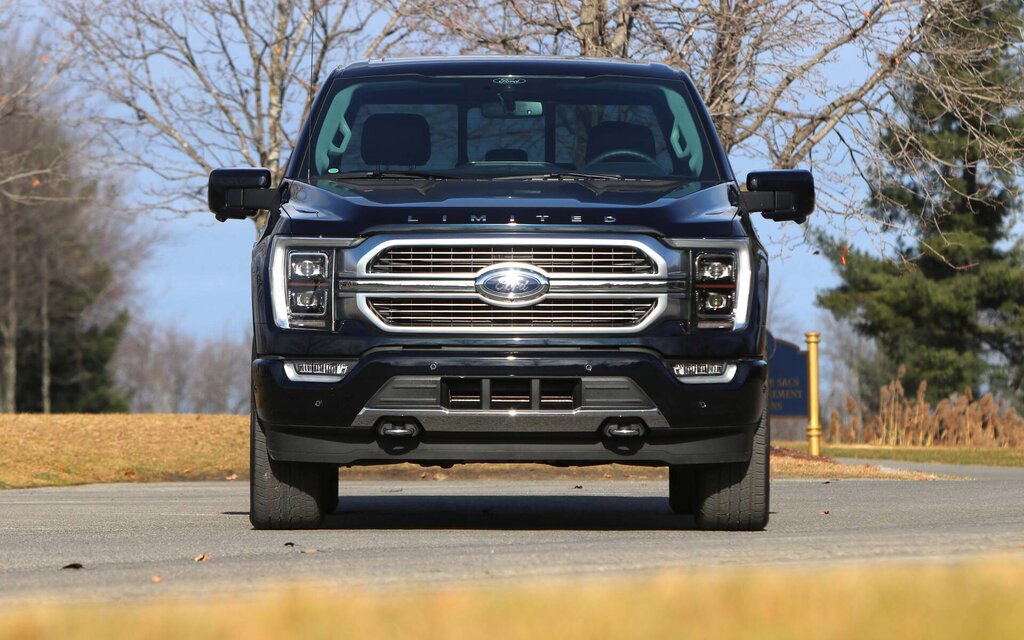 Surprisingly, the extreme comfort provided by the F-150 Limited is not affected by the massive 22-inch wheels. Ford did a terrific job of solidifying the chassis and stabilizing the ride. Too bad there's no air suspension, however. In addition, the cabin is remarkably quiet.
Big Truck, Big Bucks
Before we get to pricing, a word on the cargo bed, which is another area where Ford designers innovated quite a bit. For example, the tailgate can be fitted with rulers, compasses and other accessories making it a work bench to do all sorts of manual chores like sawing wood. Also, there's an optional ProPower generator to charge power tools on the go.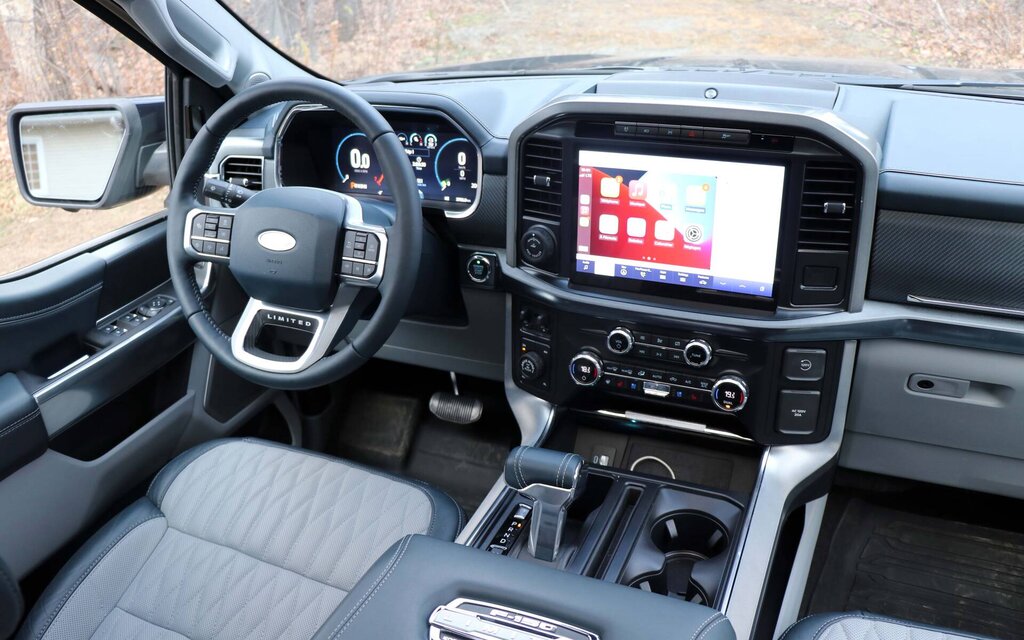 Safety is covered by the Ford Co-Pilot 360 suite of driver assistance features including high-resolution cameras that provide multiple views. The new F-150 is also the only pickup to offer Active Drive Assist, which allows for hands-free driving on more than 160,000 kilometres of divided highways in Canada and the U.S. 
Of course, all of this comes at a price. A fully loaded 2021 Ford F-150 inches close to six-figure territory, as evidenced by our Limited PowerBoost tester at $95,575. Ultimately, though, the sales leader will remain just that for years to come.
Share on Facebook