Mercedes-
AMG GT

Black Series Cranked up to 720 Horsepower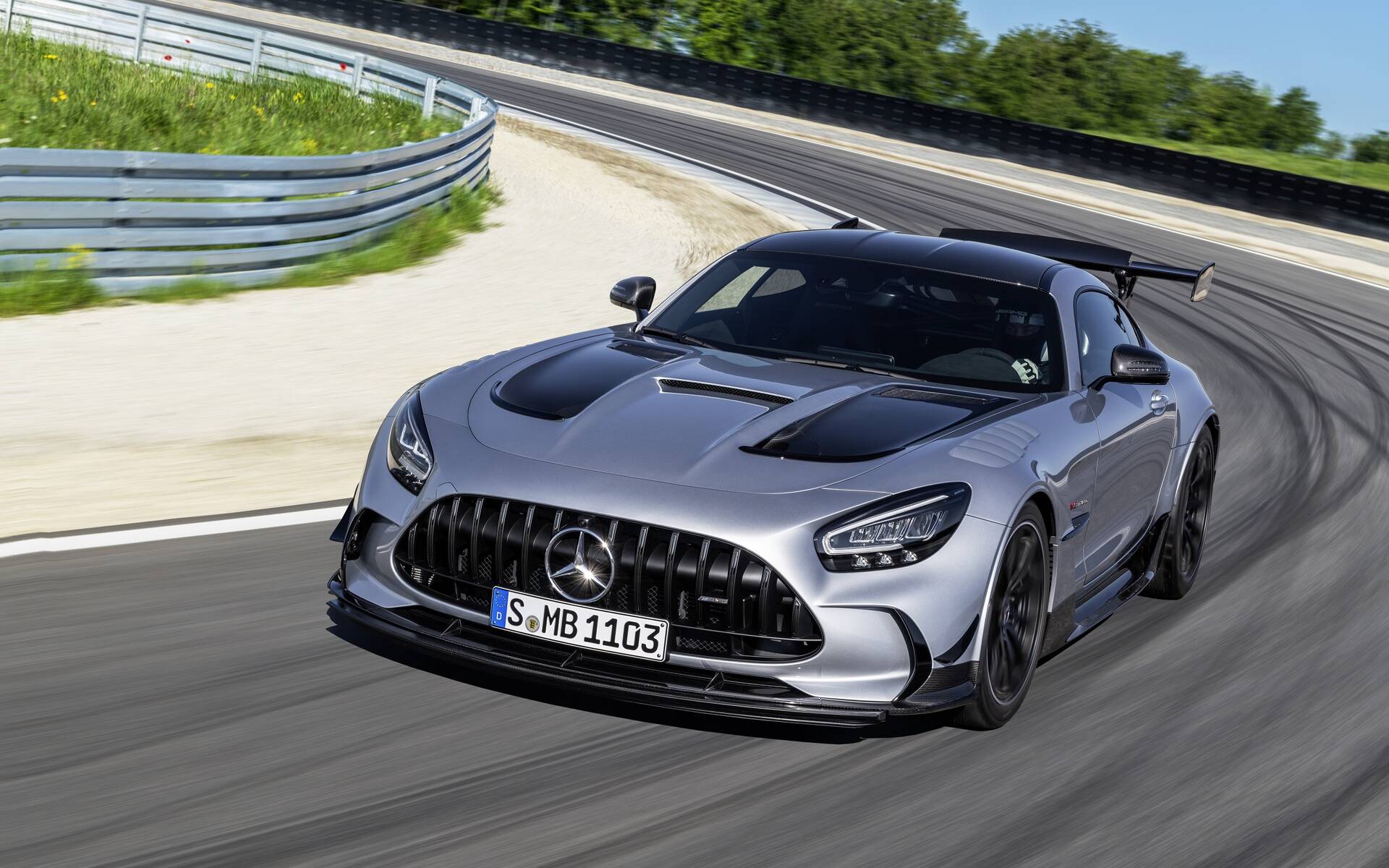 Mercedes-Benz has just introduced a more extreme and powerful version of the fearsome Mercedes-AMG GT sports coupe.
Inspired by the GT3 race car, the new 2021 Mercedes-AMG GT Black Series takes performance, lightweight construction and aerodynamics to another level in order to blow drivers away on the track.
This sixth Black Series model in AMG's history is the last project to be completed under the supervision of brand chairman Tobias Moers, who is leaving to take over Aston Martin.
First of all, the Mercedes-AMG GT Black Series boasts the most powerful AMG V8 of all time, which can generate a staggering 720 horsepower from 6,700-6,900 rpm and 590 pound-feet of torque from 2,000-6,000 rpm. Of course, this twin-turbo 4.0-litre engine has received several modifications, most notably a flat-plane crankshaft and new exhaust manifolds.
Engineers have also improved throttle response for more explosive acceleration. Power is sent to the rear wheels via a seven-speed AMG SPEEDSHIFT dual-clutch transmission that benefited from a few upgrades of its own.
As a result, the Mercedes-AMG GT Black Series sprints from 0-100 km/h in 3.2 seconds and 0-200 km/h in under nine seconds. Top speed is rated at 325 km/h.
Aerodynamics deserve a whole section of this article. Up front, you'll find a significantly larger radiator air inlet that stems directly from the AMG GT3, a carbon fibre front splitter that has two manually adjustable settings (Street and Race), and a new carbon fibre hood with two large exhaust air outlets.
On the sides, the GT Black Series utilizes significantly larger and wider sill panels which merge into vertical blades at the front and rear of the vehicle. In the rear, there's a new diffuser and a two-tier carbon fibre wing that can be mechanically adjusted to adapt to various track conditions (the upper blade even has a moveable flap that can open 20 degrees for extra downforce when necessary). And let's not forget that almost the entire underbody is covered in panels to reduce drag.
Finally, the double-wishbone AMG suspension features adaptive dampers governed by the AMG RIDE CONTROL system (with Comfort, Sport and Sport Plus modes). It connects to 19-inch front and 20-inch rear wheels wrapped in Michelin Pilot Sport Cup 2 R MO tires that were specially designed for this car (285/35ZR19 front, 335/30ZR20 rear).
As for the interior of the Mercedes-AMG GT Black Series, exclusive Nappa leather is combined with sporty DINAMICA microfibre in black and is accented with orange topstitching (grey topstitching is optional). In Canada, AMG Performance seats come standard, but you can't have the carbon fibre buckets available in select markets like Germany. Same thing for the AMG Track Package, for that matter.
Pricing has yet to be announced.
Share on Facebook