Watch: Jeep Wrangler Rolls Over in Latest Crash Test
The Insurance Institute for Highway Safety (IIHS), which conducts vehicle crash tests in the U.S., has released a shocking video that shows a 2020 Jeep Wrangler Unlimited rolling over after hitting the barrier.
A simple mistake? Apparently, no. The same thing happened during a second collision test with small overlap on the driver's side, even using a different method to attach the vehicle to the crash propulsion system.
Fiat Chrysler Automobiles (FCA), which had previously performed a similar test as part of the Institute's verification test program, did not record a rollover.
The IIHS says the Jeep Wrangler, which was completely redesigned in 2018, still did a good job maintaining the driver's space and controlling the dummy's movements during the crash. However, the rollover "presents an additional injury risk beyond what the standard criteria are intended to measure. A vehicle tipping onto its side is not an acceptable outcome for a frontal crash."
As a result, the Wrangler's overall rating was downgraded to "Marginal" (the previous generation had a "Good" rating).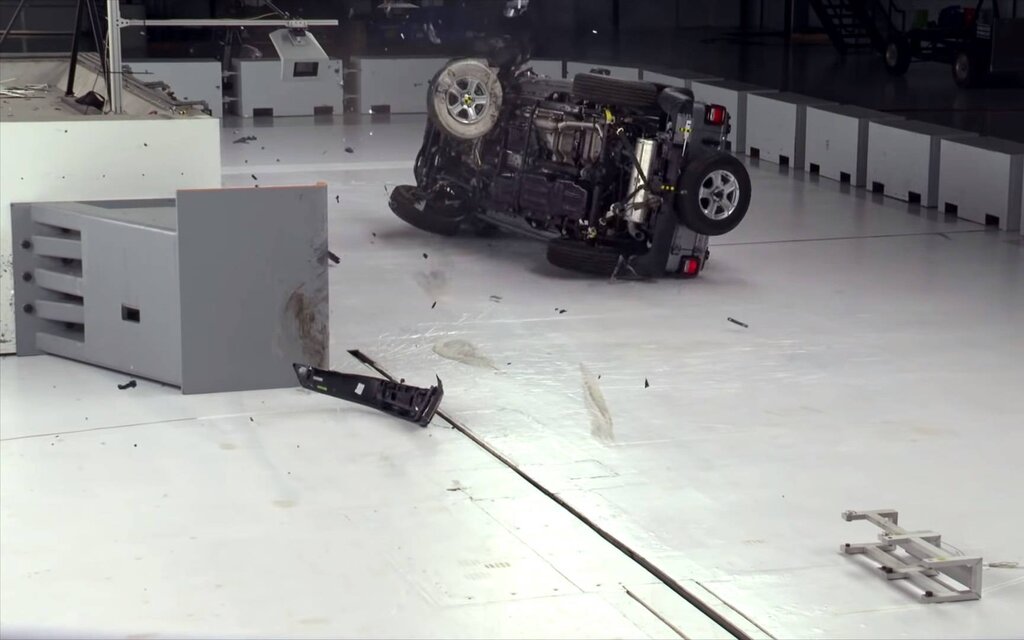 Making it all worse is the fact that the Wrangler has a roof and doors that can be removed when you want to feel closer to the great outdoors. It also lacks side curtain airbags designed to deploy in a rollover to keep occupants inside. The consequences could therefore be fatal.
For the record, the new Wrangler earned "Good" ratings in the moderate overlap front, side, roof and head restraint evaluations. On the other hand, both its base halogen headlights and available LED headlights received "Poor" ratings.
Share on Facebook