Cybertruck or
Model X

: Ontario Police Seeks Musk's Opinion
What modern EV would make the best patrol vehicle? That's what the Ontario Provincial Police (OPP) would like to know.
While plans for the future police fleet remain up in the air, someone at the OPP's Highway Safety Division did a bit of Photoshop with the Tesla Cybertruck and Tesla Model X.
Then the question was asked to none other than Elon Musk via Twitter:
Hey @elonmusk can you suggest which model would make make a better police car? #Cybertruck or #TeslaX? pic.twitter.com/texsL1enJ3

— OPP Highway Safety Division (@OPP_HSD) February 19, 2020
The Tesla boss has yet to weigh in, at least publicly. If you read through the comments that follow the post, however, the choice is unanimous: Cybertruck.
More toughness, better capabilities, cheaper cost… the list of reasons to go with the pickup instead of the midsize crossover is a long one. Let's not forget the Cybertruck's polarizing design that can scare criminals or drivers looking in their rear-view mirror.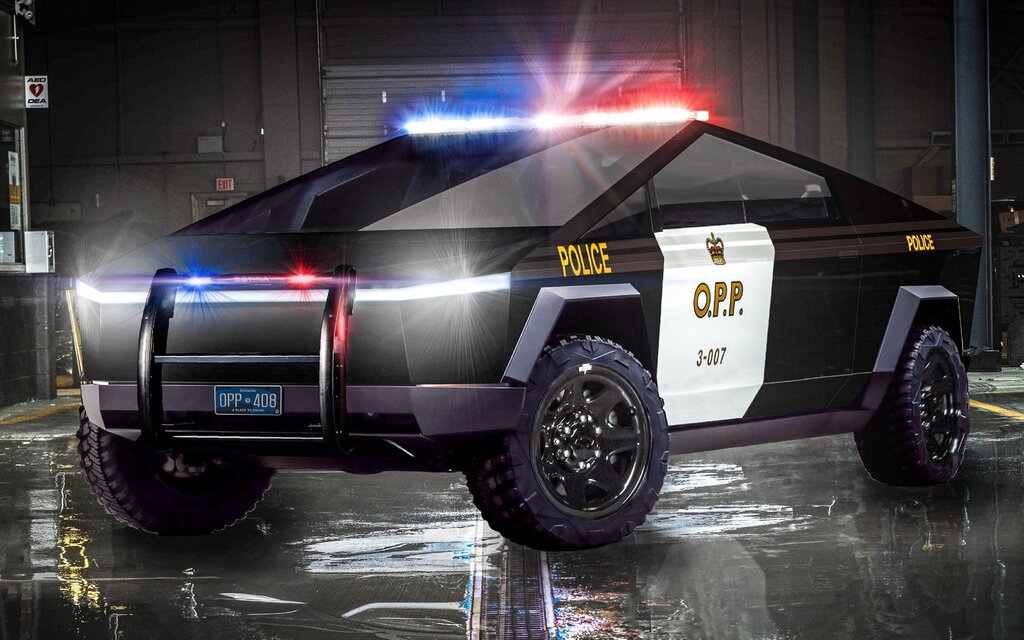 Yes, we know, the side windows broke during the big reveal last November and it's a problem Tesla will have to fix, but there's plenty of time for that as the Cybertruck is due to hit the road in late 2021 only.
In the meantime, if the OPP is serious about acquiring electric vehicles and Teslas in particular, the Model S sedan would be a wiser choice than the Model X. Same thing for the Model Y compact crossover whose deliveries will begin around the end of March.
Feel free to share your opinion in the comments below!
Share on Facebook