All-Canadian Felino CB7R Makes a Splash in Toronto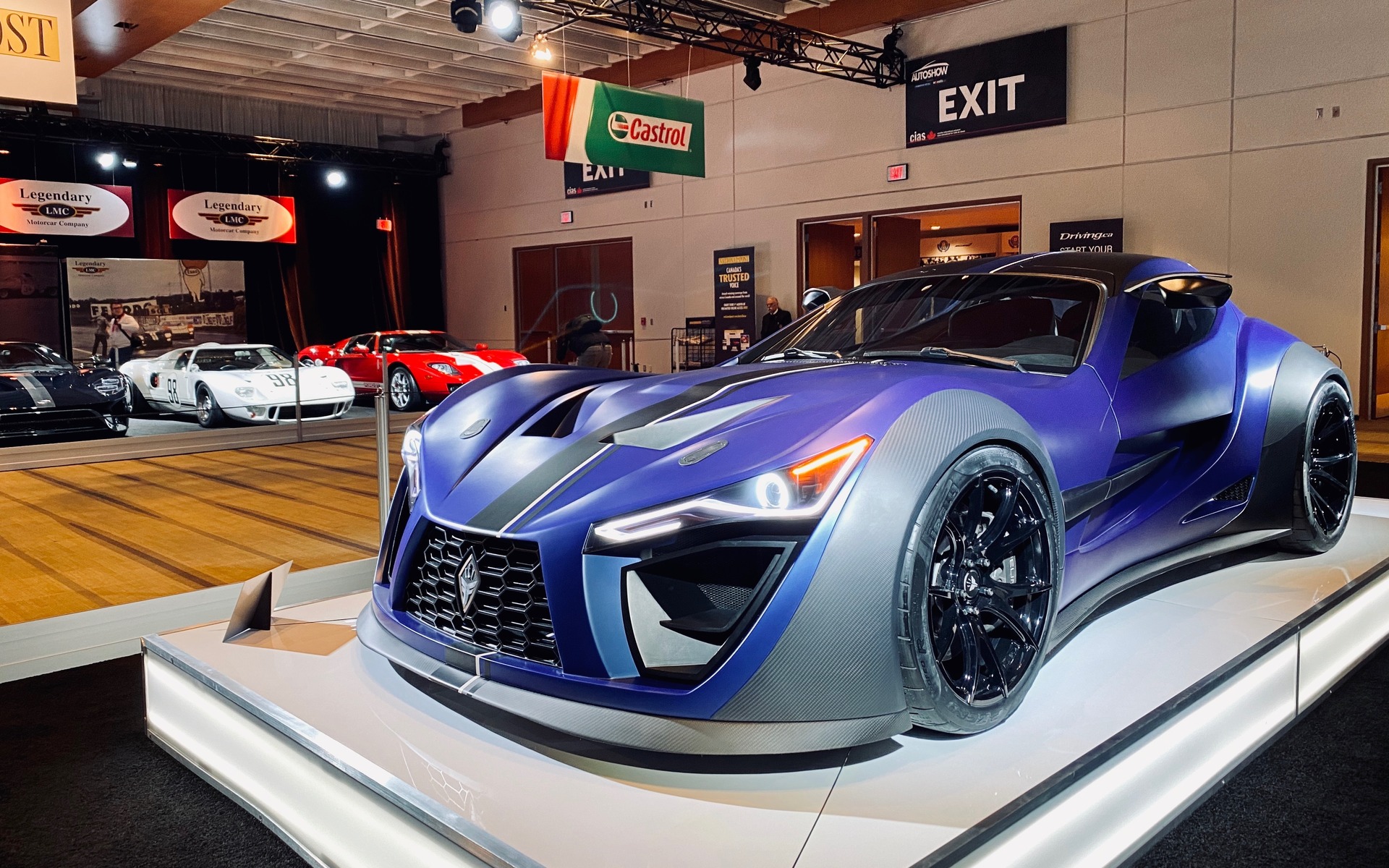 Former race-car driver and Felino founder Antoine Bessette is proudly displaying the latest iteration of his cB7R supercar at the 2020 Canadian International Auto Show in Toronto.
Very similar to the brown-coloured model showcased in Montreal last year, this new version stands out with striking blue paint and additional refinements including revised headlights, taillights, steering wheel and console.
Mechanically, the cB7R is still motivated by 6.2-litre V8 engine rated at 525 horsepower and 486 pound-feet of torque. The optional 7.0-litre V8 produces 700 horsepower and 580 pound-feet of torque, allowing 0-100 km/h acceleration in 2.9 seconds and a top speed of 345 km/h. Both are naturally aspirated and mated to either a six-speed manual transmission or a six-speed sequential gearbox.
The chassis is a carbon fibre, Kevlar and solid metal construction that meets Transport Canada standards. The wheels are currently designed and manufactured by a third party, but Felino intends to add them to its in-house production in Laval sometime soon.
The company's staff recently expanded with the addition of Greg Baker as Director of Powertrain Operations. He previously worked in Formula 1 at Lotus, Renault and Williams.
More Than a Sports Car
The Felino cB7R experience is a personalized one. As Bessette explains, customers can tailor the cockpit to their liking and have the driver's seat moulded exactly to their body shape.
Depending on how the hand-built car will be used, customers also have the opportunity to decide the transmission ratios and suspension tuning. And upon taking delivery of their prized possession, they receive specific training from engineers and technicians on a track.
Starting at $360,000, the Felino cB7R will have a production run of 10 units. So far, two copies have been sold.
A Wilder Variant in the Works
Bessette told us he's working on an even wilder variant that should be ready by the end of this year. While he didn't provide specific details, we know the car will be called "cB7+ and built entirely by hand with a more powerful engine.
This one too will be limited to just 10 units, sold at more than $500,000 apiece. Apparently, one of them is already spoken for.
Share on Facebook