2020 Toyota RAV4 Hybrid: The Best RAV4 You Can Buy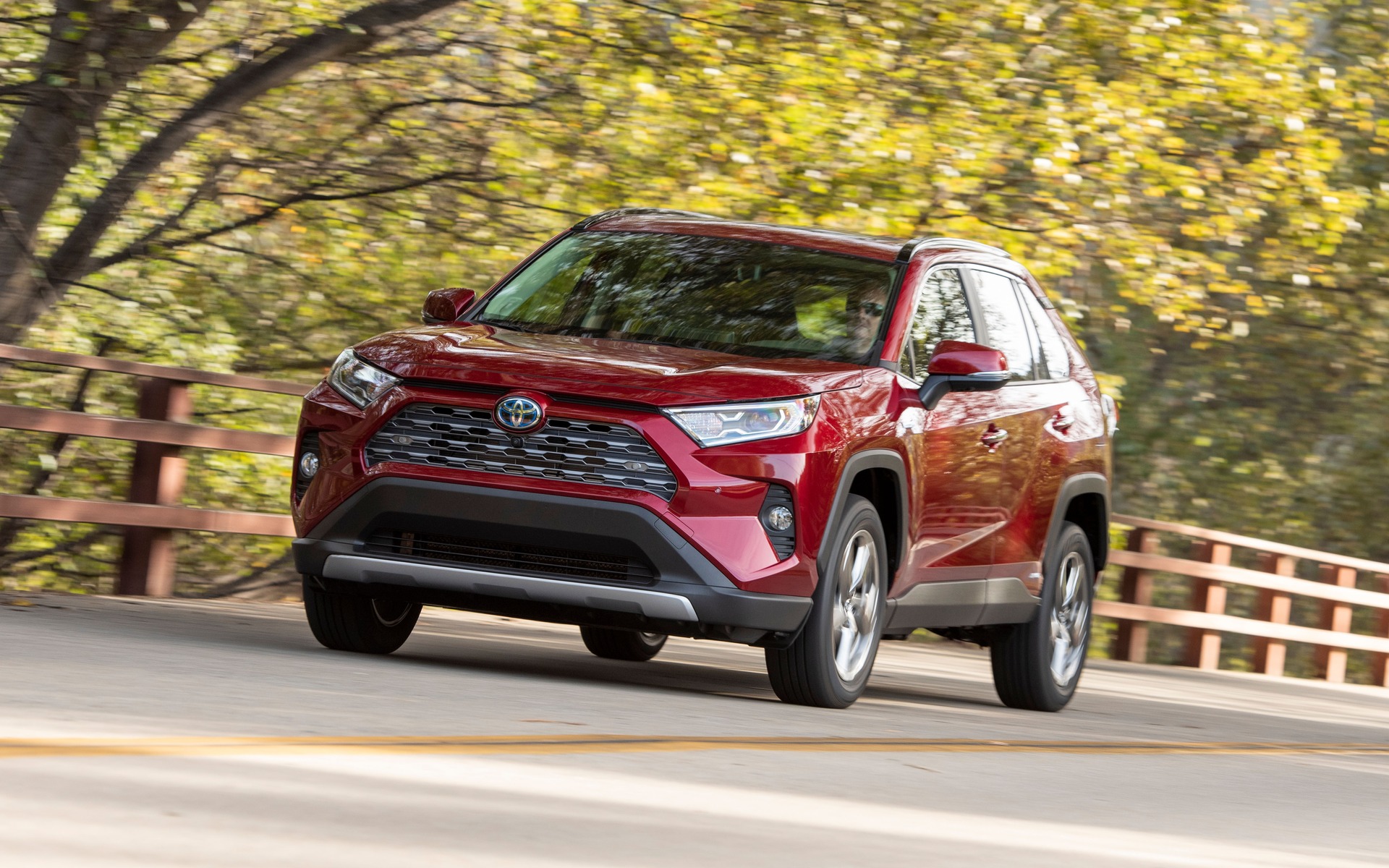 Strong points

Great fuel economy
Excellent reliability and residual value
All the features and amenities you need

Weak points

Disappointing CVT
Mixed feelings behind the wheel
Limited availability
Full report
The Toyota RAV4 is the Japanese brand's best-selling product in Canada, way ahead of the Corolla. There are multiple variants and trims to choose from including the RAV4 Hybrid, which benefits from Toyota's leading expertise.
Completely redesigned a year ago, the RAV4 stands out with a prominent new grille, highly sculpted wheel arches and sharp, tridimensional taillights. The look is more rugged and more adventurous than in years past, especially in RAV4 Trail variant.
Under the hood of the 2020 Toyota RAV4 Hybrid is a naturally aspirated 2.5-litre four-cylinder engine mated to a pair of electric motors (one driving the front wheels and another one driving the rear wheels). The latter draw energy from a 1.6-kWh nickel-metal hydride battery mounted under the rear seats. Cargo capacity is not affected.
Having two motors makes for an all-wheel drive setup controlled electronically (rather than mechanically). Total system output is rated at 219 horsepower, while the instant torque delivery ensures slightly quicker acceleration, even though our RAV4 Hybrid Limited tester weighed 82 kilograms more than a conventionally powered RAV4 Limited.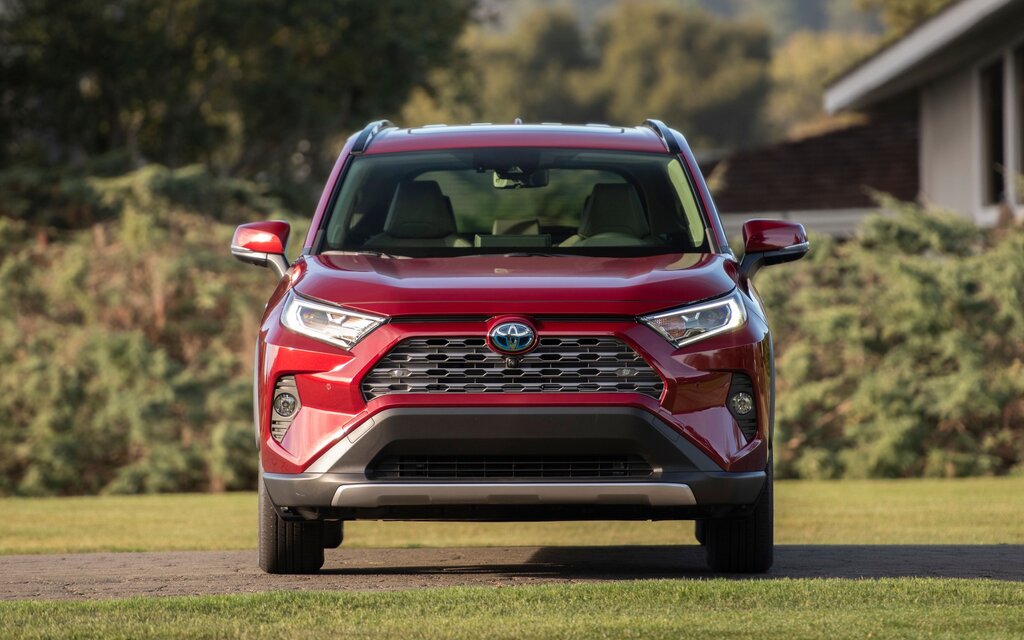 Frugal Performer
While it takes a lot of fun out of the driving experience, the continuously variable transmission results in excellent fuel ratings. We're talking about 5.7 L/100 km in the city and 6.3 L/100 km on the highway (like most hybrids this RAV4 is more efficient around town). Our test drive netted an average of 7.3 L/100 km, which is still very good considering it took place in the middle of winter.
The RAV4 Hybrid feels safe and predictable in normal driving conditions, but it doesn't like to be pushed. When you put too much pressure on the gas pedal, it doesn't take long for stability control to kick in. If you want better handling and more thrills behind the wheel, go with a Mazda CX-5 instead. Most drivers should be pleased with the Toyota, however.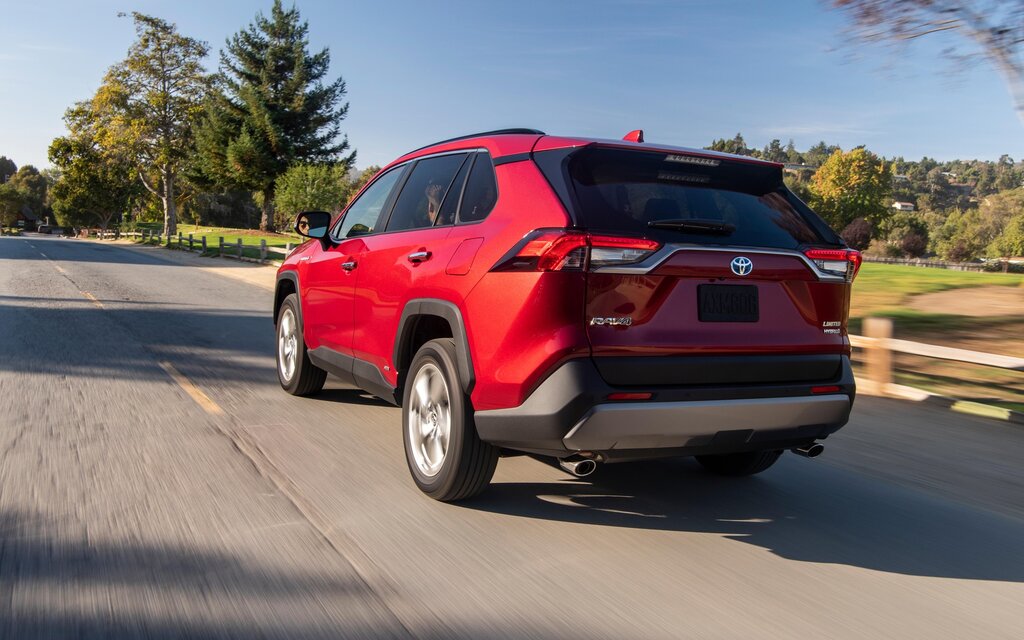 More Conservative Interior
Bold on the outside, the 2020 Toyota RAV4 is pretty conservative when it comes to interior design. We did appreciate the superb ergonomics and multiple connectivity options, including five USB ports as well as Apple CarPlay, Android Auto and Amazon Alexa compatibility (all of a sudden Toyota no longer seems to mind sharing customer data with third parties). In Limited trim, there's even a wireless charger for smartphones.
That top-line RAV4 Hybrid model also features a digital rear-view mirror linked to a camera at the top of the rear liftgate. As long as the rear window stays clear, you can enjoy a perfect view of what's behind the vehicle. For parking manoeuvres, this is particularly useful, even more so when the other camera is covered in snow or slush.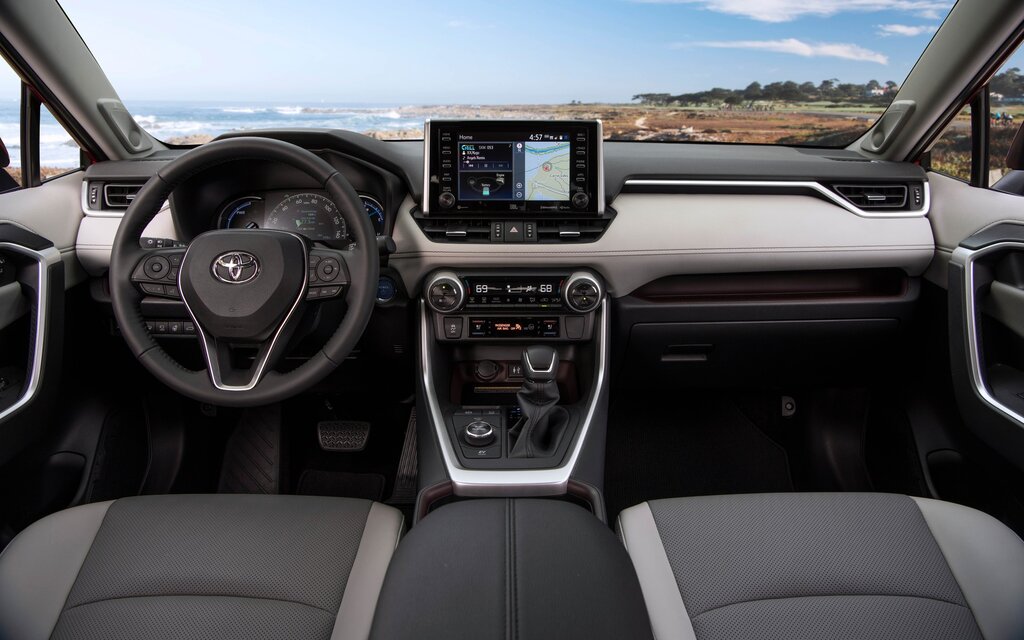 The RAV4 Hybrid is visually distinguished by a power meter and blue needles on the instrument cluster, along with a special menu on the seven-inch touchscreen over on the centre stack. There's an EV button, too, although you will only be able to drive on pure battery power at low speeds for very short distances. Sometimes, that means getting to the end of the parking lot.
RAV4 Prime is Coming
This summer, Toyota will expand the RAV4 lineup in showrooms with the addition of the 2021 RAV4 Prime.
Equipped with a 17.8-kWh lithium-ion battery, this plug-in hybrid variant offers an EV range of 60 kilometres, according to the automaker. It also generates a combined 302 horsepower and accelerates from 0-100 km/h in 5.8 seconds, making it the second-quickest model in the entire Toyota lineup behind the GR Supra.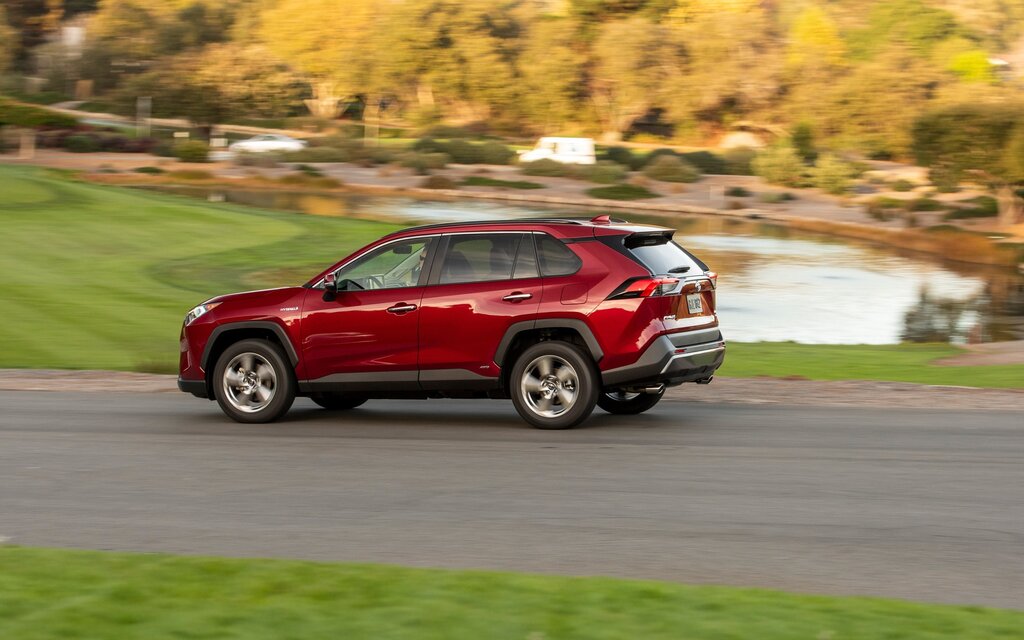 Back to our RAV4 Hybrid Limited tester, which retailed for $42,790 $. Of course, you can select a more affordable LE or XLE model, but the feature content won't be as impressive. The great thing is that all 2020 Toyota RAV4 Hybrids boast the Toyota Safety Sense suite of advanced driver assistance systems, not to mention extended battery coverage of 10 years or 240,000 kilometres.
Naturally, the vehicle should prove quite reliable over time, so you can confidently make a long-term purchase. Toyota is also a leader in resale value. The only problem is availability: dealers have a tough time meeting demand so far, so prepare to wait several months to take delivery of your RAV4 Hybrid.
It's the best RAV4 you can buy right now, although that will change when the RAV4 Prime goes on sale.
Share on Facebook