2019 Honda Accord Touring: Still a Go-to Car, But…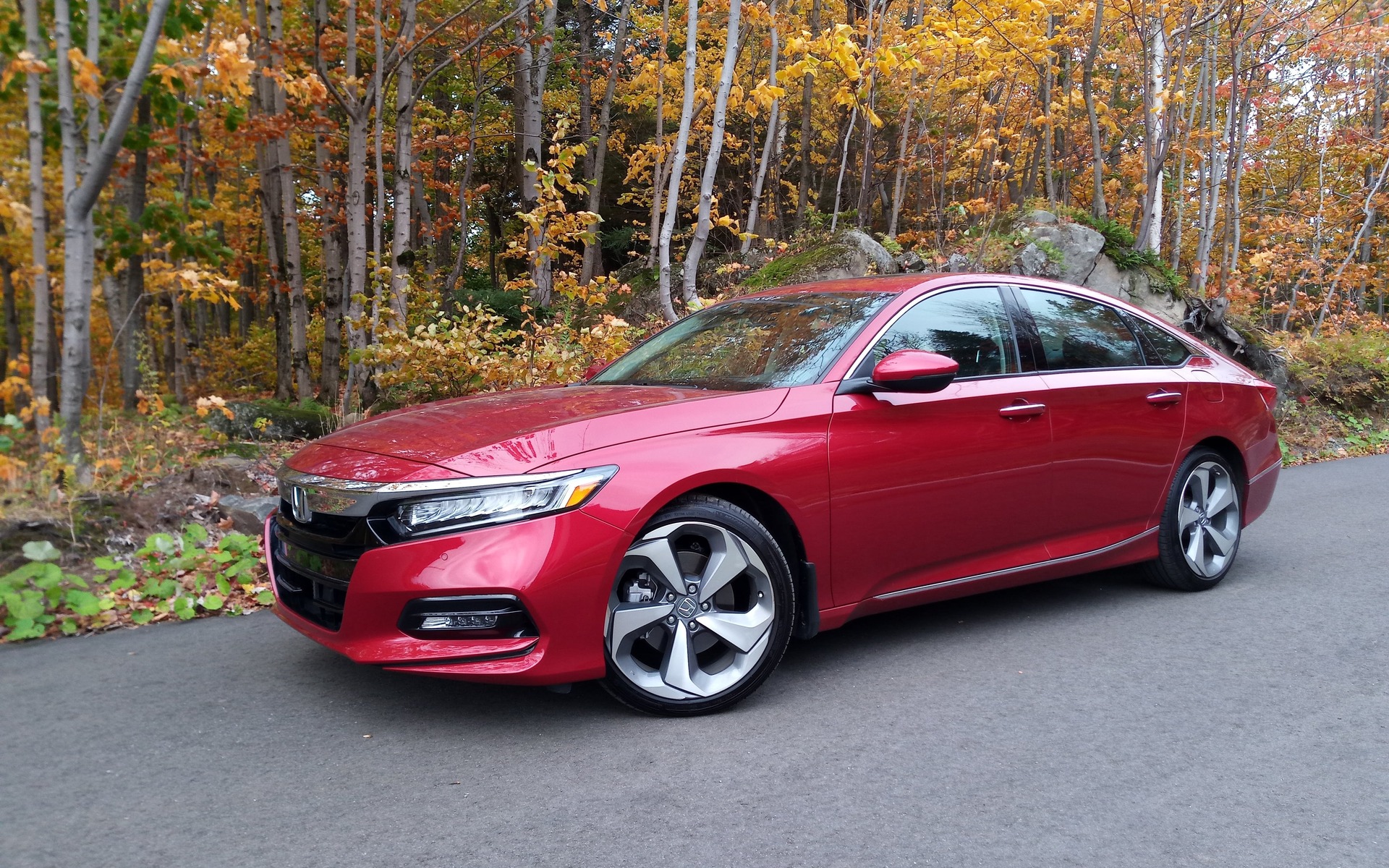 Strong points

Excellent ride and handling combination
Available manual transmission
Roomy and convenient interior

Weak points

CVT can become irritating
1.5-litre turbo engine has reliability issues
Some controls on the screen are hard to reach
Full report
The latest Honda Accord is an award-winning sedan for many reasons. For the record, it was voted as the 2018 Car of the Year in both Canada and North America, while earning a 2019 Best Buy award from The Car Guide.
But as you know, the auto industry can change pretty fast. Like most traditional cars, Accord sales are down due to the growing popularity of SUVs and pickups. Furthermore, the competition is not standing by quietly: the redesigned Nissan Altima came in with a fantastic new look and standard all-wheel drive, while the Hyundai Sonata and Subaru Legacy enter the 2020 model year with highly attractive next-generation models. And let's not forget its arch-nemesis, the Toyota Camry, which continues to lead midsize sedan sales.
Still a Good Choice?
Obviously, the Honda Accord remains a smart buy in this segment. We'd be lying if we said it's a great alternative to an SUV for typical families, but it continues to stand out and deserves a spot on the podium, in our opinion.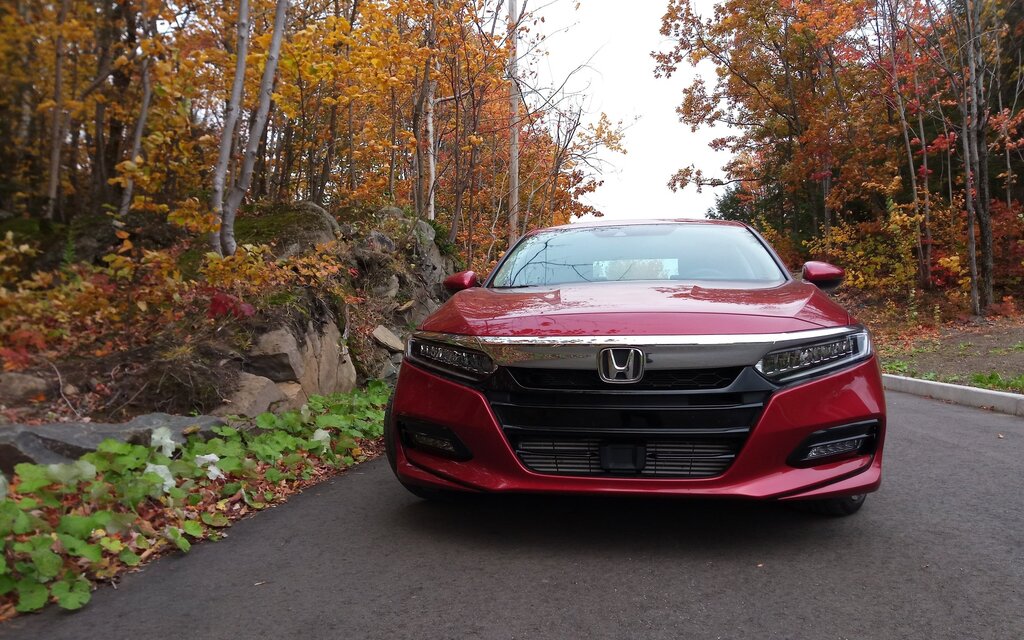 Styling is not for everyone, especially up front, although the sleek, Acura-like LED headlights give the Accord the look of a luxury car. As far as we're concerned, the rear profile is much sexier—kind of like those German four-door coupes. The available 19-inch alloy wheels are pretty handsome, too.
Inside, the layout is refined and spacious, both for passengers and their luggage. By the way, the Honda Accord has the biggest trunk in the segment at 473 litres. Fit and finish is commendable, while the HondaLink infotainment system is fairly straightforward, though not one of the best. We didn't appreciate the way the touchscreen is positioned, because it makes some of the controls hard to reach from the comfort of the driver's seat.
Speaking of which, the leather-trimmed buckets provide above-average comfort and relaxation. Visibility is quite good (bonus points for the available passenger-side mirror that tilts down when reversing), but the interior could be a tad quieter.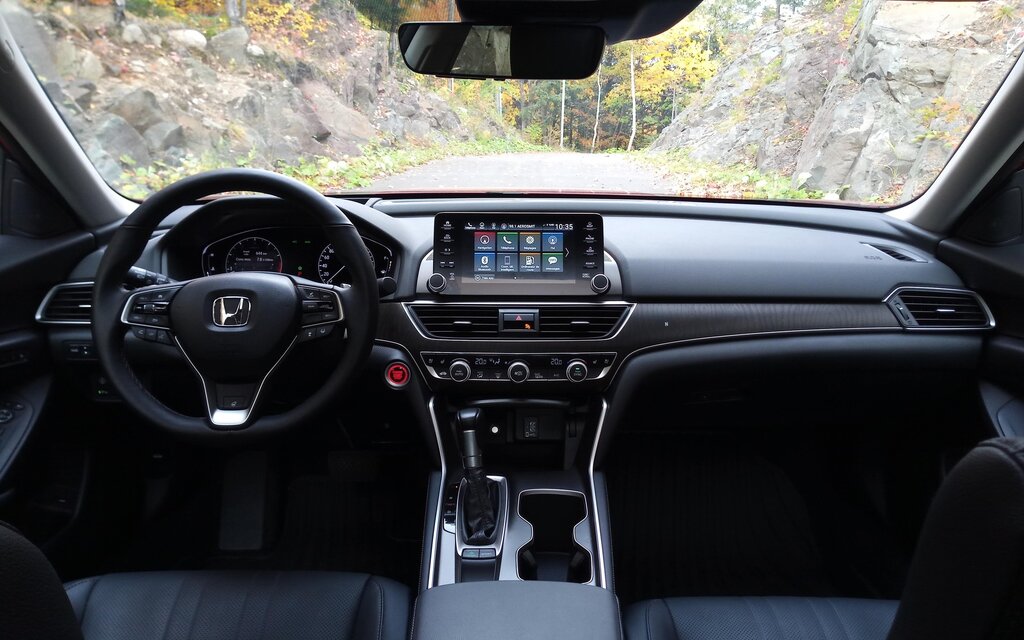 In terms of equipment, the 2019 Honda Accord Touring makes us wonder why anyone would consider an entry-level luxury sedan instead. It features heated seats (front and rear) and steering wheel, ventilated front seats with 12-way power adjustments and two-position memory for the driver, ambient lighting, navigation with voice command, adjustable head-up display, wireless charging for smartphones, a 452-watt premium sound system and even a Wi-Fi hot spot. There's also a bunch of connected services such as remote start, geo-tracking, automatic collision notification and more.
On the road
The Honda Accord is more athletic than most rivals without sacrificing comfort one bit. Steering is precise and the car firmly grips the road in tight corners. The many advanced safety systems and driving aids are nice to have, as well, though lane-keeping assist proves a bit too sensitive. We bet some drivers won't hesitate to turn it off.
Honda wisely decided to offer the base 1.5-litre turbo engine on all Accord trim levels, which means customers can get the equipment they want while burning less fuel (as little as 7.2 L/100 km on average). The 192 horsepower on tap should satisfy about three quarters of them.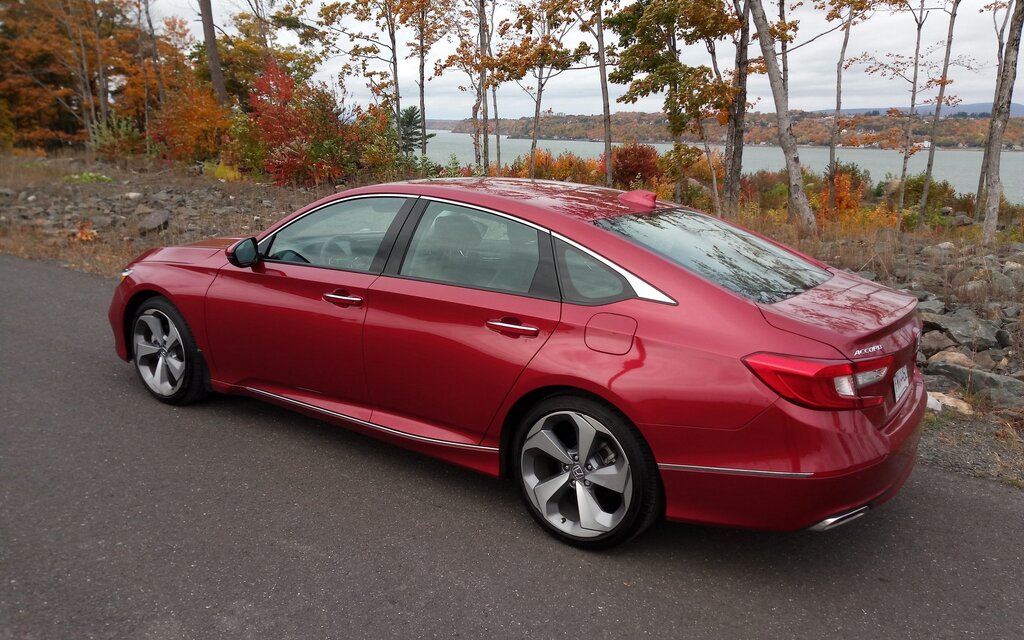 There are two red flags, or so to speak. First, this mill is known for mixing gasoline with oil and not providing sufficient heat to warm the cabin on colder days. Just ask Civic and CR-V owners. Second, the CVT that comes with it makes for some unpleasant sounds when accelerating vigorously. A solution is to choose the Sport trim with the six-speed manual transmission, even if it means a slight drop in fuel economy.
To get the conventional autobox with 10 forward gears, you must turn to another turbo engine. Displacing 2.0 litres, this 252-horsepower unit is derived from the almighty Civic Type R and delivers seriously interesting performance. You should know, however, that the Camry offers two naturally aspirated engines that are more powerful than the Accord's.
What about the Accord Hybrid? Our colleague Michel Deslauriers went as far as to say it's the best Accord overall, so click on the link to read his full review.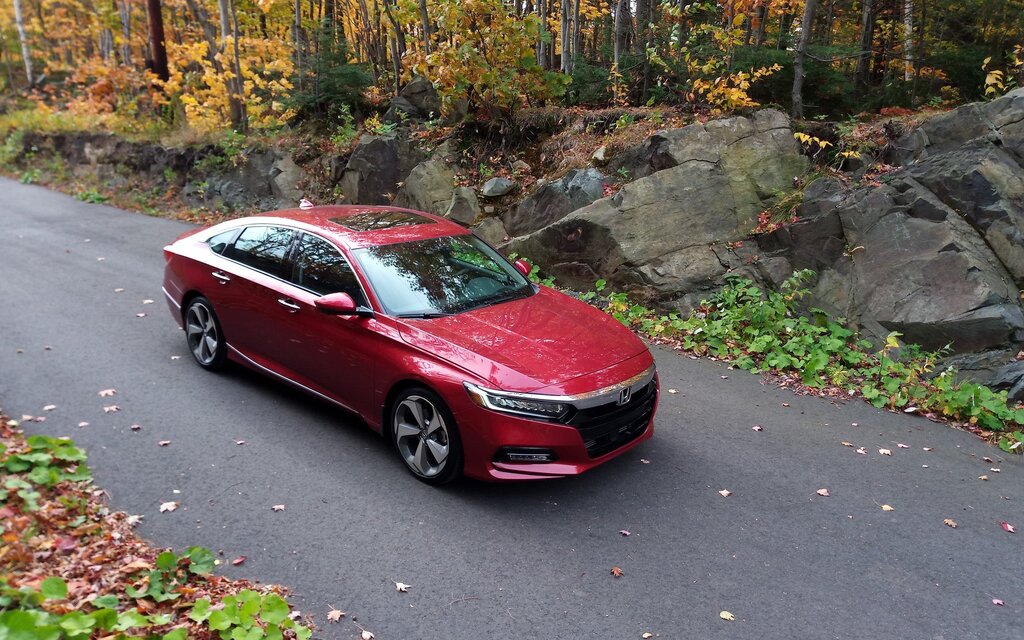 Verdict
The Honda Accord deserves long consideration if you're one of those consumers who still refuse to hop in an SUV and prefer midsize sedans. But the choice is not as simple as it was two years ago. You must absolutely do back-to-back tests with the Camry and Altima, and remember to check out the all-new Sonata and Legacy, too. We didn't even mention the sporty and sophisticated Mazda6 yet!
Aside from its new 1.5-litre turbo engine, the Accord has always been a model of reliability, pleasant driving and smart interior design. For many, it's what matters most.
Share on Facebook