Audi's Three Plug-in Hybrids for 2020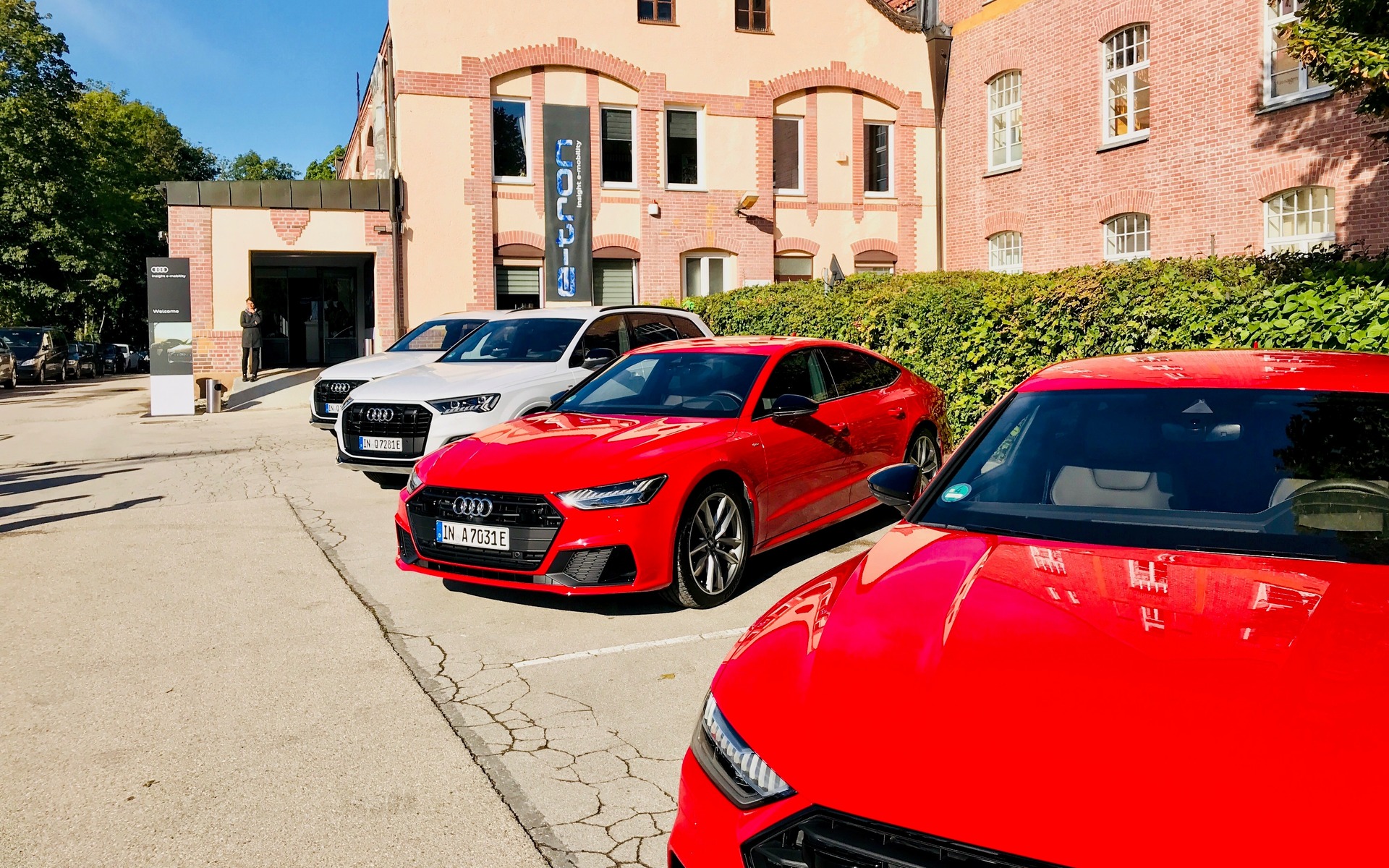 MUNICH, Germany—Our planned test drive is 71 kilometres long including 25 kilometres on the autobahn, where we can reach speeds much faster than the highway limits in Canada. And yet the Audi Q5 and A8L we're driving average 4.1 L/100 km and 4.8 L/100 km, respectively.
That's because they're plug-in hybrid variants of the brand's compact SUV and full-size sedan. They're actually wearing a "TFSIe badge (since e-tron is now reserved for fully electric models).
The Audi A7 and Q7 also offer a plug-in hybrid option, though the latter will not be sold in Canada. Expect to see these models in a showroom near you sometime in 2020.
40 Km of EV Range
In all cases, Audi is promising an all-electric range of 40 kilometres based on the WLTP (World Light-Vehicle Test Procedure). In North America, however, the EPA rating will be slightly less than that.
A 14.1-kWh battery feeds a 127-horsepower electric motor located between the gas engine and the eight-speed automatic transmission. Both the Q5 and A7 use a 2.0-litre engine for a total of 362 horsepower and 369 pound-feet of torque, while the A8L gets a turbocharged 3.0-litre V6 cranking output up to 442 horsepower and 516 pound-feet of torque.
These new plug-in hybrids offer several drive modes including EV, Hybrid and Hold. That last one preserves the battery charge for a later use, meaning you can burn gasoline on highways and country roads and enjoy zero-emission driving around town.
Generous Torque and Energy Savings
The push from the electric motor is immediately felt when you depress the throttle thanks to all that readily available torque. In order to improve fuel economy, Audi developed a system called "predictive efficiency assistant" that takes into account navigation data to plan your route. A light indicator and haptic feedback from the throttle will tell you when it's best to take your foot off for maximum efficiency.
During our test drive, the light flashed on multiple occasions, more specifically when approaching intersections and roundabouts. We released the pedal and the regenerative braking system kicked in to slow the vehicle down and charge the battery.
Saving Time, Too
The launch of these new plug-in hybrid models is part of Audi's plan to sell 30 electrified vehicles by 2025, 20 of which will be fully electric. Pricing will be announced closer to their on-sale dates in Canada.
While the amount of EV range is not that great, some drivers will be able to achieve zero-emission performance, like city dwellers or even suburbanites who charge their vehicle both at home during the night and at the office during the day. At the very least, they will be able to save a ton of gas compared with a conventionally powered Q5, A7 or A8.
Another benefit is a green licence plate allowing the use of carpooling lanes in rush-hour traffic, even when driving solo, and free access to toll roads. In other words, you'll do Mother Nature—and your wallet—a big favour while saving precious time in the process.
Share on Facebook